Jim Crockett Promotions - Mid-Atlantic Championship Wrestling
Jim Crockett Promotions was formed by Jim Crockett , Sr. in 1931 to promote wrestling from his home base of Charlotte , NC. In 1973 after 42 years the promotion was handed over to Jim Crockett Jr. along with the rest of his siblings following the death of his father Jim Crockett Sr. in April of that year. He would rename the promotion " Mid-Atlantic Championship Wrestling ". Two years later Wide World Wrestling was adopted as a new wrestling program that would be used to allow wrestling fans the opportunity to showcase some of their lesser known wrestlers who might not have a chance to perform on the bigger stages and in 1978 the name would be changed to World Wide Wrestling but both would be used for branded television programs still under the banner of Mid- Atlantic. The company would now center more on singles wrestling and less on tag team wrestling even though both would still figure heavily into their success. Another change was a move to a single taping location instead of multiple locations for weekly shows. First in Raleigh , N.C. and then finally to Charlotte , N.C. ( this type of taping still rings true today much like TNA does with their taping of shows in Orlando. ) Also just like Vince McMahon would do in the early part of the 80's Jim Crockett would be looking towards the future in the late 70's and into the early 80's as he moved forward by promoting shows in areas like eastern Tennessee , parts of West Virginia and the area surrounding Savannah , Georgia. Still he was on the look out for the bigger picture as he moved into Dayton and Cincinnati , Ohio. But one of the biggest moments of his expansion would come when he bought into Frank Tunney's Maple Leaf Wrestling based out of Toronto , Ontario , Canada. With that it allowed Crockett to broadcast Mid-Atlantic Wrestling directly out of Buffalo , New York. And the Frank Tunney / James Crockett / George Scott ( the longtime booker for James Crockett Promotions as well as Vince McMahon during the early to mid 80's. ) combination would allow them to promote shows and intermix talent in Ontario and upstate New York. Things were definitely moving in the right direction for Crockett's company.
In 1980, Jim Crockett , Jr. was elected President of the National Wrestling Alliance replacing Bob Geigel. When he moved the central taping location of JCP in 1981 it would allow for a further reach of the product. Such as in 1982 Crockett would partner with wrestlers Ric Flair and Blackjack Mulligan to form a secondary wrestling federation in Knoxville , TN named Southern Championship Wrestling. Some wrestlers that performed were Mulligan himself, his son Barry Windham , Kevin Sullivan, Wayne Ferris (Honky Tonk Man) and Terry Taylor ( The Red Rooster ). Even though Crockett was supported by stars such as Flair and Mulligan the promotion would fold in less than a year.
But by the early 1980's wrestling was undergoing drastic changes as The WWF owned by Vincent K McMahon bought his fathers company Capitol Sports to form a nationalized Non-NWA affiliated wrestling federation. Titan Sports would now be operated as The World Wrestling Federation. It was rising while The NWA and its affiliates were floundering. But Crockett had plans for the future of his company too. With the changing of Capitol Sports to the now non-NWA affiliated WWF it would be possible for a historic match between then WWF Champ Bob Backlund and then NWA Champion Ric Flair as they would square off against another but that was not his goal.
" The Nature Boy " Ric Flair
Much like Verne Gagne had tried to do with numerous other territories Crockett also desired to compete on a national level whether it be by merging or purchasing all of the federations to create an NWA that was united. By the end of 1982 Crockett had ended his term as NWA President. Around the wrestling world many changes were occurring such as Ted Turner entering the wrestling scene in the early to mid 1970's by airing wrestling on his WTBS/TBS Superstation titled Georgia Championship Wrestling which was hosted by legendary color commentator Gordon Solie. In 1982 Turner would ask GCW to change the name of its wrestling name to World Championship Wrestling ( WCW ) which by 1983 would be possible to do so. There was also rumors that the Jim Barnett controlled GCW/WCW would be trying for a national run. But in 1983 Crockett also began to think big with the purchase of a mobile recording studio for close to one million dollars which would allow for him to record live wrestling events. Some people thought he was aiming to high in their eyes but not him. Crockett still thinking big and hoping to avoid an event like " Showdown At Shea " which was a series of three wrestling events held by the WWF in 1972 , 1976 and 1980 at New York's Shea Stadium. Instead he attempted to create the dominant wrestling event for The NWA. It would be considered the main supercard titled " Starrcade ".
One of many Starrcade logos used.
The first Starrcade would be held on November 24, 1983 with the main event being for the NWA World Heavyweight Championship when then NWA Champion Harley Race ( a seven time NWA Champion ) took on " The Nature Boy " Ric Flair ( himself an eight time NWA Champion ) in one of the greatest cage matches and maybe even matches of all time. The match would solidify Flair as a legitimate champion and wrestler in many fans eyes when he won the title from Race in that bloody cage match. It would be Flair's second title ( his first being a defeat of Dusty Rhodes in September of 1981 ) run as NWA Champion but the victory over Race on such a big stage as Starrcade brought prominence to both Flair and Jim Crockett Promotions. Though the main event would go down in the hearts and minds of fans as an instant classic. Other matches held to provide examples of the great wrestling Crockett's promotion had to offer. Starrcade '83: Flare for the Gold was the name of the supercard given as a play on words for Ric Flair's quest for his second NWA Championship but as it was stated before it was not the only shining moment. Ricky " The Dragon " Steamboat and Jay Youngblood would take on Jack and Jerry Brisco for the NWA World Tag Team Championship with The Brisco Brothers portraying the heels and Steamboat and Youngblood as the faces when earlier The Brisco's turned on the other team to force a tag match. In the end Steamboat and Youngblood would come out victorious claiming tag team gold. But perhaps the match that many people could claim to be on par with Flair vs Race in the steel cage would be The Dog Collar Match between " Rowdy " Roddy Piper and Greg " The Hammer " Valentine. The match was a culmination of feud revolving around Valentine attacking Piper's ear with the ring bell. Piper would lose his NWA United States Championship to Valentine and 75 percent of his hearing in his left ear. Thus a rematch would be set up for Starrcade and in the end Piper took back his US Championship. Both men were covered in blood during the brutal dog collar match that involved the use of a heavy chain and leather strap. Other matches that were on the program were " Cowboy " Bob Orton, Jr. and " Dirty " Dick Slater defeating Mark Youngblood and Wahoo McDaniel ( the match occurred after Slater and Orton attacked Flair who was the other teams friend. ) , Abdullah the Butcher would defeat Carlos Colon ( the father of current WWE superstars Carlito and Primo Colon ). That match would be to highlight their rivalry from the Puerto Rico based World Wrestling Council during the late 1970's. Also performing were Kevin Sullivan , Rufus R. Jones and many others including Gordon Solie providing the commentary and a young Tony Schiavone ( he would be one of WCW's Monday Night Nitro's lead commentator from the mid 90's to 2001. ) acting as an interviewer for the event. In all Starrcade can be seen as the passing of the torch from Race to Flair in regards to the championship legacy of The NWA. The production value of the program as well as the heavy promotions on other televised wrestling events would aid closed circuit television to be broadcast by satellite throughout the areas that JCP traveled. Starrcade would go on to be the flagship event for The NWA and for the first five years ( 1983-1987 ) it would be broadcast out of The Greensboro Coliseum in Greensboro , N.C.. The total gate was over $500,000 with a sold-out arena containing 15,447 wrestling fans. The era of pay-per-view wasn't far behind.
Flair taking on NWA Champion Harley Race at the first Starrcade in November 1983.
Greg Valentine preparing for his Dog Collar match against Roddy Piper for The NWA US Championship also at the first Starrcade.
Also occurring in 1983 was the start of an event that would change the course of wrestling forever. It would be known as Black Saturday by wrestling fans. Jim Barnett a promoter of numerous territories including Australia , Indiana, Michigan, Ohio and Colorado was then running Georgia Championship Wrestling but was forced out of power and Jerry and Jack Brisco held a major stake in GCW which they would sell for $900,000 ( over the course of nine years ) and guaranteed jobs from their new owner. That company purchasing The GCW brand name as well as their TBS timeslot was Vince McMahon and The WWF. On July 14, 1984 Vince McMahon's WWF programming replaced Georgia Championship Wrestling on TBS. This event was a shock to the wrestling world. Its ramifications were felt nationwide in the wrestling world and many have considered this to be one of the true changing points in American professional wrestling. It would also show the vast contrast in the regional styles of wrestling. Many fans were very disappointed with the product that The WWF was offering the mostly southern fanbase. The main problem was that the wrestling audience that watched GCW for years were turned off by the over the top almost cartoonish characters that the WWF brought to their television sets. Along with that their was the problem with their soap opera delivery of storylines and repeated squash matches ( matches where one wrestlers dominates or squashes his opponent ). While GCW seemed to present more of a two sided struggle between combatants. Some fans even saw this as another Yankee/Northern encroachment on their wrestling style. McMahon would carry on though and offer TBS a show titled WWF World Championship Wrestling which was nothing more than a clip and highlight show of McMahon's various other programs. Ted Turner who owned and still own TBS was bothered by this as it was believed that The WWF was going to be airing original programing just like GCW would in the past. Eventually though McMahon did have infrequent " in-studio " squash matches with commentary provided by Gorilla Monsoon and the only remaining on-air cast member of GCW Freddie Miller ( the rest of the cast had either quit in protest or been replaced ). The program was overall a rating disaster for The WWF and got lower ratings from the company called Championship Wrestling From Georgia which was formed by GCW's shareholding holdout and NWA member Fred Ward and former GCW wrestler/booker Ole Anderson ( of The Four Horsemen fame). Also beating him in the ratings war was " Mid-South Wrestling " operated by " Cowboy " Bill Watts. During this time it was rumored that Ted Turner attempted to purchase the WWF but McMahon would not sell ( this had ramifications as to why Turner would start WCW). Turner instead would pressure McMahon to sell The GCW name and timeslot to another promoter who had experience in the area of southern style wrestling. Also during this time Frank Tunney who was partnered with Jim Crockett would pass away in May of 1983 and by July of 1984 Jack Tunney ( WWF " President " 1984-95 ) the nephew of Frank would sell the company to Vince McMahon since Crockett had distrust for Jack as a promoter since he was also booking McMahon's WWF wrestlers coupled with the fact that Crockett refused to spare wrestlers to Tunney while the southern wrestling promotional war was heating up. His main asset was now owned by the WWF and if he planned on expanding and putting together shows outside of The Mid-Atlantic area he would either have to partner up with other promoters or attempt to but them out.
During the years 1984-1985 Crockett would team with other promoters to create the wrestling conglomerate known as Pro Wrestling USA. He coupled with Verne Gagne ( The AWA ) , Jerry Lawler and Jerry Jarrett ( Memphis based Mid-Southern / CWA ) and Ole Anderson ( CWG Championship Wrestling from Georgia ).
Author's Side Note

-- Pro Wrestling USA was mainly discussed in the first article concerning The AWA.
Yet with wrestlings sometimes varied history a few more tidbits of info have come to light. Now as you may already know Crockett and the others formed PW USA to combat Vince McMahon's WWF but that would mostly be due to the fact that he had promoted blockbuster wrestling programs of infamous or famous ( depending on your view point ) variety on MTV like " The War To Settle The Score " and " The Brawl To End It All ". On top of that his encroachment with the purchase of GCW and its timeslot upset the balance of the wrestling world. PW USA members were looking to strike back and would do so by promoting shows in East Rutherford , New Jersey directly in the heart of the north east which was McMahon's territory. Now the first show would be based out of Memphis , Tennessee at the request of Lawler and Jarrett but numerous shows were held throughout the members territories and with the added benefit that you could have AWA , NWA ,GCW and CWA and even WCCW ( World Class Championship Wrestling operated by Fritz Von Erich out of Texas " The Sportatorium " to wrestling fans. ) Championship matches on various cards like Superclash which would be the most successful event of The Pro Wrestling USA merger bringing over 21,000 fans to Chicago's Comiskey Park in September of 1985 with the main event being Ric Flair defending his NWA Championship against fan favorite Magnum T.A. ( Terry Allen ) who were both working for Crockett. Eventually Crockett would leave the group after being targeted as trying to pull wrestlers away specifically from Gagne's AWA.
But 1985 would be a significant year for Crockett. One reason was he would be reelected to a second term as president of The NWA (1985-1986)replacing incumbent Bob Geigel (1982-1985) . Also Crockett would purchase Ole Anderson's CWG wrestling promotion on April 6th , 1985. Now both events with his purchase of Anderson's company and his reelection to presidency were to combat Vince McMahon shortly after the first Wrestlemania had been a success. McMahon was still losing the ratings war on TBS and needed the capitol to create his next big thing " Saturday Nights Main Event ". McMahon would eventually cut his losses and concede defeat when he sold the GCW name along with the coveted Saturday night TBS time slot to James Crockett Jr. for the sum of one million dollars( muwahahaha). Now Crockett would have two hours of programming to be able to promote across the cable nation under the banner of WCW ( World Championship Wrestling ) which GCW had adopted before its purchase by Vince McMahon. With the success of the World Championship Wrestling programming filling Ted Turner's Atlanta studios Crockett was able to create the supercard " The Great American Bash " alongside head booker " The American Dream " Dusty Rhodes.
" The American Dream " Dusty Rhodes
The Great American Bash would become the annual summer pay per view event for the NWA/JCP and eventually WCW. Rhodes has been created with creating the event. It would be held every year from 1985 to 1992 and from 1992-2000.
Author's Side Note

-- In 2004 The Great American Bash would be brought back as an annual pay per view event for The WWE. It is the only remaining WCW ppv event remaining in use.
On July 6th , 1985 the first Bash PPV would be held at American Legion Memorial Stadium in Charlotte , North Carolina. Ole and Arn Anderson would take on and defeat Buzz Sawyer and Dick Slater to retain their NWA National Tag Team Championship. Another tag match pitted NWA World Tag Team Champions Krusher Khruschev and Ivan Koloff who fought AWA World Tag Team Champions The Road Warriors (with Paul Ellering) to a double disqualification. This was a time when both Gagne and Crockett were still involved with Pro Wrestling USA and that allowed that match to happen. Magnum T.A would defend his NWA US Championship against " The Ugandan Giant " Kamala ( he was born in Mississippi and speaks English ). In a then shock Ric Flair defeated Nikita Koloff to retain his NWA Heavyweight Championship. That wasn't the shock with Flair retaining but the fact that the NWA's main title was the second and not the last match when most main title matches were last on the card. No the main event would be held in a steel cage. As Dusty Rhodes ( yes he was the booker and creator of the ppv ) took on Tully Blanchard ( of the Four Horsemen with his valet Woman ) for his NWA Television Championship. In my opinion this would be the pinnacle of The Television Championship. Rhodes would come out on top to take the title from Blanchard. In 1986 The Great American Bash would be used as a thirteen city tour with Flair taking on the likes of Magnum T.A. , Nikita Koloff , Dusty Rhodes and many others to defend his NWA Championship. Flair's most famous match of The 86 Bash would probably be his steel cage match against Ricky Morton on July 5th , 1986. Morton was made to look like a contender by Flair in a classic confrontation. One thing that could always be said about Flair as champ was his ability to make all of his opponents look good. But another 86 Bash match would be on July 26th , 1986 where Flair would lose his title to Dusty Rhodes. In 86 another famous match would be the best of seven series between Magnum T.A. and Nikita Koloff which Koloff would come out victorious in the end. Also on July 5th a Russian Chain Match with The Road Warriors defeating Ivan and Nikita Koloff. Numerous other great matches occurred that year and in the years to follow. In 1987 the War Games concept created by Dusty Rhodes would premiere at the Bash. It was also used as a month long tour with the main event being The War Games match itself with the team of The Road Warriors, Nikita Koloff, Dusty Rhodes and Paul Ellering defeated Ric Flair, Arn Anderson, Lex Luger, Tully Blanchard and James J. Dillon. By 1988 The Bash would become a pay per view event instead of a tour. Some such examples were of course Flair and headlining numerous times , tag teams like The Midnight Express ( Stan Lane and Bobby Eaton ) , The Rock and Roll Express ( Ricky Morton and Robert Gibson ) , The Road Warriors ( Hawk and Animal ) The Fabulous Freebirds ( Michael " P.S. " Hayes and Terry " Bam Bam " Gordy , The Steiner Brothers ( Rick and Scott Steiner ) and Harlem Heat putting on great tag team matches through out the years. Singles and stipulation matches involving wrestlers like Dusty Rhodes , The Great Muta , Sting , Lex Luger , Nikita Koloff , Kevin Nash , Goldberg , Hulk Hogan , Randy Savage , Bret Hart , Roddy Piper , Arn Anderson , Tully Blanchard , Booker T , Chris Benoit and many many other quality wrestlers throughout the years.
Sting as he looked before he became an imitation Crow.
The best tag team of the 80's. The Road Warriors - Animal and Hawk ( The Legion Of Doom to WWF fans. )
Another event that would last from 1985-1988 would be called " The Bunkhouse Stampede " which would be a traditional battle royal with bunkhouse attire ( work boots/cowboy boots and jeans ) and it would allow the use of weapons such as chains ( used by The Koloffs ) spikes ( used by The Road Warriors ) , trash can lids and leather straps. Dusty Rhodes won everyone from the inception to the end. The last one in 1988 would be the first and only pay per view event. Though The Bunkhouse Stampede was not considered a supercard by many fans it was an event to remember if not for the cheesiness of it.
Magnum T.A. ( Terry Allen )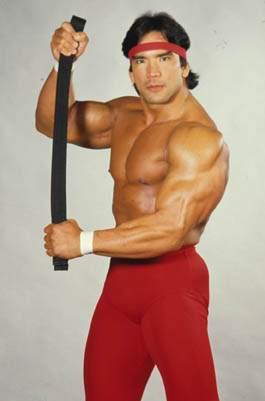 Ricky " The Dragon " Steamboat
Thanks in part to the success of Starrcade in 1984 with a classic match between Tully Blanchard and Ricky Steamboat for the NWA TV Championship with Blanchard retaining and Ric Flair defeating Dusty Rhodes for The NWA Heavyweight Championship and a kayfabe one million dollar prize. Along with the purchase as stated before of both the GCW and CWG promotions and following the success of the first Great American Bash. The success of The first Pro Wrestling USA " Superclash " which was headlined by Crockett's own Flair and Magnum T.A. allowed Crockett to be able to promote a show in St Louis called " All-Star Wrestling " but so would the WWF by promoting the feud between Hulk Hogan and Paul Orndorff. Crockett would move forward again though with the purchase of what many fans considered " The Mecca Of Wrestling " for 30-40 years The NWA St. Louis Wrestling Club ( Sam Muchnick was NWA President from 1950-1960 and again from 1963-1975 ) in September of 1985. Also in September of 1985 we would see the purchase of Bob Geigel's CSW ( Central States Wrestling /
Heart of America Sports Attractions, Inc ) which was also owned by former NWA Champion Harley Race by Jim Crockett Promotions. An event in September of 85 would also play into the main event of Starrcade 85 held on November 28th.
http://www.youtube.com/watch?v=jHbFIm8IKpo
This Is The Attack On Dusty
At the time that Starrcade was held Flair was well into his fourth reign as NWA Champion and had held the title for over a year. He would be defending against Dusty Rhodes to put a climax to their classic rivalry and the event that took place in September strongly connected the two men. At the Omni Arena in Atlanta Flair would be defending his championship Nikita Koloff. Following Koloff's defeat Ivan Koloff would interject himself into the steel cage match to help Nikita attack Flair. Dusty Rhodes soon rushed down to ringside to save him but instead was ambushed by Ole and Arn Anderson after Rhodes had fought off both of the Koloffs. Flair and The Anderson's would go on to " break " Dusty's ankle during the altercation leading to the match at Starrcade '85.
In the end the main event would see Rhodes returning from his broken ankle to claim victory and the NWA Championship. However the victory would later be reversed to a disqualification victory for Rhodes since Arn Anderson had interfered earlier in the match on behalf of Flair. So the original referee Tommy Young allowed Flair to keep his championship since title changes were not possible through those circumstances. Soon in January of 1986 after months of help and camaraderie between Flair , The Anderson's and Blanchard ( with manager J.J. Dillon ) they would form the Four Horsemen one of wrestling's first stables and one of the most popular and hated of all time. That group of wrestlers would continue to dominate JCP and The NWA wrestling scene for sometime feuding with stars like Magnum T.A. , Sting , Rhodes , The Road Warriors , The Koloffs , Ricky Steamboat and numerous other greats. At one time The Anderson's would hold The NWA World Tag Championship belts , Blanchard would hold The Television Championship and Flair would be the NWA World Champion all at the same time. It was a time of great prosperity for Crockett's company as he was considered the major promotion for The NWA.
Crockett was concerned even more now with the Vince McMahon led WWF and his wrestling events like Wrestlemania. In 1986 McMahon would be holding Wrestlemania II and again it would try to go beyond wrestling with the use of celebrities like Mr. T competing in a boxing match against Roddy Piper , Ray Charles singing and guests like Ozzy Osbourne and many others. Yet in September he would purchase Bob Geigel's Central States / Heart Of America wrestling promotion to rejuvenate his somewhat struggling promotion. He would so as he would run it from Sept of 1986 to February of 1987 when he would then sell it back to Geigel. Yet as 1987 reared its head Wrestlemania III would be looming in the distance. And it would be one for the ages as Andre The Giant squared off against Hulk Hogan and Randy " Macho Man " Savage would take on Ricky " The Dragon " Steamboat ( one of the greatest matches of all time ). In the aftermath of the event that supposedly set indoor attendance record Crockett had to do something. With his reelection as president of The NWA in 1987 he attempted to do just that. He would purchase one of his biggest rivals. It was called The UWF ( Universal Wrestling Federation ) and ran by " Cowboy " Bill Watts. Crockett had promised to promote many of The Mid-South / UWF wrestlers alongside his own but despite his word the majority of their stars were buried as jobbers with the notable exceptions of The Fabulous Freebirds , Rick Steiner and specifically Sting who would soon be molded into a major star for JCP. Also in 1987 Crockett would purchase Championship Wrestling From Florida ( CWF ) but by the time of purchase most of the performers had already gone to The WWF or even Crockett's own promotion. Now in all by 1987 he had six wrestling territories under his banner of JCP and was also president and majority booker of The NWA. However in November Starrcade '87 would be the first time it would be available on Pay Per View and it would be shown on its traditional Thanksgiving slot but with The WWF revealing its newest Pay Per View event titled " The Survivor Series " it would be aired on the same day. Which caused Crockett to show his program on the same day but at an earlier time slot. The WWF also told the majority of the cable companies that were offering both products that if they showed both programs then the WWF would not air future programming like Survivor Series or Wrestlemania IV ( in March on 1988 ) with their cable companies. That would cause many to drop Starrcade as only five companies allowed it to be aired with them. It devastated Starrcade '87 in terms of monetary success causing Crockett to attempt a direct strike against the WWF. In March of the following year Crockett would create Clash Of The Champions to be aired on TBS. On March 27th 1988 the first Clash Of The Champions supercard would air on a Sunday night directly against Wrestlemania IV. With The Clash being a free cable program featuring then NWA Champion defending his title for the first time against new rising star Sting. Also the NWA Tag Championship , NWA US Tag Championship and The NWA Television Championship were defended. It was one of the few things at the time that worked in the favor of Crockett as the buy rate for Wrestlemania IV was considered dismal when compared to Wrestlemania III the previous year. But all was not great overall for Crockett and his company.
Many insiders thought that Crockett now had a monopoly over The NWA and its title changes and that would be true to an extent. Since Flair was the champion for the majority of his run as president as well as a JCP employee. In fact all of the title changes that would occur from 1984 to 1988 were all to members under the contract of Crockett's company. He had a lot going for him and expanded his hold on NWA Wrestling as he and Dusty Rhodes ( as head booker ) relocated to Dallas as their new headquarters while David Crockett ( the brother of Jim Crockett Jr. ) ran the office in Charlotte. But the expansion was soon starting to have a negative effect on Crockett's wrestling promotion. Many people thought that it started with the loss of their top face Magnum T.A. with his October 1986 car crash and subsequent paralysis along the left side of his body. It would force him to retire a mere month before he was scheduled to gain the NWA Championship from Ric Flair for the first time. It forced heel wrestler Nikita Koloff to turn face and become the rival to Flair in what many thought of as a weak rivalry.
Besides that Crockett tried to expanded into market's mostly unknown to his target audience like Chicago with Starrcade '87 and in New York with The Bunkhouse Stampede. The Stampede itself was a dismal failure which only had a made $80,000 for JCP with an attendance of only 6,000 for an arena that could hold over 16,000 at minimum. Not only that but also that would be the first time that The Bunkhouse Stampede would be a Pay Per View event and to counter act that The WWF would show a new wrestling event for free on The USA Network titled " The Royal Rumble " ( which would go on to be Pay Per View the following year. ). That would hurt Crockett's buy rate severely. Many of the reliable fan base also started to hate what was then being referred to and still is today as a Dusty Finish ( an ending where either man can claim a victory or when the face appears to win but it is then reversed. ) By burying the majority of The UWF talent Crockett wasted what could have been an invaluable angle. A big error he made was the marketing , production and merchandising aspect of the business which he failed at when compared to The WWF at that time. But what many people ( me included ) think of as his biggest mistake was putting to much into keeping up the appearance of groups like The Four Horsemen. Examples included flying himself and his top stars around in a private jet. But beyond the personal jet was the purchases of limousines for his wrestlers and extravagant parties held throughout his territories and offices. In all Crockett was hemorrhaging money trying to keep up with the appearance of the lavish lifestyle created by his characters.
Nearing the end of 1988 Crockett was on the verge of bankruptcy and would sell out to a man he had done business with before by the name of Ted Turner. In November on 1988 Jim Crockett had sold his company to Turner who would in turn re-brand the company as WCW ( World Championship Wrestling ). WCW was already a known name to fans of Crockett's brand of wrestling since 1982 when it was used as the name of various programs throughout JCP and Georgia Championship Wrestling ( GCW ). Crockett was out but Dusty Rhodes was still doing the booking as 1988 was coming to a close but he seemed to be burnt out after a near year long back stage struggle with Ric Flair. His ideas , angles and Dusty Finishes were aggravating alot of fans and wrestlers alike. With the rumor that the NWA Championship was being planned on changing hands in a five minute match pitting the champion Ric Flair against mid-carder Rick Steiner numerous people questioned Rhodes abilities as head booker. But before that would take place Rhodes would be fired as head booker thanks to an angle created by him where Road Warrior " Animal " would take one of his shoulder spikes jamming it into Rhodes eye causing his eye to puncture which was a violation of the no blood policy created by Ted Turner after his purchase of Jim Crockett Promotions. With Crockett out of the picture and now Rhodes as well Turner moved into 1989 with new eyes and ears as NWA Champion Ric Flair also became head booker. Flair and Turner would turn a new page for WCW as Flair brought in Ricky Steamboat to renew a rivalry the two had years before. It would be the family man Steamboat who would be often accompanied by his wife and young son versus the immoral and conceited ladies man " The Nature Boy " Ric Flair. The two breathed life into wrestling putting on what my fans , wrestlers and insiders would call the greatest rivalry of 1989 and led to what many still call one of the greatest series of matches of all time ( me definitely included ). The one match that stands out of the three that took place in 1989 with those two men would be to me the 2 out of 3 falls match during Clash Of The Champions VI on April 2 , 1989 which saw then NWA Champion Ricky Steamboat successfully defending his title against the challenger Ric Flair. At their final match at WrestleWar '89 Flair would regain the championship from Steamboat only to be attacked post match by Terry Funk as the two men would feud throughout the summer and into the fall. Flair and Funk would wrestle for The NWA Championship in an I Quit match at Clash Of The Champions IX on November 15 , 1989 with Flair winning by applying the figure-four leg lock causing Funk to scream " I Quit! ".
Author's Side Note

All three of the matches between Steamboat and Flair and Flair and Funk went on to receive the prestigious " 5 Star Rating " from The Wrestling Observer Newsletter. Overall Flair would get 6 " Five Star Matches " in his career which is extremely rare considering their hasn't been one received by The WWF/WWE since 1997.
As the decade of wrestling would come to an end the stalwart of JCP now WCW would be " The Nature Boy " Ric Flair as he headed into the 90's as NWA Champion and led the last charge forward against The WWF.
Overall Jim Crockett's legacy might be smeared a bit by the corporation now known as The WWE today but in many wrestling fans minds they still think of JCP or Mid-Atlantic Wrestling to many as the last of the old guard where the wrestling came first and the drama came second. For over 55 years a majority of wrestling fans from the south-east specifically the Carolina's and eventually across the nation would know the quality performers the Crockett family brought to their towns and televisions in the hopes of entertaining them.