Here we are for Part 2 of Collector's Remorse aka Making Room for Baby. As of this writing, the son for whom I saved many of these "treasures" has yet to be born, so there's still time to clear out some less essential parts of my collections. I actually got a few offers on the stuff I decided to discard after the last article, so who knows what you'll find in this installment. I highly recommend you stay for the end, as I have something truly unique to share.
Marvel Universe Trading Cards (1990)
Let's start small here with an unopened pack of Marvel Universe trading cards. This series, in my opinion, was responsible for launching the non-sport trading card boom of the 90's. The period during which every comic, movie and even sitcoms got their pictures pasted on thin cardboard rectangles. Before these babies came around, it was all Reggie Jackson rookie cards and the occasional stray Garbage Pail Kid sticker that survived the 80's.
I can tell you that nothing fills me with more nostalgic excitement than looking at a pack of Marvel Cards and imagining what magic is to be found within. Cosmic Spider-Man? Stan Lee as Mr. Marvel? A Wolverine hologram?! As an 8 year old in 1990, I had my Mom driving all over the place trying to find a Baseball card shop that carried them, what a gal. I don't think I've ever been more filled with childish glee than when we finally found the dingy, little strip mall store that had that majestic box sitting inside a glass case.
Why were these cards so awesome, you ask? For starters, the artwork was fantastic and really gave you a sense of each character. The variety of subjects was great, from Comic Book Covers, to Famous Battles and even Spider-Man Presents, which contained jokey conversations with traditionally serious Marvel characters.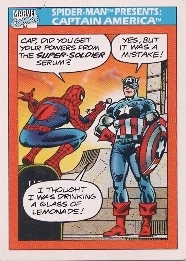 But for me, it all came down to the stats! You could learn all the important details about your favorite super-hero or villain and wow your schoolyard chums. Knowing that Wolverine's first appearance was in The Incredible Hulk #181 had to have some social value, right?
Speaking of value, that's what we're here to determine. Now I have a full binder of these things in another storage area (that according to ebay could go for about $15), but what we're talking about here is a single unopened pack. The joy this could potentially bring is priceless. I think I can safely tuck one pack of cards away in my son's closet without taking up too much space. That way when he turns 8, he can have the same experience of opening a pack of mystery and wonder as dear old Dad. Saved!
New Kids On The Block VHS Tapes (1989-1990)
This will be a quick one. My brief foray into New Kids On The Block fandom as an attempt to have something to talk about with girls has been well documented in my "That's Girls Stuff!" article of many years ago. YES, it got out of hand, YES, I bought a Jonathan Knight doll and YES, I did end up making videos with friends of us dancing their moves. Thankfully, these 2 VHS tapes are all that remain of that era of confusion.
I could try to justify and say that these tapes need to be preserved as an example of 80's/90's pop culture, but frankly that's what YouTube's for. Plus, my wife spent her childhood reading books instead of listening to music or watching TV (what a misspent youth), so she has no appreciation for the works of Wahlberg, McIntyre, Wood and Knight(s). Most important of all, my son does not need to use this as an excuse to start dressing like the latest boy band by saying, "But Dad, you used to have a rat tail and dance around to The Right Stuff". See you later NKOTB!
The Shadow Club Membership Packet (1994)
I make no bones about my appreciation for Russell Mulcahy's 1994 classic The Shadow starring Alec Baldwin. It's a fun adventure with cool visuals and a good sense of humor about itself. It's definitely worth your time. As documented in my "90's Obsession: The Shadow" article, my love of the character came from time spent with my Dad and stories of his youth, but I made it my own when I joined The Shadow Club.
I was always a fan of secret clubs for kids shown in old movies and TV shows. Like Ralphie's affiliation with Little Orphan Annie in A Christmas Story, I wanted to be a part of something with secret decoders and newsletters. So when I saw the opportunity to join The Shadow Club in an issue of Starlog, Wizard or some such geek publication I was all in. 4-6 weeks later I got this collection of goodies in the mail.
First of all, the CONFIDENTIAL FOR YOUR EYES ONLY stamp reeks of exclusiveness and adds greatly to the importance of what lies within. Add to that the fact that kids love getting mail of any kind and even the packaging is a winner. Upon opening the packge the first contents turn out to be a Shadow Club button featuring the insignia of the organization and the first edition of the newsletter. Not the best way to grab the attention of a 12 year old, but let's continue on.
As you can see we have the official Certificate of Membership, which is important to keep on file in case you get audited by the SSD or Secret Society Department. Just behind that document we find a "signed" picture old "Shad", as I call him, that I am surprised I never hung on my wall. Up next we have the Shadow's Secret Code card, which is pretty disappointing considering that Mr. Cranston gives his agents glowing rings and notes written with disappearing ink in the movie.
Finally we see the most exciting part of the package, the membership card and agent ring! Yes, I was Agent 01526 and I had the card to prove it. The ring design was a little underwhelming (just the club insignia again), but at least I had some bling to flash around… to myself…in the bathroom mirror…on a lonely afternoon. Yes, life as an agent of The Shadow is a solitary one.
Ironically, this starter kit of The Shadow Club put an end to my fandom for the character. Usually being part of a club creates some type of social outlet, but seeing as I could very well have been the ONLY member of this club for all I knew, my affiliation didn't mean much. I've also come to realize this is only the 2nd time I've gone through the stuff since I originally got it in the mail, so I think it's safe to say that I could pass this along on ebay without feeling I'd lost a piece of my childhood. Not that I expect to get much for it, since the demand for The Shadow merchandise from 1994 is probably not going to explode any time soon. Into the night you go, dark avenger.
OK, I promised you something special if you stuck in there and here it is…
Mean Gene's Burgers Memorabilia (1999)
If you have been a wrestling fan of any sort in the past 30 years you know of the myth, the man, the mustache, Mean Gene Okerlund. Most associated with Hulk Hogan interviews that began with "Let me tell ya' somethin' MEAN GENE…", this tuxedo wearing announcer was a constant through the WWF and eventually WCW from the 80's to the 90's, but did you know he also had his own burger joint? Here's how I found out…
On a car trip with my Dad in 1999, we were driving through the barren highways of Utah when I saw a billboard advertising "Mean Gene's Burgers Next Right". I couldn't believe what I was seeing, could this actually be a diner serving up greasy goodness inspired by the man with the golden voice? I told my Dad we absolutely had to stop and find out if this was a wrestling induced mirage or the real deal.
As we pulled up to a small gas station off the beaten path, my eyes beheld a vision, it was Mean Gene's face on fast food sign colored in yellow and black. We walked into the restaurant, ordered up some food and found out you could "Mean Size It", which is to say, get more of that burger goodness. For only .49 more, how could we pass it up?
$10.90 later I was a happy man chomping away on a western BBQ burger and grabbing all the free stuff featuring Mean Gene's smiling visage that I could.
I gathered napkins, I grabbed a placemat, I even carefully folded the bag after removing it's delectable contents. I was very aware that this may be my one and only visit to such an establishment and wanted as much evidence as I could to prove I had been there. After a while I noticed that people were staring at our table, had I taken too many napkins? Finally a guy approached my dad, "Are…are you Mean Gene?" You have to understand, my father is a balding man who wears a black suit everywhere he goes, put a mustache on him and maybe in the right light he very well could have passed for Mr. Okerlund!
After Dad cleared the air about his identity, we got ready to leave, but not before I scored one last memento, a Mean Gene's Burgers t-shirt! Emblazoned with the slogan, "The Burger That Says, Bite me!", this was as fine a piece of apparel as I've ever owned. I recall getting attention at some Primus and Misfits concerts I attended around that time due to its awesomeness. And yes, that is my face with velcro sideburns mounted on an Iron Man cardboard standee. Don't act like you don't keep one of those around your house, too.
I'm glad I grabbed all that memorabilia while I could, because the next time we rolled passed that highway exit a year later, Mean Gene's Burgers had been replaced by Rosalita's Fine Mexican Cuisine where asking for asking for a burrito to be "Mean-Sized" was considered Muy Loco.
So as far as keeping the thing, here's the deal, there are only so many places you can wear a shirt that says "Bite Me" and with a baby on the way my concert going days are going to be few in number. As much as I love this shirt, I'm sure there is a hardcore wrestling fan out there who would wear it way more often than I ever have. Shoot, maybe Mean Gene himself wants it to sell at his convention appearances. Signed, I bet he could get upwards of $50 for it! That's enough to "Super Macho Mean Size It"!
I think we've done enough damage for this installment. More to come for sure. Anyway, I gotta get back to teaching the kid about the world of super heroes in utero using my 1987 Burger King Super Powers cup holders. Nobody is getting rid of those plastic beauties if I have anything to say about it.