Throughout the 70's, there were some great sitcoms, such as All in the Family, Happy Days and Three's Company and so many more. I'm actually a 90's kid, but I grew up watching sitcoms like these on Nick at Nite. Of all these 70's shows I watched, nothing ever compared to my favorite TV show of all time, Mork & Mindy.
This show has a history behind it that I would to talk about, but first, I would like to share how I discovered this show. Growing up in the 90's, I've developed a love for movies. I particularly loved Robin Williams' movies. I think my first film with him in it was Aladdin. Now course at the time, I didn't know who was playing The Genie, but I remember loving the film and especially loving The Genie. Then, I watched Mrs. Doubtfire and I loved it. One day when I was watching it, I commented to my parents saying, "That guy sounds like the Genie from Aladdin." Then they told me that it was. I couldn't believe it. I was amazed that it was the same guy. Then, a couple years later, I saw Jumanji and once again, I was amazed to see Robin Williams in the movie. I didn't even know his name at the time and I was excited. As I'm watching it, I asked my Dad what his name was. He told me it was Robin Williams. Then, after watching Jumanji, I went to my computer and went on an internet search spree. I came across IMDB, which listed every movie he was in up to that point. I went to the video store and rented some of these movies, or at least the ones I was allowed to see, being that I was still young. Anyway, one day as I'm watching one of his movies, I realized that I've found my favorite actor. Now anytime I saw him on TV or in movies I got so excited. As I got older, I continued to discover more of his movies. Then one day, when I was around 12 years old, I was watching of his movies with my Dad. As we're watching it, my Dad told me he was in a TV show back in the 70's. I excitingly asked what it was. He told me it was called Mork & Mindy and that he played an alien. A couple days later I got the first volume of the show from my video store and popped in the tape and laughed all the way through. It was Robin Williams at his best. Of course, he's a great comedian too, which I discovered when I was old enough to watch his acts.
Now onto the show itself. The whole idea of the show started in 1977, when Robin Williams was made a guest appearance on Happy Days. The show's creator, Garry Marshall, had a son who had seen Star Wars and thought that there should be alien on Happy Days. So, Garry Marshall like this crazy idea and set out to find his alien. At first, actor John Byner was going to play this alien, but quit the role. Then, Marshall saw Robin Williams doing stand up at a night club and wanted him for the part right away. Williams came in to audition with suspenders and when he was asked to sit down he sat on his head and started doing alien like things and got the job. He would be a guest on the Happy Days episode "My Favorite Orkan." This episode was aired on February 28th 1978 and was a big success. The episode was about Richie seeing a flying saucer, but no one believes him. Then, Mork arrives at his door step with questions about Earth and Richie's life and wants to take him to Ork to show how the average earthling lives, that this if he could get past Fonzie. After the episode aired, people automatically loved Mork. This is when Garry Marshall came up with the idea of doing a spin off series about Mork.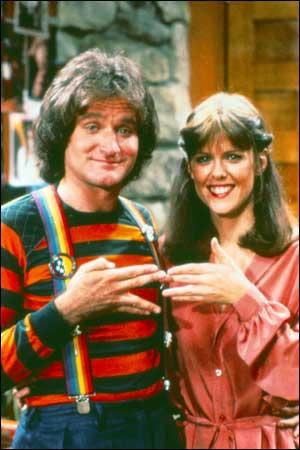 This idea was called Mork & Mindy, it would be the second spin off of Happy Days, the first being Laverne and Shirley, which Garry Marshall also created. Of course, Robin Williams was asked to come back for the series and accepted. The part of Mindy was given to actress Pam Dawber, who the producers had scene in a commercial and liked her. In fact, she didn't even audition. The producers actually took the commercial and spliced it together with Williams' appearance on Happy Days and felt she would be a great comic foil for Williams to bounce off on. Other actors in the series included, Conrad Janis and Elizabeth Kerr. There was also several episodes with actors Tom Poston, who played Mr. Bickle, Mindy's landlord and Robert Donner who played the eccentric Exidor, who was a big believer in aliens and is Mork's good friend. Now the stage was set and Mork & Mindy was now a series. The show premiered on September 14th, 1978 and was a ratings success. The show was about an alien named Mork who came to Earth and runs into a young girl, who takes him into her apartment and learns that he's an alien, she's amazed. She's a college student who works at a music store with her Dad and grandmother. Now week after week, people tuned in to see Mork & Mindy. It was even #3 in the ratings, just behind Laverne & Shirley and Three's Company. After a first season of great laughs, it was now time for the second season to launch.
Now in 1979, everyone knew Robin Williams. Even when he did stand-up acts, he was always asked to do Mork. It was even during this time, when he developed his friendship with comedian John Belushi. Mork was everywhere in merchandise. There were Mork & Mindy toys, a lunchbox, puzzles, clothes, and much more. Some of these items, I even collected myself. People around the country were saying "Na-Nu Na-Nu," Mork's catchphrase. Although, the show was a success, the producers wanted to make some changes to the show to bring in younger audiences. First, they got rid of Conrad Janis and Elizabeth Kerr and bought in Jay Thomas and Gina Hecht who played two Italian siblings from New York who came to Colorado to open a deli and start a new life and they become friends with Mork and Mindy. Another change that was made was moving the show from Thursday night to Sunday night, which is pretty much the worse day for a show to air. They also decided to make the show more "meaningful." They also wanted to give the other cast more attention, since they felt that it was just Robin Williams' show, since almost everything he said was improvised and got the most attention. These changes didn't help the show. The ratings slipped to #27, due to viewers being confused with the new air time and the changes to the show. Once the second season ended, the producers tried to fix their mistakes.
Now in the third season, the producers made more changes, but for the good. First, Conrad Janis and Elizabeth Kerr were brought back to the show. Also, the show got moved back to Thursday nights and the stories for episodes got less complicated. It brought back some viewers, but it still didn't help. The producers even made outrageous episodes to show Williams' talent, but that didn't help. They even made an episode in 3D, but that also didn't help. As a result the third season didn't make it in the top 30. It was clearly in trouble. Not only was the show in trouble, but so was Robin Williams. It was at this time that he was going through a drug addiction. It put pressure on his marriage and his life.
Now it's 1981 and the start of the fourth season. This season proved to be the most desperate and outrageous of all the seasons. First off, Mork & Mindy got married and had a kid. The kid was named Mearth and he was played Jonathan Winters. The reason being is because Orkans age backwards, so they had Winters play the kid. Also, Mork is the one that had the kid, so he was the Mom and Mindy was the Dad. They hired Winters for the show because he's Williams' comedic idol, so they figured they could work off each other and create some funny moments. This did help the already troubled series. In 1982, Williams' friend John Belushi passed away from his drug addiction. This is when Willaims cleaned up. Then, Mork & Mindy was taken off the air.
Soon, Mork & Mindy took a new direction: animation. In 1982, Hanna-Barbara produced a cartoon series called The Mork & Mind/Laverne & Shirley/Fonz Hour. All the original actors came back to perform the voices to their characters. It only lasted one season.
After the series, the cast members went on in different directions. Of course we all know, Williams became a great actor and comedian, but what about the rest of the cast? Well, Pam Dawber went to do film, television and theatre. Conrad Janis did some film and TV roles. Elizabeth Kerr also did some film and TV roles, until her death in 2000. Tom Poston also did various film and TV roles, but died in 2007. Robert Donner also did various film and TV, but died in 2006. Johnathan Winters, Jay Thomas and Gina Hecht continue to work in film and TV.
In 1991, Mork & Mindy was revived on Nick at Nite. Reruns were aired until 1995. Then, Fox Family eventually aired the series for a short time in the late 90's. In 2004, Mork & Mindy was finally released on DVD. However, it took Paramount another three years to release seasons 2 and 3. Now we just wait for the final season. In 2005, NBC aired a TV film called Behind the Camera: The Unauthorized Story of Mork & Mindy. The film was about the making of the series and behind of the scenes of the life of the cast members, especially Robin Williams. Williams was played by actor Chris Diamantopoulos. I thought it was a very good film and Chris Diamantopoulos did an excellent job of doing the difficult task of portraying Williams. On Thanksgiving 2008, SyFy aired a Mork & Mindy marathon, once again bringing back the show. For years, Williams has talked about wanted to do a Mork & Mindy movie and he even wanted to direct it, but the project never got off the ground. It's still an idea being thrown around.
Nowadays, Mork & Mindy is considered to be a classic sitcom, but at the same time kind of underrated, due to the decline of the later seasons. I personally blame the producers who broke the big rule of television: "Never tamper with a hit." The first season was magic and funny stuff. It was Robin Williams at his best. I also enjoy the other seasons, despite their weirdness, but that first season was just incredible. Even one of the episodes from that season, "Mork's Mixed Emotions" was voted by TV Guide as one of the greatest episodes in television history and rightfully so, it's brilliant and Williams really shows his talent in that episode. It's my favorite show of all time, and just because Robin Williams is my favorite actor, but everyone in cast makes the show just as great as Williams does. Plus, it was funny and a lot of episodes were fun to watch. I still wonder what the series would've been like if it had been more like the first season. I think it would've lasted a little longer and done better in the ratings, I don't know. All I do know is that I love this show and to me it's one of the best sitcoms of all time.