Throughout history, there have been many kinds of comedians. There were film comedians such as Charlie Chaplin and Buster Keaton. There were also stand-up comedians such as Richard Pryor and George Carlin. However, no comedian was as eccentric, misunderstood and entertaining on stage, film and television than Andy Kaufman.
The man we know as Andy Kaufman was born Andrew Geoffrey Kaufman on January 17, 1949 in New York City. Growing up as a kid in Long Island, he loved performing. He would perform in his room in front of the wall as if a real audience was in front of him. He started performing "professionally" at age 9. He would perform at birthday parties for the neighborhood kids. He continued to perform as an amateur throughout high school as well.
He soon went to college in Boston at Graham Junior College. It was here that his life change for the worse. He suffered from additions of drugs and alcohol. All of this lead to a pregnancy of a girl Kaufman knew in college. The couple soon put their daughter up for adoption. Eventually, Kaufman heard about this form of meditation known as Transcendental Meditation (TM), which was came about in India in the 50's. Kaufman started using this and began to live a clean life. There was no more drugs or alcohol in his life. He did something else though: performing.
After graduating from college in 1971, Kaufman started performing at comedy clubs. It was also during this time when Kaufman met his best friend and writer, Bob Zmuda. Kaufman had a variety acts that he did. One act involved a character he created known as "Foreign Man." In this act, Kaufman would portray himself as a foreign man from "Caspiar." He would get up on stage as this character and tell bad jokes and do bad impressions. He would then tell the audience he was going to do an impression of Elvis Presley. Suddenly, out of nowhere, he would turn around and turn back he would look and sound exactly like Elvis Presley. This is when the audience realized that they fell for Kaufman's trap. It was an act that was misunderstood, but at same time came off as being quite funny. Another act that he did was playing a character he created called Tony Clifton. Tony Clifton was a lounge singer who would heckle the audience, rather than the audience heckling him. However, unlike the "Foreign Man" character, no knew this was Andy Kaufman. He achieved this by literally making the character into a human being, by disguising himself as what he envisioned; a horrible singer who hated the audience. He even did other acts such as just sitting on stage eating ice cream, doing laundry, and even reading the entire book, The Great Gatsby. Kaufman continued to perform at more clubs until he got he his big break in 1975.
A new comedy variety show was going to air on NBC in October 1975, known as Saturday Night Live. The first episode was hosted by George Carlin. Throughout the show, there were skits performed by comedians such as John Belushi and Dan Akyroyd. Finally, Kaufman appeared as a musical guest. The audience didn't know what they were in for. Kaufman came on stage with a record player and a glass of water next to him. After a few moments, Kaufman turned on the record player and all of the sudden, the theme song of Mighty Mouse starts playing. As it's playing, Kaufman just stands there in silence. The audience was confused and didn't know what to make of this. Suddenly, Kaufman starts lip-synching the one line of the song that's sang by a deep voice, which is "Here I come to save the day!" The audience started bursting out laughing. Again, they realized it was all a trick. Kaufman even took the glass of water and drank from it as if he sang for a long time. It was unusual, but brilliant. Soon after this appearance, Kaufman's career began to skyrocket.
In 1977, Kaufman took his "Foreign Man" character to new heights. First, he tried his character a new television show called Stick Around. He played Andy the Robot. He would use the Foreign Man voice to play the character. Unfortunately, the show was never picked up as a series. Kaufman even made a brief performance in a Larry Cohen film called God Told Me To. The film was about a string murders happening in a city, because God told the murderers to do so. Kaufman played a police officer, who was one of the people who was told to kill. Kaufman got another chance to be on television again with a sitcom called Taxi. The show was about a group of cabbies who weren't all happy with their job and had dreams they wanted to achieve. At the same time, they got into comedic situations. At first, Kaufman didn't want to do the show, but was eventually convinced by his manager, George Shapiro. Kaufman played Latka Gravis, the garage mechanic, who spoke broken English and trying to get into American culture. The show premiered on September 12, 1978 on ABC and was a huge success. Kaufman even became known on the show for his catchphrase, "Tank ya vary much." When Kaufman wasn't working on Taxi, he would be performing acts at clubs and theaters. he would perform the same acts he started out with, as well as a new one.
As a kid, Kaufman was a big fan of professional wrestling and he had always wanted to try to become a wrestler. However, he realized his small stature wouldn't serve him well as a wrestler. That's when he came with an idea. His idea was that he would wrestle women instead. He would challenge women in the audience to wrestle him while belittling them in the process. Women actually stepped up to the challenge and wrestled Kaufman, but would always lose. Kaufman even claimed himself to be the "Intergender Champion." He went even further by creating a championship belt he would use in this particular act. Kaufman now had a variety of acts and decided to put them together in one show.
In 1979, Andy Kaufman went from the small stage to the big stage when he performed at Carnegie Hall. This show had all of Kaufman's acts, including some guests appearances. One appearance from an old actress named Eleanor Cody Gould, who was a child actress. Kaufman had her do a little performance on stage and suddenly she was having a heart attack on stage. She fell to stage floor and was pronounced dead. The audience was stunned. Suddenly, Kaufman comes out dressed as an Indian trying to bring the actress back to life. That's when the audience, who knew Kaufman by now, knew it was all an act. Kaufman had tricked them once again and got them again later on in the show. Kaufman had his grandmother sit on stage in a rocking chair watching the entire show. At the end of the show, his grandmother pulled off her mask to reveal it was actually Robin Williams in disguise, which is ironic because he would later play an old lady in Mrs. Doubtfire. At the end of the show, Kaufman invited the audience out for milk and cookies at a local school cafeteria. He told the audience that were buses waiting outside and ordered them to follow him. The audience wasn't sure if was a trick or not. However, Kaufman did not disappoint. Surely enough, there were buses and there were milk and cookies after all. Needless to say, the show was a success. Kaufman had another show coming his way.
Kaufman had a deal with ABC when he agreed to do Taxi. He said he would do the show as long he could have his own special. ABC agreed to his terms and special, Andy's Funhouse, was taped in 1977. However, due to disagreements with ABC, the special didn't air until 1979 on NBC. It was a huge success and even beat the ratings of Johnny Carson. This special really captured the childlike side of Kaufman, especially when he talks with his childhood hero, Howdy Doody. It was a sweet and charming part of the show. With the success Kaufman was getting he continued to make more television appearances. He appeared as a guest on talk shows such as David Letterman. Soon Kaufman made his way back to film, only this in bigger roles.
His first major role was in the 1980 Marty Feldman comedy In God We Tru$t. The film was about a Brother, played by Marty Feldman, who has to go out and find money to save a monastery. Also in the film was Peter Boyle and Richard Pryor. The film was released by Universal Pictures and bombed both critically and commercially. Meanwhile, Kaufman and his writer Bob Zmuda were working on script for a Tony Clifton movie, called The Tony Clifton Story. It would tell the "life and times" of Tony Clifton. It was a way to keep the idea to audiences that Tony Clifton was real. However, the film would only get made if Kaufman's next movie did well. His next role was playing a robot in the film, Heartbeeps. It was about three robots that escape from the manufacturing plant and try to live life in the outside world, while being hunted down by people from the manufacturing plant. The film cost $10,000,000 to make and only made $2,000,000 at the box office. It also bombed with the critics. With Heartbeeps being so unsuccessful, both Kaufman and Zmuda lost their chance to do The Tony Clifton and were fired from Universal Pictures. No other studio would hire them after that. Kaufman was so ashamed of the movie that he went on the David Letterman Show and apologized to everyone that saw it. He even said he'll give back the money to people who saw the movie, to which Letterman commented to that by saying, "better have change for a 20." Eventually, Kaufman went back to an old act of his, but took it to the next level.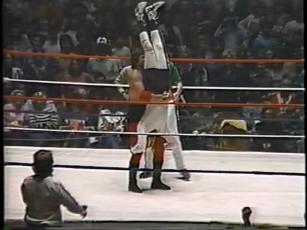 In 1982, Kaufman decided to take his wrestling gig to bigger heights. He first went to Vince McMahon at the WWF and asked if he could wrestle there. McMahon didn't like the idea. That's when Kaufman went to Mid-South Wrestling, where his idol Elvis Presley came from and was big with it's wrestling. Kaufman appeared in the Mid-South Coliseum in Memphis, TN. He came into the ring and challenged any woman who thinks they could beat him. He said he would marry the next woman who beats him. He also said he would pay them $1,000 and shave his bald if he's beaten. Again, no one knew if this was an act. After wrestling several women and defeating them, Kaufman another challenge, but this time from a man: Jerry "The King" Lawler. Lawler came into the ring and challenged Kaufman to a wrestling match. Kaufman accepted the challenge. They eventually had their match. Throughout most of the match, Lawler would go after Kaufman and Kaufman would run out of the ring and taunt Lawler. After so many times of doing this, Lawler was fed up and offered Kaufman a free headlock on him. Kaufman held Lawler in the headlock and was taunting the audience feeling confident. Suddenly, Lawler lifted Kaufman and slammed him to the canvas with a side suplex. Then, Lawler lifted Kaufman up andset up in the piledriver, which was illegal in Mid-South Wrestling. Without any care Lawler applied the piledriver and was disqualified. Kaufman was taken out of the coliseum and into an ambulance and sent to the hospital. After that match, Kaufman and Lawler appeared on the David Letterman show together, where Kaufman said he was sorry for bad mouthing women and claiming it was all and act. Lawler wouldn't accept the apology though. They continued to argue and then Lawler got up and slapped Kaufman out of his chair. Kaufman then got up walked away in anger, but then walked back to cuss Lawler out and threw a cup of coffee at him. He then ran off the stage. Kaufman continued wrestling more matches against Lawler by either actually wrestling him or having a bigger and stronger wrestler do it. He even had Jimmy Hart as his manager. Kaufman's wrestling stint ending in 1983. Was this real though?
Actually, the whole feud between Kaufman and Lawler was an act. Lawler confessed to this years later in his autobiography. Bob Zmuda even confessed to this. Kaufman never broke his neck form the piledriver, like he claimed he did. Even the Letterman incident was set up. It was Kaufman's idea for Lawler to slap him. Lawler didn't want to hurt him, but Kaufman insisted on it. Now back to 1983, where at this time, things weren't getting easier for Kaufman. First, Taxi was cancelled. Then, he was kicked off Saturday Night Live via vote from the viewing audience. However, Kaufman made somewhat of a comeback.
That same year, Kaufman and wrestling legend "Classy" Freddie Blassie made a film together called My Breakfast with Blassie. It was a parody of the 1981 film My Dinner with Andre. The film had Kaufman and Blassie sitting at a diner having breakfast and talking about different subjects, such as wrestling. At the same time, they run into different situations, such as annoying fans who ask them for autographs while they're eating. It was also on the set of this film that Kaufman met Lynne Margulies, whom would become his girlfriend and live with him. However, things would get worse for Kaufman.
In late 1983, Kaufman was diagnosed with a rare form lung cancer. Unfortunately, it was incurable. Although, this was true, no around him believed him. He had to convince family and friends that he was dying. People in media and others didn't believe it either. They saw this as another act, since he pulled hoaxes a lot of times. He even started to show signs of illness. For example, at the end of 1983, My Breakfast with Blassie premiered in Hollywood. Kaufman showed up in jeans, white t-shirt and leather vest with a mohawk on his head, because he was losing his hair. He even look liked sickly with weight loss. Celebrities such as Robin Williams were also at the premiere. The play terribly for the first ten minutes. However, it started getting better and better as audiences starting laughing and cheering. The film ended up being successful and became a cult classic. However, that still didn't change the fact that Kaufman was dying.
By 1984, Kaufman was getting worse and worse. He tried different ways to get better by using methods he learned from meditation and even went to the Philippines to get "psychic surgery." None of these things helped though. On May 16, 1984, Andy Kaufman died. At his funeral, people were watching a screen and Kaufman was on it talking to them and singing songs. People were expecting Kaufman to pop up from the coffin or behind the curtains, but it never happened.
On May 16, 1985, a year later after Kaufman's death, Tony Clifton appeared at The Comedy Store in Los Angeles. There he sang "I Will Survive" to a cheering audience, who were thinking that it was Kaufman playing Tony Clifton. Was it? It was actually Bob Zmuda, who confessed to this years later. Often, Kaufman and Zmuda would switch playing Clifton several times, throughout his career. Even Kaufman's brother Michael would sometimes play as Clifton.
For years, people have always thought that Kaufman would come and claim that his death was a joke. However, it never happened. People really started to question it in 1999 when the film Man on the Moon was released. The film was a biopic of Andy Kaufman. Jim Carrey played the role of Kaufman. Paul Giamatti played Bob Zmuda. Danny DeVito produced and starred in the film as George Shapiro. Finally, Courtney Love played Kaufman's girlfriend, Lynne. The film was directed by Milos Forman, who had previously directed One Flew Over the Cuckoo's Nest and Amadeus. It didn't do well at the box office and was mixed with critics. However, it did win several awards, including a Golden Globe for Jim Carrey's performance. Although, the film does have some facts mixed up, it's a great film and probably one of my all time favorites. Again, people were expecting the real Kaufman to show up at premieres of the movies and such events, but it didn't happen. This happened once again on the 20th anniversary of Kaufman's death, May 16, 2004. There was a celebration of his life. Kaufman still didn't show up.
Andy Kaufman was a true legend. To me, what makes him so great is that he's not a conventional comedian. In fact, you can't really call him a comedian at all. He's more of a performance artist. He didn't even call himself a comedian. He preferred to be called a "song and dance man." In any case, he was a true genius. He knew how to work an audience, which is why I think it's so appropriate that he went into wrestling. He knew how to make an audience laugh, scared, childlike, etc. He knew it all. He was the Ed Wood of comedians, not very conventional, but more his own style. Although, in a way, his life is kind of sad, especially when he was dying, because no one believed him. His life was like a boy cry wolf story, you just didn't know what was real or fake. If he was alive today, I think he would still be playing with the minds of an audience and maybe even a wrestling commentator for the WWE. Could you imagine him and Jerry Lawler calling a match together? That would be great! Andy Kaufman was truly an eccentric, but brilliant performer.