We all have our idols in life and celebrities we gravitate towards, especially as kids. From a very early age, I had always admired Robin Williams after I had seen "Mrs. Doubtfire" and "Aladdin". When I heard the news of his death, my heart literally dropped and I had tears in my eyes. I mean celebrities are people, too and they die like all of us and I've been shocked and sad before over favorite celebrities dying, but they've never hit me as hard as this. So why did this affect me like it did? Honestly, it's very hard to say. The easy answer is that Williams was my favorite actor, but it goes much deeper than that. That's why I'm writing this piece. To pay tribute to a man that has influenced me a great deal.
Like many aspiring filmmakers, I grew up with movies and always went to the video store. One of my earliest memories was watching "Aladdin" and "Mrs. Doubtfire" very frequently. However, I wasn't aware at the time that Williams was part of both movies since "Aladdin" was an animated movie and I didn't put two and two together that he did the voice acting for Genie. Anyway, after seeing those two films, I saw "Jumanji". I looked at the screen and quickly realized it was the same actor I had been watching and then came to learn that he did the Genie. I was only six years and based on that, I declared him to be my favorite actor simply for the fact that I knew who he was.
Gradually, I became more and more hooked on his work. I, not only, laughed when I watched but also became inspired. For example, when I saw "Hook", I used to pretend to fly by jumping from couch to couch in my living room. Then "Flubber" was coming out, I was dying to see it. When I finally did, I loved it and declared that I would be a scientist like his character and begged my parents to buy me a science kit. I was so hell-bent on making this happen. Then, I saw "Bicentennial Man" and wanted to build a robot. Once I started getting more and more into filmmaking, I took my inspiration from these films along with other sci-fi comedies like "Ghostbusters" and wrote a 30-page script about a boy who invents a robot that has to fight aliens. I took a huge leap and sent the script to Columbia Pictures. I was 10 years old. The script got back to me with "Return to Sender" stamped on it. It inspired me to keep going though and then, like my idol, I decided that I wanted to be an actor/comedian.
Around this time, I was very much a huge fan. I would not stop talking about his movies or his comedy. I constantly did research about him on IMDb and was determined to follow his footsteps so much so that when I was in elementary school, I would try so hard to make classmates laugh, usually by doing voices or act wacky much like Williams. Sometimes I even repeated his jokes completely out of context, not realizing that no one understood what I was saying or doing. I thought because he did it that it must be funny. It was mostly seen as being odd or weird. I just had this urge to making people laugh and when I did, it was an incredible feeling. At family parties, I would get up in front of everyone and tell jokes I heard on Disney's Joke Time or read in joke books. As years went on, I would be in the schoolyard making the older kids laugh through my antics. It was a fun time now that I think back on it. Soon, I tried my hand at acting. I took a class at a local studio and learned improve techniques and we did a show on stage and I remember feeling excited getting an applause from the audience. By the time I got to high school, I was really serious about being an actor/comedian. My family found it hard to believe that what they thought was just a boyhood dream was turning into something serious. I joined the drama club in freshman year and continued to do so for the remainder of my high school years. There was nothing like being on stage and getting into character be it a drama or a comedy. The feeling of performing in front of hundreds of people was a complete rush and I enjoyed every minute of it. I even went as far as to doing stand-up comedy, professionally. I signed up for a contest at a local club and wrote some jokes and did the act. I didn't win, but I remember feeling the same thing I did in drama club. I was a nervous wreck, but managed to get a few laughs. I continued to do so and found some success with it. I wasn't amazing at it, but I highly enjoyed doing it.
Eventually, I wrote to Robin Williams. I told him how much I loved his movies and comedy and how much I wanted to be an actor and comic. I received the generic fan letter from a publicist, but with it he sent an autographed picture. I treasure it now more than I ever did before.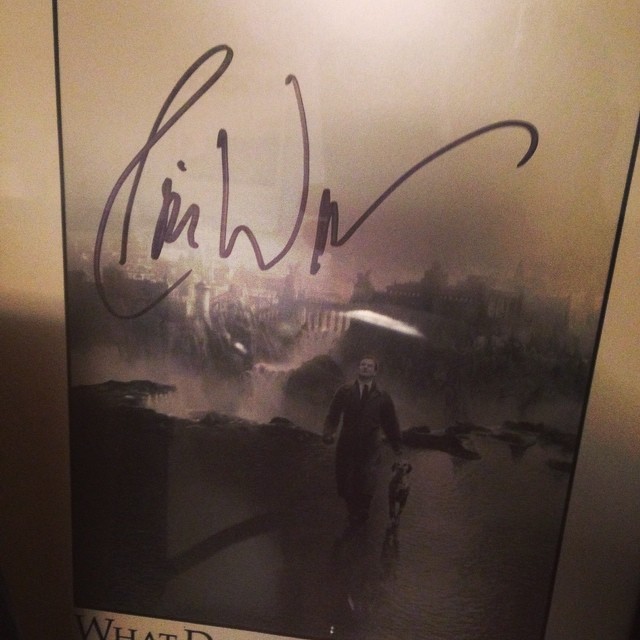 After doing and acting and comedy for a short time, I decided that it wasn't truly for me. I enjoyed it but I found myself going in another direction, which was filmmaking. While, I didn't go forth with my initial boyhood dream, I feel that filmmaking was always subconsciously the real boyhood dream. It all began by watching his movies and evolving into my love for cinema. I could have easily talked about his career and which movies I liked and such. However, I felt the need to take a more personal approach and show how much of influence he had on me. I've been seeing tons of tributes on social and each one brings back a lot of memories for me. It's hard for me to find the words to describe why I loved him. I've seen pretty much every episode of "Mork & Mindy", collected all the toys and memorabilia from the show and saw the countless movies he starred in. His endless amount comedic energy combined with his ability to bring a character to life was unparalleled. What else can be said that hasn't been said already? The man was a comic genius and gifted actor. I will forever miss him and never forget him. He will always be an idol to me.