A few months back some friends of mine approached me and asked me to help them pull together a convention for fans of reality TV. They tapped me because (for better or for worse) I have a lot of friends and acquaintances that were Top 20s from the first five years of American Idol, and they knew I'd be able to draw a lot of participants. So I got the Idol group together, a bunch of reality TV stars showed up, and we started setting up booths on the morning of the convention.
I was standing in the Idol area, chatting up Heather Cox and Will Makar from Season 5, when this short guy walked up and offered several of the Idols a couple thousand bucks apiece if they would sign some autographs. I turned and glanced at him, wondering what kind of person would be throwing around this kind of money at a reality TV convention. Thousands for autographs of singers who didn't win Idol? That sounded fishy to me, but there was something about him looked familiar. At the time, I couldn't place his face.
I shook it off, figured it was some nut-job fan--believe me, there were many there--and then went on making sure that the American Idol people were taken care of. About twenty minutes later I came back around to the booths, and one of the Idols came running up to me looking all excited. "That's the guy from 'A Christmas Story'!" she said, all flustered. I looked at him again, thinking he didn't look at all like Peter Billingsley, the kid who played Ralphie and wore the glasses. And it definitely wasn't the guy who played Scut Farkus.
Then it hit me. Scotty Schwartz! FLICK! The kid who got his tongue stuck to the flagpole! You know...the "triple dog dare" kid?!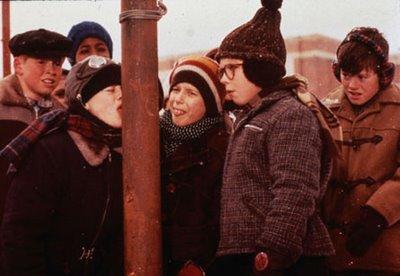 I immediately dropped what I was doing and went over to meet him. At 6'1, I towered over him. He greeted me, and I told him that it was nice to meet him, and that I watched "A Christmas Story" every year. And of course I told him that his flagpole scene was my favorite. (It is, I swear.) He still has that mischievous twinkle firmly implanted in his eye, and like a lot of former child stars, he doesn't mind talking about the glory days.
I asked him if he still receives residual checks from "A Christmas Story" or "The Toy." Surprise, surprise, he doesn't. "The studios back then really screwed kid actors," he said. "Basically they tell you 'here's what you're gonna do and here's what you're gonna be paid for it. If you don't like it, we'll find another kid to replace you.'" The only money he ever sees from those movies comes from making personal appearances. Business, the way it was done back then, was not good for child actors.
As we looked around at the reality TV booths, Scott couldn't believe the low rates the reality stars were charging for memorabilia. "I saw some of them were charging five bucks an autograph," he said, laughing. "Mine never go for below twenty. I'm not bragging...that's just a fact." He's not kidding. Kid stars who haven't worked in years can still make a fairly tidy sum from these sorts of conventions. (Remind me to tell you about it in another article about meeting one of the Munchkins from "The Wizard of Oz"...coming soon.)
I asked him if he had been shopping around a new reality show, since that seems to be what every other child star is doing this days (see: "My Fair Brady" or "Breaking Bonaduce") I couldn't imagine what he would be doing at a reality convention, were he not a reality participant in some form. "No," he said. "Actually I'm working with my dad now, and we own a trading card company. I'm trying to get autographs that we can include in packs." That explained why he was offering thousands for the American Idol girls to sign 500 autographs apiece. "If I put these in my packs, the collectors will buy them. And autographs from any hot girl will sell, I don't care who they are."
That answered what he's doing now, but I still wanted to know what had happened with him in the interim since filming "A Christmas Story." As it turned out, he'd then immediately gone on to shoot the movie "Kidco," and then an After School Special. After that, much of his acting work as a child and teen consisted of one-shots and cameos on shows like "21 Jump Street."
And then came the porn. Unable to find much work after high school, Scott went into the adult film industry, both as an actor and then later on as a manager of other porn stars. "I guess I decided to be the one actor in Hollywood who had a big blockbuster hit movie and THEN went into porn," he said. "I flipped it around." He made several films, appearing with actresses like Jenna Jameson and Asia Carrere. Ultimately, he didn't really care for the industry. Much like his career as a child star, the powers that be behind the porn industry were only concerned with product, and not with taking care of their actors.
He dropped out of porn in 2000. That led him to join his father in the trading card business. Since then he's also had parts in some low-budget B-movie horror flicks and continues to make the convention circuit to drum up business and autographs. He is currently set to appear in two independent films that will finish production later on this year.
Despite his bratty demeanor in "A Christmas Story," Scotty Schwartz is truly a nice guy, and he's pretty funny too. Hanging around with him while he held court with a group of us was a time of laughter, and he held true to his word in paying each of my Idol friends what he had promised. He didn't mind people geeking out over meeting the "flagpole kid," and he was genuinely gracious to both me and my wife.
At the end of the day, he came back over to where I was, took me over to his booth, and pulled out a glossy picture from "A Christmas Story." It was a screen shot of him with his tongue stuck to the flagpole. "It was nice meeting you," he wrote. "I triple dog dare ya!" I told him that in all honesty I'd have traded every single one of the multiple autographs I had gotten from the reality TV stars that day for the autograph he had just given me. He smiled. "I've only given autographs to a few people today," he said. "Actually only to the people who've signed autographs for me. But you seem like a great guy."
I've met many different stars before, but I think I'll always remember the day I met Flick.