For eight seasons,
Full House
was a staple of the family TV lineup. The show began its run in 1987 and took its final bow in 1995. Even now, the show continues to air in syndication, both on ABC Family and Nickelodeon, and also in various local markets. Recently, the final season was released on DVD, marking the first time that the entire run of the series was available for mass consumption.
So what have the Tanners been up to since 1995?
Let's start with the most obvious first:
MARY-KATE AND ASHLEY OLSEN
The twins haven't left the spotlight since the show went off the air, more than 13 years ago. Their massive body of work--including videos, CDs, toys and movies--made the precocious twins the youngest ever self-made millionaires, as well as some of the most powerful talent in the industry. Just this side of newborns when
Full House
first shot its pilot, the twins have grown up and known no other life besides celebrity.
Mary-Kate has recently starred in several episodes of
Weeds
and will appear this year in
The Wackness
. Ashley, on the other hand, hasn't acted in a major production since 2004's
New York Minute
. She continues to work with the twins' cosmetic line, and has been spotted in the company of bicyclist Lance Armstrong and actor Josh Lucas.
SCOTT WEINGER
Scott played "Steve," D.J.'s dutiful but dumb boyfriend. Toward the end of the show's run, Scott's character was written out of much of the show due to obligations he had with voicing Disney's Aladdin and his collegiate career. After Steve and D.J. broke up, Scott only made guest appearances through the show's end. Scott eventually graduated in 1998 from Harvard with honors and a degree in English and French studies. Recently, Scott wrote three episodes for
What I Like About You
, provided voices for the
Kingdom Hearts
video game series, and guested on
Scrubs
.
JODIE SWEETIN
Stephanie Judith Tanner, the precocious middle child, caused multitudes of young girls to adopt the phrase "How rude!" Her character was always innocent, but unfortunately, Jodie's real life family was nowhere near as wholesome as the Tanners. Addiction runs through her family, and eventually she fell victim to it as well.
Jodie came forward with her addiction to meth in 2006. The discovery of her addiction came at a painful cost: her first marriage to police officer Shaun Holguin ended in divorce. Jodie went through rehab and eventually came clean before the entire country via several different interviews. She has since remarried to Cody Herpin, a set driver, and is now expecting a baby girl.
Contrary to popular rumors that abounded for years, Jodie is alive and well and was not killed in a roller coaster accident, nor has she met any other rumored demise.
Jodie didn't find much work after
Full House
, but has lately been featured often on Fuse TV, hosting the second season of
Pants Off Dance Off
--a show where contestants striptease for rewards. You can check out Jodie's page at http://fuse.tv/jodie.php She also lent her voice to Bob Saget's raunchy penguin parody
Farce of the Penguins
.
ANDREA BARBER
Who could forget the irrepressible Kimmy Gibler? (This writer could not, as a proud owner of an actual copy of the Gibbler Gazette, forget Kimmy if he tried.) Well, hold on to those memories, folks. Andrea Barber retired from the spotlight after the lights went down on
Full House
. She went on to study at Whittier College, where she spent a year abroad in Denmark, eventually becoming a director of the college's "study abroad" program. She's currently married, has two kids, and lives in the United Kingdom.
CANDACE CAMERON
As a child, Candace appeared on shows like
Punky Brewster
and
Growing Pains
, but her role as D.J. Tanner will forever be her hallmark. Candace--one of the actors that this writer has actually had contact with--remembers
Full House
fondly, despite the fact that that era of her life was also fraught with peers at school who ostracized her and critics who were constantly harping about her weight.
The critics need not worry these days. Candace has never looked better, despite giving birth to THREE children. (Her husband, Valerie Bure, is a former NHL player, and was introduced to Candace by Dave Coulier.)
Candace is still close to her TV family, particularly Bob Saget and Dave Coulier. She remains very protective of the privacy of her TV sisters, Jodie, Ashley and Mary-Kate.
Candace has also followed in the footsteps of her older brother, Kirk Cameron, and is heavily involved in Christian ministries. Recently, when Candace was confronted by a member of her site's message forum about using the word "bitchin" in E's
Top 100 Cutest Child Stars
, she went back to the network and re-dubbed the line, saying that she'd rather re-work the scene than lose her Christian influence. She is an advocate for African ministries, a motivational speaker, and still makes time for acting projects, her most recent being
The Wager
with Randy Travis and Jude Ciccolella. Candace's site, "Growing in God with Candace" can be found at www.candacecameronbure.net.
LORI LOUGHLIN
You want to know the definition of tough? Try having to maintain an on-screen chemistry with someone you once dated. Lori dated John Stamos through some of the run of
Full House
, but she somehow managed to make it look real even after the spark was gone.
"Aunt Becky" has been busy, looking smoking hot and acting in various different series. She's currently on her second marriage, this time with Mossimo Giannulli (the designer of the Mossimo clothing line). The couple have two kids. She's appeared in series like
Ghost Whisperer
and
Birds of Prey
. This year, you'll catch her voice in the video game
Grand Theft Auto IV
. In 2009, she'll appear in
Old Dogs
with Robin Williams, Seth Green and Matt Dillon. She also had a voice part in
Farce of the Penguins
.
JOHN STAMOS
How do you follow up a career as TV's hottest-yet-completely-whipped rock and roller? Simple. You go on Broadway. (Bob Saget calls John a "theater queer.") And if that's not enough, you marry the world's hottest supermodel.
And when that doesn't work out for you, you go back to TV and single-handedly revitalize an ailing show with a storied history and little chance at avoiding cancellation. By all accounts, the departure of
ER
series veterans Anthony Edwards and Noah Wyle should've effectively killed the show. Instead, John Stamos came on the scene and the show caught fire. According to John's official site (johnstamos.net), the show is entering it's 15th season. (In one more season, the show will have been on twice as long as Dr. Greene--who died in season 8--was on.) John is currently single, and is looking for Myspace friends at www.myspace.com/the_real_john_stamos, so give him a friend request!
BLAKE AND DYLAN TUOMY-WILHOIT
The second set of twins to be brought on the show were supposed to recapture the "cute factor" that was originally provided by an "aging" Michelle. Post-show, though, the "other
Full House
twins" could not have been more different than the Olsens. They quit the business after the end of
Full House
, choosing to live normal lives instead of chasing stardom.
But Nicky and Alex have grown up, and are now teenagers. According to their official site (blakeanddylan.com) the boys are in a band together. Blake is hoping to go to college and study video production and computer programming, while Dylan hopes to go back to his roots and get back into acting. They currently reside in the San Fernando Valley.
DAVE COULIER
The comic relief in a room full of comics, Dave Coulier played the Curly to Bob Saget's Moe. The role of Uncle Joey, a struggling stand-up comic, shouldn't have been hard for Dave to play, since that's what he was before and has been since. Dave is also well known for his voice-over work, the latest of which has been showcased on
Robot Chicken
. Dave has also done stints on reality shows like
The Surreal Life
and
Skating With Celebrities
.
But his first love will always be stand-up comedy. He describes his act as completely clean, "though not always as wholesome as Full House." Coulier operates the site cleanguys.tv which provides comedy that doesn't contain profanity and is generally family-friendly.
And yes, Dave claims that the Alanis Morissette song "You Oughta Know," is in fact about him. The rest is up to your imaginations.
MARLA SOKOLOFF
Who could forget the devilish Gia Mahan, Stephanie Tanner's "friend" who was always trying to get her into trouble? The role of "Gia" was Marla's debut in the acting realm. It wouldn't be until 1998, though, that she would really break out with her role in
The Practice
. Marla has appeared in several movies since then, including
Dude, Where's My Car
and
Sugar and Spice
. She has also showed up on
Desperate Housewives
.
Marla also released her debut CD,
Grateful
, in February of 2006. You can check it out at marlamusic.com or add her as a friend at myspace.com/marlasokoloff !
BOB SAGET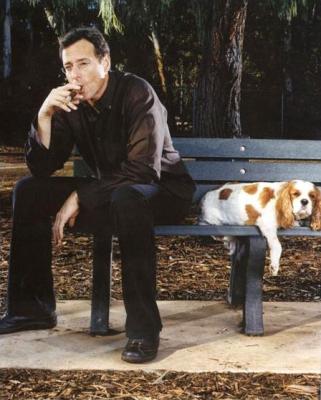 Neat freak. Wholesome dad. Role model. All these things applied to Danny Tanner. But NOT Bob Saget. One of Bob's greatest frustrations with the success of
Full House
and
America's Funniest Home Videos
was that the shows (or more specifically his image on them) made it impossible for him to be taken seriously as a stand-up comic. His built-in fan base wasn't ready for the raunchy comic's brand of humor, and those who would accept such a show wouldn't accept it coming from Danny Tanner.
When asked what his favorite episode of
Full House
was, Bob always responds "the last one." Bob couldn't have been more mis-cast. According to on-set sources the profanity used on the set occasionally got to the point where the child actors parents' began to complain. Bob was always kind to his co-stars though, and still has a great relationship with them all. (Most of them lent their voice to his project
Farce of the Penguins
.)
Bob has appeared in a few movies in bit parts throughout the years, including
Half-Baked
and
Dumb and Dumberer
. He has also done his share of directing. Out of all the comedians that appeared on
The Aristocrats
, Bob was hands down the funniest and raunchiest at telling the joke.
Bob's recent HBO Special
That Ain't Right
is on DVD now and just aired again on HBO last month. He is the narrator for
How I Met Your Mother
. He is also the host of the popular game show
1 vs. 100
. And he still continues to tour with his stand-up act. You can find his tour schedule at bobsaget.com (as well as the hilarious song "Rollin' With Saget.")
And now...for extra credit...
WHIT HERTFORD
Better known as Walter AKA Duck Lips, Stephanie Tanner's would-be suitor who was the outcast of her peer group, Whit is not such an outcast in the entertainment world! He has appeared in several films and has provided voice-overs for various Disney cartoons,
The Land Before Time 3
, and a few episodes of
Batman: The Animated Series
. His latest films are
Break
and
Dark Reel
.
Hope you've enjoyed this look at where some of our favorite actors are now. So, until the reunion movie...