Welcome back to my yule tide edition article. In the first part I shared some of my favorite TV specials from my youth, now I will share some of my favorite Christmas themed movies. This will be the last part of my Christmas article so grab a tall, cool glass of egg nog and enjoy.
10. Santa Claus The Movie
(1985)
Considered a definitive holiday classic this movie stars British born actor Dudley Moore as an elf named Patch who's love for the 20th century (which, in the events of the movie, has only just started now), may just be his, and the North Pole's, undoing. While most of the elves usually make toys by hand, Patch has begun to mass produce them with a machine. This causes his toys to be dangerously defective (which also makes for an entire globe full of unhappy children), and he decides to leave the North Pole and restart else where. He eventually makes it to New York City (NEW YORK CITY?!) where he meets a big shot business owner (John Lithgow) who uses Patch to try to out-do Santa. Yeah, like that's really possible. I have to admit, I kind of miss Dudley Moore but John Lithgow made a great villain for this one. They also made it a point to cast an unknown actor as Santa so that he would be more believable. As far as I know, that actor's name doesn't even appear in the end credits. Spookular.
9. Gremlins
(1984)
A fellow retrojuinkie reviewed this movie a little while ago and he was right. Nothing says Christmas like a bunch of evil, green, reptilian creatures on a rampage. He also pointed out that this was one of at least two movies that caused the PG-13 rating to be created. Just remember, if you should get a Mogwai for Christmas, don't get him wet or feed him after midnight. The brite light rule may come in handy though...
8. The Santa Clause
(1994)
Tim Allen stars as Scott Calvin (aka Santa Clause) in this sleigh worthy comedy. Scott must fill the big red guy's XXXXL size suite after accidently scaring him right off the roof and killing him. But does he have enough holiday spirit to fill the roll? This movie has also spawned two sequels:
The Santa Clause 2
(Santa vs. evil toy Communist Santa and "It's the Mrs. Clause".) and
The Santa Clause 3: The Escape Clause
(Santa vs. Jack Frost!). Disney rocks!
7. Jingle All The Way
(1996)
Howard Langston (Arnold Shcwarzenegger) aka Turbo Man, and postal worker Myron Larabee (Sinbad) aka Dementor, evil archnemisis of Turbo Man, are neck and neck to nab the perfect gift for their sons. This year the most popular toy for boys is the Turbo Man action figure, which has been flying off store shelves (no pun intended). The quest for Turbo Man quickly becomes a rat race against time as both men try to nail a figure by Christmas Eve, with hilarious results. Remember the phrase I used in the last article, "Deck your halls"? Well this is where I got that from. It's now a regular part of my comedic holiday banter.
6. A Christmas Story
(1983)
What kind of Christmas story would be better than one that is told through the eyes of a ten year old boy. Adapted from the writings of, and vocally narrated by, Jean Shepherd this movie tells the outrageously funny tale of a kid and his family during the holiday season, and is set in 1940's Indiana. Young Ralphie is your usual kid in a pretty typical American suburbia. He has to deal with school, homework and bullies too. No one ever said that Christmas vacation would be any easier though. Ralphie's #1 gift request this year is a Red Ryder BB gun to which he always gets the same response, "you'll shoot your eye out, kid". The family turkey gets ravaged by a pack of neiborhood dogs. Ralphie and his brother have to contend with the scariest Santa ever. And finally there's the bunny costume Ralphie gets from his aunt who thinks that he is a four year old girl (don't ask). Go ahead, lick the frost on that flagpole. I triple-dog-dare you.
5. Miracle On 34th Street
(1948 & 1994)
This is the heart warming story of a little girl who is trying to find out if Santa really exists. When the new Macy's Santa comes in on the sleigh float he claims to be the real thing but little Virginia is the only one who believes him. "Yes, the beard is real. Go ahead, pull it" Santa later confronts a supreme court judge who, after a long and difficult trial, is made a believer when he sees Santa'a big bag of "fan mail" from the kids. Santa wins the case, is proven to be the real deal and free to go. One big reason I like this movie is because it takes place in my favorite city. We go in every year between Christmas and New Year to see the decorations, including the windows at Macy's along-you guessed it-34th Street. Yes Virginia, there
is
a Santa Claus.
4. Home Alone
(1990)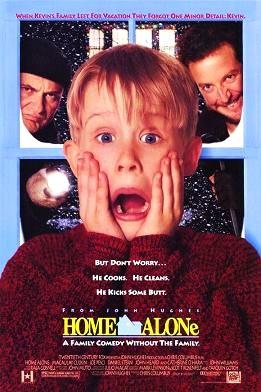 Yep, believe it or not, this movie is exactly twenty years old this year (2010). Celebrating Christmas is great, but what if you were only ten and your parents left you home alone by accident. What would you do? Defend your house from bungling crooks, that's what. That's what young Kevin McAllister (Macaulay Culkin) does when his family goes on a holiday trip to Paris, France and mistakenly leaves him behind. All alone...in a big...creepy...house. *gulp!* Now Kevin must get over his fears and stop two idiotic burgulars named Harry and Marv (Joe Pesci and Daniel Stern respectively) from robbing his house, and his entire neigborhood for that matter. "This is it. Don't get scared, now". Kevin then sets up a series of traps in his house that Harry and Marv ultimately set off with hilarious results. I guess Kevin's big brother Buzz was wrong: Chicago really
isn't
the most boring place in the world after all. This movie has spawned three sequals so far:
Home Alone 2: Lost In New York
-Harry and Marv have just escaped from prison and persue Kevin through the streets of Manhatten,
Home Alone 3
which was the worst of the bunch, primarily because it was a whole different story with different characters, and
Home Alone: Taking Back The House
which acted as the fourth installment and featured the return of Kevin, along with his parents and siblings (yes, including Buzz) and Marv, only they were played by different actors this time. Keep da change, ya filty animal.
3. Ernest Saves Christmas
(1988)
I reviewed this one in my official Ernest article (Nightwatcher's Patrol #1). As I said there Ernest must help the current Santa, Seth Applegate, find Joe Corruthers and make him the new Santa in order to save Christmas. It's very heart warming as well as "a holiday comedy unlike any other", as suggested on the front of the DVD jacket. Merry Christmas to all, and to all a good night. Knowutimean?
2. Christmas Vacation
(1989)
Clark Griswald decides that he wants to have a "good, old-fashioned, family Christmas" this year. A nice idea right? To bad it doesn't turn out the way he planned. The tree is up, the imported Italian twinkle lights are set (all 25,000 of them) and the invitations are delivered. Of course, no one ever said a family was perfect. Clark's Christmas party goes from bad to worse when the relatives turn out to be a bunch of oddballs (esspecially Cousin Eddie), the lights won't work, Uncle Lewis eventually burns down the tree with a cigar match, and of course, one cat - extra crispy. And lest I forget, no holiday bonus from the boss! It could take a Christmas miracle to fix
this
mess. Luckily for the Griswalds, they may just get one, in some form or another. This movie has gotten it's own sequel
Christmas Vacation 2: Cousin Eddie's Island Adventure
. Unfortunately, despite being the direct seqel to our favorite Vacation movie and starring our favorite character in the series, it wasn't as good as the original.
And finally...
1. A Christmas Carol
(1951)
In case you're wondering, no I'm not really this old. I was born in 1980 (you do the math), but I put this on the list mostly for my mom. It's her favorite Christmas movie and thanks to her, I too have grown to enjoy it. A Christmas Carol by Charles Dickens is a classic piece of English literature and a great story (though my favorite Charles Dickens book is
Oliver Twist
and
David Copperfield
is good too). As we already know, this is the story of a greedy old penny pincher named Ebeneezer Scrooge who is taught by the ghost of his deceased partner Jacob Marley and the three ghosts of Christmas: Past, Present and Future (my favorite is Christmas Future because he's so spooky looking), the true meaning of Christmas, and not to hate it just because he had a lousy past. As well as the people he is affecting in the present and the bleak future that may occur unless he changes his ways. I just saw the new CGI version from Disney starring Jim Carrie and was quite impressed with it but this, the old black and white version is now a family tradition thanks to mom. And in my personal opinion, Alastair Sim was the best Scrooge ever.
Christmas Bonus:
The Nightmare Before Christmas
(1993)
Santa has really been letting himself go lately.
Hey, wait a minute...
Christmas just wouldn't be complete without an input from the master of the dark side, Tim Burton. I like this movie because it brings both of my favorite holidays together. Jack Skellington is a well-meaning skelleton man who rules over Halloween town, but this year he has officially gotten bored with shreaks and screams and decides that he needs something new. One day he wanders into the haunted forest and finds a grotto of peculiar trees with doors on their trunks. Out of curiosity he opens one of them and is whisked away to another holiday town. Upon seeing Christmas, Jack falls instantly in love and hatches a sceme to take it over. Christmas's own ruler Sandy Claws...er, I mean Santa Claus...is kidnapped and taken to the scurge of Halloween, Oogie Boogie, leaving Jack free to make Christmas his own. Sadley though, Jack mistakenly ruins Christmas and only one man can now set things right. But can Jack rescue His Jolliness before Oogie turns him into Santa stew? Hey, not all Christmas stories are light hearted, you know. This movie now has two more chapters. In the prequel
The Nightmare Before Christmas: The Pumpkin King
(Game Boy Advance) we find out how Jack had his first battle with Oogie and became the King of Halloween. Then, in the sequel,
The Nightmare Before Christmas: Oogie's Revenge
(PS2 and XBox) Lock, Shock and Barrel have somehow ressurected Oogie and Jack must stop him from gaining ultimate power and becoming the Seven Holidays King. The games are pretty awesome by the way, I highly recommend them.
Well, that's it for my Christmas article, I hope you enjoyed it. I will see you next year with my
Are You Afraid of the Dark?
article. Until then...
Have a happy and safe holiday