Season's greetings and welcome back. Can you believe it's Christmas time already? Another year is almost over, where does the time go? In any case, everyone knows that if there's one thing we always looked forward to at Christmas time when we were little, it was watching our favorite TV specials. Here is a list of some of the specials I watched in my childhood as I sat, trembling with excitement, counting the days and waiting for good old Saint Nick to visit my house.
10. A Charlie Brown Christmas
Yep, we revisit our old buddy Chuck and his friends again. Charlie Brown is made the director of the school Christmas play, but apparently his heart gets in the way when it comes to picking up a tree for the stage. Chuck buys a puny little twig that bends over with the wait of a single ornament leading to one of his most outrageous lines: "I've killed it. Oh, everything I touch gets ruined!", poor kid. Thankfully the rest of the children (with Linus's guidance) fix the little sapling up with Snoopy's light display and Linus's blanket (in one of the few times that we see him actually let go of it) and make it look like a million bucks. They then conclude by wishing "Merry Christmas, Charlie Brown!" and singing
Hark, The Herald Angels Sing
. Of course the instrumental Peanuts theme
Linus And Lucy
has become a holiday regular on the radio and
Christmas Time Is Here
is now a classic. Once again, good grief.
9. He-Man and She-Ra Christmas
Because nothing screams Christmas like a bunch of overly muscular barbarians on another planet dukeing it out over a couple of kids and their tree. When Orko accidentally botches Man At Arms's latest project by mistakenly commandeering his new ship, the Sky Spy, Orko crash lands on Earth and becomes stranded. While on Earth, Orko meets two young children named Miguel and Alisha who had become lost as well while collecting their tree. They tell Orko about Christmas after which Man At Arms beams all three of them back to Eternia. It then becomes a race against the clock for He-Man and She-Ra to stop Skeletor and Hordack from delivering the children to the mysterious Horde Prime who plans to use the kids to destroy Christmas forever, though the details of the plan were never explained. (I also just found out that Hordack and Horde Prime are brothers, weird). I just have one question: How come She-Ra got the better theme song?
8. Dr. Seuss' How The Grinch Stole Christmas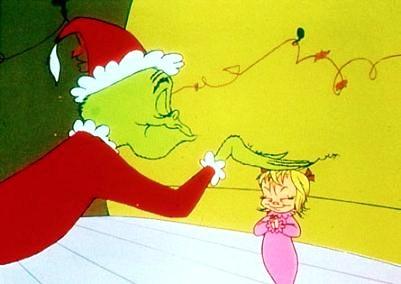 I was going to make this summary rhyme but it probably would have burned me out. In any case, The Grinch has become a "who-liday" household classic over the years. He is a green furred creature who lives on top of Mount Crumpit and starts out hating Christmas as well as the whose down in Whoville who love it. One night the Grinch becomes so annoyed at the Whos' celebrations (it's joyful
and
triumphant!) that he decides to steal from them anything that has to do with Christmas. Fortunately the Grinch later learns the true meaning of Christmas, (not presents and decorations but being with the people you care about). And what happened next? Well in Whoville they say, that the Grinch's small heart grew three sizes that day. There, I got in a rhyme. Is everybody happy now? The Grinch then quickly returned everything as his gift to the whose and in return they let him carve the roast beast at dinner. Classic songs include
You're A Mean One, Mr. Grinch
and
Welcome Christmas (Fahu Dores)
. The Grinch has also gotten a live action movie starring Jim Carrey and is currently running as a play on Broadway, but the original animated special will always be a true tradition.
7. The Smurfs Christmas
I am eagerly awaiting the upcoming Smurfs movie but in the mean time I can enjoy this charming Christmas special. The little blue guys, and one gal, look after two young children after their grandfather's sleigh capsizes in the forest and he is injured. Meanwhile, an evil and mysterious man known only as "The Stranger" seeks to capture the children, though his plan for them is unclear. Eventually the Smurfs, the children and even Gargamel manage to destroy the Stranger by singing the Smurfs' new song
Goodness Makes The Badness Go Away
. The Stranger disappeares which undoes his dark magic and restores Smurf Village (the Stranger's magic had destroyed the village early on causing the Smurfs to leave and thus leading to their meeting with the children), Gargamel and Azriel get away and the children are retuned to their father and long since recovered grandfather. All is well that ends well.
6. The Christmas Toy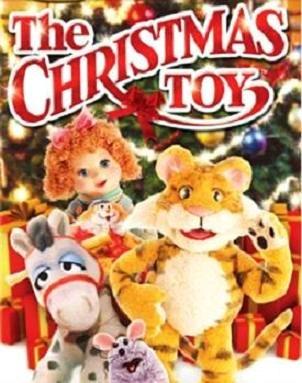 Jim Henson's take on a toy story sees the holiday adventure of a stuffed tiger named Rugby and his friends. Rugby was Jamie's favorite Christmas toy last year, succeeding Apple the doll who bore the title the year before, and plans to be again. This year however, it seems that there is going to be a new Christmas toy in the form of Meteora and Rugby wants to fill the box in her place. There is one slight problem though, when a toy is found by a human while out of position (ie not where the kids left them) they become frozen forever, which is basically the toy version of death. So let's think about this for a minute, what is going to happen to Rugby when Jamie finds him in Meteora's box instead of back in the playroom where she left him? Not to mention Meteora. Yep, sudden death for both. Will the toys be able to straiten everything out and get back to where they belong in time? The special also lead to a short lived series on the Disney Channel called Secret Life Of Toys in 1994 which saw the return of Rugby, Mew, Ditz and Balthezar as well as introducing some new faces.
5. Tiny Toons Christmas
As the title suggests this is basically a spoof of It's A Wonderful Life with an extremely stressed out Buster in the starring role. When the Acme Looniversity Christmas play doesn't work out to Buster's liking he threatens to "throw himself out of the picture". Luckily he gets help from his "guardian toon angel" (later revealed to be Bugs in disguise. Big surprise, huh?) who brings Buster back to his senses by showing him what Tiny Toons would be like if he were never born. Can you say living nightmare? Sure, I knew you could.
4. A Chipmunk Christmas
Alvin gives his prized Golden Echo harmonica to a little boy named Tommy who is suffering a terrible illness. Attempting to keep his kind deed a secret from Dave (he gave Alvin the harmonica as a gift some time before), Alvin tries to make money for a new one, including dressing up as Santa for pictures with the neighborhood kids and their pets (above) though it's later botched by the appearance of a cat. Unfortunately Dave mistakes Alvin's desperation for greed and becomes disappointed in him, especially after Alvin's very bizarre dream sequence when Dave hears him crying for money in his sleep. Dave also gets a call from Carnegie Hall saying they want Alvin to perform with his harmonica on Christmas Eve which is only a few days away. Will Alvin get a new harmonica in time? Will Tommy recover? This special features the legendary song
The Chipmunk Song (Christmas Don't Be Late)
for the first time in the 1980's.
3. ALF's Special Christmas
ALF is mistaken for a toy at a children's hospital and is taken in by a terminally ill girl (yep, another horribly sick kid). Thinking that ALF is a stuffed animal at first she is later shocked to discover that, not only is he alive, but from another planet. The little girl promises to keep ALF's secret and ALF learns an important lesson about both Christmas and friendship.
2. The Real Ghostbusters
Xmas Marks The Spot
Christmas goes awry when the Ghostbusters take a trip back in time and accidentally help Ebeneezer Scrooge by trapping the ghosts of Christmas past, present and future. Now, all of a sudden there are no Christmas decorations to be seen (not even the tree in Rockefeller Center *sniff*) and people are treating each other like human garbage. What in the name of Charles Dickens is going on?! (Sorry, I couldn't resist). Yep, you guessed it. They, the Ghostbusters have just killed Christmas. Hey, Christmas Present tried to warn them, but noooo. Now the guys have to extract the Christmas ghosts from the storage facility (where we see some familiar faces from past episodes including Sam Hain from Halloween) and return them to Scrooge's place so that they can finish their job. This is an obvious attempt at a crossover between Ghostbusters and A Christmas Carol. And to great effect.
1. Rudolph The Red Nosed Reindeer
You know Dasher and Dancer and Prancer and Vixen. Comet and Cupid and Donder and Blitzen. But do you recall, the most famous reindeer of all? We all know the story so I won't get into that but I will say that Rudolph has been a favorite of mine since I was a baby and still remains so today (so call me sappy). First premiering on NBC on December 6th 1964 Rudolph has become the most popular Rankin/Bass production of all time and is considered a staple of the holiday season. I remember getting so excited when it would aire on TV and now I own a copy of it on DVD. I also finally have the Rudolph action figure I wanted since I was like four and a bobble head both with light up noses, and before you start laughing, I usually use them as part of my Christmas display every year. "That nose! That beautiful, wonderful nose!!" As the song suggests, Rudolph has truly gone down in history.
Christmas Bonus:

The Adventures of Pete & Pete
O' Christmas Pete
Yeah, looks like we get a raise in our pay checks this year. In the official Christmas episode of Pete & Pete Younger Pete goes up against the Garbage Man, killer of Christmas and childhood dreams. As one person on YouTube put it "this guy is freakin' Nosferatu" and you've got to love his personal western-esque ballad. Yep, this guy will deck your halls and run over your spirit with a back hoe. When Pete decides to hold onto the Christmas spirit a little longer, he also holds onto the family tree. This angers Garbage Man who then decides to stop collecting the Wrigley's garbage, which causes a small block-wide battle to ensue. I couldn't find any still shots from this special so I used a video instead. Consider it my gift to all my fellow Pete & Pete fans out there. Merry Christmas my vikings and enjoy. You can find the rest of the episode on YouTube. Just look up O' Christmas Pete Part 2/3 and Part 3/3. And don't thank me, thank whoever was nice enough to post this. (Note: Depending on the speed of your computer and internet connection, this video may take a few moments to load completely. Please be patient).
Will this be the end of Christmas in Wellsville?
(Don'tcha just hate that?)
Well don't worry, the Christmas fun doesn't end here. I have one more holly, jolly article on the way so stay tuned.