As in the words of Jimi Hendrix before he played "Machine Gun"...Happy New Year, first of all.
Well, the NFL Playoffs is about start. Go Bengals! (Yes...they're one of the 12 teams in the playoffs, and since the Browns Season ended before it began...yes...I must tell you how it went, like my 2012...)
Okay, never mind The Browns, The Mets, or even ANY Cleveland Team right now because it seemed they all gave up last year once LeBron James won the NBA Title. I'm here to talk about The Super Bowl, now I've only been around for 30 Super Bowls, but since I love History...I'll also talk about the 46 Other Super Bowls, and yes...it'll be a Top-8 List like the last list I made, but this time It's more of a retrospect of other Super Bowls. What Super Bowls made my Top List and which ones bit the dust? Well...here it is....
Green Bay Packers 35, Kansas City Chiefs 10
Of course the 1st Super Bowl HAS to be on this list, though it was a 20+ spread. Before the expensive seats, before having the big commercials, before the star-studded Halftime Show, we had two teams in separate Leagues play in what was called The First World Championship. It was seen on BOTH NBC and CBS and didn't even sell-out, but that didn't matter...it was the 1st Super Bowl and now look at it!
San Francisco 49ers 26, Cincinnati Bengals 21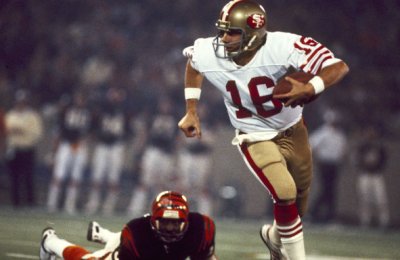 This Super Bowl would be the 1st to be away from the Sun Belt, it was at the Silverdome in Detroit. And this was one of the few times two teams made their Super Bowl debut...It also would launch the career of Quarterback Joe Montana, which would dominate the game. Cincinnati didn't really score until the 2nd Half. But both teams played well and this would make San Francisco win 4 more Super Bowls in the 80's and one of them was Super Bowl 23 which was almost a rematch of Super Bowl 16.
#6 Best...Super Bowl XXXI
Green Bay Packers 31, New England Patriots 21
This Super Bowl was a memorable one for me because this was the 1st Super Bowl I watched with my pastor and his family and he had the idea to have a Super Bowl Party at my own church the year after that. Brett Farve passed an 80+ pass for a touchdown and Desmond Howard got the MVP that year. The Patriots did okay as well, and this was the last NFC Advantage Game as we speak (Between Super Bowls XIX and XXXI, the NFC won ALL those games). And the Halftime Show was supposed to be a skydiving stunt because of a Tostito's Commercial featuring Chris Ellott...but something went wrong and sadly one of the jumpers died. But there was The Blues Brothers with James Brown and ZZ Top...which in my honest opinion is one of the best Halftime Shows, the best one that I've seen was Paul McCartney played the Halftime Show for Super Bowl XXXIX.
Baltimore Colts 16, Dallas Cowboys 13
My brother who LOVES football more than I do, said that in retrospect this is one of the closest Super Bowls out there. The first half was mostly Dallas, but the second half Baltimore (Now Indianapolis) would win with a field goal and five seconds left...another attempt was to be done 20 Super Bowls later, which I'll explain later....
Green Bay Packers 31, Pittsburgh Steelers 25
I know this is a newcomer, but this will be the Super Bowl that any anti-Pittsburgh Fan will tell their children and grandchildren. Yes, this game was sure a nail-biter with Pittsburgh almost winning it all...but didn't. Both teams played well and even former president George W. Bush and his wife as well as "Two and a Half Men" star Ashton Kutcher who sat behind the former president...
And...nothing. There was even a commercial that didn't even air which features The Angry Video Game Nerd (He's wearing a blue shirt and has a goatee)...
Miami Dolphins 14, Washington Redskins 7
The only game to have a team go undefeated HAS to have a nod for having one of the best Super Bowls out there, not even the 2007 New England Patriots could get it done! Sure, this was the lowest-scoring game in Super Bowl History, but Don Shula will still remember 1972 until he goes to football heaven, where the Miami Dolphins won ALL 17 Games!
New York Jets 16, Baltimore Colts 7
1968 Was Broadway Joe Namath's Year! His Jets were the underdogs going into Super Bowl III, and after the fiasco of "The Heidi Bowl" where "Heidi" interrupted a great comeback from the Oakland Raiders (when they were good)...Namath conquered the odds by winning the Super Bowl that year. Can this Super Bowl ever happen again? No...the Colts went to the AFC East after 1970 when the AFL Teams merged with the NFL Teams to form the AFC.
New York Giants 20, Buffalo Bills19
The Super Bowl that had the kick heard 'round the world HAS to be the Best Super Bowl out there! The spread was only a point and was the closest Super Bowl out there! Not only The New York Giants played well and the Buffalo Bills did too, but even the National Anthem was hard to beat with Whitney Houston singing it!
(Broken YouTube Link Removed)
Take That, Christina Aguleria! At least Houston DID it right! This game DOES take me back too with another commercial that played on The Super Bowl, Ray Charles and the Diet Pepsi Commercials...
This Super Bowl was also played when America was in Iraq the 1st Time, so there was a lot of Patriotism in this Super Bowl...I wonder what Super Bowl L will be like?
Well...those are the best Super Bowls in my honest opinion, but what are the worst? There are a few...and this was a toss-up between Super Bowl XX and Super Bowl XLII. Who can remember the "Super Bowl Shuffle" and the 35-point spread between New England Patriots and Chicago Bears? But I must give the nod to...
#8 Worst...Super Bowl XLII
New York Giants 17, New England Patriots 14
Where to start? The Patriots going 18-0 then biting the big one? The Giants telling the world that cheaters NEVER Win? Yep, The Patriots were under controversy because Bill Bellicheck actually cheated in a few games, including the 1st game that season against The New York Jets. So if you're part of the 1972 Miami Dolphins...you can feel relaxed because The Patriots HAD an Imperfect Season and Cheaters NEVER Win!
#7 Worst...Super Bowl XXVII
Tampa Bay Buccaneers 48, Oakland Raiders 21
This game has two teams that aren't recognizable anymore. The Raiders were past their prime and The Buccaneers had their Cinderella Season, and yes...this was basically a blow-out game. And neither team would make the playoffs next year and it's been that way since.
#6 Worst...Super Bowl XXVIII
New England Patriots 32, Carolina Panthers 29
Okay, anyone remember this game? Who won? Who was in it? Okay...what was the Halftime Show?
That's the ONLY thing people really remember about Super Bowl XXVIII that involved Janet Jackson, Justin Timberlake, and boobs...one supposedly seen...and others complaining about it!...
CBS aired this Super Bowl and this wasn't the 1st time they caused controversy. There was that episode of "Maude" where Maude had an abortion, Ed Sullivan's acts like Elvis was to be seen waist-up, The Rolling Stones changing "Let's Spend the night Together" under protest, and The Doors saying the word "Higher" on National TV which was their first and last time on Sullivan!...
(Broken YouTube Link Removed)
And who can forget The Smothers Brothers? After all that, the FCC was tracking-down almost everything, so much that this may be unaccepted as well....
#5 Worst...Super Bowl XXVII
Dallas Cowboys 52, Buffalo Bills 17
"Disney Adventures" said this was the worst Super Bowl ever (Did they miss Super Bowl XXIV?) But I had a Fan Fiction Story once where my class went to see this Super Bowl along with Orson from "U.S. Acres".
The Cowboys won in that story...and so they did in real life! For Buffalo, 3rd Time ISN'T A Charm and the spread 35 points, just as much as Super Bowl XX!
#4 Worst...Super Bowl XLIII
Pittsburgh Steelers 27, Arizona Cardinals 23
This game is a swift-kick for Cleveland! A team that gets every season flushed in the regular season and has NEVER even hosted it either, the big misfit of the NFL (And their helmets are naked too)! To make it worse, this game I feel is the Steelers winning a 6th ring for their middle-finger to show Cleveland who's #1! And I didn't even watch this game much either!
#3 Worst...Super Bowl XXXV
Baltimore Ravens 34, New York Giants7
Now what's worse...seeing a rivalry team winning 6 Super Bowls while you have none...or seeing your former team win it all? I must give the nod for taking your talents and team to the Chesapeake and winning it all! I'm sure Art Modell is STILL laughing at Cleveland beyond the grave because he had the Ravens win it all in 4 years when he couldn't even get the job done in Cleveland. This game made me want to boycott football...I still do in a way because my home team sucks!
#2 Worst...Super Bowl XXXIX
San Francisco 49ers 49, San Diego 26
I saw this game at my grandfather's in 1995 and the game was another blow-out game, a 23-point spread. It was cool to see the San Diego Chargers in the Super Bowl...but that was it! Basically, it was just another game where the NFC took advantage...and Buffalo didn't even make the playoffs that year either!
San Francisco 49ers 55, Denver Broncos 10
The biggest spread in a Super Bowl with 45 points in between these teams, it seemed that the Amazing 49ers would dominate the ho-hum Broncos and for Elway, 3rd Time isn't a charm either. But it was interesting to see him get pwned in that Super Bowl when he would stop the Browns from going. But another Brown was there...Charlie Brown who's 40th Anniversary was the Halftime Show. But despite all that, watching a one-sided game isn't that exciting for the other people. But eight years later...Elway WOULD win not one, but two Super Bowls...so I don't feel bad for him.
And how can we end this on a High-Note? THE SUPER BOWL SHUFFLE!
(Broken YouTube Link Removed)
So if you'll all excuse me...I must send the Browns to the Super Bowl!...