Rob Paulsen
Many of you might know him by name, but I'm sure there are thousands more that will recognize one of his wonderful voices. Rob Paulsen has been called an "incomparable" tallent in the voice acting industry since the early 80s. He's contributed to many of the stand out shows of the 90's "Cartoon Renesaunce" era, and given us some of the most memorable characters of all time. He is not only getting work today, but he comes hightly recommended. For this he is a major part of RetroJunk that many people are unaware of, and as 'Reaper' suggested to me, he deserves an article of his own.
(it was the 80s people >>)
We'll start with some of his memorable characters, so Paulsen n00bs can get an idea of who the heck I'm talking about. Anyone here like the original Teenage Mutant Ninja Turtles? Rapheal fans out there? Yes, that was Rob's first major cartoon. As he put so eloquently in the DVD extras of Comic Book: The movie , "Thank you for paying my mortgage with action figures."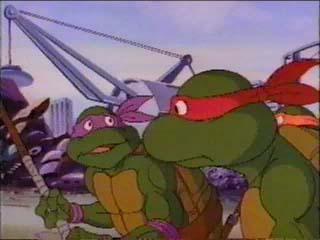 I suspect a lot of Rapheal's witty remarks may have come from Rob, I have nothing to base this on except that most of his major characters have a sharp sarcastic reflex in any given situation. Not to mention Rob himself is no exception ;3
In the earlier, groundbreaking cartoon series, Gummy Bears, Rob played the beloved character Gusto Gummy. Who, even though he was not a part of the main cast, was a favorite among fans. Just watching this show I can see Rob's performance stands out against the main characters, there's something much more natural in his voice.
In 1989 He starred as Rude Dog in my personal early childhood favorite, Rude Dog and the Dweebs. I fell in love with Rude Dog's cool guy attitude and as usual, witty remarks.
Other notable shows include:
Biker Mice from Mars which was a favorite of mine, Rob played Throttle, Fred, and Eon.
He was the oh so suave Steal Beak from Darkwing Duck
Hadji from Johny Quest.
And another personal favorite of mine, Max from Mighty Max.
He was also Bubsy 's Bubsy the Bobcat
And Squishington from Bump in the Night.
Then came the era when Warner Brother's and Speilberg teamed up for some of the greatest cartoons ever. In Tiny Toon Adventures Rob played a snippy lil chick named Fowlmouth, an Arnold Swartzanegger based character named Arnold Dog, and the loveable Concord Condor.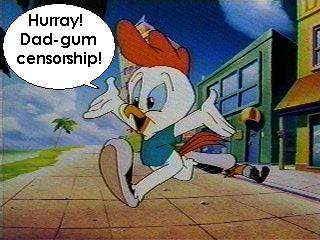 Then came my personal favorite cartoon series of all time. The two time Emmy award winning, Stephen Speilberg presents, Animaniacs! Where he played my very favorite cartoon character of all time,Yakko Warner. Aparently I'm not alone here, as Rob on many occasions has admitted Yakko was his favorate character he ever portrayed. In one interview he said he'd looked around the recording studio one day and said to Tress (the voice of Dot Warner) 'It doesn't get any better than this. This is it right here!' Also showing his amazing range of voice skills, he played Dr. Scratch'nSniff as well as the beloved Pinky the mouse!
Pinky and the Brain was such a popular skit on Animaniacs that it generated its own spin off show! Rob won 3 Annie awards, and an emmy for "Outstanding Performer in an Animated Program" for "Pinky and the Brain" (1995) And looking back, he completely deserved it. Who else can make a crazy mouse with tourrette syndrome become so iconic, loveable, and fun to watch?
And for all of you Animaniacs, and Pinky and the Brain fans out there, the first seasons of both shows will be officially released July 25th of this year!(2006) So start saving up, good sales will insure that the rest of the series will be released, bad sales might mean they'll be locked in the W.B. Water Tower for another 65 years!
The DVD will include interviews with the cast and crew, hosted by Maurice LeMarce, the voice of the Brain, and Squit the Pigeon! http://news.toonzone.net/article.php?ID=9852
Now I'm going to talk a bit about Rob himself before I go on to the other work he's done, because you should know, he's not all sarcasim and talent, he's also extremely humble and a kind hearted person. Now there's a blend, sarcastic and humble? I don't know how he manages it! Rob has been known to do charity work, including spending time with sick children in hospitals. He supports children's cancer research, and the Special Olympics. He's also done a Celebrity Hockey Charity event as well (Rob loves Hockey!). He finds the weekly volunteer work with GOALmodels very rewarding. Through this program, celebritys and executives can talk directly to young people, and teach them skills that will help them succeed. For more information about GOALmodels here is the programs' website http://www.goalmodels.com/
Rob has one son, Ash who is about 21 now, and lives with his wife Parish in California. Rob was origionally from Detroit, Michigan, he "loved cartoons as a kid" and wanted to be a professional hockey player. His hero is Gordie Howe, a Red Wings player whose wonderful attitude really made an impression on Rob. He's even had the pleasure of meeting Mr. Howe as well!
At first, acting was just something to "fall back on", funny how things turn out. Paulsen's has also had a few on-camera roles in various motion pictures including Body Double, Stewardess School, Eyes of Fire, The Perfect Match and Warlock. He even guest-starred on MacGyver and St. Elsewhere. I wonder if he had an urge to hand Richard Dean Anderson a paper clip and ask him what he could do with it.
He is one of the most sought-after voice actors in the commercial biz, he's performed in over 1000 of them. I was most surprised to learn he did the Fleetwood commercials, and here I thought I could pick his voice out of anything!
Durring, and after the cancelation of Animaniacs, and Pinky and the Brain (these shows were mostly canceled due to new people in charge wanting to change things for the worse. See Pinky, Elmyra, and the Brain) Rob was still out there voicing memorable characters for all of us.
To me, The Mask was likely a tough toon to cast. You have to find someone who can match up to Jim Carrey's over the top performances, and has that wide range of comedic style in his voice. Rob was just right for the job, his Jim Carrey impersonations are great!
Infact, Rob met Jim Carrey and the two hit it off really well. Whenever a Carrey movie needs some re-dubbing for the censored television premieres, Jim sends in Rob when he can't make it in himself, to do his lines. Even if you don't think Rob's portrayal of Stanly Ipkiss sounds much like Carrey to you, you have to admit when listening to the opening credits, Rob's voice is pretty amazing. I don't know anyone who can sing the series opener quite like Rob.
I should note that Rob does a decent Cheech Marin impression on the series Timon and Pumba where he plays Banzai.
Are there any The Tick fans out there? Rob was the voice of Arther. As Rob puts it in Comic Book the movie "I mostly spent the whole series going, 'Gee I don't know Tick, that doesn't sound like such a good idea..'" Haha, I wonder if they ever just re-used a previous recording of that line for a different episode.
He can currently be heard playing Major Glory on Dextor's Lab
The adorable Experiment 625 on the Lilo and Stitch series
Jack Fenton on Danny Phantom
And the voice of Carl Wheezer as well as Carl's Mom and Dad on Jimmy Neautron.
What's next for Rob you ask? He's currently working on a new Biker Mice from Mars series, and a short called Handy Cat , in which he plays Handy Cat and his dog Drillbit, just to name a couple.You can watch the progress of Handy Cat at http://newtoons.frederator.com/handycat .
"Handy Cat, at your service!"
If you'd like to ask Rob questions, or just tell him you're a fan, pop on over to his official website www.RobPaulsen.com and tell him in his personal forums!