STANDING ROOM ONLY, OR HOW I CAME TO STOP WORRYING AND HATE LUNCHMEAT
THE LEGEND:
ONE DAY XAVIER ROBERTS JUST HAPPENED TO LOOK BEHIND A WATERFALL. ON THE
OTHER SIDE WAS A PARALLEL DIMENSION WHERE INBRED CREATURES CALLED "BUNNYBEES" GREW CABBAGES. BUT BEFORE THE CABBAGES WERE TO BE EATEN, THE BUNNYBEES HURLED MAGIC STONES AT THEM.
AS XAVIER WATCHED, PLASTIC CHILDREN WITH NO EYELIDS EMERGED FROM THE CABBAGES. IN A FIT OF SHOCK AND PANIC, XAVIER YELLED OUT "I'LL CALL YOU CABBAGE PATCH KIDS!!"
(SOME FAR OFF VOICE CHEERED)
HE THEN HARVESTED THE KIDS AND BRANDED EACH ONE WITH HIS SIGNATURE UPON THE BUTTOCK.
REALIZING, AFTER THE FACT, THAT THERE WERE WAY TOO MANY OF THESE KIDS TO BRING HOME, HE FIGURED
OUT A WAY TO UNLOAD THEM. XAVIER CRAMMED EACH KID INTO A BOX AND PUT THEM UP FOR ADOPTION... AND A
PROFITABLE
ONE AT THAT.
~~~~~~~~~~~~~~~~~~~~~~~~~~~~~~~~
AT THE HEIGHT OF THEIR POPULARITY, MY SISTER LEIGHA AND I HAD ABOUT 5 CABBAGE PATCH DOLLS BETWEEN THE TWO OF US.
EACH CABBAGE PATCH DOLL COMES WITH ITS OWN UNIQULEY CRAPPY NAME (ie: IDA-MEA, OTIS-LEE, ERMA-SALLY, ETC...) AND OF COURSE ADOPTION PAPERS! YOU WOULD FILL IN YOUR VITAL INFORMATION AND MAIL IN YOUR FORMS. AFTER SOME BACKGROUND CHECKS AND MANDATORY DRUG SCREENINGS, A BIRTHDAY CARD VALIDATING MELISSA-BETH'S PRIMARY RESIDENCE ARRIVES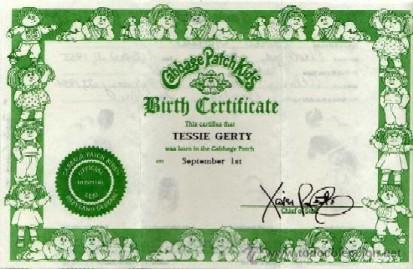 CONGRADGULATIONS, YOU ARE NOW A SEVEN YEAR OLD SINGLE PARENT!
NEVER HAVING DONE SO WHEN WE FIRST RECEIVED THE DOLLS, MY SISTER SET OUT TO CONFIRM OWNERSHIP FOR EACH OF THEM. SHE FILLED OUT ALL OF THE PRETEND BIRTH CERTIFICATES ONE MONDAY MORNING, WITH THE HELP OF MY MOM AND ABOUT $.44 WORTH OF POSTAGE.
SOME WEEKS WENT BY AND THE MATTER WAS SOON FORGOTTEN.
IT MUST HAVE BEEN A COUPLE OF MONTHS LATER WHEN THE FIRST, AND ONLY, BIRTHDAY CARD ARRIVED IN THE MAIL. ADDRESSED TO NORMA JEAN, CARE OF LEIGHA, MY SISTER TORE OPEN THE ENVELOPE AS IF SHE HAD BEEN EAGERLY AWAITING ITS ARRIVAL SINCE THE DAY SHE DROPPED HER REQUEST INTO THE MAIL BOX.
OUR MOM LEFT FOR THE STORE LATER IN THE DAY, AND WE WERE LEFT TO OUR DEVICES. AT WHICH POINT, MY SISTER CHOSE TO IMPROVISED A PARTY FOR ALL OF OUR DOLLS AND STUFFED ANIMALS IN ORDER TO CELEBRATE NORMA-JEAN'S 1ST BIRTHDAY.
I WENT OUT BACK TO PLAY IN THE YARD.
THE GUESTS WERE TO BE SEATED IN OUR LIVING ROOM. TWO AREAS WERE SET UP UTILIZING THE COFFEE TABLE AND A SMALL TABLE THAT WAS USED AS THE "KIDS TABLE" FOR HOLIDAYS. ANY AND ALL CHAIRS WERE ALSO USED TO GUARANTEE THAT NO ONE WOULD HAVE TO STAND DURING THE EVENT. AND WHEN SHE REALIZED THAT THERE WERE NOT ENOUGH CHAIRS, BOOKS WERE STACKED NEATLY TO ACCOMMODATE THE EXTRA PARTY GOERS.
A PLACE WAS SET FOR EACH OF THE 30+ GUESTS USING OUR FINEST PLATIC AND PAPER PLATES.
DURING ALL THESE PREPERATIONS, I PLAYED OUTSIDE IN THE 5 SQFT PIECE OF GRASS WE HAD IN OUR GRAVEL BACKYARD. INNOCENTLY CATCHING GRASSHOPPERS AND CONDUCTING FUNERALS THE ONES I MISTAKINGLY KILLED.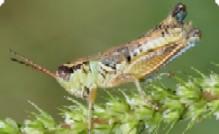 AFTER SOME TIME, MY SISTER CALLED TO ME FROM THE SECOND STORY PORCH TO COME PLAY WITH HER INSIDE.
IT WAS THEN, I HAD COME TO FIND OUT, THAT OUR MOM HAD STUMBLED UPON THE UNAUTHORIZED PARTY.
I WAS, UNWITTINGLY, NOW HER ACCOMPLICE.
MOM WAS LIVID!
BUT IT WAS NOT THE GATHERING OF EVERY CHAIR IN THE LIVING ROOM THAT MADE HER ANGRY. NOR WAS IT THE BARREN BOOK SHELVES, THE REARANGED FURNITURE OR THE 30 (OR SO) VACANT EYES AND MELOCOLY SMILES OF THE DOLLS, BEARS, PIGS AND STUFFED WHAT-HAVE-YOU THAT WERE BLOCKING THE FRONT DOOR OF OUR APARTMENT...
IT WAS THAT MY SISTER HAD DECIDED TO FEED EACH OF HER GUESTS.
DUE TO THE LACK OF BIRTHDAY CAKE IN THE HOUSE, LEIGHA HAD DECIDED TO SET OUT HORDORVIORS. ON EACH PLATE SHE PLACED 2 LUNCH MEAT ROLLS, WHICH CONSISTED OF A SLICE OF AMERIACN CHEESE WRAPPED IN EITHER BOLOGNA OR SALOMI.
IT TURNED OUT THAT MY MOM HAD JUST BOUGHT A POUND OF EACH, AND MY BIG SISTER HAD USED EVERY LAST SLICE.
LEIGHA TOLD MOM THAT I HELPED.
SO AFTER 15-20 MINUTES OF STRAIGHT YELLING, SWEARS AND SOME MISUSED ENGLISH, MY MOM MADE MY SISTER PUT AWAY ALL THE CHAIRS, BOOKS AND TOYS;
WHILE I CRIED AND ATE THE 3 POUNDS OF LUNCHMEAT AND CHEESE.
I NOW WILL ONLY EAT ROAST BEEF.
REFERENCES & INTRESTINGLY TRUE:
http://www.roadsideamerica.com/story/2074
http://www.cabbagepatchkids.com/