What kid doesn't love Christmas? Isn't it everyone's favorite time of year? Well, since the holiday is approaching, I feel it is time for me to deliver this festive article featuring some of my memories of my past Christmas's including traditions my family has been doing year after year.
Decorations
The most important thing about Christmas would have to be decorating. We were, of course, one of the houses on our block that always put Chrismtas lights up, and those were usually the first thing that got put up. We started out with traditional multi-colored lights, but then in 1996, my mom wanted to switch them to just red, white and green. I didn't like that so much, so eventually, we brought the blue and orange lights back. I don't live with a crazy family who uses icicle lights or inflatables as decorations, thank God.
We used to have a lot of neat decorations for inside the house. We did have a lot of holiday plush toys, but sadly, we recently got rid of a lot of them.
The Christmas tree is of course the main decoration at Christmas. Originally, we bought a real Christmas tree, and me and my brother had our own little tree with our own ornaments, which we used every year up until a certain year. Included in our collection of ornaments were seramic ornaments of Disney characters. We still have them and keep getting new ones every year, but we stopped using them for the tree in 1996 since we had so many of them. We now have a garland that we use for those ornaments.
Movies
It's a tradition of my family to watch every Christmas movie that we own. Here are just some of the classics we own that we watch annually.
Mickey's Christmas Carol is traditionally the very first film we watch every season. We always watched it on Thanksgiving after our big feast and after our other family members left. Even though it cuts out a lot of parts from the Dickens classic, this reinactment by the Disney characters was pretty well done. Not to mention, this was the first time we were introduced to the current voice of Mickey Mouse (Wayne Allwine) and Scrooge (Alan Young), and it was the last film for the original voice of Donald Duck (Clarence Nash).
Miracle on 34th Street is usually the movie we watch on Thanksgiving right after Mickey. It seems to make the most sense since the film starts on Thanksgiving and goes into Christmas. This is a very charming holiday classic, and I think anyone of any age can enjoy it. If you haven't seen this movie, I strongly reccomend checking it out, but stay away from the 1994 remake by all means.
A Charlie Brown Christmas is a classic among classics. Every little bit of it is memorable in many ways. I own a DVD of it, which also includes a 1992 Peanuts TV special known as "It's Christmas Time Again, Charlie Brown", which has a larger cast, but is boring compared to the classic.
How the Grinch Stole Christmas is another classic among classics. I happen to own the 1966 cartoon version and the 2000 Jim Carrey movie, and they're both very entertaining.
Rudolf the Red-Nosed Reindeer is one of my all-time favorites. This 1964 claymation classic is the first of a series of hour-long TV specials made by Arthur Rankin Jr. and Jules Bass. The rest of them were totally weird and extremely corny. I never understood why ABC Family always played all the other Rankin/Bass films, but not this one, which is debatedly the best in the series.
A Muppet Family Christmas was a TV special that aired in 1987. We had it taped off of TV, but what sucks is that when we got our VHS copy of it, five entire scenes were cut from it! What's even worse is that the DVD has the same exact problem! The edits don't even make sense! How can they ruin a Jim Henson classic?
The Muppet's Christmas Carol is one of the most well-made Christmas movies I have ever watched. I saw this movie when it made it's threatrical debut in 1992, and since then, I've been watching it at least once every Christmas season. It's like an exact reinactment of the Dickens novel word for word with Muppets thrown in for comic relief. The songs are all enjoyable too, well, with the exception of one, but thankfully, the DVD cut out that song.
Christmas Vacation is an excellent Christmas comedy. As part of the National Lampoon's Vacation series, this and the original are the absolute best. This movie has a lot of great physical jokes and hilarious quotes. I often think of my dad when watching this movie. My dad is a lot like Chevy Chase!
A Christmas Story is in my opinion the best Christmas movie ever. It's also the most quotable Christmas movie ever. My family says quotes from this movie all the time. Truthfully, the actor this movie is all about is Darren McGavin! Too bad he's not with us anymore.
White Christmas is a mega favorite of my parents. A musical movie starring Bing Crosby and Danny Kaye and titled after one of the most classic Christmas carols of all time. We usually watch this movie late in the month, like just a few days before Christmas. One tradition we always have is to bring out a big plate of sandwiches every time the "Counting Your Blessings" number came up, because my mom always got hungry for sandwiches whenever she watched that scene.
Music
We also have some traditional Christmas CDs that we listen to year-round.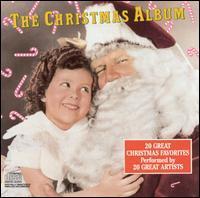 One in particular is this 20-song disc known as "The Christmas Album", which includes some classic versions of Christmas carols including Jerry Vale's "Silver Bells", Robert Gulet's "Have Yourself a Merry Little Christmas", and of course, Andy Williams' "It's the Most Wonderful Time of the Year".
Another favorite of my family's is the Carpenter's "Christmas Portrait". Karen Carpenter had the voice of an angel, and this collection of Christmas songs stands out as one of the Carpenters' absolute best albums ever, especially with their origial song, "Merry Christmas Darling".
For instrumental cases, we had the "Charlie Brown Christmas" soundtrack. I like to refer to this as the Vince Guaraldi Trio's Christmas album. It's basically the Vince Guaraldi Trio performing their own holiday tunes, some of which were used in "A Charlie Brown Christmas".
The soundtrack to "The Muppet's Christmas Carol" has some nice numbers from the movie written by Paul Williams, although, there are only two or three songs that my parents really love on this album.
Kenny G's "Miracles" holds a lot of good background music that really puts me into the Christmas spirit.
"Christmas with the Chipmunks" is a CD that my brother and I enjoyed when we were kids, but now we don't listen to it much anymore. It still means a lot to my parents, though, because when Christmas comes around, they somehow grow younger. Another CD we own is this 1994 album called "A Very Merry Chipmunk", where the Chipmunks perform some obscure Christmas songs along with guest stars such as Kenny G, Celine Dion, Alan Jackson and James Ingram.
My dad, for some reason, is a really big fan of Manheim Steamroller. This techno band is most famous for their versions of Christmas songs, and they've made tons of different albums containing them. We own the first four: "Christmas" (1984), "Fresh Aire Christmas" (1988), "Christmas in the Aire" (1995) and "Christmas Extraordinaire" (2001). There are some good songs on these, but also some weird ones.
Finally, we've got "A Very Special Christmas". This album, released in the late 80's has some great renditions of Christmas classics performed by some big artists like the Pointer Sisters, the Eurythmics, Witney Houston, Bruce Springsteen, the Pretenders, John Mellencamp, Bon Jovi, Sting, U2 and more.
We have a bunch of other Christmas albums too, including some stuff from the 40's and 50's like Bing Crosby, Frank Sinatra and Nat King Cole, but those are just the ones I felt like sharing.
Families
Of course, we all had our family traditions around the holidays. Originally, we would go to church on Christmas Eve and then visit family members from my dad's side of the family. Then, on Christmas morning, we would have Christmas at our house, and then in the afternoon go to visit family members from my mom's side of the family. Of course, now, things have changed.
When both of my mom's parents passed away, we discontinued our Christmas afternoon tradition. Since 2003, we started having Christmas parties at our house a couple days before Christmas, and we have been going to Midnight Mass at our church on Christmas Eve. Every year, we seem to do something different as far as traditions go nowadays.
Presents
Ah, yes. What kids always looked forward to on Christmas was opening presents. It was always fun to be a kid. Throghout my history of Christmases, I've always gotten a variety of different kinds of presents. I have always made wish lists every year, and my present collections have consisted of...
things that were on my list...
things that were not on my list...
substitue items for things on my list...
things that were on my list from two years ago...
surprises that I enjoyed...
surprises that I didn't really enjoy...
and even stuff that was on my brother's list.
Yeah, Christmas always brings out the kid in you. Some things never change, but other things can change. It happens to everybody.
Well, I know it's cliche, but Merry Christmas Everyone!