It occured to me, while watching one of these films, that people overlook many films from the 90's and instead decide to put found memories into blockbusters like Clueless and Reality Bites (which are great movies, but that's not the point). These movies represent a time where you could go to the theater and be entertained by teen problems and hysterical social commentary without the watered down ideas of today. Without further interuption, I give you, the 5 most underrated teen movies of the 90's
5. Airborne
Plot: When surfer dude Mitchell Goosen has to move from sunny California, to snowy Cincinnati, his life is turned upside down. The kids are mean, it's cold and most importantly, there's no ocean! His only friends are his cousin Wiley and one hot girl Nikki. Luckily for Mitchell, hope arrives in a box when he gets his cherished pair of rollerblades. Now, it's time to prove to everyone in school that he can be just as cool off the water and on concreate
Why It's Underrated: Forget that Shane McDormett is in it and instead pay tribute to the two budding careers of Seth Green and Jack Black who both provide hysterical lines. This is also one of those few chances you get to see awesome stunts in a fun movie. The final race down The Devils Backbone is one of the craziest endings ever caught on film
4. SubUrbia
Plot: Five young losers spend their days and nights wasting their lives away, hanging out in parking lots and occasionally mentioning that they might want to make something of themselves... someday. On this particular night, they are visited by an old high school friend who has escaped their suburban town to become a pop star.
Why It's Underrated: One of the darkest teen films of the 90's, second only to the almost too-real Kids, SubUrbia is a look into 90's teen culture in a primitive, but realistic form. It's main ideas deal with future plans, sex and murder. Giovani Ribisi and Steve Zahn are in their prime here deleviering great performances. Linklater out did himself here. Just try not to wonder about the ending...I dare you...
3. Mystery Date
Plot: A teenager boy would like to meet with a very pretty, blonde girl who lives in the next door. His elder brother helps him with car and credit card to be successful. This simple story will be very complicated because of the corpse in the boot, and other nightmares intervene ...
Why It's Underrated: Almost no one knows this movie. They should. It's great, Ethan Hawk and Teri Polo have a great chemistry together. Fisher Stevens is hysterical as Dwight the Flowerboy, who seemingly avoids death at every turn of the movie. BD Wong is also a pretty messed up villain in this. This movie is deifnately the Better off Dead of the 90's. I suggest you look it up and try to guess the ending.
2. Empire Records
Plot: Empire Records is going to be turned into a Music Town. It is up to the wacky employees to figure out a way to raise enough money to help their boss Joe keep the store from changing hands. They also deal with problems amongst themselves, love, and a has-been spoiled rock star named Rex Manning. The subplots include AJ declaring his love for Corey. Corey dealing with her obssesion with Rex Manning. Lucas's relationship with Joe after his "accident". Gina and Corey's rleationship and Mark's one day of insanity.
Why It's Underrated: If you don't have the soundtrack, you missing one of the biggest parts of the 90's. Sadly, it's all people remember of the movie. The flim itself is amazing. The small conversations that go on in the film will be things you end up repeating to yourself day after day. Liv Tyler is a great young talent, Ethan Embrey is insane and Rene Zellweger is well...Rene Zellweger. Lucas is the best character in the flick, hands down one of the most insightful movies of the 90's. Back on the soundtrack, it's a damn shame less then half the songs made it. The Gin Blossoms "Till I Hear it From You" is quite the ballad for anyone's day.
and at #1....
1. Mallrats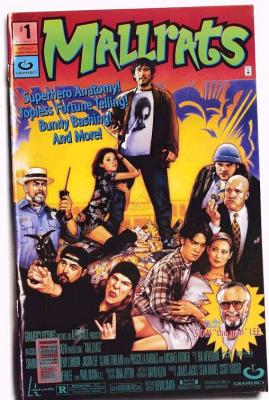 Plot: Brodie Bruce, a Sega and comic book obsessed college student, and his best friend, TS Quint, are both dumped by their girlfriends on the same day, and to deal with their loss, they both go to the local mall. Along the way, they meet up with some friends, including Willam, a guy who stares at Magic Eye pictures, desprately trying to see the hidden image; Gwen, one of TS's ex-girlfriends; and Jay & Silent Bob, of Clerks fame. Eventually, they decide to try and win back their significant others, and take care of their respective nemesises (TS's girlfriend's father, and a store clerk who hates the two for not having any shopping agenda).
Why It's Underrated: To me this is the core of 90's culture. Sega, Comic Books, Alt. Rock and the Mall all come together in this film. Let's start off with characters. Brodie, the man of the 90's, the smartass of the decade and part of my user name, there is no better character of the 90's if you ask me. The soundtrack, oh God yes, the soundtrack! Weezer, Sponge, WAX, Belly, Archer's of Loaf, Silverchair, Sublime and more make this a great buy. Overall my favorite film of the 90's
That about wraps it up for me. 90's teen culture in a box and ready to go. Till you here it from me again...it's been cool!