Halloween was always a great time of year to catch the yearly television specials leading up to Tricks or Treats. Watching these shows always got you geared up for the joys to come. Enjoy these Halloween shows of a bygone era, cheers mates!
First up we have Raggedy Ann and Raggedy Andy in
"The Pumpkin who couldn't smile"
The title screen.
This little gem is animated by the great Chuck Jones and was first shown all the way back in 1979. This special starts out with a little boy named Ralph crying at his house because his Aunt has forgotten the joys and fun of Halloween. There is also a pumpkin left at the pumpkin stand marked down to "free" yet there are no takers for him and hence it being Halloween the pumpkin is distraught and left without a smile. But here comes Raggedy Ann and Raggedy Andy to the rescue for both Ralph and the pumpkin. They bring the now ecstatic pumpkin to Ralph and the pumpkin regained his smile and finally has a new home and even Ralph's Aunt finds herself rekindled with joys for Halloween and takes everyone out Trick or Treating. Why this is not released on DVD yet is beyond me, it's a classic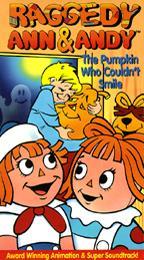 Packaging for the old VHS tape.
Next up we have
"The Halloween Tree"
Based on the classic Ray Bradbury 1972 novel this was made into a 1993 animated feature.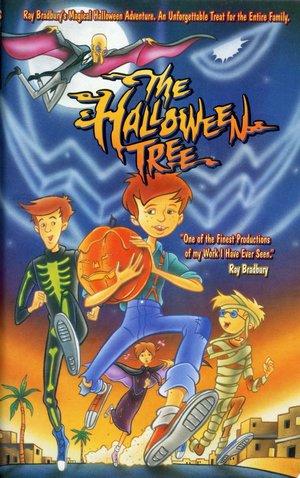 Cover for the movie.
The movie is based on a group of childhood friends who want to come to the aid of their friend Pip who was spirited away in the beginning of the movie. Ray Bradbury himself narrates the movie and it even stars Leonard Nimoy as the voice of the children's guide. The four friends who come to Pips aid are Jenny dressed as a witch, Ralph as a mummy, Willy as a monster and Tom Skeleton surprise, surprise as a skeleton. The costumes are important as they are transported to places which reflect the costumes like going to Egypt which represents the Mummy, going to Notre Dame, also to Mexico to witness the Day of the Dead, and even witnessing rituals carried out by Celtic Druids. Can they rescue Pip in time? What's up with the Halloween Tree? Well you'll have to watch the movie to find out all of that, I wouldn't want to spoil it for you.
Making a showing is
"Halloween is Grinch Night"
Classic print show advert.
The lesser known of the holiday Grinch specials this hasn't been shown on television in ages as well. To be honest it doesn't have much of a Halloween theme though the psychedelic effects and music can surely transport to you a scary place. LoL! The Grinch is up to his no good business on wanting to scare the residents of Whoville. The young Who Euchariah hitches a ride in the Grinch wagon and has some frights with the wagon's monsters. The Grinch hopes to unload these grim monsters unto Whoville but with Euchariah's courage his plans are destined to be foiled.
The one, the only, The Grinch!
Next up is the the Halloween themed episode of the Nickelodeon greatness
"Pete and Pete"
titled
"Halloweenie"
The stars: Pete and Pete!
Little Pete wants to break the all time record of most candy collected and most houses visited and he needs the aid of Big Pete, dressed as astronauts they set out on their journey. Big Pete is worried about the Pumpkin eaters however, they are a bunch of punks who go around with pumpkins on their heads terrorizing all the neighbor children and trying to generally ruin Halloween for everyone. They like to call anyone enjoying Halloween a Halloweenie, basically they suck big time and will they get theirs in the end? Will Pete and Pete break the record? They need to show this again on Nickelodeon pronto..!!
Beware of the Pumpkin Eaters!
Making an appearance is a
"Tales from the Darkside"
episode titled
"Trick or Treat"
Opening for the show.
I do believe it was the pilot episode and what an episode it was. We have the old miser who makes loans to the townsfolk, often they have trouble paying him back but each Halloween he offers a child of the family to come into his home and find the IOU as it was, all the while he is in a control room scaring the bejeebies out of the poor children and they can only stay in the house so long before they run out with fright. This pleases the old Miser to no end, until he has a very unexpected guest at his door. A witch to be exact, is it another child, is it someone sent to teach him a lesson? The old miser sure wasn't happy to see her I can tell you!
Trick or Treat!
From 1977 we have the
"Bugs Bunny's Howl-Oween special."
The cover of the VHS tape.
This was a very funny special for the young or young at heart, classic Looney Toons comedy with a Halloween theme. You have Tweety and Sylvester starring in a take of Jekyll and Hyde, you have Bugs Bunny's antics with Witch Hazel with the memorable Abra Cadabra bit and Porky Pig and scaredy cat Sylvester's night at the so called haunted hotel room. I don't remember this being on television since the late 1980s but low and behold it was showing on Cartoon Network this Halloween of 2009, bravo for Cartoon Network bringing out one of the classics, now if only they or Boomerang could show some of the other animated Halloween classics this and every year.
Bugs and witch Hazel.
Hey Hey Hey it's
"The Fat Albert's Halloween Special!"
Fat Albert and friends get ready for a night of trick or treating in this 1977 nostalgic special.
Cover art.
In this special, they come up with some pretty funny costumes, using imagination more than money and this is what being a big group of friends is all about. Just having a whole heap of fun like getting kicked out of the local theater by an overstrict usher, visiting an old man for some candy and yet he manages to snag about all the candy in your bag and then shaking in your boots about visiting old lady Blackwell's house only to find out she is a kindly old lady who will supply you a full night's candy and treats.They use to show this back on CBS every year but they have not shown this in a very long time, but fortunately this had been on DVD for awhile then discontinued but it finally has been re-released this year just in time for Halloween. Kids should still be able to go around the neighborhood like in this special, that's the way I use to do it, and I have a lot of great memories for it!
Do you think it's haunted?
Another Nickelodeon show provides with us Halloween joy
Rocko's Modern Life
episode titled
"Sugar frosted frights and Ed is dead: A Thriller!"
Rocko and all the gang.
Rocko's friend Filbert is scared out of wits of Halloween and it's up to Rocko and Heffer to get him out of his shell. There is monster in O-town cemetery known as the Hopping Hessian which our friends have a run in with and some funny scenes of trick or treating and a laugh out loud moment when Filbert tastes his first piece of Halloween candy , it's a whole lot of Halloween madcap going on here that has just to be seen to be appreciated. The second half of the show starring Ed plays just like an Alfred Hitchcock thriller, not as great as the first half but an enjoyable and frightful watch none the less.
Opening scene.
Well I know there are other great Halloween specials like It's the Great Pumpkin, Charlie Brown!, Garfield's Halloween and Disney's Halloween Treat but I think those are well known and I wanted to give a few other specials the limelight in my article but all of these shows are great to me and if they showed one or two a day leading up to Halloween I think it would be great for children of yesterday and today! Hope you had a fun read ladies and gents!
Happy Halloween!