Greetings, monsters! I'm back with another addition of...stuff that I'm adding to the RJ Vault. Again, bored and though of early days. When I was 19 and attending Indiana State University, I got introduced to a guy named Daniel who had an obsession with Tim Curry and Rocky Horror Picture Show. Yeah, I saw the movie, and thought it was pretty cool. He decided to invite me back to his hometown to see a live show/movie of RHPS. I of course went ahead and said yes, prepared my backpack and we drove the 3 hours north. What I found out that night, would not only change my attitude toward cult classics but engorge me into a wonder of cross-dressing and alien invasion. I'll be including some of my own experience of when I went there with pictures.
Ladies and Gentlemen, I give you:
The Rocky Horror Picture Show
*SQUEALS!!* From the beginning, I was anxious to get to the theater. I was dawned in my red dyed hair, a little frizzy, red and black corset, black pants with black high heals; make-up done dark and smokey-like. I was so ready to be de-virginized into the world of mayhem that was called Rocky.
But....before I get to into it, lemme explain the movie to you.
You are brought into the movie with a pair of lips (thanks to Patricia Quinn) that lulls you with a lullaby as the credits role in. But I'm going to sum it up a little.
Brad Majors (Asshole)
This boy from the darling part of Denton, spills his heart to his girlfriend, Janet (slut) Weiss after a marriage of their own friends. Through expressing his love he intends to let Dr. Everett Scott (Sig-Heil) know of the urgent engagement. He's more of the home-boy wanting to be the hero.
Janet Weiss (Slut)
Young and in love, she has been proposed to her boyfriend, Brad Majors at their friend's wedding. With such love and devotion she has toward him, they plan to tell Dr. Everett Scott about the engagement.
While driving home in a rainstorm, straight-laced lovers Brad and Janet end up at the castle of one Dr. Frank-N-Furter and his strange and bizarre group enjoying a "Lovely party". This is no ordinary party This is the party for unveiling the Dr's latest creation: Rocky; A man created through the colors of the rainbow *and stepping up the reactor input 3...more....Doritos*. Within the chaos of sexual pleasure Brad and Janet are diving head first into unknown territory of sexuality.
I don't want to give this movie away so I'm leaving it at that. Anyway, for those who have no idea who or what I'm talking about. Here we will use pictures.
Dr. Frankenfurter
This man/woman/creature is dawned in dark make-up red lipstick and the legs of something pretty. When I first saw him on video I was 13 and was pretty entertained with the talent of Tim Curry's voice and style of acting. He's always been the creepy evil guy in movies and he plays it so well. When I saw the other actors portraying under the big screen it was exhilarating. I felt energized, singing along and dancing with others in the theater, with red lipstick "V"s on my cheeks indicating I was a virgin (basically first time coming to the show).
Magenta
A frizzy looking, Russian sounding woman, who is the love interest/sister of Riff-Raff, the other alien from the galaxy of Transsexual. With her brother they plan to overthrow Dr. Frank-N-Furter and return home. At this point, she's treated like the maid, cleaning the lab, dusting and lusting after her brother (eegh). She's mysterious, vindictive and has a very evil smile. She's so fucking awesome!
Riff-Raff
The commander who is under Dr. Frank-N-Furter who wishes to return home to Transsexual with his lover/sister. He's the doorman, butler and has this hair-band rock flare of a voice, that brings the Time Warp into it's own calling. He's been abuse by Frank for too long and is now willing to over throw him or kill him.
Columbia
The cheery, squeaky voice of a groupie that followed Frank and was a former lover. She frolics around the castle, with glitter jackets and tights, while dawning a pair of tap shoes and a golden top hat. She's basically the entertainment for the party. She's also a secret lover of Magenta (note the two together in "Toucha-Toucha-Toucha Me"). She herself is upset at Frank, who killed her lover, Eddie then was frozen.
We are introduced to so many songs, dances and levels of "absolute pleasure". While there, you take the oath "you solemnly swear..blah blah blah" and then you are inducted into the world of RHPS. While watch the movie, you have a goodie bag: toast, newspaper, rice, plate, party tooter and toilet paper. These items are use through out the movie. For example; as Dr. Frank proposes a toast, the audience will yell TOAST!! and throw pieces of toast into the air. It's all good fun really and it's always a great time. You get to stand up and do the Time Warp, either in the isle or on stage with the other actors.
This is my friend Daniel (in blue) and Katy doing the Time Warp on the stage. These two were inseparable in college; and it all started with Rocky.
For almost 2 hours, we would scream, holler, yell obscenities at the stage, watch the actors move about and act out what's on the screen, partake in several traditions that have been going on since the 70s. As it was popular at midnight to go see RHPS at the local theater, 35 years later, it is still done. I've gone a total of 4 times to see this, including 2 Halloween specials !! (BEST TIME TO GO). Unfortunately the owner of the theater was in debt, BAD and had to close it down in 2004. But....he went back to the theater and re-leased it in 2007. Since then, the cast, movie and people still flock to the theater on Saturdays to see RHPS. I can't wait to go back and see the insanity that will in-sue.
When I did return to ISU after Daniel and I had some R&R. I was still wheeling over the experience from RHPS. If you have not seen this movie or been apart of the chaos at the theater, I suggest to go because if you are a fan of the movie and appreciate what Richard O'Brien brought to the world, then you will never be dissapointed.
Here are some pictures from my whole experience from RHPS. Some of them are in poor light and I do apologize but I hope for the other RHPS fans they will remember their time going to a midnight showing.
This is Brad singing in the scene where they are all together for the final show.
Guy in the hairy chest is Shawn; he's the one that has the theater, went bankrupt and got the theater back to show RHPS. He's even weirder in person.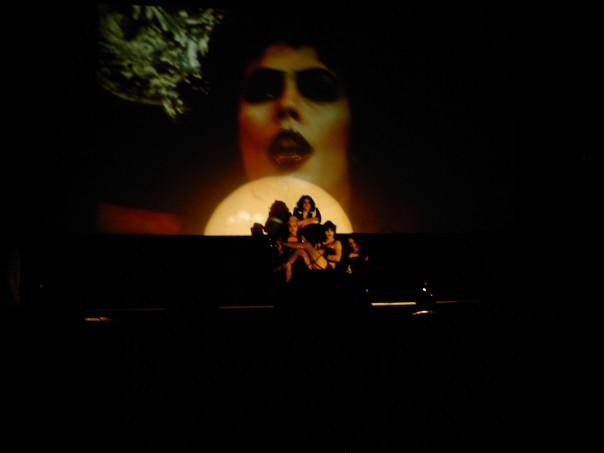 "I've been making a man, with blonde hair and a tan..."
"Throw open the switches on the sonic oscillator."
Riff-Raff up in the castle as Brad and Janet head to the front door. This is my friend Rodney portraying Riff-Raff. He was awesome!
Here he is again licking my cheek. This was back in '05. Even though it's not retro enough for some, it was for me and RHPS just made it even better!
This is a lot of fun.
I do hope that this Halloween, I'll take my husband to a live showing of RHPS. He's a virgin and I know he'll have a great time immersed in the world of strange and naughty things. *sinister laugh* With the changes to my physical appearance (boot camp and such), I hope to finally pull off the Magenta or Columbia look without looking like a mess. Wish me luck on that one!
Again, we are at an ending to a fantastic memory I wanted to share with you. I'll ask again RetroJunkers; if you did go to a show in your years whether it be past or present, what was your favorite part? You favorite time (season) to go? What crazy things went on at the show? Did you act in it? Let me know, from one RHPS lover to another.
I lead you down the road to Nostalgia, now it's your turn!