NOTE: There will be no title card for this review on the account that I had no time and I'm frickin' lazy.
A Garfield Chrstmas (1987)
Directed By: Phil Roman, George Singer
Starring: Lorenzo Music, Thom Huge, Gregg Berger, Pat Carroll, Julie Payne, Pat Harrington Jr. , David L. Lander
Ruining the Christmas Tree has never been so sweet!
Y'know, I've been talking about obscure Christmas cartoons (with the exception of one) that need more attention, but there's one which I think truly deserves a place in the best specials list. It's a little 1987 special known as
A Garfield Christmas
.
"Maybe stealing a candy cane from the top of the tree wasn't so hot."
In past reviews, I've admitted that I'm a HUGE Garfield fan. One reason is I've always been more of a cat person rather than a dog person. They're more laid-back like me. The second reason is that the drawing style is a major inspiration for my drawing style, mostly the eyes.
I may not have a shit load of Garfield merchandise like some people do, but my love for the strip is good enough. I like the character, the show, and even those live-action/CGI cheese-fests from the mid 00's.
When I was a kid, the specials were one of my major rentals at the video store. This is the one I remember renting the most. It's sweet, to the point, and reminds of my own Christmas traditions growing up.
"Garfield, let me tell you about my hemorrhoids..."
"Auntie Em! Auntie Em! It's snowing!"
WHAT'S THE SPECIAL ABOUT?
Garfield (Music), Odie (Berger), and their owner Jon Arbuckle (Huge, rhymes with "loo-gie") go to the Arbuckle household for the holidays, where they meet with Jon's parents, his brother Doc Boy (Lander), and his grandma (Carroll). While there, Garfield slowly learns that there's more to Christmas than gifts.
WHAT'S BAD ABOUT IT?
The one thing I can't stand in this (or any) Garfield special are the poorly-drawn backgrounds. They're painted sloppy, drawn too quickly, and just end up looking like a 4-year old was in charge.
Aawwww...
WHAT'S GOOD ABOUT IT?
Everything else.
Like I mentioned before, this special reminds me of my Christmas traditions growing up. Every Christmas, after I unwrap the living hell out of my presents, I go up to my grandparents' house in the countryside and spend the rest of the rest of Christmas day to eat Christmas dinner and unwrap MORE presents. Anyone who ever had this experience should definately watch this special.
David Lander's performance for Doc Boy's is one of the best performances in the special. He really knows to get the voice of the annoyed brother. Whenever the character complains about something, Lander totally gets the emotion right.
My favorite scenes include Garfield's encounter with Grandma's "sausage gravy" (?), Grandma telling Garfield her personal memories of Christmas, Jon's father reading "Binky, The Clown Who Saved Christmas" (??), and when Garfield gives us the simplest speech about the true meaning of the holiday ever:
"Christmas: it's not the giving, it's not the getting, it's the loving."
Every Christmas special you could possibly imagine (even the good ones) always try to cram the "true meaning" message down your throat so much that this simple one-sentence speech actually gets it's word across without feeling forced.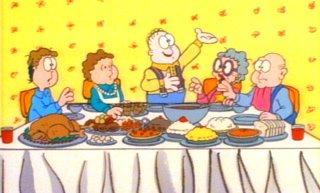 "Lord, we thank thee for this bountiful of raccoon, yak, and our pet cow Beth..."
"Nice Touch."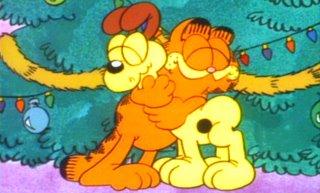 My God! The "Awww"-ometer is goin' through the roof!
BOTTOM LINE:
Some people may see this as a minor Christmas cartoon, and I think the only way to that it can work is if you had this kind of tradition like I do. But whether you do or not, the animation is decent, the characters are likable, and it's message is short but definately sticks to your mind. A classic.
OVERALL SCORE:


4.5/5
And that's my look at some of the more obscure Christmas cartoons out there. Whichever one you go with, the forgotten or the popular, they're always a ton of fun to watch and get you into the Christmas mood. I wish everyone a Merry Christmas and a Happy New Year.
I'll see you in 2011!