Release: November 13, 1999
Release: November 13, 1999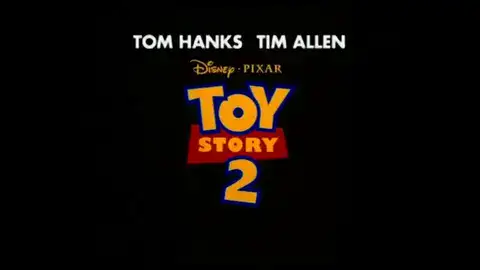 "Coming Soon to Video and Disney DVD [10/17]" spot ('Tarzan' 2/1/00 DVD)
Mattel's official Strummin' Singin' Woody and MegaMorpher Buzz spot ('99)
Mattel's official Flight Control Buzz Lightyear spot ('99)
Toon Disney's "To Infinity and Beyond"-a-thon promo ("Monday [5/30(/05)]")
"Monday [5/30(/05)]" Toon Disney's Big Movie Show promo
Al:
"I can't believe I had to drive all the way to work on a Saturday! All the way to work!"
Aliens:
"You have saved our lives. We are eternally grateful."
Al:
"How long is this going to take?"
Geri:
"You cannot rush art."
Rex:
"What are we gonna do Buzz?"
Rex:
"(flying at the air vent)But I don't wanna use my head!!!"
Woody:
"I can't find my hat anywhere!"
Buzz:
"Aw, don't worry Woody in a minute you'll be going up to summer camp with Andy and you'll both be having delicious, hot schmoes!"
Woody:
"They're called 'smores' Buzz."
Buzz:
"Right, right, of course."
The Prospector:
"Idiots! Children destory toys! You all be ruined!; Forgotten! Spending eternity rotting in some landfill!"
The Prospector:
"It's your choice, Woody. Either you can go to Japan together… or in pieces. He fixed you once, he can fix you again. Now, get in the box."
Woody:
"Ride like the wind, Bullseye!"
Rex:
"I can't look. Could somebody please cover my eyes?"
Woody:
"I have no choice, Buzz. This is my only chance."
Buzz Lightyear:
"To do what? Watch kids from behind glass and never be loved again? Some life."
Jessie:
"You callin' me a liar?"
Woody:
"Well, if the boot fits."
Jessie:
"Say that again."
Woody:
"[slowly] If the boot-tah fits."
The Prospector:
"Look, we have an eternity to spend together in the museum. Let's not start off by pointing fingers, shall we?"
Prospector:
"Take That, Space Toy!"
Woody:
"Hey! No One Does That To My Friend!"
The Prospector:
"Fair? I'll tell you what's Not Fair: Spending a lifetime on a dime-store shelf watching every other toy be sold. well, finally my waiting has paid off and no hand-me-down cowboy doll is gonna mess it up for me now!"
Weezy:
"I feel swell! Infact, I feel a song coming on!"
Aliens:
"You saved our lifes! We are greatful!!"
Mr.Potatohead:
"Yeah, Yeah. Just get out of my way!"
Andy:
"Thats right, Your broken. I don't want to play with you anymore."
AI:
"I will give you 50 bucks for him!! 50 bucks!!"
Mr.Potatohead:
"50 bucks aint bad"
Rex:
"Maybe If we had some balloons, We can float to the top!"
Mrs Potatohead:
"Im packing extra shoes and your angry eyes"