Release: February 12, 1993
Release: February 12, 1993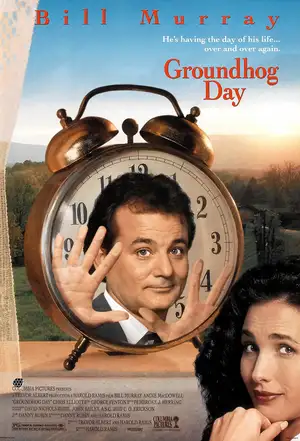 Phil:
"This is pitiful. A thousand people freezing their butts off waiting to worship a rat. (raises his voice) What a hype. Groundhog Day used to mean something in this town. They used to pull the hog out, and they used to eat it. (turns to the crowd) You're hypocrites, all of you!"
Phil:
"Hey, what's going on?"
Larry:
"Maybe it's that giant blizzard we're not supposed to get."
Phil:
"This is one time when television fails to capture the true excitement of a large squirrel predicting the weather."
Mrs. Lancaster:
"Will you be checking out today, Mr. Connors?"
Phil:
"Chance of departure, 100%."
Phil:
"Someday somebody's gonna see me interviewing a groundhog and think I don't have a future."
Phil:
"For your information, Hairdo... there is a major network interested in me."
Larry:
"That would be the Home Shopping Network!"
Phil:
"Nice going boys, you're playing yesterday's tape."
Cop:
"Now you can either go back to Punxsutawney, or you can go ahead and freeze to death. It's your choice. So what's it gonna be?"
Phil:
"Don't you have some kind of a line that you keep open for emergencies, or for celebrities? I'm both! I'm a celebrity in an emergency!"
Phil:
"Once again the eyes of the nation have turned here to this.. [silly voice] tiny village in Western Pennsylvania, blah, blah, blah, blah, blah... [seriously] There is no way that this winter... is ever going to end, as long as this groundhog keeps seeing his shadow. I don't see any other way out. He's gotta be stopped, and I have to stop him."
Phil:
"Let me handle this. Yeah, three cheeseburgers, two large fries, two chocolate shakes and one large Coke."
Ralph:
"And some flapjacks!"
Phil:
"Too early for flapjacks?"
Phil:
"What would happen if there were no tomorrow?"
Gus:
"No tomorrow? That would mean there would be no consequences. There would be no hangovers. We could do whatever we wanted!"
Radio DJ's:
"That's right woodchuck chuckers it's Groundhog Day!"
Phil:
"I told you I know everything! In about five seconds a waiter is gonna drop a tray of dishes!"
Rita:
"I'm sorry, what was that again?"
Phil:
"I'm A god, I'm not THE God! I don't think..."
Phil:
"I'll give you a winter prediction. It's gonna be cold, it's gonna be gray, and it's gonna last you for the rest of your life."
Ned:
"Watch out for that first step--it's a doozy!"
Phil:
"Do you ever have Deja Vu, Mrs. Lancaster?"
Mrs. Lancaster:
"I don't think so but I could check with the kitchen."
Phil:
"People like blood sausage too, people are morons."
Rita:
"Do you ever have Deja Vu?"
Phil:
"Didn't you just ask me that?"