While I'm working on my big 80s piece, I figured that the time was right to do another "I Love The 80s 3-D" article.
This time, I've decided to tackle 1986. Why? One simple reason: Snuggles the bear. This fabric softener mascot doesn't strike me as a uniquely 80s item. Perhaps it's because that when I was growing up, the character was a fact or life. It could also be that the character is still used in those ads today, albeit not as frequently.
Either way, the time has come to set the DeLorean back to the 80s.
THIS IS 1986!
-------------
1.) "Aliens"
The closest they've come to discussing this movie so far has been a breif men in "Weird" Al Yankovic's "Movies That Should've Been Made In 3-D" segment in the 1986 episode of "I Love The 80s 3-D". This movie deserves to be talked about in full for several reasons. The dialogue is quite quotable, for example. Of course, there's the infamous "Get away from her, you bitch", but there's also lines like:
Hudson (Bill Paxton): "Hey, Vasquez, have you ever been mistaken for a man?"
Vasquez (Jenette Goldstein): "No, have you?"
And who could forget:
Sgt. Apone (Al Matthews): "YOU KNOW THE DRILL! ASSHOLES AND ELBOWS!"
Those are some of my favorites from the movie, and I'm sure that our readers could think of others.
Another reason, and probably the most important, is that it's an action movie with a woman who takes charge. Most women in 80s action movies were nags, wives, girlfriends, sluts or body count. Ripley (Sigourney Weaver) wasn't any of those. She was a take-charge, decisive woman who wasn't afraid to get down and dirty to save the lives of those she cared about. Enjoyable as they may have been in their movies, Schwarzenegger and Stallone were like automatons. Weaver was full of emotion, passion and life...Some of the best qualities you can think of when it comes to the 80s.
Let's have a big hand for the little lady and hope that if they do a fourth "I Love The 80s" that "Aliens" gets the respect it deserves.
2.) "Labyrinth"
Speaking of women on top, VH1 should also give some credence to this modern fantasy. I don't know how I could follow up the article "Return Of The Labyrinth" when it comes to reasons for discussion, but I would say that this movie has a unique style about it. The 80s was a very interesting time for visualization and that's illustrated best in this movie. Sarah's (Jennifer Connelly) journey to get back her brother takes her through a colorful landscape of fantasy creatures and winding roads, filled with all sorts of interesting creatures. The most 80s scene in the movie is the sequence where a drugged Sarah fantasizes about dancing at a ball with the manipulative Jareth (David Bowie). The hair is flowing, the room is sparkling, the clothing is outrageously sized and designed...It was like a debutante ball, but with considerably more class.
Of course, dick jokes could abound thanks to the character of Jareth. Maybe this movie is why Bowie keeps on getting female fans to this day.
3.) "Little Shop Of Horrors"
Outside of a brief mention of Rick Moranis in the "Nerds Of 1986" segment of "I Love The 80s Strikes Back", this movie hasn't gotten any discussion at all. It's one of the better musicals of the 80s and there are 2 good reasons for that...Howard Ashman and Alan Menken. Somehow, whatever project they worked on turned into some sort of magic. This movie was sort of the prototype for their Disney projects, only instead of mermaids and dancing candleabras, there was a foul-mouthed Venus flytrap and a nitrous-huffing, Elvis-impersonating, sadomasochistic dentist (Orin Scrivello, played by Steve Martin). This movie would be great to talk about for mainly one reason: The songs.
From the girl-group stylings of the title track to the R&B braggadocio of "Mean Green Mother From Outer Space", there's so much to sing along. There's comedy and drama in every line. Some of the "I Love..." commentators have pretty good voices (Rachael Harris and Hal Sparks come immediately to mind) and to hear them sing pieces of "Skid Row (Downtown)" or "Dentist" would be great.
I think I know the hold-up, though: Bill Murray.
In "Little Shop Of Horrors", Murray plays a dental patient so twisted that he even creeps out Scrivello, which is no mean feat if you've seen this movie. Murray seems to have image issues. They did feature clips of him in "Caddyshack" and "Stripes" in the first "I Love The 80s", but they haven't talked about the movie "Ghostbusters" in any of the "I Love The 80s" programs so far. The closest they've come to talking about it was a brief mention of Ray Parker Jr.'s theme song in the 1984 episode of the first one, but that was only within the context of a piece on Huey Lewis & The News.
Not only have they not talked about "Ghostbusters" in any of the "I Love The 80s" programs, but they haven't talked about "Groundhog Day" in any of the "I Love The 90s" programs so far. I don't why Bill Murray has such problems. He's one of the best comedic actors of the past 25 years or so (the "Garfield" movies excepted) and a pretty good dramatic actor as well. Bill needs to loosen up and give VH1 permission to talk about him...That goes double for Jack Nicholson, but that's another article.
4.) "Highlander"
Returning to the land of fantasy, we have this classic of the battle for immortality waged between Connor MacLeod (Christopher Lambert) and The Kurrgan (Clancy Brown). This movie starts out slow, but rapidly moves up. By the end, swords are clanging, glass is breaking, Silvercup Studios is being demolished from the roof down and spirits are whipping MacLeod around.
What could they talk about? Well, the Kurrgan for one. I don't know much about the "Highlander" universe, but I do know that the Kurrgan is a bad-ass. Brown plays him as an all-around slimeball. When the Kurrgan speaks of whores and worms while talking to MacLeod in a church, you can practically feel the sleaze dripping off him.
Another important aspect they could talk about is Queen's music for the movie.
The music, found on the "A Kind Of Magic" album, is a panorama of emotion. You can feel liberated with the title track, adrenalized with "Don't Lose Your Head" (which was used to great effect when the Kurrgan was driving through NYC like a homicidal lunatic, which was what the character was, come to think of it), and in a state of wonderment when it comes to the song "Who Wants To Live Forever". That last one is my personal favorite. It makes me wonder if I would want to live forever. Staying forever young while my loved ones died wouldn't be good. We all need family and friends and if you were an immortal, you couldn't hold onto that.
Either way, this movie needs to be talked about.
5.) Bananarama's "Venus"
I'm really surprised that this song hasn't been covered yet. Originally performed by Swedish pop group Shocking Blue, Bananarama took a mediocre rock song and, with assistance from infamous 80s producers Stock/Aitken/Waterman, created one of the finest dance songs of the 80s. This is a guaranteed floor-filler. Turn this on, and the place will become full of drunk ladies dirty-dancing with each other. Trust me...I've seen it when I've gone to Pleasure Island at Walt Disney World.
Speaking of pleasure, the music video was hot as well. The ladies sang and strutted their stuff while they enacted all sorts of fantasies in various costumes, most notably with one of them dressed in a skin-tight devil suit. This was yet another reason why they invented the mute button.
6.) Nu Shooz's "Poolside" album
One of the better blue-eyed soul outfits of the late 80s, John Smith and Valerie Day comprised the group Nu Shooz. They had two very danceable songs with interesting music videos.
The first one was "I Can't Wait". The song is basically one of how Day likes her boyfriend, but the video is something else entirely. Day is sitting at a desk, doing things like playing with a paperweight and fiddling around with a pencil, but in the back-and-foregrounds, objects are floating around. It's sort of like how you might be having daydreams at work, trying to take your mind off the boss' dickery and your co-workers' stupidity.
The second one, and easily the best, was for "Point Of No Return" (not be confused with Expose's 1987 song of the same...Now there's a group I should've mentioned in my 1987 article). The song is about how Day's lover really excites her. The video is a foot fetishist's wet dream. Hundreds of shoes go marching around the room in stop-motion, dancing across the floor, making formations like the American flag and the peace sign, and flooding out the door, taking Smith and Day with them.
Unique visuals and funky songs...Nu Shooz definitely merits discussion.
7.) Lionel Richie's "Dancing On The Ceiling"
This video was probably Richie's last big song of the 80s. I've read people say that it's a bad song, but I like it. It just has a fun sense of fantasy. I wonder what it would be like to be looking down from the top of the room...It would probably be painful.
The video is what makes the song. It was directed by Stanley Donen, who directed many great musicals of the 50s, most notably "Singin' In The Rain". He made a movie in 1951 called "Royal Wedding", which starred Fred Astaire. In one sequence, Astaire dances on the ceiling. It was some pretty cool technology for the 50s. 35 years later, Donen produced "The 58th Annual Academy Awards". Richie was a performer that night (winning a Best Song Oscar for "Say You, Say Me" from "White Nights"). Richie met Donen backstage and the two ended up collaborating on this video, which put a totally 80s spin on the Fred Astaire scene, complete with big hair, wild dresses and cameos by Cheech Marin and Rodney Dangerfield.
They had Richie as a commentator on the first "I Love The 80s" back in 2002 and they discussed "All Night Long" on 2003's "I Love The 80s Strikes Back". I really think that it's about time that this song was discussed.
8.) "Night Court" and "Sledge Hammer!"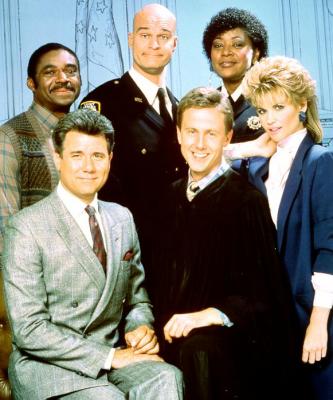 I grouped these 2 together because they gave a comic take on what the justice system was like in the 80s. "Night Court" was a very interesting program. It was a comedy-drama with occasional surrealism and a really out-there cast. Harry Stone (Harry Anderson) was a judge with an odd sense of humor and he occasionally needed to be taught how to be mature by his co-workers. Then again, characters like the lecherous lawyer Dan Fielding (John Laroquette), and the 2 bailiffs, the naive Bull Shannon (Richard Moll) and the anger-prone Roz Russell (Marsha Warfield) weren't exactly good role models.
Warfield is the reason why I decided to include "Night Court" in the 1986 episode. The show had been on since 1984, but when Warfield joined the show in the 1986-1987 season, things really took off. I watched the early seasons of the show when it was on the Biography Channel a few years ago (I don't know why it was there, but then again, I don't understand how MTV can run shows about Sweet 16 parties and guys getting their asses caught in smashed metal shopping carts) and it was very different cast-wise. I don't think any of the people who started watching the show in later seasons would be able to recognize characters like the 1984-1985 season's Billie Young (Ellen Foley) or the 1984-1985 female bailiff Selma Hacker (Selma Diamond). Many people have said online that because they didn't start with the Roz Russell seasons, we probably won't get any more full season sets of "Night Court" (the first season was released in 2005 and sold dismally). Oh, well.
Meanwhile, over on ABC, actor David Rasche essayed the role of the "shoot first, screw the questions" supercop "Sledge Hammer". This show was really out-there. It was like a combination of "Dirty Harry" and "Police Squad!". A typical example of Sledge's idea of justice: Sniper on the roof? No problem. Take a bazooka out of the trunk of your car and blow the bastard away. It was a combination of intelligent spoofing and childish slapstick, but it was funny as Hell. I really think that this show merits its' own segment.
9.) "Hoosiers"
Who doesn't love a good inspirational movie? This true story of Indiana's Milan Indians basketball team beating the odds and winning the state title is full of great performances. Gene Hackman is terrific as Norman Dale, the coach who, despite a rough past, overcomes a town's problems and carries his team to victory. Dennis Hopper is great as Shooter, a former high-school basketball star who became an alcoholic but moved to change his past. Barbara Hershey is somewhat of a cipher as Myra Fleener, Dale's love interest, but she does a good job also.
I figured that if they could cover a movie like "Lucas" in the 1986 episode of "I Love The 80s 3-D", then perhaps they could give some time to this movie, a far-superior tale of sports victory.
I had actually wanted to include Hopper's other 1986 effort "Blue Velvet" on this list, but I think that between "Aliens", "Highlander" and "Little Shop Of Horrors", there was enough darkness on this list. Seeing the commentators imitate Hopper's lines would be funny. Nothing is funnier than the word "fuck" and Hopper uses it in pretty much every line in that movie. Of course, VH1 could combine the two and talk about Dennis Hopper's 1986 comeback, just like I'm going to do with my final topic.
10.) Bette Midler revives her movie career.
When Michael Eisner became the head of the Walt Disney Company in the mid-80s, one of the divisions that was forming was Touchstone Pictures. It was Disney's home for more adult movies. One of Touchstone's more noted traits was taking actors and actresses whose careers were going bad and reviving their box-office with mid-budget high-concept comedies. Bette Midler was one of the beneficiaries of this idea.
The Divine Miss M was having a tough time in the mid-80s. While her recording career was still going well, her film career had derailed after a 1982 gambling comedy with the unfortunate title "Jinxed!". In 1986, Touchstone was getting ready to do a movie called "Ruthless People". If you read the story "The Ransom Of Red Chief" back in school, imagine it forwarded to mid-80s Southern California and adapted into an R-rated comedy. Touchstone had originally wanted Madonna for the role of Barbara Stone, the harridan wife of a clothing impresario named Sam Stone (Danny DeVito). Barbara is kidnapped by a young couple named Ken and Sandy Kessler (Judge Reinhold and Helen Slater). That's all I can go into, because there's so much plot in the movie that you need to see it for yourself.
Anyway, Madonna wanted too much money, so they asked for Bette Midler instead. The pay wouldn't be as big as what Madonna wanted (she was asking for a million dollars), but Midler got the gig and became one of Touchstone's biggest moneymakers for almost half-a-decade.
Before "Ruthless People", Midler also starred in another Touchstone release entitled "Down And Out In Beverly Hills". The movie was about a bum, played by Nick Nolte, who changes the lives of a dysfunctional family headed by Midler and Richard Dreyfus (Another man whose career was revived by Touchstone). There was lots of quirky humor including a gender-bending son and a flamboyant musician neighbor played by Little Richard. According to the IMDB, this was the first Disney movie to be rated R, and once you see it, you'll understand why.
Either way, these two movies should be discussed.
----------
There you go. If and when they do a 4th "I Love The 80s", these topics must be discussed. These are all uniquely 80s items, and they definitely need to be discussed instead of some treacly animatronic bear that's still in action after 2 decades.
"Game over, man! Game over!"