Has anyone heard of or been to a place called Haunted Trails? If not, come and take a look! If so, take a walk down memory lane. I took a walk down memory lane on Monday, December 31, 2007 when my family and I went to Haunted Trails in Joliet, Illinois. I had not been to Haunted Trails in many months, and it felt good to play the games and eat their delicious pizza once again.
What is this Haunted Trails place?
The Haunted Trails of Joliet, Illinois is one of the three Trails Family Entertainment Centers in Chicagoland. There is also a Haunted Trails in Burbank, Illinois and the Enchanted Castle in Lombard, Illinois that the Trails Family Entertainment Centers Company owns. It is somewhat like Chuck E. Cheese's, where people play different arcade games for tickets so they can trade them in for prizes (those types of games are called redemption games). Also, there is delicious, cheesy pizza to be devoured by young hungry mouths. It is a great place for younger and older kids, and my Dad.
Here is what the Haunted Trails website, http://www.enchanted.com/amusementsJoliet.html, says about the Haunted Trails in Joliet:
Haunted Trails in Joliet is one of three Chicagoland family entertainment centers comprising the Trails Entertainment Center Corporation. It began as a small arcade and miniature golf facility in 1988, evolving into today's 14 acre indoor-outdoor complex accommodating group events for up to 2,000 guests. Attractions include two 18 hole miniature golf courses, 3 go kart tracks, batting cages, indoor and outdoor rides, games, a restaurant and party room with seating for 325 guests, laser tag, 100s of games including a nickel arcade and a 5 acre picnic grove for corporate and large group events.

Upon visiting Haunted Trails you will view a collection of games so new, they may not be available anywhere else. Rich Oltmann, its owner, designs and manufactures games sold throughout the world. Other manufacturers, from around the world, bring games, for testing and evaluation, to Oltmann, often referred to the "Guru of Games".

Birthday party and group packages offer savings of up to 50% off retail prices. Although the facility is open year round, the outdoor attractions are closed between Nov.1 and April.
This is a picture of Rich Oltmann off the Haunted Trails Website:
My Memories of Haunted Trails:
My family and I have been going to the Haunted Trails in Joliet for many years, since I was around 7 years old. I remember the first time I went there. I was in second grade, and a classmate told me about the Power Ranger pencil toppers that he won at Haunted Trails. I watched Power Rangers in second grade and I was obsessed by it (to the point where I thought my second grade teacher, who looked like Rita on Power Rangers, was an alien), so his pencil toppers intrigued me. I asked my father if our family could go to Haunted Trails to win the pencil toppers. He consented, and my father, mother, and I went to Haunted Trails that night. There were two buildings. I saw a big building (which I later found out was the big game room and restaurant) and a smaller Nickel Arcade (which has older games that a person could play for only a nickel). There was also a miniature golf course, one go-cart course (it now has three), and some batting cages. My family went into the Nickel Arcade, where my classmate told me he got his pencil toppers. So we played a few games and I won two pencil toppers: the Yellow Ranger one and the Blue Ranger one for only 5 tickets each. I still have those pencil toppers to this day, but I have to find where they are in my house. Anyway, my father, not yet enamored by this place, asked me if we were done, and we went home. We did not even set foot in the main arcade room or the restaurant.
Later that year, my family went back to Haunted Trails because they heard good things about it from other family members. This time, we went into the main arcade room and we were enthralled by what we saw – so many games! I instantly fell in love with the place and its many games, as did my father. We also, eventually, fell in love with the delicious pizza served at Charmin' Charley's Restaurant. After a noisy and almost disastrous 6th birthday party at Chuck E. Cheese's, Haunted Trails became our weekly retreat for the next several years. We never even thought about Chuck E. Cheese's again. Okay, I did go back to Chuck E. Cheese's a couple of times over the years (mostly for a couple of birthday parties) and the place has its merits, but Haunted Trails was(and still is!) so much better. We went almost every single Thursday or Friday for games and pizza. We sometimes played on the miniature golf courses and the batting cages, and I loved racing on the go-cart course as soon as the weather got warm (and I got taller!). We would trade in our tickets for prizes, big and small. I myself won stuffed bears, pictures, lava lamps, a huge Care Bear, jewelry, cool pencils, erasers, a disco light, miniature basketballs, and posters, among other great prizes. My Dad mostly went for the sporting memorabilia from the Bulls and Cubs teams. Mom also liked stuffed bears and other stuffed animals, as did I.
What was also cool was that Dad would always find a coupon in the newspaper that rewarded us 80 free tokens if we bought a large pizza and pop for $20. Not a bad deal, I think! In addition, I could bring in my report card from school and get two free tokens for each A on the report card (and there were a lot of As!).
Here is a receipt from our Dec. 31, 2007 outing to Haunted Trails:
Moreover, here is a copy of my college report card (I have edited out all the info except for the course name, credit, and grade). I got twelve free tokens for my 6 As! (And yes, I still bring in my report card!):
I had several birthday parties at Haunted Trails. The two I remember fondly are my 11th and 12th birthday parties. My friends loved the place as much as I did, and they loved the pizza. Even if it was not my birthday, some of my friends and I would go to Haunted Trails to hang out and have a good time. My classes in school also took field trips to Haunted Trails. I also remember all the Halloween events that took place at Haunted Trails.
What does this Haunted Trails place look like?
I will give you all a tour! The outside pictures are a bit dark, since it was nighttime when my family and I arrived on December 31, 2007.
Here is what the place looks like, outside and inside:
This is what the Nickel Arcade looks like now, with the batting cages.
My parents going in the main entrance of Haunted Trails in Joliet.
Once we got inside the doors, we would see a big billboard sign advertising something different every time we went to Haunted Trails. Here is the billboard sign on December 31, 2007:
As soon as our family got past the sign and took a right, we would see the game room:
In this picture is a new virtual jump rope game that I tried to win. I almost won the jackpot twice!
Lots and lots of games in the main arcade room! (as of 12/31/07)
Here's the Tickets and Change Booth, where I would get my free tokens for every A on my report card.
Here are some pictures of the Charmin' Charley's Restaurant:
There used to be a piano under this picture that used to play spooky music, but the people at Haunted Trails have taken it out. Tables and chairs are beneath this picture now.
Yummy, Yummy Pizza! I put Cortona parmesan cheese on mine, which Haunted Trails provides in little packets.
All decked out for Christmas and the New Year! They should clean off some of the tables, though…
This is the banquet room in Charmin Charley's Restaurant where people host birthday parties or huge events.
This is a money booth where a birthday kid could get in and grab as much money whirling around him as he could. I never had an official birthday party at Haunted Trails (only unofficial ones) and so I never got to grab money myself.
This is another area where people have birthday parties. It is above the main game room, by the main door. The area has neon lighting so everyone's white sneakers will light up bright.
The Games
Here are some pictures of the games/attractions that I remember and love the most. These are pictures of Haunted Trails' games from the past and present. The games are definitely the best part of the Haunted Trails experience.
To play the games, my family and I had to get tokens out of the token machine. So let us get some tokens and play! 4 tokens were a dollar, and 80 tokens were $20.
Let us play some games! Some of these games no longer reside at Haunted Trails, but I can always replay them in my memories:
(Courtesy of arcade-history.com)
Dad and I at Haunted Trail's Double Cheese machines about 10 years ago
Double Cheese
: "Double Cheese is the name of the game!" The object of this game was to spin both a larger outer wheel and a smaller outer wheel to land on the cheese icon so a player could get a Double Cheese and the jackpot! The bigger wheel was spun first, and it was not that hard to get the Cheese icon on that wheel. It was harder to stop on the Cheese icon on the smaller wheel. One night I won a jackpot of about 750 tickets! I ran over to my Dad and cheered about the jackpot. He was astounded, as was my Mother, and they told me to get back over to the machine so no one took my tickets (luckily no one did). I wanted my name to be entered in the Double Cheese Hall of Fame, but the stupid guy who worked at the place then did not know how to enter my name into the machine. Still, it was the biggest jackpot I have ever won at Haunted Trails, and one of the best nights of my life. Unfortunately, Haunted Trails no longer has the Double Cheese game.
(Courtesy of arcade-history.com)
The Cyclone Machine at the Joliet Haunted Trails on December 31, 2007
Cyclone
: a hand-eye coordination game. The object of this game is to watch a light spin around the board and press the stop button when the light got to the jackpot area. It was hard for me to press the stop button exactly when the beam of light landed on the jackpot area. Often I would hit the 10 ticket areas on either side of the jackpot area. But sometimes I would hit the jackpot and I won a couple hundred tickets each time. Cyclone is still at Haunted Trails to this day.
My 12th birthday. We are all gathered around for some Colorama FUN!
(Courtesy of arcade-history.com)
Look at that ball spin round and round!
Tickets coming out of the Colorama Machine – the ball had landed on blue, the color I picked!
Colorama
: One of my favorite games of all time!!! The object of this game is to pick a color (red, green, white, yellow, or blue) and hope that the ball spinning around will land on the color I picked. Each of the five different colors had a different ticket worth: 25 tickets for red and green, 40 tickets for blue, 50 tickets for yellow, and 100 tickets for white. Of course, there was a smaller chance of landing on the white space then the red or green spaces. On Dec. 31, though, the ball landed on white FOUR TIMES in a row! I won one of the times and won 100 tickets. I remember once winning over 300 tickets on Colorama alone for picking the right colors on successive spins.
Me playing The Dealer when I was 12. Was a future gambling addict being born?
The Dealer
: The Dealer was a simulated Poker game where I could win silver coins – worth two tickets each. I was addicted to this game – maybe I was lucky that Haunted Trails took this game out?
This original skeeball game is much like the one my Haunted Trails had.
Variants of the original Skeeball. Taken on December 31, 2007
Skeeball
: Haunted Trails still has variants of the original Skeeball, but I liked the original Skeeball better. I saw the original Skeeball in Haunted Trails' Nickel Arcade in 2006, but since Haunted Trails closes Nickel Arcade in the winter, I did not get a chance to check whether it was still there on Dec. 31, 2007).
Other Games:
In the picture is Dad playing Triple Jam when I was 12 years old and had a birthday party at Haunted Trails. Also in the picture is a magic tic-tac-toe game where I would toss orange balls into holes to get an "x" on the corresponding space on the scoreboard. I would have to get three "x"s across, down, or diagonal on the scoreboard to win tickets. I think the game is called "Magic Mr. X" but I could be wrong. My friends are playing a game where they had to throw balls at rows of clowns to knock them down.
A friend and I are racing motorcycles. I wonder who won.
My Dad is next to the new Spin-N-Win machine on December 31, 2007. He said it was easy to win the highest jackpot on the machine (500 tickets). He hit the jackpot about three times while a little Mexican boy hit the jackpot seven times!
Taken on Dec. 31, 2007. One of my favorite games in recent years is Caveman Clobber. The object of this game is to drop balls from a bird's butt into seven slots at the bottom of the game. The trick is that no two balls can be in the same slot! I have never won the jackpot, but several times, I got 100 tickets for getting 5 balls into 5 separate slots.
Taken December 31, 2007. Smokin' Token and Wonder Wheel. These are games that have been at Haunted Trails for years. The object of Smokin' Token is to put a coin in the slot and have the coin go down the slope and go into a slot in the spinning wheel. Different slots were worth different ticket values. It is all about the timing! Wonder Wheel is a bit similar to Smokin' Token, except with different ticket values.
Taken Dec. 31, 2007. Slam-A-Winner is one of the newer games Haunted Trails has, and it is one of my Dad's favorites. If it were working that night, my Dad would have won the jackpot on this game. The object of this game is to press a button and a ball drops into one of the holes on the spinning wheel – the player has to get the timing just right to get the ball into the jackpot hole.
Taken December 31, 2007. Flamin' Finger. The object of this game is to put your finger on the screen and follow the maze to the finish before time runs out. I have never won the jackpot, and it is very hard.
Taken Dec. 31, 2007. Wheel of Fortune is one of my Dad's favorite games at Haunted Trails. He first has to stop the beam of light on the blue space to get a spin on the wheel, and then he has to spin the wheel to win a big jackpot, and he has won several big jackpots!
Taken December 31, 2007. Roll A Win is a very hard game that has been at Haunted Trails for years. The object of the game is to aim the slot to where you want the coin to go, put the coin in, and have the coin land on one of the white strips, and it has to be completely on the white strip or you will not win!
Taken December 31, 2007. Pirate's Revenge. The sword spins around and the player has to press a button in order for the sword to stop and point to,hopefully, a huge jackpot.
Taken on December 31, 2007. I remember playing Big Haul. Aim the slot and put the coin in so the coin falls into one of the trucks! If a coin hits the Dump Lever, the whole truck full of coins dumps over, giving the player many tickets!
Taken on December 31, 2007. Spider Stompin. I remember playing this game at Chuck E. Cheese's also. Stomp on as many spiders that light up as you can! There are three levels – easy, medium, and hard.
Taken on December 31, 2007. The Hot Seat was a game where a player has to sit on the Hot Seat and grip the metal rod as tightly as possible. The chair vibrates. Anyways, the harder a player grips the rod and the longer the player can stay on the chair, the more tickets the player will get.
Taken December 31, 2007. This game is much like the clown game my friends were playing 10 years ago. The object of this game is to shoot balls at the clowns, hopefully knocking them down for tickets.
Taken on December 31, 2007. Bozo Buckets! This game is for little kids, but I used to play it sometimes when I was a little kid myself.
There was also a cool bowling game at Haunted Trails for a while, but I do not have any pictures of it! (Dang!)
There are also games I call coin pusher games. Those games involve a player dropping a coin into a slot and hopefully that coin will push some other coins over the edge of the board and reward the player with silver coins worth 2 tickets each. I did not really play them that much.
There are also games that do not reward tickets – they reward cool stuff like stuffed animals, CDs, money, etc. if a player is lucky enough to stop a beam of light on one of the prizes.
A couple of my friends are at one of the prize machines.
There was also a cool pirate game that I used to play (the last time I saw it was at the Nickel Arcade). I can picture the game quite vividly, but I cannot recall the name. It is a pirate game, mostly blue colored, with drawings of a pirate ship, the sea, and seaweed. The object of the game is to put coins in a slot and hope that the coins each land in slots that spells out pirate - like one slot is the letter P and another one is I and so on. If the coin lands in one of those slots, a certain amount of tickets (10 or 20) are awarded and if you can get all five letters lit up (meaning your coins have each gone into those letters) then you win the jackpot. If a coin does not land in a slot, it goes to a steel bowl in the bottom and you get to use the same coin again. I won several jackpots from this game also.
The Other Attractions (stuff to do besides the games!):
The Bullit Go-Kart course (courtesy of the Haunted Trails website)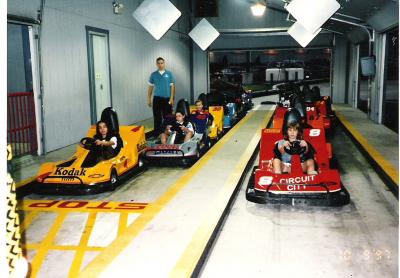 My friends and I getting ready to race on the go-karts in 1997
I am racing around the original Go-Kart racetrack in 1997.
This is the original Go-Kart course on Dec. 31, 2007. Sorry if the picture is a bit blurry, but it was dark out when I took the picture.
The Go-Kart rides
: There are three of them now at Haunted Trails: the original, the Bullit, and the Indy one. I remember the original the most.
Next . . .
This is a picture of the miniature golf course courtesy of the Haunted Trails website.
My Dad at one of the miniature golf courses about 10 years ago.
Miniature Golf
: There is one easy and one hard course. I liked playing the easier course, since I was not good at miniature golf. I would get a club and a colored ball (they were available in different colors and go at them holes! There was a haunted house, spooky multi-colored ponds, and ghosts on the course. At the end of either course was a big skeleton head and I would try to hit my ball into its mouth. If it went in I would get a free game!
Coming right up…the Batting Cages!
Picture courtesy of the Haunted Trails Website
The Batting Cages
: My Dad and I sometimes liked to play at the batting cages next to the miniature golf course. Of course, my Dad hit the ball further than I ever could!
There also used to be a lagoon with little boats for kids to ride inside the main game room, but Haunted Trails replaced it with a laser tag course (I have never played laser tag at Haunted Trails, but I want to someday). Obviously, the P.C. Police got on Haunted Trails' case about that lagoon.
Here is a picture of the laser tag course from the outside (December 31, 2007):
In addition, there is the Monster Hop that is inside the main game room, but I have never ridden it. Here is a picture of it, courtesy of the Haunted Trails website:
And let us not forget the Bone Shaker!
My friends and I ride the Bone Shaker at my birthday party about 10 years ago.
Another picture of my friends and me riding the Bone Shaker about 10 years ago
Picture of the Bone Shaker from the Haunted Trails website
The Bone Shaker on December 31, 2007
The Bone Shaker
: Thank God, the Bone Shaker is still at Haunted Trails! It is a ride in the main game room where several people would sit in one of the spinning seats and the ride would spin, spin, and spin until everyone got dizzy! It is like the teacups at Disney World, but spookier. My friends and I always rode the Bone Shaker whenever we had the chance, particularly at birthday parties!
Now that my family and I have played the games and enjoyed some of the activities, let us go to the Prize Area inside the main game room to get some prizes!
The Prizes!
At the end of playing games, my family and I would turn in our yellow tickets to an attendant so he/she would weigh them and give us orange tickets in exchange that were each worth 10 tickets:
After that, my family and I would look at the prizes and chose what we wanted, depending on how many tickets we won during game play.
What the Prize Area Looked Like Then (10 years ago):
Jewelry, stuffed animals, and more! There is also more stuff on the other side of the stuffed animals and hanging on the ceiling, but I did not find pictures. A few years after this picture was taken Haunted Trails put in a Candy Shoppe area where kids could buy tons and tons of candy to their heart's content. The last time I was at Haunted Trails, on Dec. 31, 2007, the Candy Shoppe was no longer there.
Now (December 31, 2007):
Stuffed animals galore!
Some of the higher ticket-priced prizes: TV, lava lamps, microwave, barbecue grill, etc.
Cubs Stuff! I am surprised my Dad did not get any of it, but he probably did not want to pay 1000 tickets for a license plate.
Tons of Simpsons Stuff!
Here is a picture of some of the booths of prizes Haunted Trails has. There is much more than this!
How well did I do at Haunted Trails on Dec. 31, 2007? I myself got 520 tickets (no major jackpots) while my Dad won about 1600 tickets, mostly from playing the Spin-N-Win game. We also had some leftover tickets from other times at Haunted Trails to spend. Here is the loot I got that night:
I got a cool Care Bears picture (that is SO going in my Retro Room!), two stuffed bears (for my Mom), some bracelets for me, and two Welcome snowmen. My Dad could have gotten some Cubs memorabilia, but he did not want to spend so many tickets on those prizes.
Going to Haunted Trails always brings back good memories for me. It was a staple of my childhood, in fact. Always in that place I see a little me running around with tokens in her little cup and tons of tickets overflowing out of her brown bag, smiling and happy to be there with her parents and/or friends. As long as Haunted Trails exists in Joliet (it is not torn down or converted to something else), a monument to my childhood will always stand to be enjoyed by future generations of children (maybe even, hopefully, my own).