Hello and welcome to part 2 of my 25 Faces of Wrestling, be sure to read part one before hand as it might help. I do hope everyone enjoyed Part 1 as much as I enjoyed writing it. It's been an honour writing for this community and I hope to be doing it more often, that is if you'll let me xD. Without further interruptions I give you part 2.
12. The Road Warriors
Probably the most dominant tag team of all time, The Road Warriors of Hawk and Animal started their careers as heels, managed by 'Precious' Paul Ellering in his sprawling Legion of Doom stable. But the incredibly hard-hitting bulldozer style of the two men quickly made them fan favorites. It's a shame that that feeling wasn't echoed by their fellow wrestlers, who would often pack their bags and skip the show if they saw that they were scheduled to face the Roadies that night. Brought into the National Wrestling Alliance to back up Dusty Rhodes in his feud with the Four Horsemen, the Road Warriors had legendary matches with the Powers of Pain before jumping to the WWF, where they would be known as the Legion of Doom and feuded with Demolition, the faux-Road Warriors that Vince McMahon had created to cash in on their popularity.
11. Ricky Steamboat
In the nonstop world of professional wrestling, it's very rare for a wrestler to stay a babyface throughout their entire tenure in the ring. To keep storylines fresh, grapplers shift allegiance back and forth with abandon. But a select few noble spirits stay good guys from start to finish, and it's only proper that one of those tops our list. Ricky Steamboat is widely considered one of the most charismatic and athletic workers the sport has ever known, tearing up the NWA in an eight-year run that saw him feud with the cocky young Ric Flair. The two superstars were perfect for each other, with Steamboat's vigor countered by Flair's dirty tricks. In 1985, he jumped to the WWF where he was given the gimmick of 'The Dragon' and feuded with Randy 'Macho Man' Savage over the Intercontinental Title in a series of some of the best matches of the decade.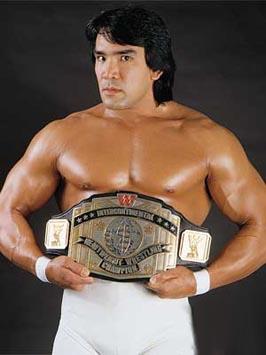 10. Ultimate Warrior
For all of his shortcomings, there's no denying that the Ultimate Warrior was one of the most charismatic men to ever step inside a wrestling ring. Prior to his sports entertainment debut, James Hellwig competed in amateur bodybuilding before being recruited into a group of fellow muscleheads who were working to get into the grappling game. A few short years in the indies, the WWF came calling and dubbed him the Ultimate Warrior. With his trademark facepaint, the Warrior exuded intensity from the moment his entrance music started playing, sprinting to the ring and shaking the ropes like a man possessed. One of his greatest moments came when he ended the hated Honky Tonk Man's Intercontinental Title run in a mere 31 seconds. But the man who was slated to be the successor to Hulk Hogan just couldn't get along backstage, and the tales of Warrior's flameout are the stuff of wrestling legend.
9. Stone Cold Steve Austin
One of the biggest changes to the face / heel dynamic came in the so-called 'Attitude Era' of the 1990s. Fans were beginning to tire of the likes of Hulk Hogan and his ilk, who defeated all comers while espousing the virtues of clean living and the American way. The world had become significantly more morally gray throughout the Cold War, and the days of good guy vs. bad guy were gone. Enter 'Stone Cold' Steve Austin ' a former WCW midcarder who would change the game forever. Austin began his landmark run as a heel, but it was his feud with company owner Vince McMahon that made him a natural born babyface superstar. McMahon was so perfect as the unctuous, abusive boss that crowds were rabid for someone to put him in his place, and the beer-swilling, bird-flipping Austin was just that man. With his dynamite promos and exciting matches, Austin kept the WWE vital for most of the decade.
8. Shawn Micheals
The Heartbreak Kid is one of those wrestlers who can work both sides of the fence with ease, from his debut as a self-loving prettyboy who would announce over the PA that he had left the building just like Elvis to a wisecracking member of D-Generation X speaking truth to power and winning the approval of the fans. Shawn Michaels made his wrestling debut as a member of tag team the Rockers, but his singles career really made him a star. After spending much of his time in a feud with Bret Hart, Michaels looked doomed to be a heel for life after the Montreal Screwjob. But the foundation of DX, that carefree bunch of buddies who set out to make Vince McMahon's life hell, revitalized his career, and now he occupies a position somewhere in between elder statesman and snotty young punk.
7. Bret Hart
One of the most famous Canadians of all time, hailing from the most famous Canadian wrestling family of all time, Bret Hart's life in the ring has been full of triumph and tragedy. One of eleven children of legendary promoter Stu Hart, Bret grew up too poor for real pants, training nonstop in his father's basement gym and debuting in Stampede Wrestling at the age of nineteen. The young Hart was a quick study in the ring, and quickly became a fan favorite with matches against the Dynamite Kid. He made his WWF debut as a heel in 1984 but quickly paired up with brother-in-law Jim Neidhart and turned face, and the Pink and Black Attack of the Hart Foundation was born. Bret would play both sides during his WWF run, including one very strange period where he was a face in Canada but a heel in the States, until the Montreal Screwjob would essentially make him the most sympathetic man in the wrestling business.
6. John Cena
The newest talent on this list is also one of the most controversial. The appeal of John Cena seems to baffle most hardcore wrestling fans, while women and children in the audience cheer so loud for him you'd think their head would explode. The Massachusetts-born grappler got his start in California's Universal Pro Wrestling before quickly being snatched up by McMahon's empire. Originally debuted as a white meat babyface, his first match saw him almost eke out a win against Kurt Angle, but it wasn't until a Halloween episode of Smackdown that Cena truly came into his own. After an improvised Vanilla Ice-esque rhyming promo, he was repackaged as a hip-hopping white guy and the crowd ate it up like candy. Multiple title reigns and a customized spinner belt later, Cena can still get crowds on their feet through charisma and smart wrestling.
5. The Undertaker
The phenom known as the Undertaker has vacillated back and forth from heel to face multiple times over the course of his career, but no matter where he stands he's one of the WWE's most popular stars. Making his debut as a bad guy allied with Ted DiBiase, Taker soon turned face to feud with Jake 'The Snake' Roberts, and crowds ate up the quasi-supernatural Deadman as he plowed through some of the company's most reviled villains. When he was forced to take time off due to an injury and was replaced by an 'Underfaker,' his return to decimate the impostor drew one of the biggest pops of the decade. After a few more turns, including the terrifying Ministry of Darkness, he returned with his 'American Badass' character, which recast the former zombie as a Harley-riding, ass-kicking behemoth who didn't take crap from anyone.
4. Andre The Giant
The acromegalic Frenchman Andre Roussimoff had one of the longest babyface runs in wrestling history. From 1973 to 1992, the not-so-gentle giant tore through the territories, traveling from area to area as an unstoppable force to strike down the region's most dastardly heels. Clocking in at a legit seven feet tall, the monstrous Andre was never defeated by pinfall or submission in a WWF ring for fifteen years. But that doesn't mean he didn't have his share of challengers . Evil men like the Sheik and Killer Khan used every dirty trick in the book to bring the valiant giant down to the canvas. Andre was one of the biggest draws of all time, and turned down a professional football career because he could make more cash in the ring. After his 1987 heel turn, his career wound down and he died in 1993 from the very disease that made him a star.
3. The Rock
The Rock's path to becoming one of the most over babyfaces in wrestling history was not your usual one. The company actually debuted him as a good guy, billing him as the company's first third-generation wrestler and giving him the nickname of 'The Blue Chipper.' Although his matches were good, fans just couldn't stand the squeaky-clean Rocky, and he began to be greeted with chants of 'Rocky Sucks.' Naturally, a heel turn followed, but in joining the nefarious Nation of Domination, Rocky Maivia surprisingly found the elements of his personality that connected with the crowd. With his catchphrase-laden promos delivered in a melodramatic but humorous tone, the Rock tore down his opponents with wit and charm. Naturally, he was soon turned face again, and although he would switch back and forth throughout his career, he found the most success getting the crowd to sing along with his famous lines. Can you smell it now.
2. Ric Flair
Richard Morgan Fliehr better known by his ring name Ric Flair is currently signed to Total Nonstop Action Wrestling. Also known as "The Nature Boy," Flair is one of the most well known professional wrestlers in the world. Recognized by World Wrestling Entertainment (WWE) as a 16-time world heavyweight champion (8-time NWA Champion, 6-time WCW Champion, and 2-time WWE Champion) although his actual tally of World Championship reigns varies by source- Flair considers himself a 21-time world champion. In World Championship Wrestling (WCW), he also had two stints as a booker from 1989 to 1990 and again in 1994 Flair also won the 1992 Royal Rumble and was inducted into the WWE Hall of Fame in 2008. Flair ended his full time 36-year in-ring career in 2008 at WrestleMania XXIV. He returned to the ring in 2009 for the Australian Hulkamania tour, facing Hulk Hogan. This man has done it all and that's why he deserves the 2nd spot in my list, even to this day when a wrestler performs a knife edge chop or uses the Figure Four Leg Lock submission the crowd chants "WWWWWOOOOOOOOOOOO" in honor of the Nature Boy.
1. Hulk Hogan
The legendary Hulk Hogan was the single strongest babyface of the Rock &: Wrestling era, but it was his own success that led to his downfall. Terry Bollea was a humble bodybuilder in Florida before he started hanging out with wrestlers, and when he decided to get in the game himself, he trained under Hiro Matsuda, who asked him 'So you want to be a wrestler?' and promptly broke young Terry's leg. After starting out as a heel in the territories, the AWA crowd lapped up the tanned, muscular blonde and he was quickly turned face in 1981. He would stay that way for over a decade in multiple promotions, from his AWA feud with Nick Bockwinkel to the birth of Hulkamania in the WWF to his days in WCW feuding with the Dungeon of Doom and the Alliance to End Hulkamania. His heel turn as a member of the nWo shocked the wrestling world, but when the yellow and red made their re-appearance, it was like a lost part of our childhood had come back from the dead.
Well that's it for now, I accomplished my very first article on Retrojunk and I must say that I look forward to doing more in the near future. If your favorite wrestler didn't make it high enough or didn't make it at all I'm open to your opinions (as long as they aren't negative) Thanks for reading.

Hope you had a Very Merry Christmas

Good luck in the New Year and God Bless

- Zane Watson