I vividly remember this day, the smells, the sounds, the entire voyage. My sister and I would go with my father every Sunday from around 10am to 5pm and we would do random things. Although we made this trip on other weekends and certain elements might blend, this one day, in 1990, would live with me to this day.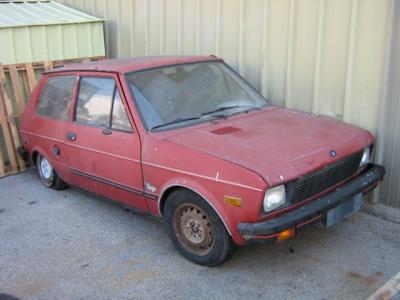 We started off the voyage in my dad's old Yugo. This car was tiny but what it lacked in size it more than made up for in style...maybe not. I still remember the texture of the back of the seats, when sitting in the back, and being able to write things then you would brush your hand up or down and make the words or body parts you drew vanish. My father worked at a used car lot as a mechanic, which he still does to this day, just not the same lot, and he used to get cheap, shitty cars all the time when one broke, but the Yugo was a favorite of his, and ours. He had a few Yugos and i know on this day, it was the Yugo, king of cars, we were whippin around in.
I grew up in Belmar and South Belmar, NJ but my father lived a few minutes away and on this particular Sunday was the HUGE, yearly, Belmar St. Patrick's Day Parade. He got over the bridge and into Belmar to get us early that Sunday, because you couldn't drive in or out within an hour of the parade starting or ending and we left just in time. This was the ONLY time i have ever missed the parade and was a tough decision at the time, now i'm grateful for my dad suggesting we go to Raz Ma Taz up in Sayreville, NJ that day. Raz Ma Taz was a Chuck E Cheese type establishment but so much better. And i don't say that just because it closed years and years ago and just a fond memory, we always thought that growing up. It was like the 3 rings of Hell, top floor was where you could get pizza, change and had the room where the animatronic animals performed their stage show, but also had a few arcade games. The second level had the most arcade games and the best. The second level had the TMNT arcade game, Street Fighter 2, the Michael Jackson Moonwalker game, Shinobi, and literally every awesome 80s and 90s arcade game you could imagine. The 3rd level had more arcade games but it was very tight trying to walk and the games weren't as great, so i stuck to the 2nd level most the day.
On the drive up, the smell of Vanillaroma filled the old Yugo. My father literally had the same little yellow tree in every used car he bought from where he worked. They must have had a never ending supply because he ALWAYS had them. The other day i bought a 3 pack and reminisced about my day in 1990. Its funny how a smell can take you back to a certain period in your life, like nothing else can. On Christmas the smell of the tree brings you back to Christmas' past, well Vanillaroma does that to me but way more awesome.
Sometimes music can bring you back to a certain time like a scent can. Bobby Brown's Don't Be Cruel album was on the playlist often and especially on this day. Some days we'd be jammin out to Vanilla Ice or Boyz 2 Men or maybe even some Guns N Roses but this day...this day Bobby was king. Don't Be Cruel, My Perogative, Every Little Step, Tenderoni were just a few of the great songs on this tape. My father was funny, we'd have Digital Underground on one minute and Black Sabbath on the next and all these groups/musicians remind me of different things. Bobby Brown with the Vanillaroma in the Yugo...little slice of nostalgic heaven on the half hour ride up to Raz Ma Taz, the ride would probably take me 20 minutes but my father drove slow. On this Sunday, like every Sunday, my sister and I would argue over what music to but for some reason we all agreed on Bobby...apparently it worked for us...not so much for Whitney.
Every Sunday, when we'd go out, we brought some kind of toy for the ride, as the whole day was driving around. Eating lunch, going to a movie, going to the mall, just driving around sometimes aimlessly all had one common theme; the memory of having some toy to keep us entertained. The Turtles toys were common and were part of this glorious day, i remember, vividly, having a Rat King toy and my sister having the Baxter Stockman toy and just having a great time doing nothing really. She had brought some MapleTown toys or some other girl toy but the Turtles, even she couldn't deny playing with. The Yugo was a tiny car but on this day it housed a little yellow tree, a casette tape of Bobby Brown, and a few TMNT figures. Probably was a tough call, do i take some Dino-Riders figures...or GI Joes....or Go-Bots...no, I'll take the Turtles, what was I thinking?
So, we finally got there and it was on like Donky Kong...no pun intended. Although i couldn't find ANY pictures of us there in my personal collection and there is like...no evidence of Raz Ma Taz in Sayreville even existing, i did find this picture of some arcade...and at least there's Street Fighter and Mortal Kombat. Although, i don't think Mortal Kombat was even out when we went on this day...still you get the point. The arcade is dead today, kids will grow up not knowing the culture of putting your quarter up on the machine, waiting your turn to show off your skills in front of other kids. The Moonwalker game is one i remember loving and playing a lot...but why? The game was basically the Smooth Criminal video but you got to throw your hat at people virtually. Street Fighter 2 was the big game for me at the time, i was addicted to it and probably spent way more money on it than i should have. The Turtles Arcade game was another favorite of mine and just another chapter in my obssession with everything TMNT, which i already chronicled in a previous article. Not as much humor as memories in this article, hope someone shared a memory with me.
By the way this is what i missed that Sunday, in Belmar every year during the parade, Don's Pizza makes Green pizza...its ok Raz Ma Taz only served pizza anyway, but it wasn't green...