Hello again RetroFriends! With the success of my first article "Mortal Kombat I" (http://www.retrojunk.com/details_articles/5538/)I thought I might continue my efforts in article writing because it really is quite a joy to do this.
In this article I wanted to recall to your memory five absolutely definitive 80's movies that you have undoubtedly seen. I was having a conversation a couple years ago and we were talking about films. The 1980's came up and I began pondering the films of that decade that defined the era. If you were a kid or an adult, yep, you made it to the theater for these movies.
It is with great pleasure that I submit to you these films. I will qualify my choices for the top five by saying that these films are not part of a trilogy, chosen with a big tent mentality Young or old, watchable from all walks of life), but in their own right stand out.
5) THE NEVERENDING STORY
This movie makes it onto the list because without question it captured our hearts and our imagination. This film was a very ingenious way of communicating the message that we are getting away from reading books and being inspired to think great things. Also, the name Atreyu is just about the coolest name for a hero one can have.
The Neverending Story had so many wonderful characters from the rock monster that had a three wheeler to the fastest snail I still have ever seen.
Of course I have to mention the "Childlike Empress" that is second to only Jennifer Connelly from Labrynth for #1 crush of my childhood.
Also, where can I find a flying dragon named Falcor so that I may perform trips and errands in a timely manner?
4) THE LAST STARFIGHTER
Man does this movie rock to this day! An arcade machine was accidentally delivered to a podunk trailer park in the middle of nowhere. This arcade machine is not just for entertainment but rather a test of who can defend the galaxy from the evil IKo-Dan Empire.
If you were to beat the game, you were selected and visited by a man named Centauri. He enters the story with incredible style and flare.
Alex has to save the world from these bad guys all the while his "replacement" is finding out just how difficult life can be as a human!
I own this movie on HD DVD and it looks like it was filmed yesterday, the CG is of course dated but it is for the phenominal computer graphics that this movie makes the list. Being that it was released in 1985 this was a massive undertaking and the reward for this effort is great. If you have never seen this movie be sure to treat yourself to this awesome flick.
3) TOP GUN
Need I say more? F-14 Tomcats, Naval Aviators with cal-signs "Maverick", "Iceman", and of course "Goose".
The soundtrack rocked, the characters cool as cucumbers, and lots of fighter jets doing their thing. If you or someone you know has not seen this movie...you know what...you have, everyone has seen it. haha.
2) GOONIES
Yes, thanks to good ole Chester Copperpot we indeed have a fantastic and fun story on our hands. The outcasts known as Goonies become mixed up with a family of crooks that finds out what the Goonies are looking for.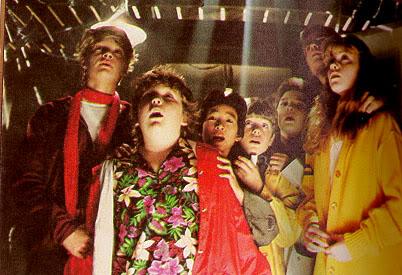 Back in the day Steven Speilberg sure knew how to make good movies and Goonies has firm footing in the #2 slot. Known for its adventure, great performances by all the actors (who will ever forget the truffle shuffle), and once again a story that captures our imagination and makes us hope to find a treasure map, this will forever be an 80's icon movie.
Cindy Lauper did the soundtrack and if you have the special edition dvd set you can watch the music video with Capt. Lou, Rowdy Roddy Piper and other classic 80's WWF wrestlers. This movie is also why RetroJunk could exist without any help from anything else in the past.
Now we come to my personal favorite movie from the 1980's...
1) FERRIS BUELLER'S DAY OFF
I LOVE THIS FLICK. Not only was this a fantastic John Hughes (RIP) masterpiece but after watching this movie who does not want to try and stay home from school "sick" and have probably the best day of their life? I DO/DID.
From Ferris' legendary reputation, his unwavering self confidence, to the cool keyboard that when he hit it with all his fingers made it sound like he was dying on the phone makes this movie is immortal to me.
He had every corner covered and when he was able to pull his friend Cameron out of bed truly sick and get his girlfriend out of school calling in as his father (really Cameron) the adventure kick-started. Things went into high gear taking Cameron's father's Ferrari out into town.
If you lived in the 1980's you saw this film, have at one time said "Bueller...Bueller...Bueller", and loved it. Matthew Brockerick will always be Ferris Bueller to me no matter how many roles he plays in his life. Bravo good sir, bravo!!
It is my true hope that you enjoyed my recounting of the 5 best 1980's movies of all time. Obviously everyone has different tastes but I have no doubt at least one of these movies is viewed as one of the best anyone has ever watched. Thanks for your time and remember if you have not seen any of these films please be sure to check them out, I promise you will not be disappointed!