Dennis Miller
(LOOKS AROUND) Who was that?
(DANA CARVEY, IN A CAMEO, STRUTS ONTO THE STAGE DRESSED IN A SUIT AND TIE THAT OBVIOUSLY WALKED OUT OF 1987, COMPLETE WITH HIS FAMOUS "MULLET WIG.")
Dennis Miller
(GROANS) Oh no, it's my ego. I thought I left you behind in 1991.
Dennis Miller #2
(GIGGLES) No way, baba ganoosh. I've been waiting for you to host longer than you've had that beard. By the way, nice beard. Add a couple more gray hairs—you'll look like that high school Math teacher that nobody liked. And what's with the glasses? You trying the intellectual look now?
Dennis Miller
(CONFUSED) People get older. Eyes get worse. It's life. Besides...what are you doing here? And where did you get those clothes?
Dennis Miller #2
Personal collection, babe.
Dennis Miller
(TOUCHES SUIT JACKET) I thought I burned that suit. Not exactly modern.
Dennis Miller #2
Listen, Captain Hairdo, I didn't come here to discuss my fashion. You're in a bind, and I've come to bail you out.
Dennis Miller
But, I'm doing good. I mean, they're laughing. All I have do is tell a few funny jokes, and I'm set.
Dennis Miller #2
It's more than that, cha-cha. It's about the delivery. Don't tell them you became a conservative. They want to see the old Dennis Miller—the guy who made fun of Reagan and Bush, who divulged his fantasy of seeing Nancy Reagan in Frank Gorshin's Riddler Costume. They wanna see the cool "Weekend Update" anchor with the good hair—not his cranky father.
Dennis Miller
But, I'm not that guy. At least, not anymore. Times change. People change. Even
I'm
capable of change. This isn't 1986.
Dennis Miller #2
Listen, babe, you gotta
act
like it's 1986. Make them laugh. Thrown in a couple of "babes" every now and then. Tell some dated jokes. You know that flight attendant one?
Dennis Miller
Yeah. It's from 1990. I still use it every now and then. But, what's the point?
Dennis Miller #2
That's what they want to see. They want to see the old...Dennis Miller. Make these people remember the hair-flipping, giggling, smart-ass "Weekend Update" anchor.
Dennis Miller
And, it will work?
Dennis Miller #2
Of course, babe.
Dennis Miller
(ANGRILY)Stop calling me "babe."
Dennis Miller #2
Fine, but take my friggin advice, Miller. Give them the old Dennis Miller attitude. (FLIPS BACK LONG HAIR…IMITATION OF DENNIS MILLER'S HIGH-PITCHED GIGGLE) Ha-ha!
Dennis Miller
(TURNS TO LOOK AT AUDIENCE) Hey, kids, we've got a great show! (APPLAUSE) I'm here, and I have returned to my home. This is where it all started! (AS DENNIS MILLER #2 WATCHES) We'll be right back, cha-cha! (RUNS HAND THROUGH HAIR AND LAUGHS—AUDIENCE APPLAUDS WILDLY) So stick around, babe!
SKETCH SEGUES BACK INTO A TOSSING AND TURNING DENNIS MILLER. WAKES UP AND TURNS ON LIGHT. A 1980S RERUN OF "SATURDAY NIGHT LIVE" IS ON THE TELEVISION.
Dennis Miller
Wow, that was realistic. I thought it really happened. (LOOKS OVER TO TELEVISION TO SEE HIMSELF ON "WEEKEND UPDATE"…IN THE SUIT FROM HIS DREAM). One thing's for sure, that suit was something else.
(END OF SKETCH. AUDIENCE LAUGHTER AS CAMERA ZOOMS OUT ON MILLER LAUGHING AT THE OLD "WEEKEND UPDATE.")
--------------------------------------------------------------------------------------
Conclusion
Well, that was fun. I'm really holding out some sort of hope, however futile that may be, that Miller wil make his way back to "Saturday Night Live" and host. I would have loved to see him on "Update" with Tina Fey--it was my dream to see the two longest-tenured anchors side-by-side (they are tied at six years each). But, with Tina Fey's departure this season, it will never happen.
And, as always, I hope you all enjoyed this installment in my "SNL" manifestos. Stay tuned for another riveting installment.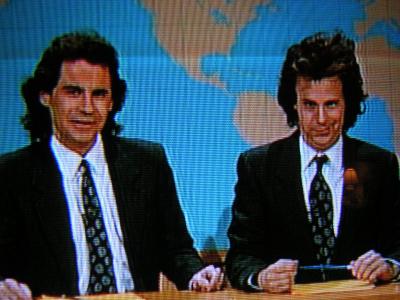 Allison, aka Allison_SNLKid Your "Saturday Night Live" Guru