WARNING: Some Characters on this article are NOT RETRO enough, or at least not yet, so be cautious about that!
Okay…this is only my first article here in two years, and my ninth article here so far, but tonight, let me share with you my twelve favorite cartoon characters ever created by this Russian-American immigrant:
As many of you know, Genndy Tartakovsky is the Russian-born, USA-based, and award winning animation visionary/director/writer/producer guy behind everything from Dexter's Laboratory (1996-2003) to Samurai Jack (2001-2017) to Star Wars Clone Wars (2003-2005) to the Hotel Transylvania movies.
Genndy began working at Hanna-Barbara and was directly involved in the creation of three of that studio's most prominent animated TV shows of the late 1990s-early 2000s period, before moving onto Cartoon Network where he created Dexter's Laboratory, Samurai Jack, Sym-Bionic Titan and hopefully the upcoming new series that has just been trademarked called PRIMAL.
In addition to all that, he even produced and directed the 2D animated version of Star Wars Clone Wars from 2003 to 2005 (the year of the release of Star Wars Episode III Revenge of the Sith, the finale of which (and which began with the light saber duel between Anakin Skywalker and Obi Wan Kenobi on the volcanic planet of Mustafar before culminating in the rise of the Darth Vader as we know and fear, and the birth and separation of Luke Skywalker (sent away to live with Owen and Beru on the twin sun and desert planet Tatooine) and Leia Organa Solo (sent away to live with Bail Organa in the soon-to-be-ill-fated planet Alderaan) as well as the death of Padme Amidala by childbirth) some radical art critic named Camille Paglia decribed as "the most ambitious, significant, and emotionally compelling work of art produced in the last 30 years in any genre – including literature," in her 2012 book Glittering Images : A Journey through Art from Egypt to Star Wars).
In 2012, Genndy Tartakovksy made his feature film directorial debut with the Golden Globe-nominated Hotel Transylvania, and then Hotel Transylvania 2 in 2015, and most recently directed Hotel Transylvania 3: Summer Vacation (now playing in theaters everywhere).
Genndy has also received an impressive thirteen Primetime Emmy Award nominations and has been awarded just three Emmy Awards for his work on Star Wars Clone Wars as well as Samurai Jack (most notably for the Birth of Evil two-parter) both of which were made for Cartoon Network. Tartakovsky has been named one of Variety's 50 to Watch as a future leader in the Entertainment Industry, has been called one of the industry's rising stars by People Magazine and was tapped as one of the most creative people in entertainment on Entertainment Weekly's It List. In addition, Genndy is also the recipient of the prestigious Winsor McCay award in recognition for his outstanding career and contributions to the animation art form.
And last year, last but not least, that is, Genndy Tartakovsky returned to his animation roots to bring back the fan favorite Samurai Jack show after a 12+year hiatus, this time on Adult Swim. Samurai Jack originated from his desire to create the greatest action adventure animated series yet attempted, and the result was a show that is cinematic in scope, that incorporated action and humor and intricate artistry and that is truly unlike anything else on television.
And tonight, without further ado, let me share with you my twelve favorite cartoon characters ever created by Genndy Tartakovsky and his very ilk, albeit divided into two categories: Genndy Tartakovsky-created ladies and Genndy Tartakovsky-created gentlemen…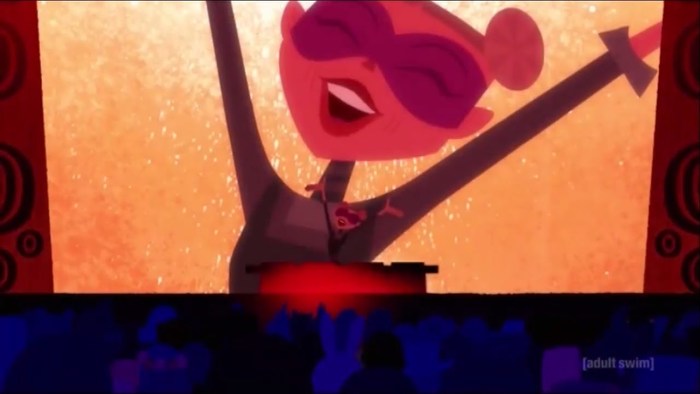 SO LET'S START WITH THE CARTOON LADIES!
Now, let's begin with my most Favorite Genndy Tartakovsky-created female:
Meet Ashi of Samurai Jack Season 5 fame (or perhaps notoriety) and voiced on Samurai Jack's season 5 episodes by ex-Powerpuff Girls voice artist Tara Strong (who also voices Bubbles in the original Powerpuff Girls show) . Now, she is a former antagonist and eventually a deuteragonist during the Samurai Jack show's fifth and final season on [adult swim]. And she was born and raised as a member of the Daughters of Aku, seven sisters who served as assassins trying to kill Samurai Jack himself.
Eventually, she would become the only surviving member, and it is she who unwillingly accompanies Jack. Only later after Samurai Jack saves her life that Ashi have doubts about the true nature of Aku, and when Jack shows her the death, damage and destruction that Aku has unleashed upon the earth, Ashi makes a full turn-around, away from the evil of Aku.
Ashi serves as Samurai Jack's most important ally in Season 5 on [adult swim], while in Episode XCIX, Ashi falls in love with Jack, as in the famous Jashi Kiss…
Though eventually in Episode C, she learned that Aku is her biological father, after which Aku unwillingly corrupts her into his service…
And in the final episode, she uses her demon/human hybrid powers to help Jack transport back to the past so he can undo the future that is Aku…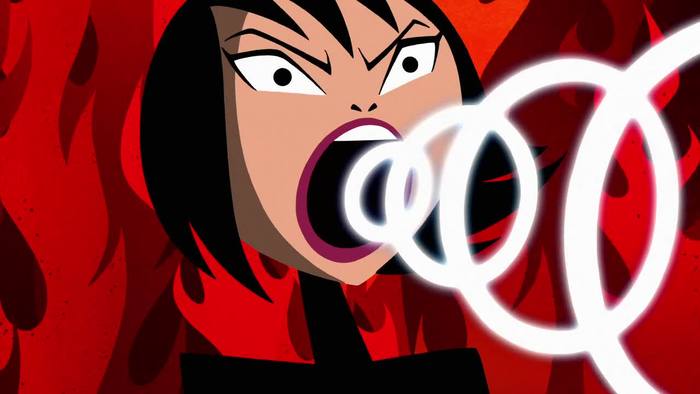 ...only to tragically fade away from all existence on Jack and Ashi's wedding day as a direct consequence of Aku's death, and thereby ensuring Jack's continued depression.
Beginning last year, in the wake of the conclusion of the fifth and final season (and the final episode) of Genndy Tartakovsky's TV animation masterpiece, Samurai Jack (2001-2017), back on May 20, 2017, there has been a whole lot of debate among some fans regarding the question of whether the character of Ashi (and that of Samurai Jack himself) deserved better or not—especially after her death and disappearance at the end—and that debate could continue for a very, very, very, VERY long time yet to come, at least outside the usual fan made content on the internet.
So much for the tragic stuff, but anyway, the reason why I picked Ashi from Samurai Jack's Season 5 as my most favorite Genndy Tartakovsky-created female character, even though she isn't retro enough, is not really because she's a very attractive Asian chick that people can't stop bitching about for dying or getting erased from existence, and not just because she is the most popular if also the most controversial character ever to emerge from Samurai Jack's final season, and it's not because is nothing more than a plot device which hadn't been fully fleshed out outside of being a plot device and just plain forgettable to boot.
Rather, in spite of her death, I like Ashi because she's pretty as well as because of her beauty that was hidden or buried beneath her evil origins as Aku's daughter, that's what!
Anyway, one of my favorite Ashi moments came from Samurai Jack Season 5, Episode 7, and it would have to be the epic battle, or bloody violent circus, if you will, involving Ashi, an army of orcs straight out of Lord of the Rings, and The High Priestess of the Cult of Aku, which will be Ashi's evil mama!
Speaking of Ashi's evil mom, here is a storyboard animatic of Ashi fighting her mom the High Priestess from the same episode:
And here is the final version of the same clip:
In short, Ashi is beautiful, she is a perfect match for Samurai Jack himself, but she truly deserves much better than what she got come airtime!
And be sure to check out this fan made magazine thingy devoted to her relationship with Samurai Jack himself called the Jashi Zine, probably at jashizine.tumblr.com.
Moving on to my second favorite Genndy Tartakovsky female:
Dee Dee, Dexter's sister from Dexter's Laboratory, and voiced off and on by Allison Moore and Kat Cressida, respectively. Now, legend has it that during Genndy's third year college as well as his second year at CalArts (short for California Institute of the Arts), and Genndy being a huge fan of Bill Watterson's classic comic strip Calvin and Hobbes, Tartakovsky happened to draw a dancing girl…
And Genndy wanted to animate some cartoony dancing, so Tartakovsky decided to make a solo short about her...and so, Dee Dee was born!
But then Genndy Tartakovsky stumbled upon the following road block: What is the opposite of art and dancing? Science, of course, Genndy decided, and so he created Dexter as a super nerdy and science-obsessed little brother for Dee Dee to interact with:
And Genndy let that small idea build itself so that Dee Dee would come into Dexter's room and mess with his inventions.
Here is Genndy Tartakovsky's explanation on the creation of Dexter and Dee Dee from the 2005 featurette Genndy's Scrapbook:
Now the reason why Dee Dee is my second favorite Genndy-created female character is because she represents a part of my own artistic or creative side (maybe) as well as her ditzy oozing with sugar and spice personality.
Next up for Number three is the ever curvaceous but germ-fearing mother of Dexter and Dee Dee voiced by Kath Soucie:
This housewife is, like Samurai Jack's Ashi, the subject of some rather adult fan art on the internet. And not to mention, some rather adult humor in some episodes of Dexter's Lab. She is a very busy mother who does lots of work around Dexter and DeeDee's house in Genius Grove. And trying to keep things clean in the house as well as a fear of germs is the reason why she wears yellow gloves. But without her yellow gloves, however, she'll go insane like in the episode Pslightly Psycho. Other times, like in the banned episode Rude Removal, she can have a ferocious temper whenever she is angered or whenever she got disobeyed, sometimes threatening to spank Dexter in the ass if he refused to take out the trash.
But anyway, the reason why Dexter's and Dee Dee's mother is my third favorite Genndy Tartakovsky female is not really because of the adult humor to which she is sometimes subjected, but because most of Dexter's personality came from her, from her perfectionist streaks to her intelligence to her penchant for dramatics.
And next up for Number Four of my favorite Genndy Tartakovsky female characters, it would have to be:
Kimmy Meinser of Sym Bionic Titan Fame, and voiced by Kari Wahlgren for the most part. Yes, I haven't seen much of Sym Bionic Titan myself, and yes, that show is most notorious for getting cancelled because apparently Genndy is not one for toy merchandising deals, but anyway, Kimmy is basically the captain of the Sherman High School Cheerleading Squad, and common in this cheerleader/popular girl stereotype is that she callous, selfish, and manipulative. At least in her first appearances.
But any who, and I am not one to usually think that a young woman on Earth such as Kimmy could do anything exotic or anything strictly twenty-first century like twerking or doing a rather exotic dance in front of an human/alien robot hybrid such as Octus...
But I do think that Kimmy is the one who fell in love with Octus as in Lessons in Love.
Now the reason why Kimmy is my fourth favorite female character created by Genndy Tartakovsky is not because of her twerking in front of Octus, but because she taught me how not to be selfish.
Now my fifth favorite Genndy Tartakovsky female character is also from Sym Bionic Titan:
Ilana, princess of Galaluna and just like Ashi from Samurai Jack, voiced by Tara Strong. She has always been a symbol of hope and happiness for the citizens of Galaluna--the very reason evil forces like General Modula and his monsters hunt for her on Earth. Her very existence is enough to rally insurgence against her people's oppressors, and for that she must be destroyed. Ilana is determined to make the best of her new life and discover all she can about her adopted home. She is not very popular in high school, however.
Now the reason why Ilana is number five out of my favorite Genndy Tartakovsky female characters is that she taught me as much about hope and happiness as she once was for the people of Galaluna.
And finally, my sixth favorite Genndy Tartakovsky female character:
Asaji Ventress from Star Wars Clone Wars (2003-2005) and voiced by Grey Delisle. Originally designed for but then abandoned in favor of Count Dooku in Star Wars Episode II Attack of the Clones (2002, the very first Star Wars movie to be entirely filmed in an HD Digital format), She is a dangerous woman who was trained by Count Dooku in the art of the Sith lords before she got sent to Yavin 4 to assassinate Anakin Skywalker (though she failed):
Now the reason why Asaji is number six is because this intergalactic femme fatale is just as dangerous as Ashi's mom on Samurai Jack Season 5, though the High Priestess on Samurai Jack Season 5 is more evil than her.
And that'll be about it for my six favorite Genndy Tartakovsky-created females.
And let's move on to my favorite Genndy Tartakovsky created males, starting at the top with:
Dexter of Dexter's Laboratory fame and voiced in the original run by the late Christine Cavanaugh and Candi Milo in later episodes. Dexter is technically a boy genius who has a giant secret lab. His intelligence makes him the brains of the family and he is one of the world's greatest inventors, having created countless weird and amazing machines and experiments. He is always working on new inventions and creations every day, but his sister Dee Dee is always breaking into his lab and destroying his work. The daily events surrounding Dexter's life mainly revolve around his relationship with his sister and everything that happens between the two.
The reason why Dexter is number one out of my favorite Genndy Tartakovsky male characters is not only because he represents part of the scientific and nerdy sides of myself and not only because Dexter may have autism like this author of this article, but he shares some of my traits of anger, arrogance, intelligence and humor.
And Number two out of my favorite Genndy Tartakovsky-male characters would have to be:
Samurai Jack himself, voiced by Phil LaMarr. Now, Samurai Jack himself is Selfless, he never surrenders, he's usually calm but epic, clever, disciplined, determined, mysterious, and frankly nearly every other positive quality out there. Samurai Jack is the perfect character fighting a practically hopeless battle with a sword against robots, demons, aliens etc to get back to the past in order to slay a being of darkness that could challenge multiple gods at once.
And he is known as much for almost every trait of positivity out there as he is known for his sword and his signature roars ranging from his less than famous war cry whenever he jumps in the air while fighting his enemies…
To his more famous screaming of Aku's name used many other times ever since the first half hour episode:
The reason why Samurai Jack is my second favorite Genndy Tartakovsky-created male character is that he's just an awesome character, striving to do what's right even if it costs him.
The following favorite Genndy Tartakovsky-created males of mine are villains, starting with: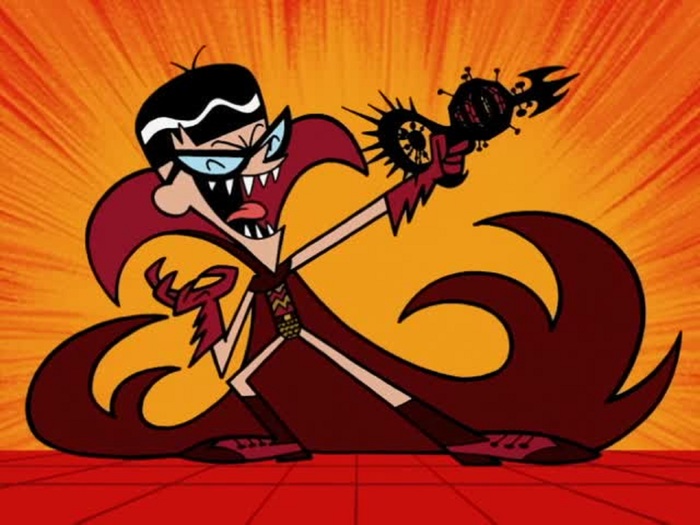 Mandark "Susan" Astronomenov from Dexter's Laboratory, voiced in the show by Eddie Deezen who appear in everything from Grease to voicing an animated neurotic magpie bird called Snipes in Don Bluth's Rock A Doodle to a know it all kid in Robert Zemeckis' rather nightmarishly creepy performance capture CGI effort The Polar Express. Mandark is Dexter's rival neighbor and later mortal nemesis who often seeks to destroy both Dexter and his laboratory to prove once and for all that he is the superior genius. At one point in time, I thought of Mandark not just as Dexter's rival neighbor and mortal enemy but basically like the Dark Lord Sauron, the title antagonist in J.R.R. Tolkien's three-volume epic fantasy book The Lord of the Rings, complete with a volcanic lair, but the irony is that due to the rather fantastical nature of Dexter's Laboratory, this may be sort of possible in canon.
My favorite moment with Mandark may lack the involvement of Genndy Tartakovsky himself but rather involved the work of now-disgraced animation director Chris Savino, but the entire episode involves syncing up everything to the tune of Mandark's iconic signature laughter.
The reason why Mandark is my third favorite Genndy-created male is because he not only has a famous laugh (HAHAHA! HAHAHAHAHA!) and not because he sometimes wear a caped super-villain costume on occasion but because he tried to beat Dexter at his own game though his weakness would have to be his crush on Dee Dee, a crush that she rebuffed many times.
Far more evil than Mandark himself will have to be my fourth favorite Genndy Tartakovsky-created male character, albeit one who's technically a godlike demon:
Which will be Aku, voiced by Mako for Samurai Jack Season 1 through 4 and by Greg Baldwin for the final season of that show (perhaps because of Mako's death in 2006), and whose self proclaimed titles include Master of Masters, Deliverer of Darkness, and Shogun of Sorrow among other titles.
Born from a cosmic black mass of darkness, Aku was an evil, shapeshifting demon that has taken over the world and ruled it for countless eons.
Though he was capable of shifting his form into virtually anything he wished due to his metamorphic body, his standard form after self-upgrading and adapting to the Earth was roughly a humanoid being with a black body, a green mouth, and a red beard extending from the bottom of his chin. He had six horns, four long and two short, extending from his head, and eyebrows made of red, flickering flame. In his standard form, he also tends not to have legs, with his body simply ending at the bottom with robe-like darkness that sometimes manifested as flames. He was several stories tall. A deep droning noise was often heard around him when he appears.
Aku constantly antagonized Jack, often attacking him when he was weak, and other times defending himself from Jack's own gambits. Prior to Ashi sending Jack back in time to vanquish his past self, the two seem doomed never to defeat each other, and while Jack has beaten him on numerous occasions, Aku merely transformed into a creature and retreated, usually calling out a taunt over his shoulder. He was entirely aware of his inability to defeat Jack and even lampshaded this in "Episode XLVIII: Jack versus Aku", which eventually discouraged him from fighting Jack further. Aku could be considered the deuteragonist of the series as a whole (albeit a rare, villainous one), as while Ashi becomes this in Season 5, Aku had the most focus in the narrative besides Jack.
While he's usually presented as a serious and threatening foe, Aku is also a source of comedy in the show, due to his outrageous design and sometimes wise-guy behavior, supported by Mako's over the top voice-acting.
Aku means "Evil" in Japanese. It is written as "悪" in Kanji. The kanji can also be pronounced as "Waru".
Now one of my favorite Aku moments is the one in the beginning of Episode 48 Jack Vs. Aku that finds Aku talking to a henchman on a wired telephone as though Aku is ordering some large pizza with "extra thick" crust as in deep dish pizza in the real world.
And as for the words "extra thick":
…usually misspelled around the internet as "extra thicc", is among the most quoted of all of Aku's lines. It is often used—with little or no context—either wherever The Shogun of Sorrow himself is involved, or else, as a compliment on how sexually or beautifully attractive and curvaceous Ashi and her six sisters, the Daughters of Aku really are.
Don't you believe these internet memes, folks?
Yes? No? Maybe? Anyway, the reason why Aku is my fourth favorite Genndy Tartakovsky-created male character is for all his evil threats, Aku can be funny and comedic due to his sometimes wise guy behavioral traits and outrageous design. And trust me; I used to laugh so hard when Aku and his supposed therapist self screamed at each other like lunatics:
Anyway, if Aku mixes threatening evil with outrageous wise guy comedy, then the fifth favorite Genndy Tartakovsky created male character of mine would have to be a minor one:
Scaramouche from Samurai Jack Season 5 and voiced by Tom Kenny of SpongeBob SquarePants fame (warning: not retro):
He's basically an android who used to be Aku's #1 assassin. His specialty was using his (literally) magical voice to battle his foes. Unfortunately, he was killed by Aku in Season 5, Episode 9 when they found out that Jack recovered his magic sword probably during some magic tea ceremony that Jack underwent in Season 5, Episode 7.
The reason why Scaramouche is number 5 in my favorite Genndy Tartakovsky-created male characters in spite of the fact that he is a homicidal psychopath who massacred an entire town of innocent people in order to draw Jack's attention, he has this funny voice as well as his bubbly, comedic, and fun-loving demeanor. And it isn't really because he called some creature something like "a talking penis", folks!
And rounding up my twelve Genndy Tartakovsky-created characters would have to be:
General Grevious from Genndy Tartakovsky's Clone Wars and the only Star Wars Clone Wars villain to ever make it to 2005's Star Wars Episode III Revenge of the Sith.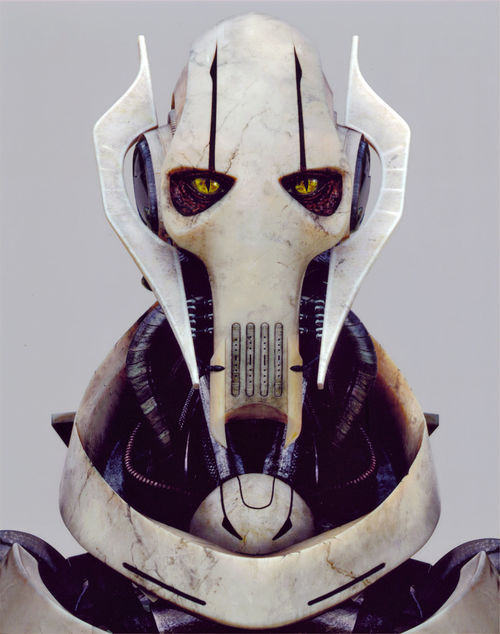 This cyborg villain, who is also the supreme commander of the Dorid Army during the Clone Wars collects the light sabers stolen from fallen Jedi knights, and he used to be some Kaleesh alien known as Qymaen jai Sheelal long before his Martyr shuttle got bombed as they say, which is why Count Dooku and San Hill made him a droid.
Anyway, in the final five episodes of Star Wars Clone Wars, General Grevious kidnaps Senator Palpatine from Coruscant (a planet-sized metropolis only seen in the rather endlessly criticized Star Wars prequels) but not before Mace Windu choked him which led to Grevious' coughing and wheezing in Revenge of the Sith.
And no offense, Obi Wan Kenobi, but when dealing with an attacking General Grevious on Utapau in Revenge of the Sith...
...the only way you can kill him is by shooting him in the guts with a blaster. And do it uncivilized, Obi Wan!
Anyway, the reason why General Grievous is number 12 is because he's the only Star Wars villain to ever whet my appetite for the eventual release of Star Wars Episode III Revenge of the Sith in May 2005.
So here's the rundown for my favorite Genndy Tartakovsky-created females:
1. Ashi from Samurai Jack Season 5
2. Dee Dee from Dexter's Laboratory
3. Dexter's Mom from Dexter's Laboratory
4. Kimmy from Sym Bionic Titan
5. Ilana from Sym Bionic Titan
6. Asaji Ventress from Star Wars Clone Wars
And here's the rundown for my favorite Genndy Tartakovsky-created males:
1. Dexter from Dexter's Laboratory
2. Samurai Jack from Samurai Jack
3. Mandark from Dexter's Laboratory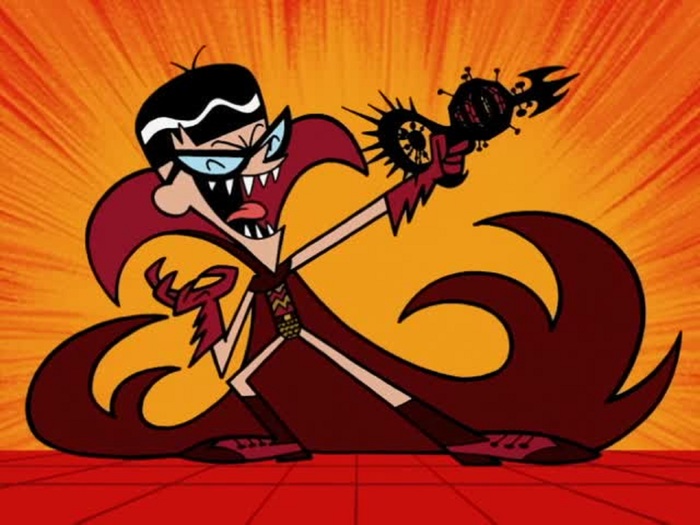 4. Aku from Samurai Jack
5. Scaramouche from Samurai Jack Season 5
6. General Grevious from Star Wars Clone Wars
Yes, I know some of these characters are not retro yet, but Genndy Tartakovsky is just one cinematic hell of a animation visionary/writer/producer/director guy, isn't he?
Anyway, I hope you enjoy my 12 favorite Genndy Tartakovsky-created characters, folks!
Also, do anyone remember the animated works of Genndy Tartakovsky, the man behind Dexter's Lab and Samurai Jack?