If some Saturday 10 years ago you were bored and flipping through basic cable programming you may have come upon an extremely unique and bizarre TV show called "Great Pretenders" on the Fox Family Channel.
You probably didn't stay tuned for long, but the few minutes you witnessed would surely have made their mark on you. I know they did on me, I guess there was good reason, though-I was on the show! Now thanks to some kind suggestions from my fellow RetroJunkers, I'll give you an insider's look into the behind-the-scenes of the show with a Post-Kids Incorporated/Pre-Black Eyed Peas Fergie and more!
Part Karaoke, part American idol, this Kids Incorporated inspired program was something to behold. "Great Pretenders" ran for about 4 seasons on Fox Family Channel, which used to just be called The Family Channel and showed a lot of reruns of The Waltons. But John-Boy never imagined the spectacle that was: "Great Pretenders".
The premise was simple, kids from Elementary School to High School competing in a lip-synch contest performing the hottest hits of the day in groups or as solo artists. The studio audience voted on their favorite performance and prizes were awarded to the champions. A lip-synch game show, what a twist! But wait there's more! The show was hosted by the three-member girl group Wild Orchid.
Who or What is Wild Orchid you ask? Well, I can't really tell you, except to say that they were no Spice Girls. Heck, no-name girl groups like B*witched and Dream got more airplay than these three girls did! But they did have one thing going for them: NOSTALGIA! You see Wild Orchid was comprised of two original cast members of the 80's and early 90's television institution KIDS Incorporated: Renee Sands and Stacy Ferguson aka Fergie of the Black Eyed Peas and solo fame.
Now I watched KIDS, Inc. religiously from the time I was old enough to pick up a remote control and pretend it was a microphone, I was that into it. I used to dream that I was in the group and we would be performing at the Saloon at Knott's Berry Farm (Don't ask me why in my mind KIDS, Inc. would be booked in an 1800's saloon).
Seriously, I was having nightly dreams about wearing denim jackets and singing Rick Springfield's latest single. Later when Ryan (Lambert) from KIDS, Inc. played tough guy, Rudy in the classic 80's movie "The Monster Squad", I realized these kids could conquer any medium.
So, the point I'm trying to make is, I knew who Renee and Stacy were, even if nobody else seemed to at the time. But getting back to my involvement with the show itself...
My Junior year in high school, the dance teacher, Mrs. Prince made some special invitations to certain students in the drama department to try out for a TV show pilot her brother was producing and she was choreographer for.
Growing up in Southern California, only a few hours from Hollywood, these opportunities came up every once and a while but I never had the nerve to go to the auditions. But when she told me it was a lip-synch game show I knew my entire childhood had been leading up to this moment. We were told to choose any song to sing and just bring the tape/CD with us to the dance room that Saturday.
Being a huge KISS fan, there was really no question as to what I would be singing. I chose a very obscure song called "Silver Spoon" (not Ricky Schroeder related) off of their 1989 album Hot In The Shade and showed up with my cassette in hand. They had a video camera set-up and the only instruction was, "Go for it".
So I just imagined being in front of the bathroom mirror at home and didn't hold anything back. Air guitar, dancing, pouting lips, it was an all out spazz-attack. I would give anything to see that tape now, although if I wait long enough it will probably be on YouTube next to the Star Wars Kid (I was a little heavier back then). When I was done, the big smile on their faces said it all, "This kid is psycho, but he puts on a good show".
A week later I was told they wanted me to show up for rehearsals in Hollywood where I would start learning my routine. I was excited and instantly began considering which song I would choose to perform on the show. Smashing Pumpkins? Ozzy? So many choices. Nothing could have prepared me for the act and performance partners THEY chose FOR me. Walking into the rehearsal studio I was greeted by Mrs. Prince and three of the cutest nine year old kids you've ever seen, then the absurdity began.
We were told we were going to be performing the song "Zoot Suit Riot" by the Cherry Popping Daddies. Not only had I never heard anything even remotely resembling these words before, I was also 3 feet taller than the kids I was going to be performing with! Talk about a mismatch. But on the rehearsals went, I became the fake keyboard player who stood in the back and kicked his leg up high while shouting "Riot" and this little kid named Bamdad took on lead singing duties. Bamdad was a really good performer for a nine year old and a few years later when I ran into his Mom at an ATM ( No, I wasn't mugging her), she gave me two free tickets to a Bad Company/STYX concert!
The filming day for the pilot which at this point was called "The Big Stage" was fun. We all got fitted for various sizes/colors of Zoot Suits and took the stage. In the final cut they never showed me next to the kids except for the interview portion where I looked like a giant. I even tried squatting a little bit so as not appear too disproportional. But really there was nothing to be done.
They were auditioning for hosts that day (I guess they hadn't made the Wild Orchid connection yet) and so they had two different ladies introducing the acts and interviewing the performers. One of the auditioning hosts was Annabelle Gurwitch who used to host that "Dinner and A Movie" show on TBS. Anybody remember that one?
The pilot show winner for "The Big Stage" was pre-determined so we all just got paid like $100.00 or something and went on our way.
The ultimate winner was this break dancinge kid and his fly-girls performing "Gettin' Jiggy Wit' It" by Will Smith. Other eclectic performances included "Lasagna" by Weird Al Yankovic, "Love Shack" by the B-52's and "You're The One That I Want" from Grease by another mismatched duo of a 17 year old guy and a 12 year old girl-very creepy.
So I left the show behind, happily cashed my $100.00 paycheck and bought, you guessed it, more KISS albums.
About a month later I got a call informing me that the show had been picked up by the Fox Family Channel and they wanted me back to do a solo performance. Back to the rehearsal studio I went and while not as shocking as my first act, the producer's choice of "Where It's At" by alternative artist, Beck, was not quite what I had in mind.
I decided to make the best of it, But the best was yet to come.
On the day of filming at the KTLA Channel 5 studios in Los Angeles, I was informed that the show had changed its name to "Great Pretenders" and that the format was still the same except for one small detail: the hosting duties were now handled by 3 people and a DJ. That's right, poor Annabelle didn't make the cut.
The DJ was named "Corn Dogg" and the 3 were the aforementioned not-so-super group Wild Orchid. I had seen the girls in the green room and hallways, but didn't make the connection as to their retro celebrity status until I saw them in their natural state, on TV!
Through the TV monitor backstage I recognized Renee instantly, since I used to have a little crush on her back in the day. It took me a little bit longer to recognize Stacy, since she was so young on the show and she had changed so much since then, especially the cowboy hat and corn row braids in her hair!
When they came back to the green room I was in awe. There stood the KIDS, Inc. "Sisters" in the flesh and obviously not actually related. I was one step away from living out my 5 year old self's dreams of performing in KIDS Incorporated, all I had to do was open my mouth.
Well I didn't. At least not until Stacy was interviewing me on stage while I was in a nervous sweat and babbling on in nonsensical phrases. Here's how our conversation went (I've inserted my actual thoughts in between my ramblings):
STACY: Yeah you know how to work that crowd, bay-bee! What do you like about Beck?
HOJU: (Oh my geez, Stacy is talking to me!)Beck's a stud (I could care less about that dweeb), he's got the cool hair going for him (Keep stalling, Stacy is talking to you) and his style, (His what?) Excellent!
STACY: What do you want to do when you graduate? Are you going to perform?
HOJU: Yeah (We should perform a duet!), I'm hoping to get into some sketch comedy (Then maybe you'll notice me) and stuff like that (Thank you for this sweet, sweet moment, tell Renee to call me).
STACY: Well you look like you're going to be good.
HOJU: Thanks. (Wait, what I meant to say was you guys are awesome and I loved your show, I watched it all the time when I was little and I want an official Red Ryder carbine action BB Gun with compass in the handle and-OW! I shot my eye out!)
So, yeah, it didn't quite play out the way I imagined. Of course my green velvet jacket and profuse nervous sweating wasn't really helping win me any style points either.
The eventual winner of the "Great Pretenders" that day was my best friend's hot, but annoying, baby-talking girlfriend. She had performed "Surfin U.S.A." by the Beach Boys with her equally hot friend in tank tops and short skirts, so let's just say they were a guaranteed win.
Really though, I blame DJ Corn Dogg. With a name like that you know he was up to no good and probably fixed the ballots so the only name listed was "Hot Bikini Surfer Girls". Freakin' Corn Dogg, man!
The funniest part of my experience with "Great Pretenders" came the Monday after the show aired. Now I never expected anyone to see this except my family that wanted to see "The TV Star" in action. But come Monday morning as I was going to class, this badass kid who looked like a member of the Wu-Tang Clan walked over to me.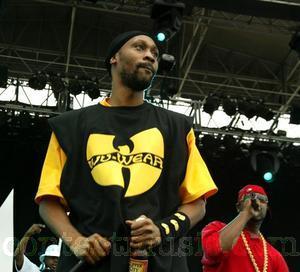 I really thought I was going to get a beating, because I had been attacked by strangers before in a case of mistaken identity. But as I crouched down in the fetal position I heard his jovial voice say, "Hey, man. I saw you on TV Saturday. That was tight. You were all dancing. That was messed up how you lost." Not only was I spared a beating, but I was getting praise for my silly lip-synch performance. I couldn't help but wonder why this hard core 16 year old stranger was watching Fox Family Channel, but who am I to judge? Praise is praise.
My biggest regret was not being on the show in season 2 as they broadened the format to include classic rock tunes. Mrs. Prince was still recruiting contestants from my high school and one of them mentioned to me that on her taping day there was a band of guys lip-synching "Rock and Roll All Nite" by KISS! NOOOOOOOOOO!
They had me up there singing about "Two turn tables and a microphone" in green velvet, when I could have been wiggling my tongue to the Rock & Roll national anthem in white grease paint? Did they totally disregard my audition tape?
The worst part was when my friend told me the guys they got to do the KISS song were bad-mouthing the band the whole time and talking about how they would rather do a Limp Bizkit song-SACRILEGE! And that is the end of the story...for now.
Thanks to Caps 2.0 for encouraging me to write about my retro-TV experience from the other side of the glass. And if you're wondering if I'm still doing any performing, well...yeah. You know that guy? You know, he was in "Fast and the Furious", "Triple X", "Chronicles of Riddick"? Well, that's me. VIN DIESEL.
Yeah, that's it. I'm Vin Diesel. Whoa, I'm really ripped-Sweet! Sorry about that family movie I did "The Pacifier", I sold my soul to Disney for a few million dollars. DJ Corn Dogg told me it would be a good career move, that fool. But former WWE star The Rock took the Disney payout too, so cut me some slack, jeez! Freakin' DJ Corn Dogg.