It comes as no surprise when I discovered this gem of a toy in the toy section at the local
that I'd fall in love with them when considering my infatuation of small toys. I have hundreds of little Micro Machines and Basic Fun toys under my bed. Hanging on the metal bracket was an entire array of
playsets.
I was hooked from this very moment. I knew nothing of the franchise, but it didn't take much to persuade my impressionable mind. I grabbed the most intriguing of the playsets I found,
. I begged and pleaded my mom to purchase it. We were on our way to her job for take-your-son-to-work day, so she agreed because she knew it would occupy me for the rest of the day. Needless to say, I started collecting these toys right away.
Mighty Max toy line. These were the most popular of all the "head" toys from the franchise. To go along with this line, sets such as the
were produced. These were generally much smaller than the Doom Zone heads. I didn't play with these as much because they were basically just the head (case), a single monster, and a small Max figurine. Not much to play with in a small play area. Hence, my close observations for just the Doom Zones in this article.
I plan on giving a short critique of each one of the playsets, as well as some memories of them. Think of it as a review using my opinions and thoughts. You don't have to agree with me and I will completely understand that. Though, I'll do my best to bring in the best pictures I can find and give you some of the key components of each. And I'll apologize right now for the length of the article. It's not so bad if you just read my bullets and look at the pictures. The whole point here is to reminisce.
Before I get this article going I'd like to thank these websites for the information and pictures. If I honestly had every single playset, I would proudly present them in this article. Sadly I don't, so I'll try to compile as many pictures as possible for each Doom Zone from the web. I strongly suggest heading over to these sites to see some other cool stuff that I didn't put in this article, like the show itself (let's not forget that it was a GREAT show) and some other toys they released for the franchise.
One of the best from Series 2. A lot of stuff to do with this one. The outside is very impressive. From the dinosaur tail used as the triceratops' horn, the volcano from the inside used as the other horn, the pterodactyl head used as the final horn, the great detail in the paint job, to the bumpy scales. I love this one.
Lots of great gems in this one. The back wall features a prison cell for the red raptor, a laboratory, and an array of ladders. I had a lot of fun walking Max up to the very top. The floor level has a volcano that flips open to unveil a weapon and more contraptions. The removable figures are Max, a mad scientist, a pterodactyl, and a raptor. It's an understatement to say this Doom Zone is cool.
Figurines and Objects


* Max
* Scientist
* Raptor
* Pterodactyl


Special Features


* Raptor cage
* Opening volcano
Effin sweet. I could marry this toy, that's how good it looks. The outer design was the prized piece in my collection. Who doesn't like sharks at that age? The black eyes, blood stained teeth, ropes and harpoons stabbing into the shark's body that continue into the inside, and pure menacing appeal are what made this the greatest looking Doom Zone. Unfortunately, I was less than impressed with the inside.
There are some cool things going on in here, but they don't mesh that well together. You open the thing up and see this huge submarine-like thing that takes up too much space. I hated this. I felt like just ripping this thing out, but that would ruin its value. Underneath this machine are plenty of story inspiring things like dead sailors, treasures, and old weapons. The back wall is pretty much pointless only to give the feeling that the adventures that unfold are really held inside a shark. I tend to not like these types of Doom Zones. The removable pieces are actually fun to play with. There's Max, the little squid dude, two squids that double as the shark's pectoral fins, and a manta ray that doubles as the shark's dorsal fin. There is one thing that I like about the inside. It meshes the qualities of technology and biology. The ray is a prime example of this. It has mechanical appendages added to it. In closing, great playset that falls just short of greatness because of that submarine.
Figurines and Objects


* Max
* Squid Dude
* 2 Squids
* Ray


Special Features


* Submarine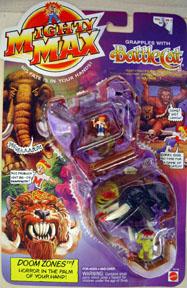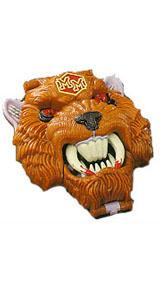 The flowing hair is easily seen on this perturbed looking sabertooth cat. It's very simple in design, which I tend to like the most. I'm not a big fan of the asymmetrical and "busy" designs. The bloody teeth (always a must) are warm from this cat's last kill. These are the mastodon's tusks from inside the case. The whole mouth section is well planned. You have the mastodon tusks, a mandible that folds down, some spikes from the inside that double as the lower teeth, and the upper teeth that belong to the whole face. Many parts involved, but it works.
I think there's too much lavender at work on the inside. When I think of a caveman's lair I think of dark colors and dank and dirty settings. Granted, this is a kid's toy. The most unique quality to this Doom Zone is that there are two folding flaps on the back wall to give us a little bit more playing room. There are all sorts of skeletons painted everywhere; just unfortunately they are a lime green color. The removable pieces are Max, the spectacular mammoth, and a caveman. I would just stare at the caveman when I was little. I was drawn in by the brutality of the rock he heralded above his head. So much blood. The only relevant moveable piece is the teeth trap in the front. Very enjoyable playset, but I wish there was more to do.
Figurines and Objects


* Max
* Caveman
* Mastodon


Special Features


* Folding side extenders
* Teeth trap
* Vine
I regrettably did not own this one. The ugly nature of the outer facade caused me to overlook this one. I was turned off by how gross it looks, but in all honesty, kids love gross stuff. The cyclops is in great detail. The teeth are just vile with the eyeball's tentacles extruding out like a group of maggots. Yuck!
The treasures with this Doom Zone are the features inside. Upon first glance you notice the oodles, yes oodles, of torture tools. Very gorish. There's a guillotine on the back wall and a torture table, but the star of the show is the sick iron maiden. This is specifically designed for our hero, Max, and is a great thing to play around with. The playset comes with a blue dome cage to trap Max into another pickle. Near the back on the floor level is a chamber filled with bones and blood that is guarded by a demonic gate. On the back wall is a cool set of stone stairs that make their way up to the top level that houses a chair for the main enemy. This guy is one of the coolest looking of all the evil geniuses. Along with him you get a giant eyeball (doubles as the cyclops' eye) and a Mighty Max. I wish I could have a closer look at this one.
Figurines and Objects


* Max
* Armored Enemy
* Giant Eyeball
* Blue Cage


Special Features


* Iron Maiden
* Demon Chamber
* Cage
The outside of this one looks more like a
Beast Wars
action figure than a Mighty Max Doom Zone. I didn't like playing with this one, and you'll soon find out. It looks impressive from the outside, almost enough to get your hopes up.
Opening this toy up, I was truly disappointed when I was younger. It is nothing more than a small play area and a giant scorpion. I admit, I did play with this one a lot, but it was not as memorable as Skull Dungeon or Wolfship 7. Everything looks awesome inside, though, with great painting and attention to detail. The removable parts are Max, the giant scorpion, and the guy in the radiation suit (Scorpio). This guy is slowly losing his leg as it dissolves into the ground. Creepy. This is totally still worthy of checking out.
Figurines and Objects


* Max
* Scorpio (man)
* Scorpion


Special Features


* Pinchers
* Folding platform
A snarling gorilla with blood on his teeth? Effin sweet! This Doom Zone draws you in and you instantly know where it's gonna take you. "Welcome to the jungle!" With his piercing red eyes, this playset is absolutely stunning to look at.
Yes, back to great looking innards. I love the overall theme and the colors. The greens, blacks, and purples work extremely well here. The thing I always noticed when I opened this one was the shrunken heads on the back wall. Great touch. With mossy vines twisting and covering everything, it is easy to get swept away into the whole motif. A lot of good stuff going on here. The tree platform that comes out is a nice way to extend the Doom Zone's area. The purple anaconda has a head that swivels and the two bloody skulls rotate. Some fun stuff to look at are the squished body underneath the big gorilla and the giant cauldron to cook captives. The removable pieces are Max, the giant ape, and the tribal man. The native is really funny looking. My thoughts on him were that he looked like one of the bad guys from the original
Johnny Quest
show. Bottom line, a very enjoyable set.
Figurines and Objects


* Max
* Gorilla
* Tribal Man


Special Features


* Folding tree branches
* 2 rotating skulls
* Purple Serpent
* Cauldron
From here on I only owned one of these Doom Zones (Lashes Lizard). I was growing tired of the toyline at this point. Series 3 has some of the most intricate stylings and make use of more features. This one has a great futuristic look. The eyes are just freaking sweet. One has crosshairs while the other has a mechanical aperture. It's almost overwhelming looking at this thing. There are so many things to play with. Notice the two different versions of this Doom Zone. I think the one with the red Mighty Max logo is from the US and the blue one is from the UK.
On the inside, we notice a whole mess of stuff. It looks confusing, but the entire theme is technology. I suspect it to be confusing. There's a lot of moving pieces. The jaw moves, the black column with the orange cap folds down, and a dock forms from the ocular piece on the outside. Not to mention, there are plenty of removable pieces, too. Max, Cyberskull, this green brain that can be placed in numerous places, a black hovering vehicle, and some sort of boat/battering ram thing. I wish I could go more in depth with this one, but I don't have the time to describe every bionic quality of this playset.
Figurines and Objects


* Max
* Cyberskull
* Brain
* Glider
* Battering Vehicle


Special Features


* Folding jaw
* Folding black column
* Ocular Platform
One of the most unique outer designs in all the Doom Zone line. This one is truly a great representation of what the toy creators were able to do. There is no other Doom Zone out there that doesn't have some sort of head or any human qualities than this one. The playset could be used as a fake zombie hand for a Halloween costume. I like the Mighty Max logo used as a ring. Pretty resourceful.
The inside harbors a lot of cool features, despite the cluttered feel. You can't go wrong with a graveyard in a kid's toy. It's just so freaking creepy that it's cool. The sight of dead corpses is a fun site to see, especially when they are climbing out of their graves. One of the easiest things to spot in this Doom Zone is the finger that turns into some sort of monster. Not only can this be used as a nemesis but also as a cool slide to use as an escape for Max. There's a corpse in a coffin that swings from side to side and a really neat mausoleum/tomb that opens up. Finally we see two graves for the ghoulish zombie and for Max. Very odd to think that a company okayed putting the main character into a coffin. A striking component of this playset is the giant hot pink tree. This is where the tree monster is stored, seen in the last picture. The removable pieces are Max, the zombie, and the tree monster. A definite buy for those
Goosebumps
fans out there.
Figurines and Objects


* Max
* Zombie
* Tree Monster


Special Features


* Finger monster w/ slide
* Opening tomb
* Swinging corpse
* 2 graves
* Folding tree branches
This is another one where the outside is better than the inside. I love the orange color and the scaly texture. This is just one of those perennial Doom Zone designs. The lizard's tongue can flick out and the purple leg is actually one of the parasite enemies inside. Let's take a look under the hood.
This playset is like the shark one. Instead of making the inside somewhat relatable to the outside (a snake with an Egyptian theme inside, or a gorilla with a jungle theme), the motif inside is just a continuation of the outside design. This one is the inside of a lizard with bones, intestines, and juices. I didn't play with this one much. It was basically just bought to extend my collection. There's not really an established rhyme or reason to this one. The features inside are present, but are kinda hard to play with. Notice the purple thing that is connecting the back wall and floor. I think it was meant to be a slide but is way too short to be fun. The rib cage is meant to trap Max, but it doesn't do it too well. I like the figures: Max and two parasites. The parasites are in such detail with great sculpting and paint. Very impressive.
Figurines and Objects


* Max
* 2 Parasites


Special Features


* Extending tongue
* Rib cage trap
* Slide?
I'm not too excited when I look at this Doom Zone, but that's just because I don't like snails. The purples and oranges are cool and all. Ironically, unlike the previous playset, this one is bad on the outside and really cool on the inside.
Now, if you haven't noticed by now that I have a thing for cool back walls you should take note at this moment. This one has double the back walls because it opens differently than the other Doom Zones. Instead of a floor and a back wall this one has two walls and no floor. This leads to more fun replaying your adventures. Some attributes here are a hidden room located behind a wall, a lever that breaks down a wall, a laser to shoot the bad guys, a captain's chair to steer the vessel (the whole inside is the inner workings of the ship Nautilus), and some sort of wheel that looks like
Axel
from
Twisted Metal
. The figurines are Max, the huge shrimp-like creature (doubles as the snail outside), and some sort of walking dead man. A lot of fun stuff in a very different package.
Figurines and Objects


* Max
* Zombie
* Shrimp Creature
* Duo-Wheel Vehicle


Special Features


* Hidden room
* Breakable wall
* Laser
* Captain's chair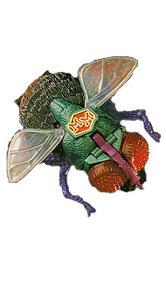 Like the Scorpio Doom Zone, this looks like a
Beast Wars
toy. It's really nice with the multicolored sections; lots of clear parts in this one. The fly's eyes are pretty nifty with the compound look. Even the wings expand outward to show flight. Really great looking design.
What comes across most frequently in this Doom Zone is the word 'small'. There's not much room to do anything, which is this playset's only draw back, but the features and removable pieces are what make it unforgettable. In the rear is a giant web to trap our hero, Max, and a sweet cockpit in the head of the fly. The removable pieces are Max (always a given), a flying monster with the clear wings, a walking robot for Max to drive, and a little twerp of a mutated fly-man. The set itself is pretty cool and lends to a lot of playability, but the design on the inside isn't up to par with the rest of the Doom Zones. I'd want this one just for the detachable pieces.
Figurines and Objects


* Max
* Fly-man
* Walking Robot
* Flying Monster


Special Features


* Opening cockpit
* Spider Web
Lady and the Tramp
. That's what I think about when I see this Doom Zone. More specifically, the evil rat from the movie. That's what this one looks like. I like the cut on the head and the coagulated blood sealing it. Just your average head.
Starting at the top we see a computer board and a cage underneath it in the next level (obviously for Max). The floor of the toy has a sewer feel and portrays it better than the Arachnoid set. Not only that, but you get another big spider to play with. This one is just slightly less elaborated; like those spider rings you get on Halloween. This arachnid doubles as the outer rat's whiskers. The gold/red thing is some sort of vehicle that Max rides on and uses a laser as its only defense. The rat ears attach to this machine as scoops. We run into the main enemy who is a mutated (per usual) rat-man. He's really cool with his dark demeanor. Although I didn't have this one, I think my friend did. I sort of remember some of this stuff. Sorry for only having 2 pictures. This one was a hard one to find.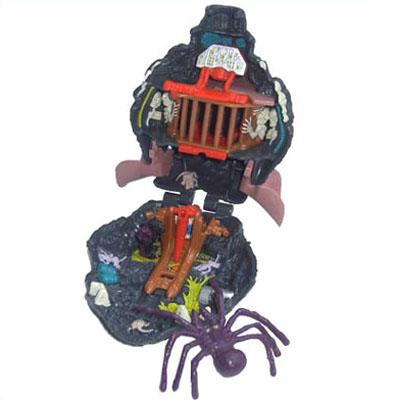 Figurines and Objects


* Max
* Rattus (man)
* Spider
* Vehicle w/ Gun
* 2 Ear Scoops


Special Features


* Opening cage
Conclusion:
Thanks for reading. Obviously there's a lot of things that can be discussed here, and please, do so. If I forgot anything let me know. I'm not perfect. Describe your memories about any of these great toys. As far as I know, Mighty Max Doom Zones were a very popular item back then; my friends and I played with them a lot. If you did not have these, I pity you. They were a great symbol of my childhood and I hope I explained them well for those who weren't as lucky as me. If you had them, express some of your feelings about these toys as a whole or the tiny intricacies that made each one special to you. I'll be looking forward to hearing y'alls thoughts. Until next time...
Laters!