Thanks for dropping by to witness something a little different from my usual article format. I gathered here a collection of comic book advertisements from the 1990's. Rummaging through my comic collection, I found myself thinking that these ads deserved to be shared with the masses. Comics have been the primary medium of my childhood excitement, adventure, and interest. Why not share those feelings with y'all? After countless hours hunched over my comic box, I put the best of them into this article for you to enjoy. In strategy, I organized them into three categories: Superhero Stuff, Food, and Miscellaneous. All of these ads range from comic books "soon-to-be" published, to television shows of days gone by. Step into this time capsule of paper proportions and have yourself a good time.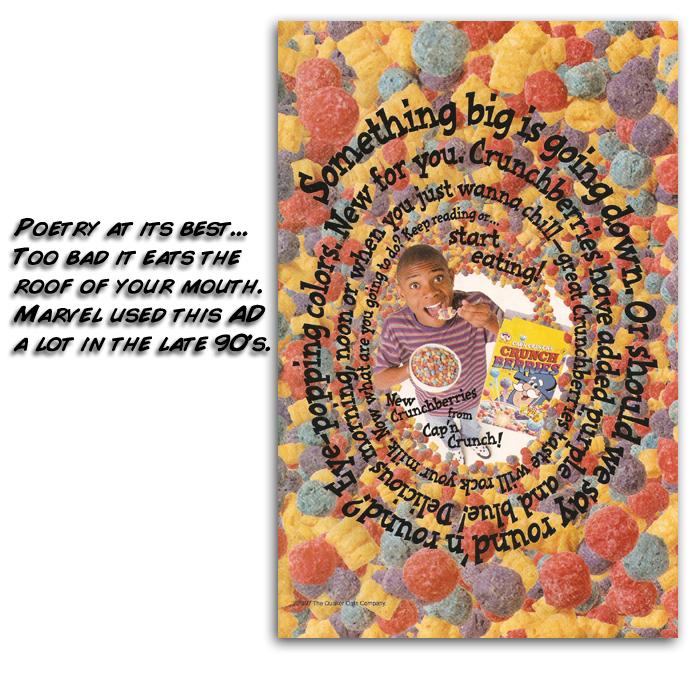 http://i34.tinypic.com/34ql7jp.jpg
Well that's it, kiddies! Comment on any of the retro-filled junk you saw here. It'll be fun to see y'alls remarks. Advertisements help shape the thick veneer of pop culture. From childhood heroes, to tummy rumblers, to randomness; advertisements make us smile and think about our adolescent selves. Expect a later edition. I only used about 2/3rds of the material I retrieved, and I still have more boxes to go through. I hope you enjoyed reading this article as much as I had making it.
Until next time...
Laters!
CREDITS
Archives...........................Cosgrove
Writer.............................Cosgrove
Pictorials..........................Cosgrove
Editing Adviser....................GaijinNinja
Editor-in-Chief....................Vertex
Green Lantern, Batman and Robin Adventures, Marvel QFX, Toyfare Magazine, Daredevil, Spider-Man Chef Boyardee, Spider-Man Cereal, X-Men Fruit Snacks, Now Comics, Young Heroes in Love, 3Musketeers, Combos, Cap'n Crunch Crunch Berries, Fruity Pebbles, Mootown Snacks, Sonic 3D Blast, Shock Tarts, Tangy Taffy, Tiger FX Pen, Nacho Cheetos, M&M Minis, Fruit String Thing, Sprinkl'ins, Final Fantasy VII, Vans, Mile High Comics, Goosebumps Escape from Horrorland, Clearasil, Josh and S.A.M., Saved by the Bell The College Years, UPN Kids, Hulk, Jumanji, Grossology, Street Fighter II, Fox Family, Morning Scramble, The Basement, All Dogs Go to Heaven, Animal Crackers, Eek! Showaganza, Bad Dog, Monster Farm, Walter Melon, Space Ghost Coast to Coast, Virtual Boy