What's up guys. I seemed to noticed that Hayao Miyazaki (if not Studio Ghibli as a whole) doesn't get that much attention on RetroJunk. So I might as well give him the same kind of article I gave to the Looney Tunes creators. Here's my indepth look/tribute to Studio Ghibli's head honcho (not to mention one of my all time favorite film directors).
From 1963 to 1965, Hayao Miyazaki served primarily as an in-between artist in several television animes. He gained recognition when he provided script material for the feature length anime, Gulliver's Travels Beyond the Moon. Three years later, he met his longtime collaborater Isao Takahata. For the rest of the '60s and most of the '70s, Miyazaki worked on TV shows and feature films as an animtor, writer, and storyboard person. In the late '70s, he stopped working on TV anime and started work on his theatrical director debut.
Below are some pictures of some of the TV shows and films he worked on.
(NOTE: If you notice that some of the titles of films are different, the reason is that I will be using the literal translations of the original Japanese titles)
Lupin III: The Castle of Cagliostro (1979)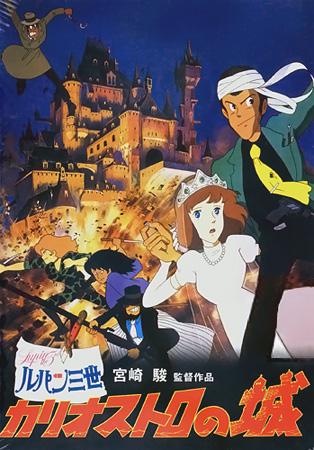 Gentlemen theif Arsène Lupin III and his sidekick Daisuke Jigen finish robbing a casino, only to find out that the cash is counterfeit. Realizing where the fake cash came from, they both venture to the small nation of Cagliostro. Upon arriving, they stumble upon a woman who is being pursued by the evil count of Cagliostro. Now, Lupin not only has to figure out the secret of Cagliostro's counterfeiting ring, but also rescue the woman from the count.
While this movie was Hayao Miyazaki's directorial debut, he wasn't originally attached to the director's chair. Yasuo Ôtsuka (who worked on some episodes of the first Lupin III anime) was originally assigned as director. Ôtsuka wasn't satisfied with the draft of Seijun Suzuki's script , since it contained many amalgamations of elements from the anime. He then asked Miyazaki to come and fix up the script. Eventually, he took up the directing duties as well and asked that an entirely new story be written. Of all of Hayao Miyazaki's directorial filmography, this is his only feature film not created at Studio Ghibli (that is if you count Nausicaa as part of the Ghibli filmography). One year after Cagliostro's debut, Miyazaki worked with the Lupin III character again, as a director on two episodes of the second Lupin III anime.
There were two English dubs made for Lupin III: The Castle of Cagliostro. MGM released a dub created by Streamline Pictures on VHS in 1992, one year after a subtitled version of the film was released in U.S. theaters. The dub had one noticeable change: Lupin's name was replaced with Wolf. The reason being since Lupin III's creator did not get permission from the estate of Maurice LeBlanc to use the Lupin name (Lupin's creator has stated that Lupin III is the grandchild of LeBlanc's Arsène Lupin) MGM held the distribution rights for Castle of Cagliostro until 1995, when Manga Entertainment purchased the rights from MGM. Several years later, Manga released the Streamline dub on DVD.
Eventually, Manga Entertainment decided to create an entirely new dub for Castle of Cagliostro. The dub was praised for it's faithfulness to the original Japanese dialogue, though it was criticized for adding profanity in certain scenes. The dub was released on DVD in 2000.
The Castle of Cagliostro was initially a failure in the box office, since it took a different approach than the Lupin III anime. The movie became popular through TV reruns and theatrical rereleases. Though fans of the Lupin III manga and anime criticized the film of turning Lupin from a cynical playboy to a more of a good natured character, The Castle of Cagliostro was and still is hailed as a masterpiece of animation. Directors George Lucas and Steven Spielberg went on to call The Castle of Cagliostro "one of the greatest adventure movies of all time" (and this is coming from the guys who created Indiana Jones, one of cinema's greatest heroes)
Though I'm not familiar with the Lupin III characters, I really enjoyed this movie. Sure the animation isn't as amazing as Miyazaki's Studio Ghibli films, but The Castle of Cagliostro is in a class of it's own. It combines the adventure and action of Indiana Jones, the suspense of Alfred Hitchcock, and the dry wit of Groucho Marx (He'll reference classic comedy again later in one of his later films). If you can get your hands on this movie, check it out.
Nausicaa of the Valley of the Wind (1984)
Sometime in the far-off future, an event known as the "Seven Days of Fire" results in the destruction of Earth's eco-system and the near extinction of the human race. 1,000 years later, we discover that several settlements of survivors are scattered across one part of Earth, each seperated by a seemingly indestructable toxic forest. Giant bugs known as ohmus come out of the toxic forest every now and then to wage war on the settlements. One particular settlement: The Valley of the Wind, isn't really a war loving settlement, rather it's a peace loving area. The princess of the valley, Nausicaa, is trying to understand the bugs and plants that thrive in the toxic forest. When the war loving Tolmekian Kingdom invades the valley, Nausicaa has to not only protect the valley from the ohmus, but to prevent the Tolmekians from provoking war with the ohmus.
There are two stories on how the Nausicaa manga became the cinema masterpiece. One story goes that Hayao Miyazaki always intended for Nausicaa to be a feature film. Financers rejected the idea, since it didn't have an exisiting anime or manga (it was common of Japanese animated features at the time to be primarily based on animes and mangas). So Miyazaki created a manga based on his idea that was serialised in Animage (Japan's primary animation magazine). The manga became a word of mouth hit when in debuted in February 1982 and the movie was immediately approved for production. Another story goes that Miyazaki created the manga under the conidition that it wouldn't be made into a film. Initially, the movie started out as a 15 minute OVA (original video animation) before finally giving in to the Animage editors' request to make it into a film. The first 16 chapters (or 2 of the 7 volumes) of the manga served as the basis for the Nausicaa movie. After the movie was released, Miyazaki continued to write and illustrate the Nausicaa manga whenever he wasn't doing feature films. After 7 volumes (56 chapters), Nausicaa of the Valley of the Wind ceased publication in March 1994
There were two English dubs created for Nausicaa of the Valley of the Wind. The first dub was a heavily edited and Americanized version of Nausicaa, known as Warriors of the Wind The dub was released in theaters in June 1985. 30 minutes were cut from the movie and they resulted in the movie losing part of it's narritive meaning (Similar to what Sid Sheinberg (president of Universal Studios from 1973-1993) did to Terry Gilliam's Brazil when it first arrived in the United States). The characters were also given new names (i.e. Nausicaa became Princess Zandra). Hayao Miyazaki isn't very fond with this version of Nausicaa and there were stories of him leaving the theater in tears after seeing it for the first time. He apparently vowed to never let any of his films be released in the U.S. again. It would be 8 years before a Miyazaki film would ever be seen in the U.S.
Seriously, who the hell are these guys riding on the giant warrior? Why is Hercules and Pegasus on the upper left corner? Nausicaa (who is on the upper right corner) looks nothing like her design in the movie
Disney's partnership with Studio Ghibli has resulted in Disney releasing Miyazaki's work in the United States, uncut. When Nausicaa was released in the U.S. for the first time in 20 years, they made a dub of the Nausicaa that included the scenes that were cut out in the Warriors dub. Like all the Disney dubs that were made for the Ghibli films, an all-star cast was assembled. The cast includes Alison Lohman as Nausicaa, Patrick Stewart as Master Yupa, Uma Thurman as Lady Kushana, and Shia LaBeouf (the same schmuck who ruined Indiana Jones) as Asbel. The dub was released on DVD in 2005, alongside Porco Rosso and The Cat Returns, to postive reviews.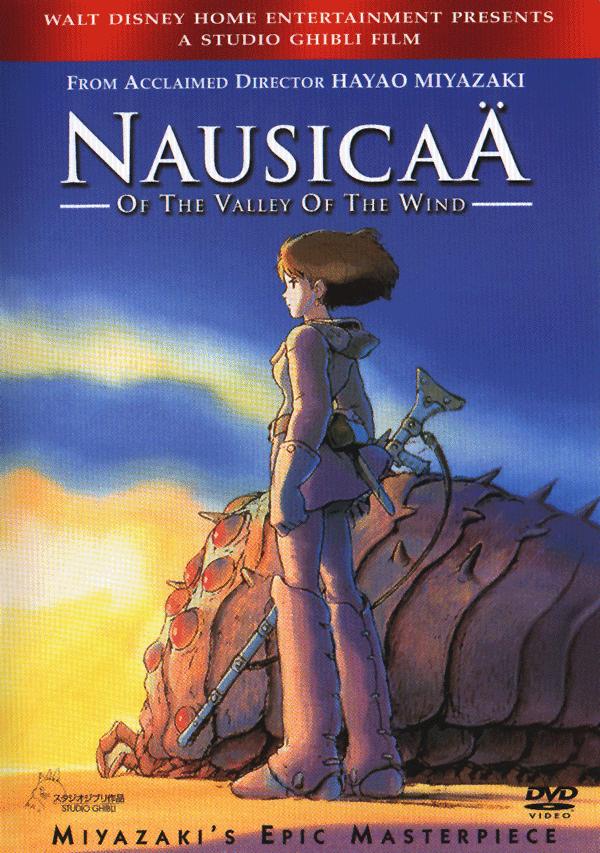 Nausicaa of the Valley of the Wind was a box office smash in Japan, grossing 740 million yen ($8,540,103 in U.S. dollars). The sucess of the film convinced Miyazaki and several other collaborators to form an animation studio so that they could continue to create animated films. And thus, Studio Ghibli was born (though Nausicaa was made before Ghibi's formation, it is included in the official Studio Ghibli filmography). Nausicaa of the Valley of the Wind is one of three Miyazaki movies to have a perfect rating of 100% on Rotten Tomatoes
As far as comic book based movies go, Nausicaa of the Valley of the Wind is up there with the first two Chirstopher Reeve Superman movies (three if you count the Richard Lester and Richard Donner cuts of Superman II seperately), Tim Burton's Batman, and The Dark Knight. In terms of animated features, Nausicaa is the Back to the Future/Lawernce of Arabia/Star Wars of animated films. Not only does this movie introduce us to Miyazaki's trademark of amazing animation, it also introduces his other trademark: Epic storytelling. Though the animation is superb, the scene with the giant warrior is by far one of the coolest scenes in cinema history. I also like the Blade Runner-esque synthesizer soundtrack that is in certain scenes of the film.
Laputa: Castle in the Sky (1986)
Pazu, a miner's apprentice, and Sheeta, a mysterious girl who literally floated down from the sky and into Pazu's arms, team up to find a castle that was seen by very few: Laputa. During their adventure, two groups are in pursuit of the duo. A group of air pirates (led by Dola) are after the crystal that Sheeta wears around her neck. A army of soldiers, led by government agent Muska, are trying to caputure Sheeta, since they think her crystal will lead them to Laputa. Now, the duo has to not only find Laputa, but also avoid these villianous characters as well.
Laputa: Castle in the Sky was the very first movie to be produced and released by the newly formed Studio Ghibli. While the story was an original idea that was created Miyazaki, it was clearly influenced by Jonathan Swift's Gulliver's Travels (which also has a flying island named Laputa). A homage to classic animation could be seen in the designs for the robots (they bear a resemblence to the mechanical monsters from the Fleischer Studios Superman cartoon of the same name)
There are two English dubs created for Laputa: Castle in the Sky. The first was created by Streamline Pictures. This was the first Studio Ghibli movie to be dubbed by Streamline. Most of them (Laputa included) would be shown in Japan Airlines flights. This dub also made a brief appearence in art house theaters in the United States. Despite this, Streamline co-founder Carl Macek was unhappy with the results of the dub for Laputa and vowed to give the next Miyazaki film a dub it deserved(and he would kept that vow).
Another dub was created by Disney. Laputa was the third film to be dubbed in the Disney/Studio Ghibli partnership. Originally, Disney's dub of Laputa was to have gone straight to video, like Kiki's Delivery Service, but Disney decided to give it a theatrical release. The dub features the voices of James Van Der Beek as Pazu, Anna Paquin as Sheeta, Mark Hamill as Muska, and Cloris "Frau Blücher" Leachman as Dola. The first change Disney made in the movie was the removal of "Laputa" from the film title. As is turns out, Laputa is Spanish for "the bitch/the whore". Another change was made in the film's score. Being that a U.S. theatrical was planned for Laputa, Joe Hisaishi (Miyazaki's music collaborater) upgraded and updated the film's score to make it suitible for a U.S. theatrical release. The theatrical relase for the film (now named "Castle in the Sky") was set for 1999/2000, right after Princess Mononoke. But when the aformentioned film flopped in the box office, Disney immediately reinstated it's original straight to video plans. Castle in the Sky's debut was pushed back more and more for almost four years. In those near four years, the dub made several appearences in several children's festivals. On April 15, 2003, 5 years after it was recorded, Disney's dub of Castle in the Sky finally made it's debut on VHS and DVD.
Like any Disney home video, they are eventually put into the "Disney Vault". In 2010, to commemorate Ponyo's release on DVD, Disney rereleased Castle in the Sky (as well as two other Ghibli classics) on DVD. Instead of just putting the existing dub back on DVD, Disney gave the dub one noticeable change: The return of Joe Hisaishi's original score.
Laputa: Castle in the Sky quickly became a hit and is still hailed as classic. In the roof garden of the Ghibli Museum, there is a life sized statue of the robot from the film. The movie usually makes the lists of the greatest animated features ever made.
What a debut for Studio Ghibli! They included everything that made Nausicaa kick ass as well as introducing humor. The dub of this movie is pretty great too, especially Cloris Leachman and Mark Hamill. Definately recommend it for you animation or action fans.
My Neighbor Totoro (1988)
Two sisters, Satsuki and Mei, move with their father to the countryside so that they can be close to their mother, who is being treated in the nearby hospital. Soon after arriving, they discover that a giant forest spirit known as Totoro lives in the giant camphor tree next to their new house. Totoro takes the girls on many adventures and introduces them to new creatures.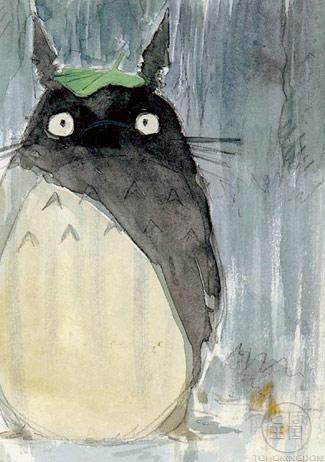 (Please disregard the bold line between the pictures)
Of all the movies he created, Totoro was Hayao Miyazaki's pet project for a long time. He first came up with the story sometime in the early '70s, with the initial hope of turning it into a picture book before deciding to make a feature film out of the idea. It took 15 years for Miyazaki to get it produced. In those 15 years, he changed the story and characters. According to the poster and several bits of concept art, there was going to be only one girl in the story. Miyazaki wanted to add suspense in the second half of the movie and he knew that he couldn't do it with just one girl. So he split her up into Mei and Satsuki. When the movie was released, it was paired with Grave of the Fireflies (another Studio Ghibli film) in a double feature, since it was thought that Totoro would be too big of a financial risk to be a stand alone release.
There were two English dubs created for My Neighbor Totoro. The first was created by Streamline Pictures. Like Laputa, it was shown primarily in Japan Airlines flights. In 1993, Hayao Miyazaki finally ended his vow to never let his work be seen outside of Japan by releasing Streamline's dub of My Neighbor Totoro on VHS and LaserDisc in the United States. The dub recieved postive reviews and good sales. 20th Century Fox held the distribution rights for Totoro from 1993 to 2004.
Though My Neighbor Totoro was included in the Ghibli films that Disney could dub and release outside of Asia, they had to wait 7 years (1997 to 2004) to dub Totoro. When 20th Century Fox lost the U.S. distribution rights to Totoro, Disney finally started to redub the movie (since Fox still owned the rights to the Streamline dub). Disney's dub features the Fanning Sisters (Dakota and Elle) as Satsuki and Mei, Tim Daly as Mr. Kusakabe (Satsuki and Mei's dad), Lea Salonga as Mrs. Kusakabe (Satsuki and Mei's mother), and Frank Welker as both Totoro and the Catbus. The dub was originally intended to be released in late 2004, but legal trouble forced Disney to push back it's release date. Disney's dub of My Neighbor Totoro finally debuted on October 23, 2005 at the Hollywood Film Festival. Nearly three months later, Totoro was aired on Turner Classic Movies, as part of their month long celebration of Hayao Miyazaki. In March of 2006, the dub was finally released on DVD.
Though it was a commercial failure when it was in theaters, My Neighbor Totoro quickly became a beloved film and it started a wave of Totoro toys that is still going on in Japan today. When the movie was introduced to other parts of the world, people reacted the same way to the movie the same way the Japanese reacted to Totoro. In 2003, Hayao Miyazaki created a 15 minute short film for the Studio Ghibli Museum called "Mei and the Kittenbus". The short has Mei discovering and befriending a "kittenbus" (the child of the original catbus). When night falls, the kittenbus takes Mei on a wild ride, and in the process, they discover other cat vehicles (i.e. Cattrains, Catplanes, Catliners). Of all the shorts shown at the museum, Mei and the Kittenbus is most popular. Looking at the story and the screenshots, I think that Disney should dub this short and give it a theatrical release in the U.S. (especially in front of Disney's crappy live action movies)
Today, My Neighbor Totoro is hailed as one of the greatest movies of all time and usually appears in "greatest movies" lists (i.e. Roger Ebert's The Great Movies II). The Totoro character also became a pop culture icon and has even cameoed in South Park and Toy Story 3.
Without a doubt, My Neighbor Totoro is a masterpiece in every meaning of the word. It manages to pack a lot of story, characterization, and wonder into 86 entertaining minutes. Totoro takes us to a place where we leave our troubles behind and are reminded of the joys of childhood. I recommend it not only as an animated film, but as a classic piece of world cinema. And one more thing:
CATBUS FTW!!!
Witch's Special Express Delivery (1989)
At age 13, it is mandatory for a witch to leave home and find a new town so that they can begin their witch training. This moment soon arrives for our heroine: Kiki. She soon arrives in a small town by the ocean called Koriko, alongside Jiji, her wisecracking black cat. Upon arriving, Kiki make all sorts of new friends: Mrs. Osono, the amiable bakery owner who gives Kiki a place to stay; Ursula, a free spirited and outgoing painter who lives in the woods; and Tombo, a kid who's an aviation nut and is smitten with Kiki. Even with her new friends, her lack of self confidence and determintion soon gets the best of her. Eventually, Kiki learns that her powers don't come from magic, but by simply believing in herself.
Witch's Special Express Delivery was originally intended to be directed by newcomer Sunao Katabuchi. The reason being since Miyazaki was busy making My Neighbor Totoro and fellow Ghibli director Isao Takahata was making Grave of the Fireflies, neither had time to take up directing duties for Ghibli's new film (the former intially agreed to just be the producer of the movie). When Katabuchi stepped off of the director's seat (he was eventually credited in the final movie as an assistant director), Miyazaki soon took over the project. He wasn't satisfied with Nobuyuki Isshiki's screenplay and rewrote the screenplay himself (Isshiki is still credited in the final movie). Witch's Special Express Delivery was also Ghibli's first movie to be based on an existing property. The movie was loosely based on Eiko Kadono's book of the same name. Miyazaki made some changes to her story (the book's events were told in episodic fashion while the movie had a continuous storyline).
Two English dubs were made for Witch's Special Express Delivery. The first was created by Streamline Pictures. Like Laputa and Totoro, it was shown primarily in Japan Airlines flights. The dub was also released on LaserDisc in Japan. Like Laputa, the Streamline dub wasn't seen outside of Japan. It would be 9 years before Kiki's high flying adventure would finally reach the U.S.
In 1997, Studio Ghibli started a partnership with The Walt Disney Company. The deal allowed for Disney to dub and release tall of the existing and upcoming Studio Ghibli films (excluding Grave of the Fireflies) in markets outside of Asia. Witch's Special Express Delivery was the first movie to be dubbed in the new partnership. The dub featured the voices of Kirsten Dunst as Kiki (coincidently, Kirsten Dunst's childhood nickname happened to be "Kiki"), Phil "Troy McClure" Hartman as Jiji, Matthew Lawrence as Tombo, Tress MacNeille as Mrs. Osono, and Janeane Garofalo as Ursala. One of the first changes made was that the title was changed to Kiki's Delivery Service. Another change included a lot of added on dialogue (particulary with Jiji). Also, the opening and closing credits songs were replaced with new pop songs by Sydney Forest. Disney's dub of Kiki's Delivery Service was released theatrically at the Seattle International Film Festival on May 23, 1998. Nearly five months later, on September 1, the movie was released on VHS. The movie became a smash hit and was one of the best selling videos of 1998. The movie's popularity prompted Disney to release a VHS featuring the original Japanese audio with English subtitles. Both this dub and the Japanese audio were released on DVD in 2003.
Like all Disney home videos, they're eventually discontinued. Kiki's Delivery Service was rereleased on DVD (alongside Castle in the Sky, My Neighbor Totoro, and Ponyo) on March 2, 2010. Like Disney did with Laputa, rather than just dusting off the existing dub and put it back on DVD, Disney gave the dub some noticeable changes (in the case of Kiki, removal of much of the added on dialogue and the American opening/closing credits songs being replaced with the original Japanese songs).
Though Eiko Kadono isn't too fond with Miyazaki's film adaptation of her story, Witch's Special Express Delivery became Studio Ghibli's first smash hit, selling four times as many tickets as previous Ghibli movies. When Disney's dub of the movie debuted in the U.S, Hayao Miyazaki started to gain a lot of notoriety and acclaim in the States. Kirsten Dunst and Phil Hartman both stated that this movie to be one of their all time favorite movies they worked on. This is the first of two Studio Ghibli movies (third in Miyazaki's directorial career) to have a perfect 100% on Rotten Tomatoes.
After an action epic (Laputa), a really sad anti-war film (Isao Takahata's Grave of the Fireflies), and a whimsical film (Totoro), Studio Ghibli thought it was time to take on a coming of age film. Well, in their attempt to make a follow up to Totoro, Studio Ghibli created one of the most heartwarming and high flying animated films ever made. I really love how much Kiki's dilema resonates with the audience. Admit it, at one point in your life you have to deal with trying to adapt in a new environment (either a new school or an entirely new town), whether it's trying to make friends or just plain fit in. Kiki is one of those few cartoon characters (anime or otherwise) that have relatable problems and dilemas. While most Ghibli fans are very critical of Disney's dub of Kiki's Delivery Service, I'm going to be the minority and say that the dub is one of the best done by Disney. Kirsten Dunst nails her role as Kiki and does a very believeable job to boot. Phil Hartman is hysterically funny as Jiji. Tress MacNeille, Janeane Garofalo, and Matthew Lawrence are great in providing voices for thier supporting characters.
Marco Pagott (also known as both Porco Rosso and The Crimsom Pig) is a seaplane pilot and war hero who was cursed with the head of a pig for mysterious reasons. Now he is a bounty hunter who goes after air pirates on the Adriatic Sea. Being that the story takes place during the rise of Italian facism, Porco is wanted by the secret police. One day, he is shot down by cocky and womanizing American pilot Donald Curtis. Porco survives the crash and goes to Italy to get an entirely new seaplane. This all leads to a high flying and hilarious climax between Porco and Curtis.
The Crimsom Pig started out as a short film based on Miyazaki's manga The Age of the Flying Boat. The short was to be shown primarily in Japan Airlines flights. As time went on, the project expanded into a feature film. During the production, the Yugoslav wars broke out and a more serious tone was induced for the film (which originally took place in Croatia) Even when the project became a feature film, Japan Airlines was a major investor in the film. When the movie was completed, it was shown first in Japan Airlines flights before it's Japanese theatrical release (because of this, the opening text that opens the film is shown at the same time in 10 languages: Japanese, Italian, Korean, English, Chinese, Spanish, Arabic, Russian, French and German.
The Crimsom Pig was Studio Ghibli's first film not to have an English dub prior to the Disney/Ghibli partnership. In 2004, Disney started work on an English dub for the movie (now renamed Porco Rosso). The dub featured the voices of Michael "Batman" Keaton as Porco Rosso, Cary Elwes as Donald Curtis, Susan Egan as Gina, Kimberly Williams-Paisley as Fio, and David Ogden Stiers as Mr. Piccolo. The dub was released on DVD alongside Nausicaa and The Cat Returns in 2005.
While Porco Rosso is vastly underrated in the U.S, many see the film to be one of Hayao Miyazaki's finest achievements. Porco Rosso was the third Miyazaki movie to have a perfect 100% rating on Rotten Tomatoes (the first two being Nausicaa and Kiki). Recently, Miyazaki announced that he was interested in creating a sequel to Porco Rosso if his movies that he'll make after Ponyo are sucessful. The working name is Porco Rosso: The Last Sortie.
What a movie! It took the action-adventure formula of Laputa and added even more humor and high flying scenes. The dog fighting scenes are among some of the best scenes ever created in animation history. The English dub is also phenominal. It was really great to hear Michael Keaton use his Batman voice for Porco, it really fit with his character. If you love planes, action, or just "plane" love animation, WATCH THIS MOVIE NOW!!!
Ashitaka is a noble and proud warrior who defends his village. One day, a demon boar rages through the forest and starts heading towards the village. While Ashitaka did manage to destroy it, a part of the boar got on his arm, infecting him with a curse that will eventually kill him. He soon heads towards the forests of the west, hoping to find a way to get rid of the curse. When Ashitaka gets there, he is thrown in the middle of a war between an iron mining town and the gods of the forest. The town is frequently attacked by San, the princess mononoke. While she is a human, San was raised by the wolf goddess Moro, which results in her thinking of herself as a wolf. Her goal is usually to murder the town leader, Lady Eboshi. Ashitaka tries to stop the violence by helping both sides. Soon after, San and Eboshi soon start to question if he is actually working for their enemy.
(Once again, please disregard the line between the pictures)
In the mid '90s, Hayao Miyazaki wrote two screenplays for potential Studio Ghibli films: Boro the Catapiller, the story of a catapiller's epic journey from one tree to the tree that's right next to it, and Princess Mononoke. While Miyazaki really wanted to create both films, he was pressured by Studio Ghibli's producer to focus primarily on Princess Mononoke. While Princess Mononoke is traditionally animated, like Miyazaki's previous films, computer animation was used to animate the demon worms that would wrap around Ashitaka's arm. At the time of it's release, Princess Mononoke was the most expensive anime film ever created, costing 2.35 billion yen (or $23.5 million in U.S. dollars)
Princess Mononoke was the second Studio Ghibli film to be dubbed in the Disney/Ghibli partnership and the first to be given a theatrical release. The dub was released under Disney's Miramax label. The dub features Billy Crudup as Ashitaka, Claire Danes as San, Gillian Anderson as Moro, Minnie Driver as Lady Eboshi, Billy Bob Thornton as Jigo, and Jada Pinkett Smith as Toki. Initially, Miramax was going to cut the movie (ala Warriors of the Wind) to not only make it more marketable, but to also get a PG rating. When Studio Ghibli was informed about this, one of the producers sent an authentic katana (a type of Japanese sword) to Miramax co-chairman Harvey Weinstien. Included with it was a simple note: "No cuts". Miramax relented and soon released the uncut movie (this resulted in a PG-13 rating) on October 29, 1999. Though much money was spent on getting an all-star cast to dub the movie, little to no advertising was created and the movie had a very limited run in theaters. Despite critical praise, Princess Mononoke was a box office flop. When it arrived on DVD in September 2000, the movie fared better with great sales.
Princess Mononoke was the first Japanese animated movie to gross more than 10 billion yen (or $118,736,642 in U.S. dollars) at the box office The movie was hailed as an instant classic all over the world. It appears on greatest movies lists all over the world (i.e. The 1001 Movies You Must See Before You Die). Hayao Miyazaki retired after production of the movie, but it's sucess prompted him to come out of retirement to keep making more movies.
I'm going to come out and say it. I was expecting a bit more out of this movie. Granted it was a good movie and all, but it felt like Nausicaa, though not as good. Maybe it was because it went a bit too long (at 2 hours and 14 minutes, it barely beats out Fantasia for the record of the longest animated movie) or it could be that it was missing certain elements that made Nausicaa great. As for the English dub, it's good but a miss compared to the other Disney dubs. Giliian Anderson, Billy Crudup, and Minnie Driver were good. Claire Danes did an okay San. Jada Pinkett Smith was questionable. Not that don't like her, but how does a Bronx accent fit into the setting of the movie? But do I hate it, no. It gets a solid 8.9 out of 10 in my book and is worth a Netflix rental.
The Spiriting Away of Sen and Chihiro (2001)
Chihiro is moving to a new city with her parents. Her father takes a short cut that accidently leads them to a tunnel. Walking through the tunnel, they soon discover a vast field with a town just ahead. Noticing a buffet full of freshly cooked food, Chihiro's parents soon gorge themselves while Chihiro notices a strange boy named Haku. He gives her a warning to leave the area with her parents. But when Chihiro goes to check on her parents, she finds out to her horror that they've both been turned to pigs. Since Chihiro is now trapped in the area, Haku tells her to get a job in the boiler room while he tries to help her get her parents back. She soon gets the job, but she also gets a new name: Sen. Now she not only has to free her parents and escape, but also cope in a world where spirits are in control and humans are looked down.
Hayao Miyazaki got the idea for The Spiriting Away of Sen and Chihiro when he saw the sullen 10 year daughter of one of his friends. Production started in 2000, with a budget of 1.9 billion yen ($15 million). During production, certain elements of the original script were eliminated in order shorten the run time of the movie (had the original elements remained, Spiriting Away would have clocked in at nearly 3 hours). The movie continued Princess Mononoke's experimentation of computer animation. Chihiro/Sen was Studio Ghibli's first child character to actually be voiced by a child (previous Studio Ghibli child characters were all voiced by adults).
The Spiriting Away of Sen and Chihiro was the first Studio Ghibli film to have an English dub created immediately after it's Japanese release. It was also the first Ghibli film since Princess Mononke to be theatrically released. Producing the English dub was Pixar's John Lassater, one of Hayao Miyazaki's closest friends. Unlike previous Disney dubs which had all star casts, the dub of Spiriting Away (or as it would be called in Americam, Spirited Away) primarily had regular cartoon voice actors providing voices for their characters. The dub stars Daveigh "Lilo" Chase as Chihiro/Sen, Jason Marsden as Haku, Suzanne Pleshette as Yubaba/Zeniba, David Ogden Stiers as Kamajii, and Bob "Porky Pig" Bergen as No-Face. Spirited Away debuted in American theaters on September 20, 2002 to rave reviews. In terms of box office, it wasn't a repeat of Princess Mononoke's U.S. debut, grossing $10,055,859. It's popularity convinced Disney to rerelease it in theaters in 2003, the same year it made it's debut on DVD.
The Spiriting Away of Sen and Chihiro was a worldwide hit. It is now the highest grossing movie in Japan, grossing 27 billion yen ($274,925,095 in U.S. dollars) The movie won many awards all around the world, including the Berlin Film Festival and the Academy Award for Best Animated Feature (the only tradtionally animated movie to do so). Spiriting Away is considered by many to be Hayao Miyazaki's magnum opus (I partially agree on that) and usually makes the lists of best animated features. In 2010, Empire Magazine ranked the movie #10 in their list of "The 100 Best Films Of World Cinema".
All I have to say is...
HOLY SHIT!!!
This movie is amazing. The animation and backgrounds are amazing. The story is creative. The characters are well developed and likeable. The English dub is phenominal (though Daveigh Chase's Chihiro can get a little annoying in the beginning). This movie is a great imagining of the overall concept of Alice in Wonderland. I totally regret not seeing this movie when it was in theaters in 2002/2003.
Howl's Moving Castle (2004)
Sophie is a quiet girl who runs a hat shop. One day, a wizard named Howl arrived in her town. Rumors go that he finds a beautiful girl, whisks her off feet, and then takes her heart (literally). While going to see her sister, Sophie bumps into Howl and they befriend one another. Their friendship gets the attention of Howl's rival, The Witch of the Waste. Later, the witch puts Sophie under a spell that transforms her into a 90 year old woman. Unable to live in the town with her condition, she leaves and heads to Howl's massive moving castle. There, she meets Calcifer , the fire spirit who is in possesion of Howl's heart and Markl, Howl's apprentice. Sophie strikes up a deal with Calcifer in which he will make her young again if she frees him from Howl. Sophie then knows shes in for the adventure of her life.
Howl's Moving Castle was Studio Ghibli's first movie to be based on an exisiting property since Whisper of the Heart (which was based on the manga of the same name). This movie is loosely based on Diana Wynne Jones' novel of the same naem. Mamoru Hosoda was originally set to direct the movie and even completed some storyboards before abruptly stepping down and being replaced by Hayao Miyazaki. While Jones met with some Studio Ghibli representitives, she wasn't involved in any way during the production of the film. Miyazaki's pacafist attitude was noticeable in the film, since production started around the same time the Iraq War began. For now, Howl's Moving Castle is the last Miyazaki movie to use computer animation in certain scenes.
A dub was recorded by Disney in in 2004/2005 and was produced by Pixar's Pete Doctor. Appearing in the dub was Emily Mortimer as Young Sophie, Jean Simmons as Grandma Sophie, Christian "Batman 4.0" Bale as Howl (no, he doesn't do his lung cancer Batman voice), Lauren "Mrs. Humphrey Bogart" Bacall as The Witch of the Waste, Billy Crystal as Calcifer, and Josh Hutcherson as Markl. Howl's Moving Castle debuted in the U.S on June 10, 2005 to postive reviews. In the box office, it only grossed $4,711,096. The dub premiered on DVD in March 2006.
What a dissapointment. While it's a decent movie, it's without a doubt the weakest movie created by Miyazaki. It suffers primarily from being too complex, which results in the movie being a complete bore-fest at time. The castle scenes, while they look amazing, they were nowhere as amazing as any of the scenes from Spirited Away. It's a shame that this movie has to have flaws like this. The dub was nice though. Christian Bale, Jean Simmons, and Lauren Bacall are all fun to listen to when they do their characters. Unfortunately, I have to join the minority that doesn't really like this movie that much.
Ponyo on the Cliff (2008)
Brunhilde is a goldfish who lives with sea wizard Fujimoto, alongside her other sisters. One day, she swims away from home to see the ocean around her. Brunhilde hitchs a ride on a jellyfish and soon winds up by a shoreline that is next to a cliff. Sosuke, the precocious boy who lives in the house on the cliff, rescues Brunhilde and gives her a new name: Ponyo. Fujimoto, as any other parent would if they found out their kid was missing, goes searching for Ponyo and discovers that Sosuke has her. After seperating the two, Ponyo soon wants to become a human and reunite with Sosuke. She soon gets her wish, but soon puts the entire world out of balance.
The idea for Ponyo on the Cliff came about when Hayao Miyazaki saw Disney's version of Hans Christian Anderson's classic, The Little Mermaid. He wrote a story that had the basic elements of the original story while completely giving it a whole new feel. Miyazaki also included elements from Richard Wagner's Der Ring des Nibelungen opera. Ponyo on the Cliff was the first Miyazaki movie since Porco Rosso to have complete hand drawn animation (the previous three movies all had computer animation used in certain scenes). The animation in Ponyo on the Cliff had watercolor and pastel like feel to it (as evidenced in certain bits of concept art from The Art of Ponyo).
A dub for Ponyo on the Cliff was recorded in late 2008 and 2009. John Lassater returns as producer and is also joined by Who Framed Roger Rabbit producers Kathleen Kennedy and Frank Marshall. The movie (whose title was shortened to simply Ponyo) has the biggest all star cast of all the Disney dubs (probably comparable to It's A Mad Mad Mad Mad World). Starring in the dub is Noah Cyrus as Ponyo, Frankie Jonas as Sosuke, Tina Fey as Lisa (Sosuke's mother), Liam "Schindler" Neeson as Fujimoto, Cate Blanchett as Granmamare (Ponyo's mother), Matt Damon as Koichi (Sosuke's father), Betty White as Yoshie, Cloris Leachman as Kayo, and Lily "Ms. Frizzle" Tomlin as Kayo. The movie debuted on August 13, 2010 to glowing reviews and good box office. Ponyo is Studio Ghibli's highest grossing movie in the U.S, earning $15,090,399. The movie was released on DVD and Blu-Ray (alongside Laputa, Totoro, and Kiki) in March 2010.
I had alot of enthusiasm and alot of doubts before I saw this movie. The enthusiasm came from the look of the movie and the story. The doubts came from the facts the younger siblings of Miley Cyrus and the Jonas Bros. would be lending voices in this movie. I really thought they were going to suck. Thank god I was wrong when I saw the movie. Noah and Frankie both do a really great job of voicing Ponyo and Sosuke. In fact, they may be more talented than their older siblings. The other castmembers are great too (especially Tina Fey's Lisa). As for everything else, top notch. The animation, the story, the music, all great. Though the only thing going against this movie is the god awfully horrendus pop song in the second half of the end credits. But all and all, Ponyo was great and it had the potential to reinvigorate hand drawn animation in the U.S (similar to how Roger Rabbit reinvigorated animation as a whole when it debuted)
So there's my look at Hayao Miyazaki. Maybe one day I'll do an article looking at the rest of Studio Ghibli's feature output. Anyway, hope you like the article.
(Not drawn by me!!!)
Next time, I'll be taking a look at one of the funniest directors and writers in cinema history: Mel Brooks