The rustle of leaves being blown by a chill wind. The skeletal fingers of the trees reaching for the harvest moon. The shopfronts pulling out decorations for All Hallow's Eve. A walk through the dark woods. Ghost stories by the fire. The spot lights searching the sky, announcing the location of the spook alleys and haunted houses. My Favorite time of year.
As long as I can remember and even before, I have loved Halloween. This is me and my twin brother (Ravenloft on Retrojunk) in
1977
.
When I was young my father worked in a Haunted House/Spook Alley for fun during October. I remember a pickup truck pulling up with the bed full of latex rubber masks. My dad was a full suited gorilla, werewolf, skeleton, vampire, witch, the Phantom of the Opera and a devil over the years. At the haunted house they had a Frankenstein lab with a huge Jacob's ladder, electric ball, and other loud and dangerous looking equipment. There were monsters at every corner. I was in heaven (even though I was clinging to my dad's leg in fright). I will never forget the building either, it had paintings of classic scenes and portraits of Universal Monsters on the sides.
Halloween started at my house with the decorations. I spent hours stretching fake cobwebs over nearly every surface of the house both inside and out every year. My dad and I made plywood tombstones and painted them for our own graveyard in front of the house. We went on trips to the pumpkin patch to pick pumpkins to carve for the porch. Loud speakers played ghostly groans, cackling witches, bubbling cauldrons, wolf howls, blood curdling screams and shrieks into the night. We always made dummies out of wood frames, old clothes and costumes, and masks or paper mache heads. Many years we would mingle in costume with the dummies in the yard and scare the wits out of trick or treaters. We had an age limit though and never scared kids under a certain age/size. We could stay still for so long and even had newspaper in our sleeves and pulled our fingertips out of the gloves so that the overly curious could feel for themselves to make sure we were just dummies. After they were absolutely convinced we were fake is when we would jump at them. I can still remember many memorable screams.
My dad had an old camel backed steamer trunk slash treasure chest. Inside were all of the Halloween costumes and accessories from all the previous years. Everything from skulls to gorilla suits to shrunken heads. We could have probably outfitted the whole neighborhood or at least all of my friends with costumes (several years we did). Here is a shrunken head that I painted and decorated with parrot feathers, shark teeth, shells and bones, and I even sewed the eyes and mouth shut with twine.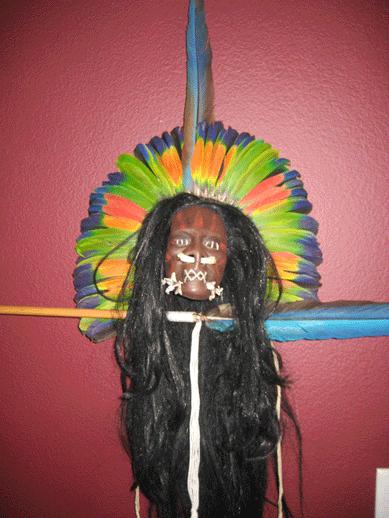 We covered our walls with hand drawn pictures of all the monsters from the old horror films my dad would watch with us.
We would scotch tape paper die cuts and cut outs on our windows and walls. Most were made by the Beistle, Dennison or Eureka company. You may even recognize a few.
Spooky ghosts, black cats, pumpkins, witches, skulls, owls, bats, ghosts and many more.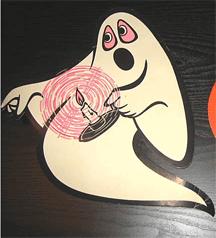 This was my grandma's jointed skeleton.
Decorating our front door would be our Frankenstein's monster (Glenn Strange version) jointed cut-out made by Eureka of Dunmore Pennsylvania.
Here is the Dennison jointed Monster (Boris Karloff version).
My mom and grandma always decorated for Halloween parties with Halloween tablecloths, plates and napkins, orange and black balloons and crepe paper streamers, terrifying treats, popcorn balls, and haunted food items, and usually a center piece.
Parties were times to have mini spook alleys, play bobbing for apples (I rarely did if it would mess up my costume make-up), eating donuts off strings, cake walks, costume contests (My brother and I won several years straight), limbo lines (I was the perennial champion), treasure hunts, spooky games, and to watch classic Halloween cartoons and Horror films.
My grandma always had cupcakes with spooky toppers.
Grandma's house was always last on our trick or treat route (after several neighborhoods, and the mall) and she always had something special saved just for us. It was usually in a paper treat bag.
My mom still gives me a treat bag of goodies every year.
You had to have a good flashlight so you didn't trip running across dark yards especially considering that your mask usually cut out all of your peripheral vision.
You could usually score free Trick or Treat plastic sacks from school or supermarkets. They almost always had the Halloween Safety tips printed somewhere on them along with the sponsor company's name. Sometimes there were cool themed ones like these Monster cereal ones and Snoopy. Grab your sack or pail and let's go. If not a pillow case worked well.
Each year the anticipation mounted as we wondered what ghoul we would be that year. Sometimes it was a latex rubber mask bought in a grocery store or a higher quality Don Post mask from the costume store or beauty supply shop. Sometimes it was home made. Usually it involved trips to the good will store, salvation army, and other second hand stores or even the army navy surplus to find clothing and get ideas. In later years we graduated to professional grade Ben Nye make-up to paint our faces, prosthetic teeth and colored contacts. Sometimes it was just something that caught our eye and we ran with it creating an entire costume to surround one piece. Several years we were more than one costume for school or work, Halloween parties and dances, and then finally on Halloween night.
As a youngster I remember going to grocery stores to pick out Halloween costumes that were found in boxes with a cellophane wrap that you could see into to make your selection. They usually came with a vinyl or cloth costume, and a plastic mask with eye-holes and an elastic band that snapped sometime during the night if not during the school costume parade. They were made by several companies but by far Collegeville and Ben Cooper were the most popular.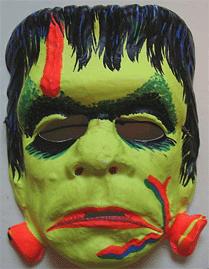 Here me and my brother are
clowns
with party hats at my cousin's house with her parents. She is a ferocious Collegeville lion in
1978
.
In
1979
I was the Collegeville
werewolf
and my brother was a Collegeville
skeleton
.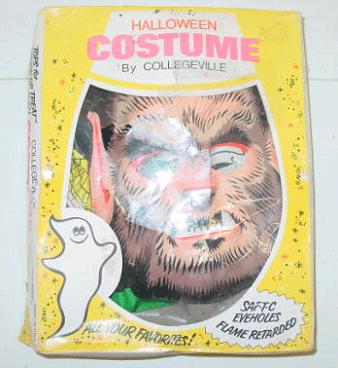 That year was especially memorable. My brother is the
skeleton
and my uncle the skull mask. I am the
werewolf
and my dad used make-up to become a Wolfman. My dad sat outside among a devil and witch dummy before my aunt showed up. She is the aunt that always had to take pictures of everything. She promptly went outside to take pictures of the spooky yard dummies. My dad waited until her second picture before pouncing and growling.
Now my aunt was how should I say it, a short but very, very large lady. Nevertheless, she dropped the camera and hurdled the fence in the front yard without touching it (a good three and a half feet). My dad was laughing so hard he could hardly catch up to her to explain who he was. When she turned around and saw the Wolfman still in hot pursuit it made her scream and run that much harder and faster. She made it over a block down the street before he caught up. She was grumpy the rest of the night. The night lives on in our family legends.
Go ahead and look at the picture again in the background my cousin has a huge inflatable monster on her head. What is it, you ask? Kooky Spooks! There were six kinds: Scardy Cat, Wunkin Punkin, Ishy Bat, Woblin Goblin, Spacy Casey and Wonder Witch.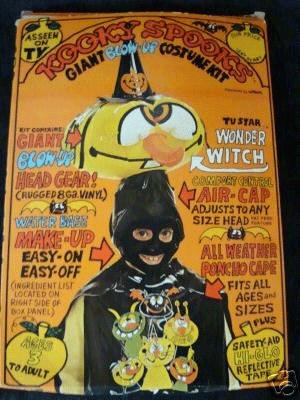 In
1980
The Empire Strikes Back had hit the theaters so naturally we picked Ben Cooper Star Wars costumes that year. I was
Chewbacca
and my brother was
Yoda
. I guess my cousin was a gypsy maybe?
In
1983
I was a Ben Cooper Hairy and Scary
Vampire
and my brother was a
Skull
.
1985
was the year of our first latex rubber masks bought at either K-Mart or Grand Central. I am the
Red Devil
and my bro is the
Green Demon
with the light up horns. To a kid nothing is worse than having to wear a coat over your costume (I remember several Halloweens with snow on the ground) or lining up for pictures when all you want to do is go trick or treating. Thank goodness for mothers who knew how valuable the photos would be to us one day. There are two sets of these photos of course with and without masks on. My cousin is the punk leopard.
In
1986
I was a zombie with a split face and for some reason I thought scrubs would go with that so I am a
zombie doctor
. I don't know how the zombie died but in addition to the split face he also has a bullet hole in his forehead. My brother is the
Wolfman
. My brother sewed fur inside the shirt and then ripped it to show the fur coming through, it turned out pretty cool. My cousin the ghost behind us.
1987
was the year Nightmare on Elm Street 3: Dream Warriors came out and I guess it had an effect on me. The
Freddy Krueger
mask wasn't that great but the claw glove was awesome. My brother has a Don Post
Lecher
mask that looks very similar to Uncle Creepy as a vampire and one of our buddies as a domino.
1988
Don Post masks. I was a split face
zombie farmer
I guess with a scythe. My brother was the
demon skull
. It was 6th grade and the first time we were banned from the school costume parade. Our school had a parade that started with the kindergartners and progressed through the grades adding classes as they passed them until coming full circle to your own classroom. That way each class got to see every costume. The principal argued that we were too scary for most kids let alone the little ones and we had to wait it out with our masks in our desks. I remember seeing my mask on some cheesy b-movie zombie film cover when going to the video rental store.
Halloween
1989
my brother and I were undead soldiers. Sadly no pictures exist of this year. We raided the local Army Navy Surplus store and had full soldier uniforms right down to the boots. Ravenloft was an
undead Nazi German WWII soldier
with helmet, greatcoat, wool pants, German canteens, German stick hand grenade, Luger gun holster, armband, etc. I was an
undead WWII United States GI
with helmet, backpack, canteens, belt, ammo pouches, wool pants, 1911 pistol gun holster and all.
We had painted foam skull masks. The masks were Living Faces masks and could be cut in two pieces to move with your face allowing you to move your jaw. You also had to cut out the eye holes. Here is the unpainted and uncut skull mask.
In
1990
I was a blonde
were-lion
and my brother Ravenloft was a brown
were-lion
. Also in this picture is another fellow Retrojunker Shikkyn as a Teenage Mutant Ninja Turtle fan, and my little brother as a baby skeleton holding a McDonald's McBoo Punk'n pail.
Terminator 2: Judgment Day came out in
1991
. Well it was a pretty cool movie so it should be no surprise that me and my brother wanted to be
Terminators
. We might have gone a little overboard on the fake blood. Sadly many of our Halloween pictures are old and faded, or like this Polaroid cracking and splitting.
The masks were the exact same Living Faces ones we used in 1989 this time marketed of course as cyborg skulls (but they still had the R.I.P. in the forehead). The cool thing was that we added a glowing red light-up eye for the skull's eye socket. It ran off a 9 volt battery connected by wire over our ear and to our shirt collar. If you look close behind my ear you can see the wire, I am the one on the right.
In
1992
I made a Boris Karloff Imhotep
Mummy
costume with a mask and lots and lots of masking tape on some long johns underwear, gardening gloves and a pair of Vans shoes. I spray painted the tape various grays, tans and browns until it became stiff. I then painted on little scarab beetles, vultures, cartouches, an ankh, Horus, a cobra, and the eye of Ra with acrylics. My brother was an
old sea hag
, my little brother the vampire, and a buddy reusing an old costume.
Also in the picture is my grandmother. Her house was our last trick or treat stop for many years so she could see our costumes. After she had passed away I was helping my mom clean her place and managed to get all of her old Halloween decorations.
Here are some vintage tin shaker noise makers with witches.
This tin noise maker has a crank lever that twists around making a screeching yowling cat sound. The black cat tin noisemaker spins around and clicks.
I have seen this Pumpkin blow mold lamp with witch hat all my life and these were my very first pumpkin trick or treat pails. Scroll back up to the first baby picture and you will see they have always been a part of my Halloween. When my sons were old enough to carry a pail they carried these too.
After over 32 years the lamp still works. As far as I know the light bulb has never been changed.
This is a cool ceramic ghost lamp that has been with my family for several Halloweens.
Here are some random pumpkin containers and characters.
I even kept some of her cupcake toppers.
Halloween
1994
Shikkyn as a zombie, Ravenloft as a
sun-burnt vampire
, my little brother as Frankenstein's monster and me as the
Wolfman
.
Halloween
1995
Grandma, my little brother the ninja, my twin brother as
Frankenstein's monster
, a buddy as Jason in the hockey mask, another friend as a witch and me as a
vampire
. For some reason I thought it was scary to open my mouth really wide. You will see I do it a lot over the years. I did have a killer set of fake fangs though.
For Halloween
1996
I was the notorious bounty hunter
Boba Fett
. Yes, I know some fanboy who has dropped about 2 grand has a better Fett outfit than mine but remember I made mine from scratch except for the Don Post helmet. All for under fifty bucks (including helmet) with stuff lying around the house and spraypaint. All without the aid of a computer or templates, using only the original Star Wars VHS tapes and the toy as reference.
Halloween
1997
my brothers as a skeleton warrior and a
vampire
with a crucifix burn like Evil Eddie on Fright Night.
My brother as a
werewolf
in
1998
.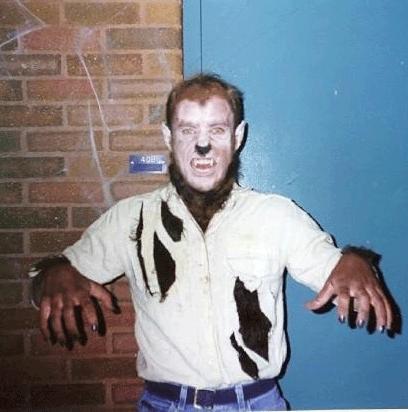 In
1999
Star Wars Episode I: The Phantom Menace was due to hit theaters. The excitement was in the air. I amongst thousands of fans had waited for 16 years since seeing the last Star Wars film Return of the Jedi in the theaters. In May a week before the release I participated in a Star Wars costume contest as the new villain the
Sith Lord Darth Maul
and won 1st place. I know it wasn't really Halloween but for one day that summer it felt like it. Using the picture from the toy that I had bought for my little brother, my twin painted my face and put the colored contacts in my eyes (I had never used contacts before and couldn't get them in). A purchased lightsaber, a black trench coat inside out under my martial arts gi, a thick vulcanized rubber belt and leather boots rounded out the rest of the costume. I know the horns are too big but we hadn't seen the movie yet so we didn't know, and it was hard to tell from the toy. Two news stations covered the event and I won a cash prize as well as 500 bucks worth of vintage Star Wars toys, that I still have.
Halloween
1999
My brother as the
Emperor
and a buddy as a devil.
2000
I am the
skull face
(face paint doesn't work well over goatees) and my brother is the
Wolfman
.
Halloween
2001
yeah I don't know what we were supposed to be either but it didn't turn out as we hoped. My brother the
treeman
and I look sorta like a
goblin
from Lord of the Rings.
Halloween
2002
my brother as a
plague carrier
.
Halloween
2003
me face painted as a
skull
.
Halloween
2005
me as
Pennywise the Clown
from IT (only did my face because I was hiding behind a dungeon wall in front of the house scaring people) and my wife's little sister who I painted as a broken neck girl.
Here I am in
2006
as a
jaguar
, and my brother as a
deranged old man
.
In
2007
my brother as a
vampire
and me as a
werewolf
.
In
2007
I was also a
skull
. The bad part about make-up is getting it off (cold cream, hot water and a wash rag works the best even over commercial make-up removers).
Halloween
2008
my brother as an
old vampire
.
In
2008
I was again a makeshift
Pennywise
from Stephen King's IT.
In addition to the old vampire my brother was also the
Grim Reaper
last year.
We then switched with me being the
Grim Reaper
, while my brother was both
Pennywise
and the
old Vampire
. We dressed up for a few nights a week at a local haunted house.
In addition to the ones pictured me and my brother have been
Witches and Devils, Pirates, the dread Pirate Roberts, Indiana Jones, Gangsters, Homer Simpson, Gimli the Dwarf, Nosferatu and even a 70s man
at work, school, or various Halloween costume parties and dances, and of course Halloween night.
Halloween
2009
, I haven't yet decided what I am going to be. Any ideas?
For more Halloween fun including
:
Remco mini monsters
Imperial monsters
Cartoon Halloween classics like "The great Pumpkin Charlie Brown" and "The Legend of Sleepy Hollow".
Ghostly films
Creepy Halloween Records
Spooky board games to play on Halloween
Even haunted fast food
Check out my very first Retro Junk article
"My Retro-Halloween"
http://www.retrojunk.com/details_articles/2215/
and
"Monster Game Madness"
http://www.retrojunk.com/details_articles/4878/
If you want to see more collegeville and Ben Cooper masks check out Toy Ranch's flickr page
http://www.flickr.com/photos/toyranch/
that is his Dennison jointed monster that he showed me in response to my Eureka one.
Halloween has always been dear to me and probably always will be. I love to take my sons trick or treating and watch their faces light up. This is my oldest son in 2006 carefully selecting a treat.
Happy Halloween everyone!
If you are telling ghost stories or are having a Halloween costume party be sure to invite me.