Things that made it Halloween all year
The Thriller album was one that my mom had and consequently one that I listened to frequently as a kid. It was released in 1982 and is one of the best selling albums of all time. I of course really liked the title track with the master of horror Vincent Price doing the narration.
Darkness falls across the land
The midnight hour is close at hand
Creatures crawl in search of blood
To terrorize your neighborhood

The foulest stench is in the air
The funk of forty thousand years
And grizzly ghouls from every tomb
Are closing in to seal your doom

And though you fight to stay alive
Your body starts to shiver
For no mere mortal can resist
The evil of the thriller
Mwah ha ha ha Mwah ha ha ha
In 1983 the 14 minute long music video debuted. It was directed by John Landis who also directed An American Werewolf In London (1981).
Transformation
Werecat
The video started out with Mike running out of gas on a forest road while on a date. The moon rises and mike transforms into a werecat creature that then chases the screaming date.
Zombie Mike
The video shifts to Mike on a date again in the movie theater. As they leave they pass a graveyard. Zombies start clawing their way from their graves and opening their crypts. The girl turns to Mike who has changed into a zombie and then chases her to an abandoned house. The girl finally wakes up and it was all a dream but as she leaves with Mike his eyes are the yellow werecat's eyes and Vincent Price laughs menacingly.
The make up for the Thriller video was done by genius make up artist, the oscar winning Rick Baker who also did the make up for An American Werewolf In London that has the coolest werewolf transformation scene of any movie.
He did just about every other movie that had great make up in it.
Here are just a few of the films he has worked on:
The Exorcist, Star Wars Episode IV: A New Hope, The Howling, Harry and the Hendersons, Men in Black, How the Grinch Stole Christmas, Planet of the Apes, The Ring, Hellboy, and The Wolfman.
Count Creepyhead Play Doh
I remember playing with the count creepy head play doh set that had a skull face that you put play doh on then could mold a regular face, mummy, vampire, or wolfman face. You could add hair and his cape for effect. You pushed down on his shoulders to remove the heads.
These Mini Monsters came out in 1980. They were 3 1/2 inch figures in the style of Star Wars with limited mobility. They came in glow-in-the-dark versions as well and featured all of your favorite Universal Monsters. Dracula had Bela Lugosi on the package but I always thought the figure looked more like the Christopher Lee version. I thought it was very cool that I could set up my action figures as Halloween Decorations.
Mini Monster Play Case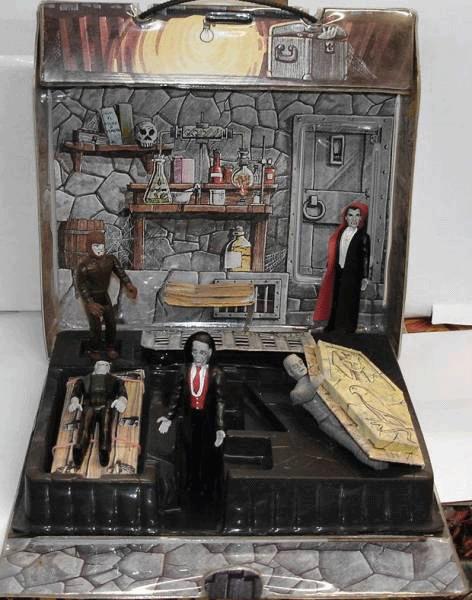 Unfortunately I never did get the Mini Monster Playcase or the Monsterizer. The playcase had a laboratory table, an opening sarcophagus, a barred trap door, and working front door.
Mini Monster Monsterizer
Ben Cooper House Haunter Vampire 1973
My grandma had this rubber Bela Lugosi like Dracula and I remember this giggling caped monster well.
General Mills Monster Cereals
My favorite cereals of all time!
Originally it was shaped like a button with bat marshmallows. I remember when the new pac man-esc ghost shapes came into being.
Count Chocula
frosted chocolate flavored cereal with marshmallow bits and
Franken Berry
frosted strawberry flavored cereal with marshmallow bits first appeared in 1971.
Boo Berry
frosted blue berry cereal with marshmallow bits came out in 1973.
Fruit Brute
frosted fruit flavored cereal with lime flavored marshmallow bits that came out in 1974 and lasted until 1983 was far less popular.
Fruity Yummy Mummy
frosted fruit flavored cereal with vanilla flavored marshmallow bits didn't come out until 1987 and lasted for a short time until 1993!
In 1975 the cereal had an offer for these 8 inch vinyl monsters playmates figures.
Count Chocula and Franken Berry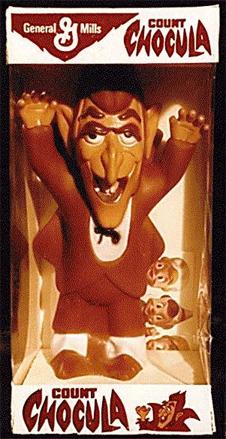 Boo Berry and Fruit Brute
I remember seeing these in the convenience stores and they always reminded me of the lucky times I got one in my sack while trick or treating.
Some of my favorite horror comics were made by Entertaining Comics. I treasured the old comics I got from relatives or yard sales or through trading.
EC made
Tales From the Crypt
from October/November 1950 to February/March 1955,
Vault of Horror
from April/May 1950 to December/January 1955, and
Haunt of Fear
from May/June 1950 to November/December 1954.
They were narrated by the Crypt Keeper, the Vault Keeper, and the Old Witch. You may recognize some of the artists who also worked on EC's Mad comic that turned into Mad Magazine.
Marvel Comics made
Tomb of Dracula
from April 1972 to August 1979,
The Monster of Frankenstein
from January 1973 - September 1975, and
Werewolf by Night
from September 1972 to March 1977.
Finally Halloween has arrived. After making do all year with the stuff that could be found year round, my favorite thing to do was to look at the Halloween aisles in stores. I loved the decorations, costumes, and props. I still love looking at the Halloween aisles.
Break out the craft paper and make some decorations it is time for school.
I always anticipated seeing what creepy costumes my classmates would be wearing. I pity students from any schools that don't allow dressing up.
class photo
Classroom parades
Each class would line up in costume. In my Elementary School the parade started with the kindergartners and progressed through the grades adding classes as they passed them until coming full circle to your own classroom. That way each class got to see every costume. Some schools did it outside or ended in the gym in a very long wavy line that snaked past itself to allow everyone a glimpse.
Time for the party. I remember parties at school, at the library, friend's houses, and at church. You may have had one at a town hall, civic center, rec center, boys and girls club, or right down main street.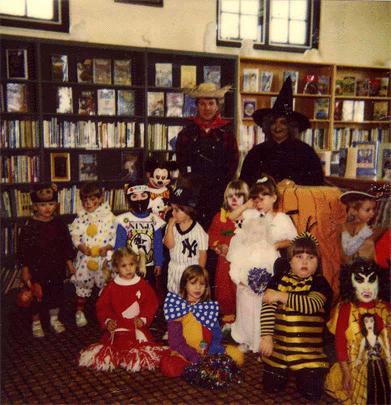 Any Halloween party at the library always included story time and reading some great Halloween themed books.
Other party activities included:
Donuts on a string. First to eat the entire donut with no hands, without it falling wins.
Bobbing for apples while wearing make up is never a good idea. I avoided this most years because I didn't want to ruin my costume.
The Fishing Pond. With a decorated particle board wall, shower curtain, or just a simple sheet this was a fun game of surprise. I remember throwing my clothespin on the line over the top and wondering what prize or goody I would get back.
Bean bag toss. Toss the bean bags through the eyes, nose and mouth of the pumpkin.
The Limbo. Trying to do the limbo in a bulky costume was nearly impossible. Once I won a 5 lb bucket of bubble yum bubble gum.
Pumpkin bowling is harder than it looks because the pumpkin never rolls straight.
Hidden deep in the pumpkin guts were small toys for you to find.
Musical Chairs, hurry and sit when the music ends if you don't find a chair you're out.
Darts and children are probably never a good idea.
Pin the Face on the Pumpkin
Win a cupcake or even an entire cake or other prizes on the Cake Walk. When the music stopped you hoped they would call the number you were standing on.
For several years in a row I won the pumpkin carving or painting contest
This Frankenpumpkin is a pumpkin I designed and carved
At the end of the night there was usually a Halloween dance
Time for the costume contest. Prizes for the funniest, scariest, and most creative. Me and my brother won several years
As a youngster I remember going to grocery stores to pick out Halloween costumes that were found in boxes with a cellophane wrap that you could see into to make your selection. They usually came with a vinyl or cloth costume, and a plastic mask with eye-holes and an elastic band that snapped sometime during the night if not during the school costume parade. They were made by several companies but by far Collegeville and Ben Cooper were the most popular.
Eventually I drifted to the grocery store latex rubber masks. Well at least for a few years until I demanded better quality.
Grocery store make up usually came in displays at the end cap of the aisle
Finally we graduated to the real costumes from the...
The shops I frequented over the years were:
There used to be Tailor Maids in most malls and shopping centers in my area. Now just the original remains and has been going for over 30 years. I bought my first quality masks there.
The Costume Closet was small but as jam packed as you could get full of Halloween goodness. It was here that I first bought professional Halloween make up and prostheses.
Ben Nye makes the best Halloween Make up. The Costume Closet has since changed ownership and the name to Mask Costumes.
The Salt Lake Costume Company ran from 1889-2005 and was three stories of Halloween bliss. They had over 40,000 costumes, accessories, and masks.
For several years I bought masks. My Favorites were made by Don Post.
Don Post Masks
Since masks aren't allowed almost anywhere anymore I have been doing make up, fake hair and teeth for several years.
This is me and my brother last year as the Ghost of Jacob Marley and Frankenstein's Monster.
Check out My Retro Halloween II Article for the rest of our costumes over the years.
All of these quality establishments had plenty of stuff to decorate your yard as well.
Haunted attractions, Spook alleys, and Haunted Houses
Like a beacon in the night the searchlights can be seen from all over the valley during October to draw you to the spook alleys. For those of you that have never been to one they are filled with horror scenes and costumed actors scare you as you walk through.
Castle of chaos
has been going since 2000
Nightmare on 13th
has been going for 20 years
But the Haunted houses from my child hood that I remember are:
The March of Dimes Haunted House
When I was young my father volunteered in this haunted house for fun and a good cause as all proceeds went to charity during October. I remember a pickup truck pulling up with the bed full of latex rubber masks. My dad was a full suited gorilla, werewolf, skeleton, vampire, witch, the Phantom of the Opera and a devil over the years. At the haunted house they had a Frankenstein lab with a huge Jacob's ladder, electric ball, and other loud and dangerous looking equipment. There were monsters at every corner. I was in heaven (even though I was clinging to my dad's leg in fright). I will never forget the building either, it had paintings of classic scenes and portraits of Universal Monsters on the sides. It was next to the Paramount company's Rain Soft artesian water laundry tower. They used to light it up during Halloween to draw the crowds. The building itself was demolished because it was a safety hazard and slowly falling into the creek beside it, but the tower remains and has been there for 100 years.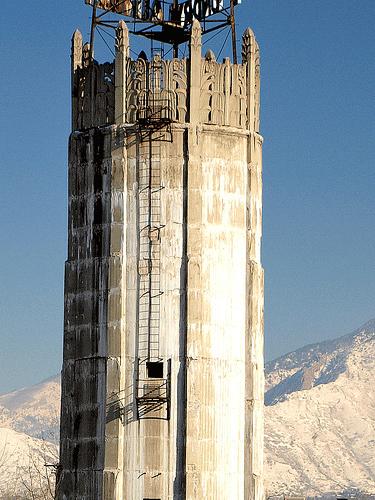 The Cottonwood Paper Mill was built in 1883. In 1893 there was a fire that destroyed most of the existing wooden structures and burned the mass quantities of paper inside. It was used as a dance hall briefly when rebuilt in 1927 until the 1940's. In the 1970's and 1980's it was used as a haunted house. It is now long since abandoned, but the ruins still exist.
[/b]
Sadly I couldn't find any pictures of this spook alley.
Rocky point haunted house
The Rocky Point Haunted House was originally in Ogden on the hillside in a mansion. It went for over 20 years in that location. For a little bit there were two with one in Salt Lake City as well in an abandoned supermarket. They finally closed their doors in 2007 after 26 years.
Utah state hospital haunted castle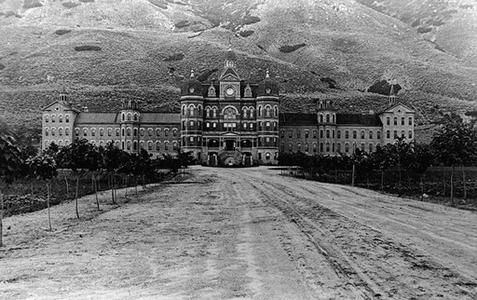 It began as the Utah Territorial Insane Asylum in 1885 with a large castle like building. The main building was demolished in 1976. From 1971 until 1997 the State Hospital ran a Haunted house in it's remaining castle building.
The haunted house actually included the dressed up inmates as part of the production for therapy. The main draw was that people who were actually insane were the ones who were in costume. Obviously none of the violent patients were involved. Pressure from the National Alliance for the Mentally Ill forced them to stop because they said it stereotyped the patients by linking mental illness with monsters and violence in the public's mind.
Dark Rides are haunted houses found in amusement parks and carnivals. They are usually ridden on in a cart on a track like a roller coaster but are sometimes walk through haunted attractions. The most famous of which is the Haunted Mansion.
Haunted Mansion in Disney Land
since 1969
Haunted Mansion in Disney World
since 1971
Phantom Manor at Disney Land Paris
since 1992
Haunted Mansion at Disney Land Tokyo
since 1983
While I have been to Disney Land I am much more familiar with the dark rides at
Lagoon
. Lagoon has been a Utah amusement park since 1886. In October of 1953 much of the park was destroyed by fire. The fire coursed up the midway and destroyed many of the attractions including dark rides like the Ghost Train that was to the south of the Giant Coaster since 1947. The roller coaster's front had to be rebuilt and the funhouse to the north of it was a total loss. The funhouse was rebuilt near the entrance of the park in 1951 and in 1954 the Spook House debuted in the park. The Spook House was moved next to the funhouse in 1961. It was where the Terroride exists today.
In 1966 they built the Haunted Shack in the location of the original funhouse directly to the north of the Giant Coaster.
It was a walk through attraction that had moving stairs to the upper level with spooky monsters, then a spiral slide down that led to the ground level mirror maze.
Out front was a skeleton band of which only the pianist is visible and a giant gorilla in this photo from 1973. The Haunted Shack lasted until the early 1980s.
In 1967 the Terroride replaced the Spook House.
The shutters on the windows open and shut revealing the skeleton and witch inside.
The Mural at the Terroride

The Mural believed to have been painted by William M. Tracy was replaced in 2010 with a talking vulture similar to the animatronic owl that cracks jokes while people wait in line at Dracula's Castle. I think it is a tragedy. Even though the mural was strange with it's skinless snake, large ape man fighting a dragon, oddly out of place octopus, komodo dragon and orangutan. It also had giant spiders and a cheerful looking native fellow. I loved looking at it while waiting in line. The skull headed ghosts and the wrapped mummy were my favorites. I always thought the skulls didn't quite fit with the rest of the picture and may have been part of another original picture that was painted over by a later artist.
Dracula's Castle at Lagoon
In 1974 Dracula's Castle was built near the entrance to the park on the North side.
Dracula peers at you from a balcony above the terrace.
Riders enter carts and are whisked into the castle.
For me Halloween was also a time of mischievousness scaring people etc. There was no better way than pretending to be a dummy decoration in the yard and jumping out at trick or treaters. But your friends who were onto your game were harder to scare. So we told ghost stories. My brother and I still tell them around the campfire when the mood hits, but on Halloween night the only place to tell them was the graveyard.
There are many ghost stories surrounding cemeteries and a good many deal with haunted headstones. While in college we would pilgrimage to the cemetery jumping the wrought iron fence and creep into the shadows under the trees and slip between headstones as we meandered through graves on our way to the weeping woman. Keeping a wary eye out for the random police patrol cruiser spot light. Getting to the base of the statue we would tell the story of an immigrant family losing their children to sickness and the grief stricken mother never getting past it, wasting away at the graveside weeping until she joined her children in death. Her distraught husband commissioned the statue of a bereaved woman holding a wreath. Legend says that the monument weeps at midnight for her children. Some frat house years ago painted luminescent paint on the tear tracks. As you tell the story you shine your light on the face of the woman and when you finish the light goes off leaving glowing tear tracks down the bluish gray face of the statute making a pretty creepy cool effect.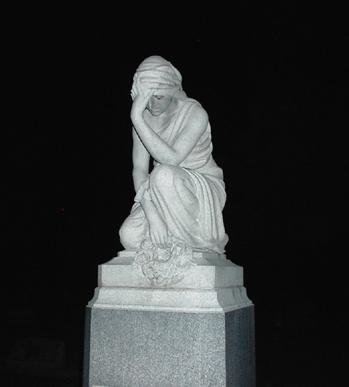 Check out my other Retro Halloween articles:
http://www.retrojunk.com/details_articles/5871/
My Retro Halloween II
has photos of Halloween decorations as well as my costumes over the years since 1977.
http://www.retrojunk.com/details_articles/2215/
My Retro-Halloween
has scary Halloween records, frightful films, and spooky board games.
Special thanks to these websites that I borrowed pictures from.
http://laura.moncur.org/index.php?s=lagoon
http://www.lagoonpark.com/pdf/mediarelations/LagoonPressKit.pdf
http://www.panoramio.com/photo/21638519
http://thegalleryofmonstertoys.com/
http://www.plaidstallions.com/
http://www.culver.lib.in.us/library_vintage_pics.htm
http://www.toymania.com/334archives/monsters/index.htm
http://www.flickr.com/photos/snowwife/3275164689/
http://www.flickr.com/photos/utahvalley/with/4749559857/
http://www.flickr.com/photos/43638298@N00/3016175256/
http://jimsmash.blogspot.com/
http://maskcostumes.com/
http://www.comic-covers.com/Ec/index.html
http://www.lagoonisfun.com/gallery/
http://www.flickr.com/photos/toyranch/sets/72157607064280847/with/2819630636/
http://www.rockypointhauntedhouse.com/
http://www.lagoonpark.com/pdf/mediarelations/LagoonPressKit.pdf