There's The Baron:
Dracula:
The Wolfman:
The Mummy:
The Monster (Frankenstein):
The Hunchback:
The Skeleton Band:
Dr. Jeckyll/Mr Hyde:
The Creature (from the Black Lagoon):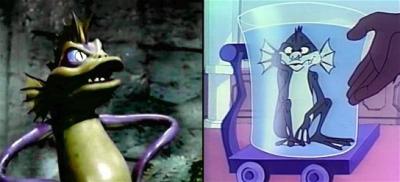 The Invisible Man:
The Giant Ape:
Both films continued to see the occasional airing during the '70s and '80s, and both were released on video numerous times since the late '70s (when MONSTER PARTY was first issued by the now long defunct Magnetic Video Corporation). It's best to avoid older releases of the MONSTER PARTY video, which were taken from a truly awful print of the film. A few years ago, Anchor Bay Entertainment acquired the rights to release MONSTER PARTY, and they lovingly restored it. Unfortunately, since the films were old by the time they hit home video, neither has ever been released with much fanfare, and they're often overlooked on video shelves. Currently, MAD MONSTERS isn't too hard to find on VHS, but it's yet to get the official DVD release that it deserves.
Although neither of Rankin/Bass's monster movies have received the recognition of "Rudolph," they're still beloved by the children who were lucky enough to see them, and by fans of the classic movie monsters.