The swirl of falling leaves and the chill in the air of Autumn always reminds me of ghost stories. Ghost stories were first written down in ancient Greece in Plato's day and people have been getting the shivers from them ever since. As a very small child I remember my dad telling ghost and monster stories to me and my twin brother. He read us some of the classic ghost stories by authors such as Edgar Allen Poe, H.P. Lovecraft, Washington Irving and Charles Dickens.
The classic monsters also were a big part of my growing up and we relished the books that started the gothic tradition of horror tales.
Those stories haunted me for a long time and caused many a sleepless night, but they also started a lifelong passion with reading at a very early age and a fondness of the macabre. Horror stories are a tradition in my family and are always told around campfires, at sleepovers, away at camp, and late at night when the light gets softer and the shadows deeper.
We hunted for scary stories at yard sales, second-hand stores, library sales, and book stores everywhere.
My mother always said no while at the store when we begged for toys, although many of those ended up as Christmas presents later. But when asking for books my mom almost never said no. She would encourage reading at any cost to her pocketbook. She even ordered some horror stories from Avon just for us.
In the school and public libraries we hunted the dark musty shelves for Alfred Hitchcock Stories.
At school there were book order forms passed out in class from Troll, Weekly Reader and Scholastic, not to mention the book mobile.
Most of the year we would get books on sharks or whatever but in October the entire ordering book list was loaded with ghost story paperbacks! We would save up huge mounds of change, beg grandpa and grandma for a buck or two, and gleefully make each and every selection. Of course mom always paid the difference when we came up short. Most kids spent a $1.50 or so but in October my order was always around 20 dollars.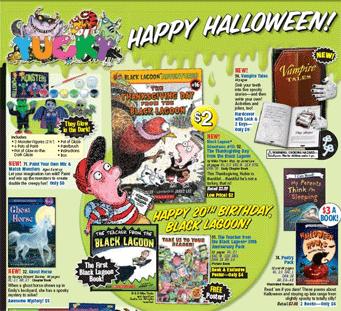 Which-Way books or Choose Your Own Adventure books that had horror themes were favorites.
Spooky series would come out and we would wait each year to see if there was a new Scary Stories To Tell In The Dark, or Tales for the Midnight Hour.
Watermill Classics and Dover Classics had ghost stories in October and still are my favorites.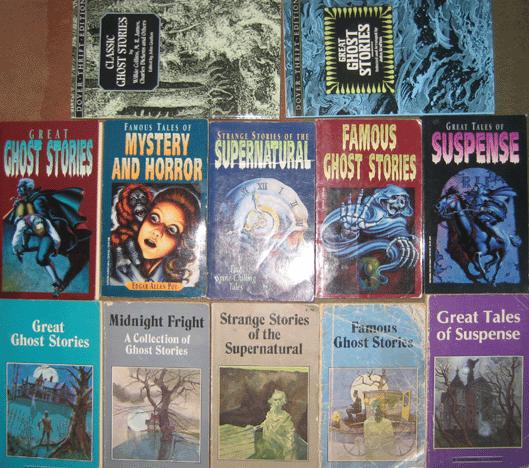 The king of paperback ghost story authors for children is Daniel Cohen with over 30 creepy titles written. Scholastic printed most of his so they were easy to get on the book order.
Paperback ghost stories seem to have been popular as far back as the early 60's and 70's. I occasionally find older books from long before I was in grade school at used book stores.
Many have similar or the same titles so it gets confusing and one must be careful not to get the same book twice or miss out on a different book with the exact same title.
Famous Ghost Stories such as Algernon Blackwood's The Wendigo, The Legend of Sleepy Hollow by Washington Irving, Afterward by Edith Warton, F.Marion Crawford's The Upper Birth, The Moonlit Road by Ambrose pierce, The Signalman and A Christmas Carol by Charles Dickens, and W.W.Jacobs' The Monkey's Paw, have countless versions with different editing or may have even been made into films for T.V. and movies
Many of the spectral tales in these books are edited for children versions of Victorian era ghost stories and can be more than 100 years old. They have been modernized so young readers would understand them. Words and phrases long out of use appear in the original print. To find the original stories you have to look up each individual author or find them in adult fiction anthologies like these
Sadly The Ghost story tradition seems to be dying out even though Halloween is as popular as ever grossing millions in sales of costumes and decorations every year. Few ghost story books are printed these days and when they are they quickly land on the bargain tables at bookstores.
The Goosebumps series seems to be the only relatively new spooky short story books available to young readers. Although many fiction novels for young readers have a horror/ghost theme few are the kind of short ghost stories designed to frighten that I read as a boy, most are funny instead of scary.
The generation before me grew up on Nancy Drew and Hardy Boys mysteries and the current Generation has Harry Potter and Twilight, but my favorite mystery series from childhood was about Johnny Dixon and his friend Professor Childermass. The young boy Johnny and his old grumpy neighbor the Professor would go on adventures and face ghosts, haunted doll houses, mysterious crypts and evil sorcerers and wizards. This excellent series of books were written by the late John Bellairs and the first edition hardbacks which sell for a fortune were illustrated by the famous Edward Gorey.
As my mom would say, "You kids don't stay up too late reading ghost stories or you'll have nightmares!"