Release: December 15, 1986
Release: December 15, 1986
This trailer doesn't have watermarks.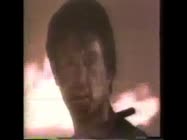 This slightly-clipped TV spot came from a VHS tape full of trailers.
This is the video trailer for the movie.
Supermarket Killer:
"Come on man, screw with me. I'll blow this place up."
Cobretti:
"Go ahead. I don't shop here."
Marion "Cobra" Cobretti:
"This is where the law stops, and I start"
Movie Slogan:
"Crime is a Disease. Meet the cure. -Movie Slogan"