Air travel, without it where would we be? These airlines were there for us initially, but are gone now. lost to the Deregulation of 1978, and to 9/11. These are some of the Authors Favorites.
Air New England
This airline was a commuter favorite in the New England Region. It served Nantucket, as well as Boston. It was founded in 1970. Initially, it had service to Nantucket and Martha's Vineyard, and Boston; out of its hub: Hyannis. In 1971, the airline began service to La Guardia. By the late 70's however, Deregulation was taking hold. On Halloween, 1981, Air New England was shut down. ANE has the distinction of being one of the last stand alone commuter airlines.
Provincetown Boston Airlines
PBA, was founded in 1949, and initially had service between Provincetown and Boston. This changed by the 60s, when Boston-Hyannis service was announced. In 1957, service from Naples, Florida was started. This was due to the fact that some of their aircraft were not heated. In the 80's, PBA became an Eastern Express codeshare. 1984, was a crucial year for PBA; it had absorbed several smaller companies, and the FAA grounded the airline. In 1986, PBA was allowed to resume service. It was also in this year that Bar Harbor Airlines took over.
People Express
People Express, the infamous airline. PEX was founded in 1981, out of Newark,NJ. The airline is famous for the fact that if you wanted to buy any food during the flight, you had to pay for it; for example, Sodas were $0.50 a can. Seating was simple: there was no first class, at least not until the end of the airline's life anyways. In 1985, PEX bought out Frontier. Within the same year, PEX bought PBA and Britt Airways. On February 1, 1987, PEX ceased to exist after being absorbed by Continental.
Branniff
Branniff, was founded in 1928, in Tulsa,Ok. Throughout the 70s, Brannif was doing fine, until 1978 when deregulation took hold. In 1979, Branniff used the concorde, but that proved to be a failure. In 1982, Branniff went into Bankruptcy...
Only to return again, this time frm 1983 to 1989. This branniff, was owned by Hyatt, and did fairly well. But, like most things, it had to have a stopping point. For the third and last time, Brannif was resurrected. This time however, by a pair of shady business men, The two, who shall remain nameless, made off with 14 million dollars of the company's money.
Eastern
Eastern Airlines, was founded in 1926 as an air mail carrer. Eventually, Eddie Rickenbacker, the famous WWI flying ace, was CEO of the company. Until the 1970's, Eastern did well; it was the official airline of Disney World. In 1985 however, Texas Air Corporation, headed by Frank Lorenzo; bought Eastern. This was the beginning of the end for this once grand "Legacy" carrier.
In 1989, a mechanic strike grounded flights, and by 1990, the airline was bankrupt. Actually, all operations ceased the day after Desert Storm began.
Pan Am
Seen in the movie
Hook
, Pan Am was a giant amongst giants, but this airline had humble roots, down in the Florida Keys. Pan Am even had bids for a supersonic aircraft: the Boeing 2707, but it was never built. Eventually, Pan Am got too big for its britches so to speak. The energy crisis of 1973, hit the airline hard, and the airline began to cut costs.
The airline is perhaps famous, or infamous for the event that occured on December 21, 1988: Lockerbie. In 1990, Pan Am was almost taken over by Northwest Airlines, but held out, but finally, in 1991, Pan Am went Bankrupt, and Delta took over its Assets.
Ozark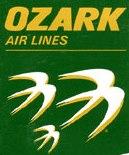 I'll end this article with Ozark. Ozark Airlines was founded in Springfield,Mo in 1943. In the 60's, Ozark's main Hub was St. Louis' Lambert Field. By the time the 70s came around, Ozark was flying to Denver, Louisville,Indianapolis, and many more destinations. By 1986, things were getting tense at KSTL; as TWA was also the main airline at the airport.
In no mood to fight, TWA simply bought Ozark, in 1986.
on a personal note, My step-father's father worked for Ozark, as a mechanic.
So, in closing, I'd like to say that while there are many other airlines that have gone defunct, these are just a few of my favorites.