Since publishing my first article entitled 'Coin-Ops Golden Age... My Personal Top 50 Video Games From the Age of the Arcades' I have wanted to write an article about cheesy 80's movies. I had a burning passion to do an in-depth article using the same format as my first article, but with more complete writing and better pic placement. 'Awesomely Bad Movies from the 80's' has already been done, and I wanted my article to feature movies that were a little more off the beaten path then say 'Revenge of the Nerds' or 'Conan the Barbarian.'
So I searched deep into my memories, looking for obscure or forgotten movies that I saw either with my parents or friends. I really have tried to remember every movie I saw as a kid in the theaters or on HBO. The result is that off and on for the last six months, I have been hunting far and wide for good pictures, watching a lot of bad 80s flicks, and writing like a man possessed. At long last my article is finally nearing completion.
As such, it has become extremely long, and its length far surpasses that of any article ever previously published on RetroJunk. This has lead to some problems about how exactly should I publish it. First I thought about doing a serial, publishing it in small increments over time, but then I realized that I didn't want pieces of my article spread out all over the Article Archives. I wanted to keep everything together. Next I thought about breaking down the article into three pieces and publishing them at the same time. But then I would have to depend on the RJ editors to place the articles in their proper order, and there was no way I could ensure that. So I have decided to publish the whole shebang all at once.
But first I wanted to 'stir the pot a little bit,' and get people warmed up, so it's not quite such a shock when they see an 80 page article (including around 400 pictures) on RJ. This way, hopefully, at least a few people will be waiting for it and with even better luck, some of you might actually read the whole thing. I hope to have it completed in about three weeks (tentatively).
So until then and with out further adieu, I have prepared a 'teaser' to give everyone an early look at films #33, #34, and #35 from the upcoming article entitled 'Movies You Hate to Love.'
#33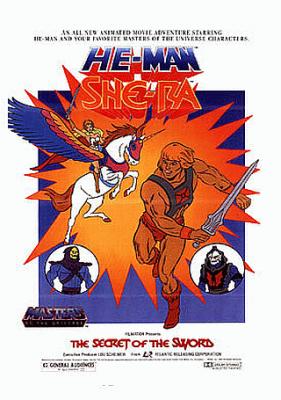 He-Man and She-Ra, the Secret of the Sword

[/align]
"Hmmm, I'm confused.
She's a girl, but somehow
she's turning me on."



Skeletor would have kicked
Hordak's butt in a fight.[/size][/align]If Masters of the Universe is going to be here, then you had to know that The Secret of the Sword was going to be here too. I put 'Secret' higher up on my list for a good reason, I liked it better. As a kid I was crazy about the cartoon, and here literally was the cartoon on the big screen (I later discovered that this movie was five episodes of the new She- Ra TV series strung together). I remember when I saw it at the theater with my friend Victor B in Salem, Oregon, we were both so disappointed because Mattel unfortunately decided to use the film as a way to launch a new series of action figures aimed at girls, i.e. She-Ra. The movie didn't really seem to be about He-man at all, I mean he was in it, but it was really about She-Ra. I don't know by what means Mattel used to get this released theatrically, but Secret signaled the beginning of the end for the original He-Man, both the animated series and the toys. We both hated She-Ra, but we were glad to see our favorite cartoon hero up on the big screen where he belongs.(Released March 1985).



Memorable lines-




"I have the power!"

"A work of art like my famous spiced bread takes time, Cringer."

"You may have defeated us, but you'll never see this child again! Ah-Hahahahahahahaha!"

"By the Power of Grayskull!"

"By the Honor of Grayskull!"

"Razzle dazzle, dizzle drear; horrid vines disappear!"
You suck She-Ra.[/align]
"Oh no! A female He-Man!
Aw-Haw! This is the worst
day of my life!" [/size][/b]
#34




The Last Dragon

[/align][/color]



"Whose the master now beeeyoch!"[/b]

[/align]
"What do you mean Mr. Jackson
already has enough dancers for his video!?"[/b][/align]


Is eThe Last Dragonf going to make my list? eShof nuff!fWith a star named eBruce Leroyf (Leroy Green) and being produced by Motown legend Berry Gordy how could it not be? The plot is pretty simple, Taimak wants to acquire ethe glowf which represents final mastery of martial arts. Standing in his way is Shof Nuffand and his group of minions who believe he is 'The Master.'


As a kid-
I begged and pleaded with my Mom to go see this. Finally, after weeks of the "Can we go see Last Dragon? Can we go see Last dragon? Can we go see Last Dragon" , treatment she finally caved in. Predictably I loved it and she hated it. As a kid what is not to love? Lots of karate fighting, plus Vanity was so hot she could melt the sun. TLD would return to torture my Mom for years to come because of all the times it was on HBO and cable. Sorry Mom, but thank you.
As an adult-
This movie is the epitome of what my article is about. Itfs cheezy, poorly acted, more poorly written, the soundtrack is crap, as are the special effects, but somehow... even to this day... it still manages to be a lot of fun! Especially on a rainy Saturday afternoon with a big tub of popcorn.(Released March 1985).
Memorable lines-
'I am the Shogun of Harlem.'
'Who's the master?'
'Kiss my converse?'
'Get up, Leroy. I got somethin' real fo' yo' ass in these hands.
He must be The Master if he can walk around
Harlem dressed like this.[/b][/align]
I still think she's very cute.[/b]

[/align]