Previously on RetroJunk.com...
"Some of you are probably wondering to yourself, "How come I never heard of this film?" Well, chances are you probably HAVE heard of it, but as something else. In 1984, a comedy trio known as The Funny Boys (chances are by that name, they weren't really that funny) probably saw this film and made a second English dub known as B.C. Rock (above).
This version contained rock music by bands like Genesis, cavemen that spoke perfect English and a main caveman named Stewie Babcock (I'm not kidding). I would've definately reviewed this version, but I sadly couldn't find the film anywhere..."
- An excerpt from the MISSING LINK review, written by Nails105
And now, on to the review...
For more pictures by yours truly, check out Cartoonlover16's account on Deviantart.com.
B.C. Rock (1984)
Directed By: Picha
Starring: James Vallely, Jonathan Schmock, Joesph Plewa, Christopher Guest, Bob Kaliban, Clark Warren
and
Bill Murray
as The Dragon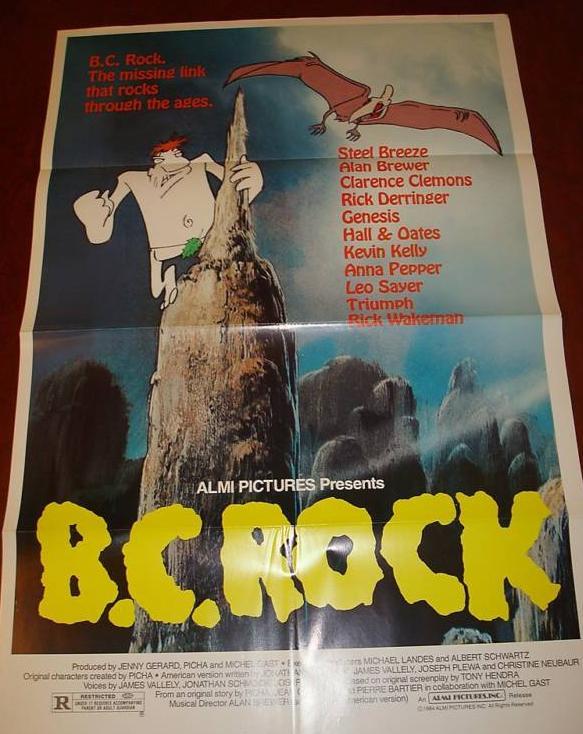 "You darn pterodactyls get off my lawn!"
And here I am, one year later after my review of the 1980 film
The Missing Link
, reviewing the American dub that was released 4 years later, known as
B.C. Rock
. Yeah, I know I'm technically reviewing the same movie, but even before I reviewed
The Missing Link
, I've been a little curious of watching this dub. Because we all know that the American dubbing of a foreign film is always stupider than the original. But I never thought that my chance of seeing this dub would be so much easier than I thought.
Not too long ago, I found this DVD copy of the movie at my local video store, who's owner usually pre-orders DVDs from all over the web. I'm guessing that someone in my hometown knew about the film as well, and pre-ordered the film to buy. The owner of the video store was intrigued by the film and it's shitty DVD cover so much, he decided to order another copy for rental. I guess this is a perfect case of "good things come to those who wait.".
To save you the time of leaving this article to get some info on the film's history, I'll give you a quick recap. In 1980, there was an animated film known as
Le Chainon Manquant
, created by Belgian cartoonist Picha, who surprisingly was more raunchy than Ralph Bakshi. Though recieving mixed reviews in France, it was featured in the 1980 Cannes Awards.
An English dub was written by English satrist Tony Hendra, who you may know as Ian Faith, the band manager from
This Is Spinal Tap
. It had funny visual gags, an emotional ending, cool animation, and best of all, catchy songs by Leo Sayer. Truly one of the more underrated animated films out there. Meanwhile, some American pig-dogs must've saw this and thought to themselves, "Hey! This is great, but it's missing something...how about calling the main caveman 'Stewie Babcock'?" And so, in 1984, those same guys (known as "The Funny Boys") somehow got the rights of the film and redubbed the whole thing, and plopped in video stores everywhere, hoping to make a quick buck out of this. Well, after that movie came out, the only thing they got out of this was a little taste of unemployment. This is the only known project by this duo, and to be honest...no one really cared.
Greetings from Easter Island!
Looks like Slick doesn't seem to mind carrying a heavy, naked human to his destination.
Actually, I was wrong. People did care. As extensive research on Google shows me, there are people who say that this film made them laugh soooo hard when they first saw it and some even claim it's one of the best buddy films of all time. Here are some sample reviews:
.......
I love this movie and I would highly recommend it to anyone wanting a good laugh, with B.C. Rock in your library you can't go wrong. Hopefully in time this animation will eventually come to a dvd format, but until then it is worth keeping the vcr dusted off if only just to watch this film. I truly hope you will enjoy this movie as much my family and I have and if you get a hold of a copy don't let it go, it has been very hard for me to find but was well worth the search and the cash.Happy Hunting.
-devildriver, Yahoo! Movies
.......
I too have looked for this movie for a very long time. Why it was never very sucessfull I'll never unerstand. The general public are idiots! It was on VHS special order for an outrageous price ($60) I would now like to find it on DVD even if it is poor quality (for a reasonable price) Something is better than nothing. Any help would be greatly appreciated.
-Duane, Yahoo! Movies
........
MY KIDS (NOW GROWN-UP) & I BOUGHT THIS MOVIE BACK IN 1986. IN FACT I'VE PURCHASED THIS MOVIE 3 TIMES. PLEOPLE THAT HAVE SEEN AT MY HOUSE LIKED IT SO WELL , THEY STOLE IT FROM ME! AND NOW I CANT SEEM TO FIND IT ANYWHERE! PLEASE HELP IF YOU CAN , BY LETTING ME KNOW WHERE I MIGHT FIND IT AGAIN. THANX
-Pammie2Shuz, Yahoo! Movies
........
You'll notice that there's one thing common with these three reviews along with most reviews you'll see on the net: these are reviews written by people
who haven't seen the film in years
. Sure, they might've saw it multiple times in the past and might remember it by heart, but they don't write that down in their reviews, so how are you supposed to know? Well, to those who've seen this movie in the past and wish to see this movie again....you're not missing much.
"Stroke....stroke..."
Stewie Babcock visits the Elephant Graveyard.
WHAT'S THE FILM ABOUT?
In the age of the caveman, a young caveman named "Stewie Babcock" (Vallely) is abandoned by his own kind when he was just a baby. Luckily, he's raised by a brontosaurus named Bone (Plewa) and a smart-ass pterodactyl named Slick (Schmock). As Stewie grows up into an adult, he decides to go out into the world to try and adapt to his environment and make something out of himself.
WHAT'S GOOD ABOUT IT?
With the exception of a couple Leo Sayer songs, this version contains entirely different music that was made to attract a wider audience, songs from artists such as Hall & Oates, Steel Breeze, Rick Wakeman, Genesis, and more. And it really does put the "rock" in "B.C. Rock".
My personal favorite songs are "Afraid Of The Night" by Rick Derringer, "Flyin'" by Anna Pepper, and the theme song "This Time 'Round" by Steel Breeze. You can hear the songs here:
This version actually contains scenes that aren't shown in the original English version on Youtube. There's a scene where "Stewie" discovers fire (and eggs over easy), "Stewie" wanders through a barren wasteland to the tune "Empty Inside" by Triumph, and baby "Stewie" has a scary encounter with a blue anaconda who has a fondness for mangos (and speaking like Clint Eastwood). It just makes me crave these scenes in it's original English dub instead of hearing...this.
WHAT'S BAD ABOUT IT?
Pretty much everything else.
Though the movie claims to have voice talent done by the comedy duo
The Funny Boys
, they sure don't act like they're funny. Their voice acting is obnoxious and can be downright lazy at times, especially the voice actor for Bone. And I've seen this duo on Youtube, and they're actually not bad. Maybe they just had an off-day in the recording studio while doing this.
As for the humour in this one, they do keep the delightful visual gags from the previous versions, but it's like they're not even there once you hear the dialogue in this. What this basically is is just an adult version of
The Magic Voyage
or
Arabian Knight
. The dialogue sounds like it's being made up by the actors as they watch the movie, (but to be fair, it does take a break from all the rambling in certain scenes and lets the music and actions and emotions of the characters do all the work), and the jokes are merely caveman puns (an elderly caveman calls his baby boy "a chip off the old rock").
Not sounding like the film you remember, does it?
This is about as what you're gonna get when it comes to drama in this version.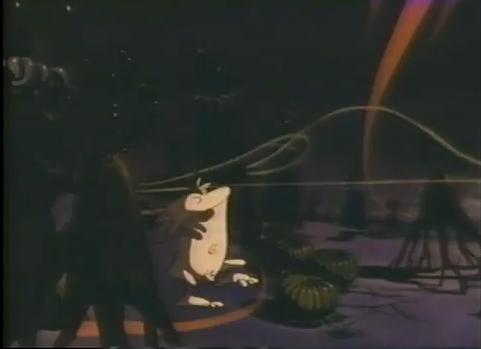 "Damn! Shoulda brought Raid with me!"
"WOAH! Two dinos doin' it!"
"Hey, baby! Once phones are invented, what'll be your number?"
BOTTOM LINE:
Despite the lazy voice-acting and ridiculous writing that ruins some great gags from the original dub, I'm glad to have finally seen this movie. It's still has the same cool animation, some great newly-added music, and hilarious sight gags. It's not the worst thing ever made, but if you want to watch the film, just watch the original English dub on Youtube. It's a much smarter film and doesn't rely on too much dialogue to make it entertaining.
But look on the bright side, at least it doesn't have a giant octopus saving everybody on the Titanic. That's a major plus.
OVERALL SCORE:

3/5
See ya!