Greetings gut buckets and welcome back. Time to wipe the crud from your eye sockets and bite the wind of another article. This time we take a trip back to a somewhat weird but pleasant little town that I like to call Wellsville. The Adventures of Pete & Pete was a children's show like no other. Labeled by some websites as "the greatest children's show ever" (and how can I argue?), it revolved around the lives of two red headed brothers with the same name who shared many strange and fun adventures.Note: I cannot make complete lists of characters and episodes because it would simply make the article to long. Your best bet for complete character and episode lists is to look them up on wikipedia.org.
The show aired from 1993 to 1996 (seems like such a long time ago doesn't it?) on Nickelodeon when it was still the #1 network for kids, back before it started to go downhill which I won't get into here since retrojunk is practically littered with articles on the subject. As I said above, the show was so titled because it revolved around the everyday lives of Pete Wrigley and, well, Pete Wrigley both "carrot heads", as their nemesis "Endless" Mike Hellstrom would call them and the stories were usually narrated by Older Pete. Thanks to Wellsville's surrealism however, everyday life there is anything but ordinary. You name it, this towns got it.
From a suburban superhero to a mysterious ice cream man. Pete & Pete was created by two weirdo geniuses named Will McRobb and Chris Viscardi when they combined the elements of weirdness, comedy and beauty. It all started with a series of shorts, fifteen I think, that aired from 1989 to 1991 and ran anywhere from thirty to sixty seconds each giving us mere brief glimpses into life in Wellsville. the executives at Nick loved the shorts so much that they asked McRobb and Viscardi to make full blown episodes to be aired as specials as a test run for the series. There are five specials in all which originally aired between 1991 and 1992. These specials did well enough to lead us back to 1993 and the airing of the official weekly series. It should be noted that there are two different versions of the special "What We Did On Our Summer Vacation". As the first of the specials it started out without the title sequence and with a different soundtrack which included a song by (gasp!) R.E.M., hence their band leader Micheal Stipe appearing in a scene as ice cream man Captain Scrummy."You look like a bonafied Sludgesicle man". Once the series began Summer Vacation was edited to include the, now legendary, title sequence and a new soundtrack.
Speaking of the soundtrack The Adventures Of Pete & Pete is also somewhat rare as it makes a big deal out of music use. The soundtrack is made up mostly of music by Indy (independant) groups, some of whom first became known because of Pete & Pete. Here is a list of some of the music that was featured on the show. I have compiled my own home made album containing most of the music, the other two are factory made.
Polaris: Music From The Adventures Of Pete & Pete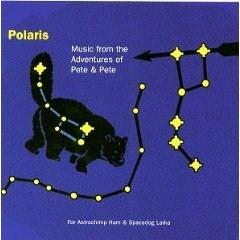 This is the show's musical centerpiece. Polaris was also a side project of Mark Mulcahy, the band leader of Miracle Legion. The album contains the theme song "Hey Sandy", the lovely "She Is Staggering", "Waiting For October", Younger Pete's favorite song "Summer Baby" and more all presented here in their entirety. Nick and Polaris also released an album on audio tape called "Happily Deranged" which contains "Hey Sandy", "Coronado II", and "Ivy Boy" and includes an opening and closing by Older Pete to make it sound like an episode of the show. The album was a promotional item obtained by sending in proof of purchases from Kellogg's Frosted Mini Wheats. This is one of my all time favorite albums. And in case you're wondering, the small print at the bottom of the album cover reads: "for Astrochimp Ham & Spacedog Laika".
The Adventures Of Pete & Pete: Happily Deranged Hits
This is an album that I threw together myself, and yes, I also designed the artwork on the cover. Well okay, half the artwork on the cover. This album contains songs by artists besides Polaris that were used on the show...in all three seasons! It contains fifteen tracks in all so far. Artists include Magnetic Fields, The Apples In Stereo, Poi Dog Pondering (from version 1 of the Summer Vacation special), and even a song by Sid Straw who also played Miss Fingerwood the math teacher (aka "Cooter") on the show. "Heart x Soul = Rock n' Roll".
I will not make a complete list of this album's tracks here to avoid the risk of someone out there copying my concept. Note: The band leader of Magnetic Fields also started two other bands that are featured on this album as well: The 6ths and Gothic Archies. And no, I'm not selling copies of it. However, if you would like to view the list that made this album possible visit The Website Of Pete & Pete at pnp.norecess.org and click music.
Natural Ingredients
by Luscious Jackson
There isn't much to say about this one except that all of it's songs except one were played at the school dance in season 3's "Dance Fever". I don't own a copy of this album but I have listened to samples of the songs online and it doesn't sound like something I would be in a hurry to add to my CD collection.
McRobb and Viscardi chose well when creating the soundtrack because these songs match the weird nature of Pete & Pete perfectly and most of them are really fun to listen to.
Rock out with The Blowholes! Marmalaide Cream!
The show lasted for three seasons each packed with weirdness and fun. During it's run on TV Nick released several VHS's containing at least two episodes each. They are as follows:
Classic Petes
Episodes include: "What We Did On Our Summer Vacation" and "Apocolypse Pete" plus the short "Artie's Workout".
School Dazed
Episodes include: "Day of the Dot" and "Tool and Die" plus the short "Stare Master" and a free "magic motion eyeball" card which enabled you the viewer to have a staring contest with Younger Pete in 3D! Pipe!
Farewell My Little Viking
Episodes include: "Farewell My Little Viking" parts 1 and 2 edited together into one big episode aptly accompanied by the short "Artie, the Strongest Man in the World".
These home video releases were meant to be a promotion for the show as well as a possible launch for an extended release collection but I guess, being as how each tape only contained two episodes and one short, they didn't do to well. Fortunately Nick and Paramount have finally answered our prayers for a DVD release of the show...well at least 75% of it.
The Adventures of Pete & Pete
Season 1
The first season of Pete & Pete is sort of infamous for being possibly the shortest first season of any children's show since it only consists of eight episodes. Some of you may remember that annoying pink stripe across the screen in "Day of the Dot". Unfortunately they were unable to fix that during the remastering process because the distortion is on the tape that was used to record the episode, but it's still enjoyable. My favorite episode from this season is "The Nightcrawlers". I remember wanting to try breaking the sleeplessness record for myself but always being afraid that I would eventually become delusional and black out like the kids did in the episode. "The Nightcrawlers" is kind of infamous in itself as being one of the few episodes to be filmed almost entirely at night where as most of the episodes in the series were filmed during the day. It also marks the only appearances of Younger Pete's friends Pervis and Pink Eye. The DVD set contains all eight episodes from season 1, four specials: "The Valentine's Day Massacre", "What We Did On Our Summer Vacation", "Apocolypse Pete" and "New Year's Pete" (one of only two episodes to be narrated by Younger Pete. The other one being season 3's "Crisis In The Love Zone") and two shorts: "The Burping Room" and "Mom's Plate". I don't know about you guys but I was pretty psyched when I found out about this release and picked up a copy as soon as it came out. In fact, I was watching it as I wrote this article.
The Adventures of Pete & Pete
Season 2
The second season is probably best known for the official Halloween episode "Halloweenie" which has been widely regarded as "the greatest episode of the greatest children's show ever". I also like "The Call" about a supposedly cursed pay phone that has been ringing off the hook for twenty seven years (it turned out to be a love story starring the Pete's mom) but my favorite episode here would have to be "Yellow Fever" where a long bus ride takes us on a journey to the inner most recesses of our own phsychies. it also contains one of Bus Driver Stu's funniest lines: "Passengers will refrain from KILLING MY SOUL!!!". Season 2 is considered to be the best of the best of Pete and Pete. Sadley Artie left town in the two part episode "Farewell My Little Viking" because Younger Pete didn't need him anymore. No one knows were Artie went but hopefully he found a new little viking to help. Little Viking is the only episode in the series to be aired in more than one part and the big artie goodbye at the end was very touching. I come close to crying every time I watch it. Wherever you are Artie, we'll never forget you, you big beautiful mutant. *sniff*
The Adventures of Pete & Pete
Season 3
Teasing isn't it?
This is the only image of season 3 that has been revealed to the public. Apparently though the revealing of a DVD's cover art does not necessarily guarantee it's release. I understand that there was a problem with season 3 for some time. It may have had something to do with Wellsville Productions, a special production company that was formed exclusively for this show starting with the third season, becoming defunct after the show was cancelled. They may have also had a problem renewing the rights to some of the songs in this season, the same problem that ABC and Anchor Bay are having with The Wonder Years. There's also the little matter of Paramount joining forces with Dreamworks so that they can show The Penguins of Madagascar on Nick. Apparently it was worth dropping Nick Rewind and all DVDs that went with it for one measly show. Don't get me wrong, Penguins is very cute and the computer animation is pretty awesome. Heck, it's even gotten it's own Happy Meal deal at Mc Donald's, but I don't think it was worth cancelling Nick Rewind for. "Cute n' cuddely, boys". In any case this season was to contain all thirteen episodes from season 3, including the official Christmas episode "Oh, Christmas Pete" in which Younger Pete battles the garbage man who picks up your tree after Christmas in a desperate attempt to save the holiday spirit in Wellsville (sounds like my kind of Christmas special), "Road Warrior" which features Mr. Slurm's most famous line on the show: "Congradulations Mr. Wrigley, you're dead." and my favorite episode of the season "All Nighter" in which Younger Pete and two of his friends, Monica the Kreb Scout and Wayne the Pain get locked inside the school building over night by mistake, one special which was possibly the non series version of Summer Vacation, and I assume the last (if my count is right) eight shorts, possibly ten if the two VHS exclusive shorts were to be included. Also, Bus Driver Stu takes Artie's place as the younger kid's protector. He'd gone from love lorne to super cop, it's pretty funny but I'm not sure if I like it. Sadly, it doesn't look like we will ever see a DVD release of this season but at least we can still drool over the picture. Or you can watch full episodes from season 3 on Google video. The only comfort I can offer is this: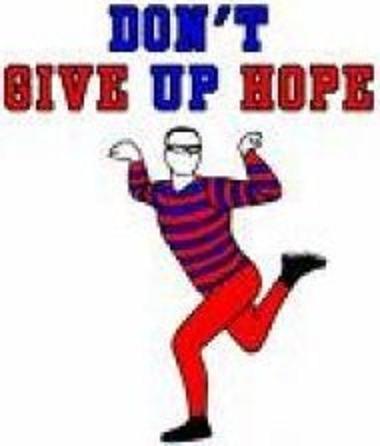 Since Pete & Pete, it's creators Will McRobb and Chris Viscardi have worked together on two other projects. Their second project was the movie Snow Day.
Released in 2000, this was originally conceived as the Pete & Pete movie but Nick and Paramount are not interested in any project related to Pete & Pete at this time. As such, the characters and location were changed. The two main heroes were now Hal and Nat, they had a kid brother and a different bully and the location was confirmed as being somewhere in up state New York. We were in for a treat however as three actors from Pete & Pete returned for Snow Day, they were: Damien Young (originally Bus Driver Stu he was now Principal Weaver), Iggy Pop (originally Mr. "Pop" Mecklinburgh he was now Mr. Zellwegger) and *gasp!* Chris Elliot (originally an electric meter man he was now the evil Snow Plow Man). It also marked the introduction to a new young talent to Nick by the name of Josh Peck who was the new Wayne. Bill Korn made an appearance here too but his overall personality was slightly different as he was no longer a prankster or wore glasses. There was also a scene were Hal used Younger Pete's phrase "Blowhole". Watch the movie and see how many more Pete & Pete Easter eggs
you
can find.
More recently McRobb and Viscardi started a second series together.
Entitled
The Assistants
the new show began airing on July 10th 2009 on Nick's premium cable channel The N. This show revolves around an older group of kids (college level to be exact) who work at a movie company called Kinky Bunny Pictures which is owned by an eccentric Hollywood mogul named Zack. It's mostly about the newest assistant Gillian and the weird, sometimes outrageous, odd jobs that Zack assigns her. Always desperate to prove herself, Gillian is willing to do these jobs no matter how strange. This is The N's first original sitcom in three years. The second season will begin airing in summer 2010.
Well that pretty much catches us up to the present day and it looks like Will McRobb and Chris Viscardi are still busy sending us their brand of laughs. It has taken me awhile to write this article so I hope everyone enjoys it. But wait, there's more. The Nickelodeon fun doesn't stop here. I'm planning my next article for Are You Afraid of the Dark? So join me next time if you dare, but be sure to bring a flashlight. Until then, I'll leave the Artie Light on for you.