When most people think of 90s music, they are either thrown back to the Seattle Grunge scene, or the boy band craze that consumed the radio waves for a period of about 5 years. However, there is a small era of music in the mid 90s that is one of the defining memories of my childhood. I like to call that era the Female Rock Era. I use the term Rock loosely, so before you start analyzing what it is exactly that constitutes rock music, understand that for this purpose the term Rock covers a rather broad spectrum. With that being said, her is a list of female artists that helped define 90s music for me. These women broke the female stereotype of bubble gum, radio friendly pop music. They were artists more than they were entertainers. They followed in the footsteps of the great Janis Joplin, and produced music that was passionate, meaningful, and had a message. They looked to fill the airwaves of the 90s with melodic tunes that gripped your soul, and left you wanting more. So here is my tribute to those female rockers whose music provided a decent portion of the soundtrack to my childhood.
1. Paula Cole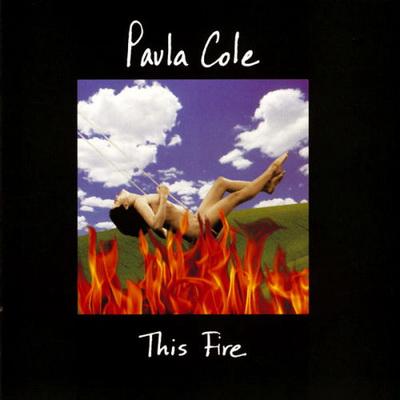 Paula Cole is by far my favorite female artist of the 90s, and one of my favorite artists of all time. Although she recorded the album Habinger in the early 90s, it wasn't until her breakthrough album This Fire that she found mainstream notoriety. With This Fire Spawning such hits like I Don't Want To Waite (never mind the Dawsons Creek connection, this song was really deep, just listen to the lyrics), Where Have All The Cowboys Gone and Me, Paula Cole found herself thrust into the public eye, but unlike most entertainers who hit it big, Paula bucked the system and fought the push to sell out. I can remember her not shaving her armpits in protest against the Barbie image that females were compared to. If you want to truly experience her genius as an artist, you have to listen to her entire catalog of music from Habinger to Courage. Her raw emotion that she puts into every song, combined with her unique musical style makes for a great listening experience.
2. Joan Osborne
Labeled as a one hit wonder, Joan Osbornes musical talents far exceed that of her radio friendly tune One Of Us, which is not an accurate representation of her musical style. In fact, the entire album Relish, from which the aforementioned hit was produced, is one of my all time favorites from the 90s. Despite One Of Us being a one hit wonder, and grossly overplayed on the radio, it is still one of those songs that takes me back to my childhood any time I'm within earshot. Although the video to the song, which portrayed Joan singing to the camera with a fake nose ring, received some heat because of her fake piercing, it is still a defining video of the 90s. That being said, her work beyond that album has since been less popular, but still some of the best music around. Admit it, when the song comes one you inadvertently find yourself tapping your hands on the steering wheel singing the words yeah, yeah, God is good...What if God was one of us...
3. Jewel
Okay, so this is a great point in case for the this is not rock music argument, but she still had the ability to move you emotionally with her vocal power. She might not have the range of a Mariah Carey, or the edge of and Aretha Franklin, but her music was unorthodox, and her vocals, although a bit quirky, had a way of drawing you in. From songs like You Were Meant For Me, Hands, Who Will Save Your Soul, and of course Foolish Games, you can see the incredible talent of Jewel as an artist. Her diverse musical influences, and unique vocals (she was a yodeling champ) create a tapestry of songs that range form folk to pop, all of which are catchy in their own way. Her Album Pieces Of You is a landmark 90s album for my youth.
4. Meredith Brooks
Meredith Brooks came out of nowhere as kind of a female post-grunge musician, with a little bit of a manufactured feel to her music. Don't get me wrong, I love her style, but it was definitely an industry born sound. That being said, her break out hit B...well you probably know what it is, had a long stay on radio waves during the 90s with a video to go with it. Her Album Blurring The Edges is perhaps her most well known album, and honestly, the only one Ive ever listened to extensively. But that hasn't stopped her songs from having a constant recurrence on my iPod.
5. Alanis Morissette
Although Jagged Little Pill is one of my favorite albums of all time, Alanis Morissette has many more albums that are just as good as her 90s masterpiece. There's something about her nasally, whining voice that is strangely soothing and nostalgic. Her later hit single Hands Clean is a perfect example of her ability to take you back to better times. Hands Clean was released in early 2000s, but every time I hear it, I think of my years growing up in the 90s. At any rate, she is a staple of my youth and seems to keep cranking out the hits. Still, there's nothing like the feeling you get when You Learn comes and the radio, and you find yourself singing along without missing a word.
6. Sheryl Crow
Probably the most commercially successful artist of all the artists on the list, Sheryl Crow seemed to turn everything she touched into gold. Every album, single, and video she released was met with overwhelmingly positive reception from the masses. Sure there might have been some critics, but it seemed for a while that she had taken over the radio waves, and music video channels. Although I don't actually own a single full album by her, rest assured that Ive got all the essentials on my iPod. Who could forget the somber tune of If It Makes You Happy and the extremely catchy Every Day Is A Winding Road, both of which came from her self-titled 96 release. Now that I think about it, 1996 seemed to really define the height of this so-called Female Rocker era. A good time to be alive, I say.
7. Fiona Apple
Fiona is probably the weirdest, most unorthodox artist on the list. I can remember watching the video for Criminal and it actually freaked me out a little. But that was her artistic, awkward style. Yet again 1996 was the platform from which Fiona Apple sprang into the mainstream with her debut album Tidal. Unfortunately Fiona has only released 2 albums since that magical year where everything seemed to click for female artists. Nonetheless, she has earned a place of heavy rotation on my music library.
8. Shawn Colvin
Finally, we reach our last person on the list, who is yet another example of an argument against the use of the term Rocker. That aside, you cant deny the incredible talent of Shawn Colvin. Its a shame that none of her other songs got as much air time as Sunny Came Home, which is one of my favorites, but by far not my only favorite. Surprise, surprise, her breakthrough album was A Few Small Repairs, which was released in...drum roll please...you guessed it, 1996. It is probably the epitome of her artistic endeavors, but that's not to say her other works are less enjoyable. Still, there's nothing like the scene in the music video for Sunny Came Home when she is lying on the bed and is suddenly sucked into it like quicksand. Ahhhh The 90s!
Well I could go on and on, and Im sure I missed some of your favorites. So to help calm the masses who may have been offended by an omission of a certain artist, I compiled a list of honorable mentions who are just as incredible, but due to time constraints, didn't get the attention they deserved. So with that, I hope you all are inspired to reach back to the incredible music of the 90s, and revisit some of these phenomenal musicians who helped mold, and shape our childhoods.
Honorable Mentions:
Melissa Ethridge
Tori Amos
Natalie Merchant
Natalie Imbruglia
Tracy Bonham
Tracy Chapman
Sinead OConnor