Hello Retrojunk readers, I would like to spend a few moments talking about the underrated retro-actress, Sarah Douglas, queen of the sequel. If you have never heard of Sarah Douglas before, don't worry you're not alone. But I would be willing to bet that you have seen her face before.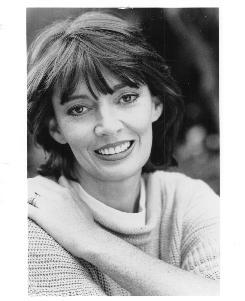 Recognize her now? Odds are if you do recognize her, you have seen her in a sequel of some kind. I have dubbed her the "Unofficial Queen of the Sequel", and I suggest you all bow down before her. Or at least that's what some of her more famous roles would have you do before her.
She was born Dec. 12, 1952 in Stratford-on-Avon, England. Ever since an early age, Sarah knew she wanted to be an actress. Butbefore she found her break, she worked odd jobs in a factory and a hospital before undertaking a teaching course in English and Drama in France. Howeve it wasn't where her heart was and she soon abandoned it in favor of acting. She acted in many television shows and movies, but it was a sequel that catapulted her to quasi-stardom
Her first sequel also happens to be the biggest and most successful. And odds are this is the role you remember her for. She played the sexy Kryptonian villainess Ursa as a cameo in the first Superman movie and as a full fledged role in the 1980 sequel, "Superman 2". She was evil, sadistic, and beautiful, a perfect foil for Lois Lane and the big blue boy scout.
After Superman, she did a couple of stints on the small screen, which included her playing the role of Pamela in the classic sci-fi television mini-series "V: The Final Battle", before starring in her next major production sequel 1984's "Conan the Destroyer".
In this sequel to the utterly awesome fantasy movie "Conan the Barbarian", she played the evil, seductive, and utterly manipulative Queen Taramis. She tricks Conan into finding an ancient treasure to reawaken a sleeping beast-god and tries to sacrifice her young, blonde, virginal niece to the beast when it awakens... if that isn't evil I don't know what is.
After her second major sequel, Sarah did A LOT of television work, having roles or guest spots on many major television shows including Falcon Crest, Murder She Wrote, Magnum PI, Matlock, and Remington Steele.
But still, the sequel called to her and she wasn't away long and starred in the 1989 sequel to the cult classic B-movie "The Swamp Thing". Imaginatively titled "The Return of Swamp Thing", she played Dr. Lana Zurrell, assistant and love interest to the movies main villain Dr. Anton Arcane.
The 90's were Sarah's golden age in terms of roles in sequels. Unfortunately, this was a case of quantity over quality, and most of these movies are B-grade at best, and MST3000 fodder at their worst. Unfortunately (or fortunately), I haven't been able to find any pictures of Sarah in these movies, so you'll just have to settle for movie covers.
Her first sequel of the 90's was the awful, horrifying, and utterly sad sequel to the cheesy fantasy masterpiece "The Beastmaster". The 1991 movie, "Beastmaster 2; Through the Portal of Time" is one of the worst movies ever made in my opinion. She played the witch Lyrann who tries to manipulate an evil warlord into stealing a nuclear missile from modern day Earth to rule their fantasy world... like I said, one of the worst movies ever. Even Sarah, along with a very young Kari Wurher couldn't save this piece of garbage.
The next batch of movies are of such low-quality B-grade, late night Cinimax movie fare that I will not even bother with pictures. But after Beastmaster 2, Sarah starred in many low-budget horror, fantasy, and sci-fi sequels including "Puppet Master 3", "Meatballs 4", "Return of the Living Dead 3", "Mirror, Mirror 2", and the lowest of the low... "Chained Heat 3, Hell Mountain" (I think this movie is so bad even Cinimax won't play it).
So although her sequel career started out with a huge bang, it ended with a pathetic whimper. But Sarah has proven to be nothing if not versatile, switching from doing low-grade sequels, she began using her other talents, including her distinctive voice, to get more respectable work. She has done voice-over work for such great animated series such as Gargoyles, Batman Beyond, Johnny Quest, Heavy Gear, and finally coming full circle playing Mala in Superman the animated series.
So although she is best known for playing beautiful, but evil and manipulative villains in many sequels, she is a sweet, gifted, and versatile actress and has done many non-sequel projects including some classic television shows and cartoons. Still, don't be surprised if some day in the not to distant future you will see Sarah Douglas in a high production sequel once again. With all the comic book sequels being made lately, I am sure that it is only a matter of time before the Queen of the sequel is firmly back upon her throne.