Being an die hard Classic Rock and Hair Metal fan, guitar playing has always played an important role in my life. Some of my most memorable moments as a child have been listening to my favorite players shreddin' it up. There are certainly many great players in rock and metal history and I'm sorry if I didn't cover one of your favorites, but this is, after all, my top 20 list.
In this list I order them in ranking of who I think is best.
20 Carlos Cavazo of Quiet Riot
This name may be unfamiliar to some, but Carlos Cavazo is a very good guitarist. Quiet Riot singer Kevin DuBrow hired Carlos in 1981 after Randy Rhoads left to join Ozzy. Thanks to Carlos, Quiet Riot's popularity picked up by 1983 with great songs like "Cum On Feel the Noize", "Metal Health (Bang Your Head)", and "Mama Weer All Crazee Now". If you are unfamiliar with Cavazo's work, I strongly recommend finding a copy of the albums "Metal Health" and "Condition Critical" by Quiet Riot.
19 Warren DeMartini of Ratt
Nicknamed "Torch", DeMartini is one of the finest shredders I have ever heard. His strength as a guitar player helped to boost Ratt's popularity in the early to mid 80s. With fantastic guitar work in songs such as "Round and Round", "Lay It Down", "You're In Love", "Way Cool Jr.", and "Wanted Man", DeMartini set the bar for guitarists in the mid 80s. Few were able to match his unique style.
18 Brian May of Queen
I have always liked Queen and mainly because of Brian May to tell you the truth! His influence on other guitarists is unbelievable. Eddie Van Halen cited him as one of his biggest influences. Although not the best known for solos, Brian's amazingly stellar rhythm guitar (along with the vocals of Freddie Mercury) was the bread and butter of Queen.
17 Joe Perry of Aerosmith
This man knows how to rock. Aerosmith went through two popular phases; one in the 70s and one in the 80s. Whichever you prefer, it's hard to deny Joe Perry's talent. His fine work in songs such as "Walk This Way" and "Love In an Elevator" show what this made is made of. Without Perry, Aerosmith probably wouldn't have achieved the great success that they did.
16 Steve Lynch of Autograph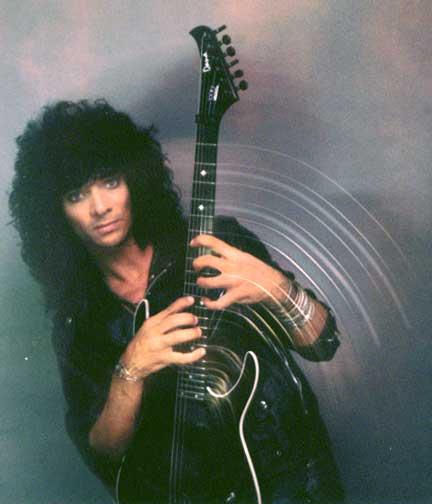 Most of you have probably never even heard of Steve Lynch. However, I can tell you that he is a gifted guitarist. He helped the band Autograph reach brief popularity (Remember the song "Turn Up the Radio"?) and launched them into what seemed like a promising career. Unfortunately, problems with record producers prevented Steve Lynch and Autograph getting the fame that they truly deserved. His unique style of tapping was just as good as Eddie Van Halen's. Unheard of songs such as "Send Her to Me" and "Blondes in Black Cars" contain a couple of the finest solos I have ever heard. Given the chance, listen to Steve Lynch. His guitar work will leave you amazed.
15 Reb Beach of Winger
Reb Beach caught up with bassist Kip Winger in the late 80s after they were both working for Alice Cooper. They started the band Winger and hit success immediately. Reb is one of the finest guitarits I have ever heard. Songs like "Seventeen", "Headed For a Heartbreak", and "Madalaine" have recently become some of my absolute favorite songs, each with fantastic solos. Without this man, late 80s hair metal would have died sooner than we expected it to. He is indeed one of the last of the greats.
14 Billy Gibbons of ZZ Top
A little band from Texas named ZZ Top jumped onto the scene in the 70s and got even bigger by the MTV-era 80s. If you look at the album "Eliminator", you can find some of the best blues-rock guitar work right there. My father saw them at the 1986 MTV music awards and thought they were great live, especially Billy on guitar. He's been around for nearly (if not more than) 40 years and keeps rocking to this very day.
13 Slash of Guns N' Roses
When Guns N' Roses released "Appetite for Destruction", everybody knew they would be the next big thing. That album sold over 25 million copies and became one of the biggest albums in rock history. Slash showed what he had with songs like "Sweet Child O' Mine", "Welcome to the Jungle", "November Rain", "Knocking on Heaven's Door", and "Paradise City", just to name a few. He is without a doubt one of the greatest guitarists of the late 80s and early 90s and is one of the most recognized musicians to date.
12 Angus Young of AC/DC
If you're unfamiliar with AC/DC you've obviously never seen Beavis and Butthead! Angus is a bluesy/hard rock musician that has always been the bread and butter of AC/DC. He's been in the band since he was 18 years old and keeps rocking to this very day. His bluesy solos are best recognized in songs such as "You Shook Me All Night Long", "Back in Black", "Highway to Hell", "TNT", and "Dirty Deeds Done Dirt Cheap". If you haven't heard this little man play, pick up anything by AC/DC and knock yourself out.
11 Ritchie Blackmore of Deep Purple
Another oldie, but certainly a goodie too. My dad told me that in the early 70s, people used to say "Jimi Hendrix is alive and well and living in Ritchie Blackmore." I'm not sure that I would take it that far, but he's good enough for me! Blackmore's finest work can be found in Deep Purple's discography. Songs like "Smoke on the Water", "Highway Star", "Hush", and my personal favorite "Child in Time". Blackmore later formed his own band called Rainbow, which achieved minor success in the late 70s and early 80s. It wasn't Deep Purple, but it was decent. He showed people that he could still play with songs like "Stone Cold", "Man on the Silver Mountain", and "Street of Dreams" once in Rainbow.
10 Peter Frampton
Arguably one of the best live guitarists of all time, I had the privilege to see Peter Frampton live in concert when I was 15 years old. I was astonished at how a man over 60 was able to kick so much ass! He played all of his classics such as "Show Me the Way" and "Do You Feel Like We Do?" This man used the voice-box and was one of the few that was able to master it. Ritchie Sambora attempted to use it in "Livin' on a Prayer" and did a nice job. However, Frampton was able to master it and show the world how different he was.
9 David Gilmour of Pink Floyd
Psychedelic rock has always been interesting to me and David Gilmour demonstrates that good guitar work goes hand in hand with this genre. "Dark Side of the Moon" not only stayed in the charts for many many years, but it had some damn good guitar work going for it. Songs like "Time" and "Money" show that Gilmour was one of the finest guitarists in the world in the mid 70s. His ability to blend his fine guitar work with Roger Waters's song writing made Pink Floyd one of the biggest bands in music history.
8 Steve Vai
Starting out as a guitarist for David Lee Roth and Whitesnake, Steve Vai moved onto a promising solo career that made him one of the best known and fastest guitarists in the early 90s. I must say, the first time I heard "For the Love of God" I was stunned. It left an impression on me for a good while. I have heard other songs by Vai that also demonstrate his capabilities and show how gifted he really is. His work is well known and should be acknowledged and greatly recognized.
7 Paul Gilbert of Mr. Big
This is the man that taught Buckethead how to play guitar. Starting out in a band at age 19 called "Racer X", Paul Gilbert established himself as the next Eddie Van Halen. His speed was unmatched by anyone at the time including EVH himself. A couple of years later, he joined Mr. Big and gained recognition from the hair metal fans. A truly phenomenal guitarist, anything that involved him playing guitar can be recognized as good guitar work.
6 Randy Rhoads of Ozzy Osbourne
This guy stared playing with Quiet Riot in the mid 70s, but was not recognized by most people until he joined Ozzy in the early 80s. He listened to Beethoven and Mozart in his spare time, but at heart was a true hard rocker. Songs like "Mr. Crowley", "Flying High Again" and of course "Crazy Train" showed the world what wonderful potential he had. Unfortunately, he died in a plane crash in 1982 and thus ended the career of the great Randy Rhoads. Despite only playing with Ozzy for about two years, he stunned me with his fantastic abilities.
5 Eddie Van Halen of Van Halen
Overrated? He might be, but it's damn hard to deny Eddie Van Halen's talent. He was unique and started a trend that would follow throughout the rest of the 80s. He stunned the world when "Eruption" came out on the album "Van Halen" and showed that he had pop appeal with songs such as "You Really Got Me" and "Pretty Woman". His skill as a guitarist helped to carry Van Halen to the top and make them one of the best selling artists in the United States. Virtually no one can match this man's speed.
4 Jimmy Page of Led Zeppelin
One of the most influential guitarists of all time, Jimmy Page goes down in my book as a phenomenal player. Anything, literally anything by "Led Zeppelin" kicks ass. And the amazing thing about Page is his ability to play several different genres of music. He can play folk rock involving acoustics, progressive rock songs like "Going to California" or hard rock/heavy metal songs like "Dazed and Confused". His riffs are some the most recognizable in rock history. He is multi-talented and a terrific player for any rock fan.
3 Eric Clapton of Cream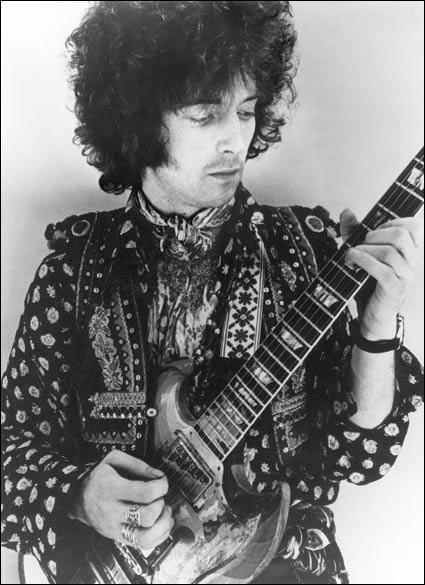 One of the most recognizable guitarists in history, Eric Clapton almost gave up playing guitar as a kid out of frustration. Thankfully he didn't give up, seeing as he was considered a God by many by the early 70s. Anything by "Cream" has memorable Clapton guitar work, which is sure to please most.
2 Stevie Ray Vaughan
The best guitarist of the 80s, SRV is most recognized for his Hendrix-like style of guitar. From 1983 to his death in 1990, he was considered to be the best of his day by a very large audience. Combining blues with rock, he created a contemporary kind of music that could be listened to the hardcore guitar fans and the not-so-hardcore guitar fans. Everybody loves and knows SRV, and he is my runner up as the best guitarist of all time.
1 Jimi Hendrix
This man needs no introduction. He is without a doubt one of the finest guitar players in history and goes down in my book as the best of all time. He showed the world what he was made of with singles such as "Purple Haze" and "Hey Joe". He later made jaws drop with songs such as "The Star Spangled Banner" and "Manic Depression". He left us far too soon and it would be interesting to see just how much more he could have accomplished had he not tragically died in 1970. In my book, this man is the true guitar hero.
*Honorable Mentions* Here are some guitarists that did not make my list, but I still wish to acknowledge them.
Joe Walsh of the Eagles- Good guitarist, great solo on "Hotel California". Too bad his brain is fried thanks to drugs.
Ted Nugent of Damn Yankees- Had a nice solo career and became even bigger with Damn Yankees. Damn good guitarist, questionable political views.
Vivian Campbell of Dio/Def Leppard- Fantastic player. Wish I'd put him on the list now that I think about it.
Joe Satriani- I haven't really heard him enough so I cannot judge him on what I know. Sorry.
George Lynch of Dokken- Same reason for Satriani.
Glenn Tipton of Judas Priest- Good, but not wonderful.
Kirk Hammett of Metallica- I've never been a huge Metallica fan, but he's a good guitarist.
Yngwie Malmsteen- Haven't heard enough of him. I'm starting to listen him more though.
Carlos Santana- He's great player, but I'm just not that familiar.