Just the other day
I was watching the 80's classic
License to Drive
Starring Corey Feldman and Corey Haim. (2 of the best kid actors of that era) While watching the movie I couldn't help but notice all the retro vehicles in the film. The styling was truly unique. From the dad's Audi to the DMV Escort. I did an article before on this topic, but I failed to include a number of classics. Thanks to the comments left from the previous article I decided to do a Follow Up.I will again cover some basic categories of my favorite cars. So here it is. Fasten your Seat belts and hang on....first we look at "Every Day Cars"
Interesting Fact:
Introduced in November 1983 for the 1984 model year along with sister models, the Chrysler Town and Country, and the Plymouth Voyager (later Chrysler Voyager). The first modern minivans, the Chrysler company minivans are credited with creating the entire market segment for these vehicles
Your looking at
the granddaddy of all mini vans. I still to this day see Dodge Caravans similar to the one pictured above driving the streets. The styling was pretty basic. The Wood looking paneling along the doors was a trademark of family vehicles. In some ways I prefer it to today's minivans. It was more of a "Can Do" van than today's fancy-smancy people movers. So anytime you see a Caravan, Don't quickly dismiss the Founding Father of the Mini Van.
Interesting Fact:
Ford rushed its newest car the Pinto into production in much less time than is usually required to develop a car. The regular time to produce an automobile is 43 months Ford took 25.
Ahhh....The humble Pinto.
This car has made several list as one of the worst production cars ever. It was released by Ford as an entry into the small car market, which was dominated by Volkswagon and japanese automakers. There still around, some people just can't let them go. They were notorious for their poorly designed gas tanks. Which would turn a light rear end "Bump" into a smouldering explosion of metal and glass. Not the nicest design Ford has ever produced but the Pinto left its name on pop culture none the less. Come on? you wish you could drive around in a modded out Pinto...
1996 Buick Road Master Station Wagon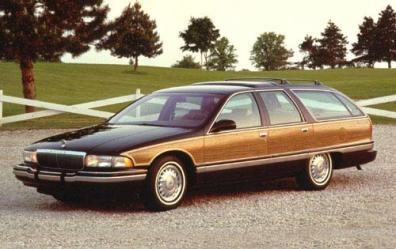 Interesting Fact:
GM discontinued both the Roadmaster sedan and the Roadmaster Estate Wagon in 1996. This was blamed on the smaller but more expensive and luxurious Park Avenue growing in size; the Roadmaster trim levels never exceeded that of the smaller but still full-sized Buick LeSabre. Another reason was largely a response to the SUV craze
To me, This was the last of the great American station wagons

The Buick Road Master Station Wagon originally debuted in 1991. Where I am at Buick's are considered an "Old Man's" car. However The Road Master exudes "Family car" I could just imagine a cross country road trip with the family in one of these beauties. In the Movie

National Lampoon's Vacation

The Griswolds go on a long and exhausting ride to Walley World in a "Family Truckster" which was a custom Ford Station Wagon. Sadly real Station wagons are gone due to Suv and Crossovers. But there will always be a place in my driveway for the original family car.
Interesting Fact:
The final 1,560 SJ Grand Wagoneers were produced in the 1991 model year. Each had a "Final Edition" badge on the dashboard. A number of vehicles may have been produced as 1992 models to fulfill existing orders
A Station Wagon on Steroids

That's what I think of when I see the Grand Wagoneer. The 4 wheel beasts have become a collectors item where I'm at. I like these because they have that classic styling with the wood trim earthy paint tones. Nothing says "Lets go camping" quite like the Wagoneer, there was the 80's Toyota Land Cruisers which were similar but I liked the Jeep better. With 4 wheel drive and good ground clearence this would have made a great terrain vehichle. And to think that the MSRP was only 10,500 Brand New!
Interesting Fact
First shown to the public in 1986, the Pontiac Trans Sport concept car was extremely well received. It featured futuristic styling, individually removable bucket seats with built-in stereo speakers, a gull-wing rear passenger door and extensive use of glass including a glass-paneled roof as well as many other "dream car" features.
I have seen the future, and it is now.

The Pontiac transport is one of the few concept cars that actually was released still looking like a concept. Even today these vans invoke a Sci Fi experince when they drive by. I could have sworn I saw captain Kirk driving one...



Sport Cars:1987 Buick Grand National
Interesting Fact:
The stealthy appearance of the all-black GNX and Grand National, coupled with the fact that the Grand National was initially released during the height of Star Wars fever, earned it the title Darth Vader Car
This is one of the most aesthetically pleasing cars. Period.

Almost Identical to the Monte Carlo, The Grand National was probably the best car Buick ever had. Now with crap like the Rendevouz and Lucerne, The future dosen't look bright for Buick. You can still buy these fabled rides. Surprisingly alot are sold with incredibly low miles. Be prepared to dip into your college tuition though. Nuthin like a sleek black National to put those import guys in line...
Interesting Fact:
the E30 M3 was in its final years of top level competition, the 2.5 liter S14 engine in full race trim was capable of 340 hp (250 kW) plus, naturally aspirated.
If I could have any car up here it would be the E30 M3

This car is

THE CAR!

I have been infatuated with this work of art since I first graduated from diapers to pull ups. The sleek lines and European design are flawless. This car still goes for over 20 grand today! Just look at the race inspired interior. If there's anybody reading this with money, have mercy and grant a guys childhodd wish, please?


Interesting Fact:
In the 1980s, a predicted increase in oil prices prompted Ford to give the Ford Mustang a major redesign. The new design would be based on a totally new platform introduced to Ford by Japanese car manufacturer and Ford partner Mazda. But when the new generation of the Ford Mustang neared its release date, oil prices dropped to an all time low and Ford Mustang buyers expressed their displeasure in the style of the proposed replacement. The car was eventually released, not as a Ford Mustang but as the Ford Probe.
Few cars capture the word "Futuristic

like the Ford Probe. If you had one of these and a Pontiac Transport, you were the closest thing to George Jetson imaginable. These cars have also had a cult like following. I have seen a few modded versions. Looking at the interior below I can't help but feel sentimental. I saw what the later Probes inside looked like and they just lacked character. I like the space-age designs and hard lines incoroparated into the probe.



Interesting Fact:
Because of their compact, lightweight design, Wankel rotary engines have been installed in a variety of vehicles and devices such as automobiles and racing cars, aircraft, go-karts, personal water craft, and auxiliary power units.
To Me, There are only 2 great Japanese import racers.

One is the Toyota Supra and The other is the RX7. This car was small but agile. It looked quick. A friend of mine has one and thinks that the Rotary engine is the best thing since sliced bread. Though I hear that to maintain an RX7 is a bit expensive due to the unique engine. I can't believe this was produced to compete with Porsches!


Interesting Fact
The 280ZX was branded in the American and Australian markets as the Datsun 280ZX; and in the local Japanese market as the Fairlady Z. In the 1979 model year in the American market, it was co-branded Datsun by Nissan through the 1983 model year. These were considered transition years as Nissan began to phase in their new global brand under the Nissan name.
Isn't that just a RX7 without folding headlights?

That's what I wondered anyways. For those of you who don't know, Nissan owns the now defunct Datsun brand. This was also a quick little racer. Back then cars like these would boast of 0-60 in less than 9 seconds...My mothers Oddysey can do better with a load of groceries and a whole pee wee baseball team in the back.



TV SHOW CARS: The General Lee
"Yeeeee-Haaa!"
The General Lee was pretty much the only reason I watched The Dukes Of Hazzard, As I am sure is the reason with most of the shows I will name. I would always watch after a HUGE Jump..."Wow, How does that thing keep going after that!" I don't like it when people take cars and try to copy the old ones as evidence in this Charger Rip off.


"Shut up, fool!"
I sadly never watched the A-Team but that Van could not be ommited. Lunchbox style vans were popular in teh 70's and 80's. The more outrageous the painting, the better. Not too long back I saw an old electrician van with a painting of Thor on it. I wanted to jam a screw driver into my fuse box just so he would drive the van to my house! I still think that Kimbo Slice is the illegitimate son of MR. T.



"It was my mother she always used to say it was too much car for me to handle. I couldn't handle the V8!

This car amuses me. In any other color, the Turino is absolutely hideous. However, Put that stripe across the red paint and you have got a head turner. I actually enjoyed the remake of Starsky and Hutch. When they had the old Starsky and Hutch meet the new ones, it was cinema magic.



"I'm gonna barbeque yo' ass in molasses!"

Pontiac Trans-Ams have a knack for TV. You were just posin if you had a Trans-Am without the Phoenix decal on the hood. The 70's weren't good for muscle cars. I recall the Corvette had like a 185 horsepower engine due to the oil crisis. However the styling of this Muscle car is timeless. I don't know what will be forgotten first, The Car Or Burt Reynolds?


"Take me to Wendy's,Right away Michael."

K.I.T.T acronym for Knight Industries Two Thousand...aka 2000 lbs of butt kickin, tire burning metal. Forget the HOFF, this show was about The Trans-AM firebird. Fox has a new Knight Rider with a Ford Mustang, what kind of crap is that? I like the Mustang but notin THAT role...Imagine sitting inside this technological ride. Probably my favorite of all the TV show cars, The KITT had personality and sass.






Well there you have it. I hope this article brings back as many good memories of these cars as it did me. There were so many that I wanted to include but it would have been a daunting task. Anyways I have to go...and remember, "Click it or Ticket!"