It's like any other day
Oh,Oh,Oh
Woke up today
feeling the way I always do
Oh,Oh,Oh
You wake up with a rumbling in your stomach
Hungry for something that I can't eat
Then I hear that beat
that rhythm of town
starts hauling me down
It's like a message from high above
Oh,Oh,Oh
Pulling me out to the smiles and
streets that I love...
The curtains are drawn and then...
Good Morning Baltimore!
Every days like an open door!
Every nights like a fantasy!
Every sounds like a symphony!
"Wait a minute! What is this? Who are you people? When did these set pieces get here? Mom, Dad there are strange singers in my bedroom!"
"Don't worry dear, it's just your imagination."
Suddenly you are whisked into a make-up room you had no idea you had. Sweeney Todd is looming above you and you wonder if this is the end. You're going to meet your demise at the hands of an insane barber. With a whirl of color you find out you're still pretty much alive, the only difference being:
YOU'VE BECOME ONE OF THEM!
That jingle in your head, that skip in your step, the feeling that nothing can go wrong! Broadway is calling!
I don't know about you guys but musicals have always been a part of my life. Not only because I've been in the school choir for all my life (alto parts, truly mezzo soprano) it's also because I'm the kind of girl that had a song for everything.
Singing in the shower, Disney sing-along tapes, even utter boredom! One of my greates dreams is to go to broadway and see an actual musical on stage.
That hasn't happened yet but someday I know it will! In the mean time, I've grown up with countless musical films to tide me over until that one magical day! This article is dedicated to all the great "home musicals" and I hope at the end of this I've inspired you to take out a soundtrack or blare that air guitar!
Ladies and gentlemen lets go have a night on the town!:
Nostariel's Top Ten Musical Films
10) Disney's Fab Four
I've got these four pretty low on the list but that doesn't mean they're mediocre quality!
-
The Little Mermaid
: Who hasn't danced to
"Under the Sea"
or sung
"Kiss the Girl"
to two of your love struck friends in denial?
The one that kicked off the Disney Renaissance! The Little Mermaid has got to have the best 'I Want' song in the form of
"Part of Your World"
.
I see this film as essential for those "Father, Daughter" movie nights. It doesn't hurt to have catchy songs as well.
-
Beauty & the Beast
: My parents favourite animated film due to the theme song of the same name. One of the most romantic ballads ever produced!
This film also has a nice homage to another fantastic film on this list in
"Belle"
. On another not quite different note this film has an amazing scor especially in the Beast's transformation sequence!
The Villain Song:
"Gaston"
never fails to make me laugh!
ex.
In a wrestling match nobody bites like Gaston!

Bimbettes:
For there's no one as burly and brawny

Gaston:
As you see I've got biceps to spare

LeFou:
Not a bit of him's scraggly or scrawny

Gaston:
That's right!
And ev'ry last inch of me's covered with hair
-
Aladdin
:
"A Whole New World"
is most likely the song that will promptly make me say yes if I was proposed to musically. It's that romantic! Shame on Nick and Jessica for breaking up after singing this!
Not that their important, it's just my belief that after singing this song to someone you love (after their proposal) you'll stay together! This movie also boasts one of the best introduction songs I've ever heard: Genie's
"Never Had a Friend Like Me"
.
-
The Lion King
: What can I say about this film that hasn't already be said? This movie rounds out the bunch as being the most epic.
"Circle of Life"
has got to be the most awe inspiring songs ever! It literally takes my breath away!
For the youngsters and young at heart we have
"I Just Can't Wait to be King"
and
"Hakuna Matata"
. The former is definitely a shoe in for nostalgic karaoke for my group of friends.
Lastly,
"Be Prepared"
is one of my favourite villain songs.
I imagine every evil dictator who's about to throw a coup singing this song, stroking their beards and throwing back their hair in an effeminate manner (because all evil people have beards) and it doesn't hurt that it's being sung by one of my favourite actors!
9) The Swan Princess
This movie is notable for being the first in my childhood to have been adapted from a story my parents never told me. So you can bet that I was truly entranced by it! In my mind it was fresh and new just like "The Lion King" but we're here to talk music and this one has quite a few. It starts off with
"This is my Idea"
a very cute song about our protaganist growing up loathing eachother which changes when they meet. This song made me laugh so much as a kid it's not even the slightest bit funny!
This bit especially got me into a fit of giggles:
She tries to talk me into playing dress-up
She's always flirting with the castle guards
I think you really sorta like her, 'fess up
I'd like her better if she'd lose at cards
Four sevens and a ten
I think I've won again
Every time she's won
This is my idea
This isn't my idea
Of fun
Next comes the song this movie is most known for:
"Far Longer than Forever"
will surely make all the romantics sigh. It's such a beautiful duet and I applaud
Derek (our hero) for having such a manly but velvety voice! As per usual this movie has sidekicks and this one happens to have a frog voiced by the legendary
John Cleese (Monty Python fame), a Scottish Puffin and a tortoise ironically named Speed. They sing a funny and catchy number called
"No Fear"
.
Lastly, we have another humorous song called
"No More Mr. Nice Guy"
sung by Rothbart (our villain) and
"Princesses on Parade"
which is literally a glittering extravaganza!
8) Cats Don't Dance/Oliver & Company
I couldn't choose between these two wonderful films! The former has one of the funniest yet scariest villains I've ever laid eyes on.
Her name:
Darla Dimple
Child from Hell, I assure you. Yet, no matter how evil she is she's such a hilarious character that you just can't help but love her even as she tries to drown our protaganists in lovely pink hearts.
Why am I talking about her so much you ask? Well, she has an epic song that's why!
"Big and Loud"
is exactly what it is! it's so amazing the title explains the song!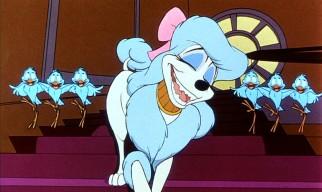 Meanwhile, Oliver & Company has our perfect pooch Georgette with her song
"Perfect Isn't Easy"
. Another factor of this tie?
Oliver has Billy Joel's
"Why Should I Worry"
and Cats has Natalie Cole's jazzy number
"Tell Me Lies"
. Both of these films will have you singing and dancing till you're all worn out and that's in a good way.
7) The Nightmare Before Christmas
One of Danny Elfman's best and one of the first films I ever owned.
"This is Halloween"
-Takes us in and doesn't let go. This sets up the mood of the film as well as assaults our senses with one of the most musically unique intros in a while.
"Sally's Song"
-Surprise! Paige O'Hara voice of Belle from Beauty & the Beast also voices this charmingly creepy ragdoll with a heart of gold. This song really adds depth to Sally's character and although she may be scary at a glance she's one of the sanest and most human of all the characters in this quirky film.
"Jack's Lament"
-Poor Jack, don't worry we're rooting for you!
"Kidnap the Sandy Claws"
-Santa Claus humorously being kidnapped by twisted trick or treaters.
"Making Christmas"
-Juxtaposition is used marvelously in this number and it's a catchy one at that! The tension is starting to rise higher when this song comes in
It seems the list is endless yet the movie moves at a very brisk pace and it feels natural throughout. If you want an introduction to Mr. Elfman's works this is a good place to start and quite a fun set of songs to sing in the shower as well!
6) A Goofy Movie
Goof Troop fans rejoice! This may have been direct to video but it sure was good!
"After Today"
is a song I still hum while walkin' down the halls of high school though I do have to be careful when I'm around the gym.
No more algebra tests 'til September
No more lookin' at losers like him
No more havin' to cheat
No more mystery meat
No more gym!
No more gym!
No more gym!
NO MORE GYM!
The best thing about this film is the end song
"Eye to Eye"
when Max imitates Powerline who seems to be a cross between the singer formerly known as Prince and Michael Jackson.
5) Jesus Christ Superstar
Jesus' story with the aid of rock. It's a wonder how this prophet doesn't get any more epic.
It may be unorthodox but it's a truly fun romp with some slow and meaningful moments especially with the beautiful
"I Don't Know How to Love Him"
. I haven't seen this gem in a while so I can't elaborate much but I know it's one of the most powerful things I've ever seen. I'd rather take this version over Mel Gibson's equally great film.
Carl Anderson as Judas was simply amazing. God bless him, certainly a jazz legend greatly missed.
4) The Prince of Egypt
When Dreamworks made this gem of a movie musical they did it right. Breath taking animation and solid storytelling aside I love this movie's soundtrack.
Not only is Moses and God voiced by Val Kilmer (A.K.A BATMAN), Rameses is voiced by one of my acting faves Ralph Fiennes (A.K.A VOLDEMORT) and you won't believe my surprise when I heared Catwoman sing! Yes!
Tzipporah is voiced by Michelle Pfeiffer! Needless to say this movie is filled with crowning moments of music.
"Deliver Us"
-The Opening number hauntingly sung by the dearly departed Ofra Haza. Her cry always sends chills down my spine.
"The Plagues"
-This is a stirring number of epic proportions as Moses musically battles Rameses to let his people go and is by far my favourite part in the entire movie.
"When You Believe"
-Beautiful, simply beautiful if you're not touched by this song in any way I don't know what to say to you.
3) The Sound of Music/Mary Poppins
I didn't think I'd have two ties in a row but when you're dealing with musicals I guess it's inevitable.
This especially holds true whenever Julie Andrews is concerned. She has the voice of an angel, it's a shame she doesn't sing much these days.
The first is the film Beauty and the Beast gives a homage to in
"Belle"
recreating that running to the hills scene. So which is better? I'll just have to let you guys figure that out.
"Sixteen Going on Seventeen" or "Jolly Holiday"
"So Long Farewell" or "Chim Chim Chiree"
"My Favorite Things" or "Spoonful of Sugar"
2) Grease
John Travolta singin' and dancing like never before! Check out that hair and those moves! From the opening "Grease" all the way to "Freddy my Love" it's one great song after another. Slick hair, leather jackets to die for, and gettin' down old school. This one never goes out of style because you know it and I know it:
GREASE IS THE WORD!
Now for the last spot, DRUM ROLL PLEASE!
1) Singin' In the Rain
Yes, Singin' In the Rain is number one. Overrated as it is in the way of musical films you just can't deny the sheer power of this movie! To end I think it's best we should do it with song....and...one...and a two...
THREE!
Doo-dloo-doo-doo-doo
Doo-dloo-doo-doo-doo-doo
Doo-dloo-doo-doo-doo-doo
Doo-dloo-doo-doo-doo-doo...

I'm singing in the rain
Just singing in the rain
What a glorious feelin'
I'm happy again
I'm laughing at clouds
So dark up above
The sun's in my heart
And I'm ready for love
Let the stormy clouds chase
Everyone from the place
Come on with the rain
I've a smile on my face
I walk down the lane
With a happy refrain
Just singin',
Singin' in the rain

Dancin' in the rain
Dee-ah dee-ah dee-ah
Dee-ah dee-ah dee-ah
I'm happy again!
I'm singin' and dancin' in the rain!

I'm dancin' and singin' in the rain...