I have had a few people request an article on the 1996 NBA draft so here it is.
The 1996 NBA draft is considered one of the best drafts of all time behind the 1984 draft and possibly the 2003 draft. Most of the great players are still playing today. You will probably recognize many of the names. Allmost one third of the players selected in the first round have become all-stars. Many are future hall of famers. The 96 draft was very deep and have a few solid players out of the second round.
1 Allen Iverson (G) Philadelphia 76ers
2 Marcus Camby (C) Toronto Raptors
3 Shareef Abdur-Rahim (PF)Vancouver Grizzlies
4 Stephon Marbury (PG)
Milwaukee Bucks (traded to Minnesota)
5 Ray Allen (SG)
Minnesota Timberwolves (traded to Milwaukee)
6 Antoine Walker (SF) Boston Celtics (from Dallas)
7 Lorenzen Wright (C) Los Angeles Clippers
8 Kerry Kittles (SG) New Jersey Nets
9 Samaki Walker (PF)
Dallas Mavericks (from Boston)
10 Erick Dampier (C)
Indiana Pacers (from Denver)
11 Todd Fuller (C)
Golden State Warriors (from Golden State via Orlando and Washington)
12 Vitaly Potapenko (C)
Cleveland Cavaliers (from Washington)
13 Kobe Bryant (SG)
Charlotte Hornets (traded to L.A. Lakers)
14 Peja Stojakovic (SF) Sacramento Kings
15 Steve Nash (PG) Phoenix Suns
16 Tony Delk (SG)
Charlotte Hornets (from Miami)
17 Jermaine O'Neal (F/C) Portland Trail Blazers
18 John Wallace (PF)
New York Knicks (from Detroit via San Antonio)
19 Walter McCarty (PF)
New York Knicks (from Atlanta via Miami)
20 Zydrunas Ilgauskas (C) Cleveland Cavaliers
21 Dontae Jones (F) New York Knicks
22 Roy Rogers (PF)
Vancouver Grizzlies (from Houston)
23 Efthimios Rentzias (C)
Denver Nuggets (from Indiana)
24 Derek Fisher (PG) Los Angeles Lakers
25 Martin Muursepp (PF)
Utah Jazz (traded to Miami)
26 Jerome Williams (F)
Detroit Pistons (from San Antonio)
27 Brian Evans (F) Orlando Magic
28 Priest Lauderdale (C)
Atlanta Hawks (from Seattle)
29 Travis Knight (C) Chicago Bulls
Round two
30 Othella Harrington (PF/C)
Houston Rockets (from Vancouver)
31 Mark Hendrickson (PF) Philadelphia 76ers
32 Ryan Minor (SG)
Philadelphia 76ers (from Toronto)
33 Moochie Norris (PG) Milwaukee Bucks
34 Shawn Harvey (PG) Dallas Mavericks
35 Joseph Blair (C)
Seattle SuperSonics (from Minnesota)
36 Doron Sheffer (SG) Los Angeles Clippers
37 Jeff McInnis (G)
Denver Nuggets (from New Jersey[19] via Sacramento)
38 Steve Hamer (C) Boston Celtics
39 Russ Millard (PF)
Phoenix Suns (from Denver via L.A. Clippers and Detroit)
40 Marcus Mann (PF) Golden State Warriors
41 Jason Sasser (SF) Sacramento Kings
42 Randy Livingston (SG)
Houston Rockets (from Vancouver via Washington and Orlando)
43 Ben Davis (PF) Phoenix Suns
44 Malik Rose (PF) Charlotte Hornets
45 Joe Vogel (C)
Seattle SuperSonics (from Miami via Atlanta)
46 Marcus Brown (G)-Portland Trail Blazers
47 Ron Riley (SG/SF)
Seattle SuperSonics (from Atlanta)
48 Jamie Feick (PF)
Philadelphia 76ers (from Detroit)
49 Amal McCaskill (C)
Orlando Magic (from New York via Minnesota and Vancouver)
50 Terrell Bell (C)
Houston Rockets (from Cleveland)
51 Chris Robinson (SG)
Vancouver Grizzlies (from Houston)
52 Mark Pope (PF) Indiana Pacers
53 Jeff Nordgaard (SF)
Milwaukee Bucks (from L.A. Lakers via Seattle)
54 Shandon Anderson (SF) Utah Jazz
55 Ronnie Henderson (SG)
Washington Bullets (from San Antonio via Charlotte)
56 Reggie Geary (SG)
Cleveland Cavaliers (from Orlando)
57 Drew Barry (PG) Seattle SuperSonics
58 Darnell Robinson (C)
Dallas Mavericks (from Chicago)
The first pick fell to the Philadelphia 76ers. They chose a talented point guard from Georgetown named Allen Iverson, AI or also called The Answer. AI has become a proven scorer and is third on the NBAs highest career scoring list behind Wilt Chamberlain and Jordan. He has been a season MVP. He has been a multi-time All-Star and a NBA scoring leader. He has had multiple problems with coaches and lots of problems off the court. He led the 76ers to a final appearance back in 00 but lost to another 96 draftee to be named later. He was traded to the Nuggets a few years back and has had continued success. He has never been a favorite player of mine but you cannot deny his ability.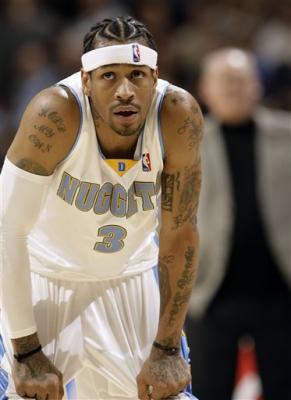 Marcus Camby was drafted second by the Raptors and has had a good career proving to be a great defensive player and rebounder. Camby was a 6 foot 11 center from UMass, a good college center and eventually a Defensive Player of the Year award winner. Camby has played for the Knicks, Raptors, and now the Nuggets with fellow draftee Iverson. I like Marcus Cambys intensity and his desire to play defensive first and score second.
Shareef Abdur-Rahim was the 3rd pick by the Grizzlies. Reef as he has been called was a forward from U of California. He was an All Rookie 1st team player and the franchise player for the Grizzlies for 5 seasons. He has been an All-Star and an Olympic Gold medalist in the 2000 Olympics for the U.S...
Stephon Marbury was the 4th pick by the Bucks. He was a guard from Georgia Tech and is very comparable to Iverson. Both are excellent scoring point guards but carry with them lots of baggage and attitude. Starbary as he has been called still plays for the Knicks but is expected to be traded because he is somewhat uncoachable. Marbary has been a 2 time All-Star and a Bronze Medal winner at the 2004 Olympics.
Ray Allen was picked 5th by the Timberwolves and traded to the Bucks for Marbary. Ray Allen is a talented shooter and 2 guard from Uconn. He has been a multiple All-Star and an Olympic Gold medalist in 2000. He most recently won a NBA championship with the Boston Celtics as one of the Big Three. He has been a class act and had very few problems on or off the court. He stared in the movie He got Game along side Denzel Washington.
Antoine Walker was the sixth pick by the Boston Celtics. He was a forward from Kentucky where he was a NCAA champion and was named the MVP of the SEC tournament. He is a 3 time All-Star and a NBA champion with the Miami Heat. I have never liked him because I think he is such a cry baby.
The 7 through 12 picks were good picks, a few of which have made appearances in the finals.
The 13th pick went to the Charlotte Hornets and they chose one of the greatest players of all time, Kobe Bryant. The only problem for the Hornets is that they traded Kobe to the Lakers for Vlade Divac. Kobe has been a 10 time All Star, 10 time All NBA selection, 8 time All Defensive Selection, 3 time NBA Champion, 2 time All-Star MVP, 2 time NBA Scoring champion, the 1997 Slam Dunk Champion, and the 2007-2008 Season MVP. He will be a Hall of Famer and will possibly win more titles. Kobe made it to the finals last season only to be defeated by fellow draftee Ray Allen of the Celtics Big Three.
Peja Stojakovic was drafted 14th by the Sacramento Kings. Peja is a good shooter who was part of one of the most fun to watch teams of the 90s. He was a 3 time All-Star and a former MVP of the Greek basketball league. He still plays ball today but not at the level he played with the Kings.
The next pick was made by Phoenix and they selected Steve Nash. Nash is a joy to watch play. Nash is a point guard who can place a basketball anywhere he wishes. In his 12 year career he has been a 6 time All Star, 6 times All NBA selection, and a 2 time MVP.
Jermaine ONeal was selected 17th by the Portland Trailblazers. ONeal was a high-school player who skipped college and went strait to the NBA. He would see limited playing time his first few years in the league but would eventually become an All-Star. He has had that honor 6 times and was given the NBAs most Improved Player Award. He has been plagued with a knee injury over the past few years and was recently traded to the Raptors.
Zydrunas Ilgauskas was the 20th pick by the Cleveland Cavaliers. Big Z is a center who still plays there today. He has been a two time All-Star and was the Rookie Game MVP. He has spent a large portion of his career sidelined with foot injuries but has become a solid center averaging a 14 points and 7 rebounds a game.
Derek Fisher was the 24th pick by the Los Angeles Lakers. He has been a solid guard and hit a playoff game winner against the Spurs with only .4 seconds on the clock. He is a three time champion and now a leader on the Lakers team.
There were a few solid players drafted in the second round like Othella Harrington, Jeff McInnis, and Malik Rose.
There were a few players that were signed by teams who were not even drafted: Chucky Atkins, Adrian Griffin, Darvin Ham, and even Ben Wallace. You might remember Darvin Ham as the college Slam Dunk Champion a few years back.
Ben Wallace is a center out of Virginia Common Wealth. He has been a 4 time Defensive Player of the Year, 4 time All-Star, 6 time ALL NBA Defensive Team member,a NBA champion, and a Bronze Medal Olympic winner. He currently plays for the Cavs.
This draft was a great one and so many of the players have become great players but I still feel that it falls a little short in comparison to the 1984 draft. We will know more about these players as they retire and go on to be Hall of Famers. Only time will tell how it will turn out and I cannot wait to see.