In 1987 a new toy line was released by Matel. The name of the revolutionary toyline was Mad Scientist. It was advertised as being too gross which blew away my 5 year old mind. This toy line was very short lived. It only lasted two series and a possible third one. The toys were inventive and somewhat intelligent. If you research the actual slime or glop you find that there is a lot of chemistry involved in the design, but that is another article. I personally loved the toys and really wanted them very bad as a child. I never had them. I was banned from slime toys thanks to Hordak and his slime pit. I knew that my parents were not going to buy me one but I still always begged for them. The box had a picture of a crazy haired mad scientist in a white lab coat and glasses. The toy took children on a scientific journey that had many disgusting adventures.
The first toy in the series was the Mad Scientist Monster Lab set which you would dip a skeleton in a substance to grow skin and then you would dip the skeleton into another substance to remove the skin and see the skeleton again.
There were some other toys in the first series like the alien blood kits and the monster flesh kits. There were also living ice kits as well. The Alien Blood Kit came with a alien that you would fill with slime and squeeze. The creature would then bleed out the blood through its nose or wherever. The Living Ice Kits would come with a mold to make a creature and you would pour the living ice into the mold and make a monster. You could then break the monster and remold him. The Monster Flesh came with a mold and some monster flesh. You just made monsters. Each of these came out with a comic book that was included in the box. There were 3 of each kind.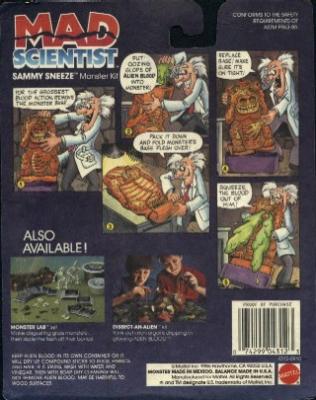 Also in the first series was Mad Scientist Dissect an Alien Kit. It was probably the grossest of the series. You were given 12 organs, slime, an alien cadaver, a scalpel stitches, and a mat. You would load the body with the organs and slime. You would then use the scalpel to open him and remove the organs. After you were done you could then stitch him back up and do it again.
[
The final toy in series one was the Mad Scientist Glowing Glop. It came with living ice, powered light, instant glop, and a beaker. You would mix the contents in the beaker and you would have glow in the dark slime. The toy does not sound very exciting but you get to play with slime. That was enough for any kid.
The second series saw the toy line squeak out a few more toys. The Mad Scientist Splatters was a toy that came with plasma energy and plasma gel that you filled a bug body with. You would then crush the creature squeezing out the hard work of gut stuffing you just got done with. The toy has a large gross appeal but seems that it would soon lose it enjoyment.
The other toy made in series two was the Eyeball Maker Kit. You made eyeballs that you could then launch into a set of teeth to destroy.
Also in series two there were watches, a board game, a dress up kit, and bendable figures. There were also some refill packs that were available as well.
The toys did not last long probably because once the grossness lost its appeal the toy did as well. You can only make you sister scream so many times before she quits. There is only a few gross outs for moms before they do not care anymore. These toys were cool for the time but have since been forgotten. I hope this brings back some memories for all you retrojunkers.
*There was a discrepancy in the actual year of release. One source said 1987 and another said 1986. I could not find a definitive answer so I went with 1987. I just wanted to warn you.
** There is a questionable 3rd series of toys but they might not have been released. I did not include them because of the question.