Is it just me, or are ladies these days
trying
to look unattractive? I mean I leave my house and the majority of women (and young girls) I see are in sweats, pajamas, boobs popping out, butt-cracks are making appearances, hair un-brushed and they're
so original
with their skull tattoos (-insert sarcasm here-). Everything now is so goth, or punk, or emo, or just plain blah. And so many girls (and women) buy into this. Thinking that they are making a statement and that they will stand out, but you know what it makes me think? Congratulations, you look just like everybody else! I see this so often, it makes me feel like I'm the one who doesn't fit it. Now I'm not saying I'm better than anybody else (believe me, I'm not!) and this has nothing to do with vanity. I'm not saying we all need to dress to the nines just to go run errands, but I remember a time when modest really was hottest. A time when ladies showing a 'little something' was reserved just for their man and not for everybody at Wal-Mart. A time when women and girls dressed appropriately. Why just yesterday I saw a woman at the mall who may as well have been topless. No joke. To quote Bob Dylan, "the times they are a'changin."
This got me thinking about the clothes and accessories that were all the rage when I was a young girl and teenager. Like the ladies described above, I was simply following the fads and trends of
my time
. But the difference is this: innocence and respect. In my opinion the majority of trends today instill of loss of innocence and lack of self respect in girls. And I'm not just talking about fashion. Look at the dances we see young girls doing ('twerking' comes to mind) or listen to the song lyrics young girls are singing (Beyoncé's 'Partition' also comes to mind -a song so disgusting I refuse to type a lyric for you). I hope that this a trend that will fade, but it's side effects can last a lifetime. The trends and fads for girls of the 90's were pretty, and silly, and fun, and harmless (except for maybe Slap Bracelets) and awesome in everyway. This is my look back at the fashions, fads, and trends of 90's girl.
In my look back I may leave out certain trends and that is because I am only writing about the ones that I personally was a part of. If it's not something
I personally
didn't wear or use, it's not going to be mentioned. All the trends I will talk about are from the 1990's to very early 2000's and appear in no particular order. Let's begin!
Hair Clips

:
Shoelace Barrettes. A friend of my daughters was sporting one of these barrettes recently and I couldn't believe it. I should have asked her where she got it, because I haven't seen one since I was in grade school.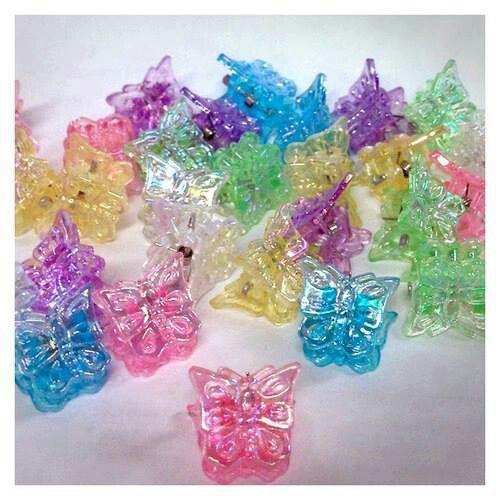 Butterfly Clips. These were all the rage when I just started High School. They were super cute and came in different forms. Some had moving wings (which my hair often got tangled in) others were small and sparkly.
Scrunchies. I remember an episode of Sex and the City that showed Carrie giving her boyfriend grief over a scrunchie. It's true that a high fashion woman in New York City probably wouldn't be caught dead wearing a scrunhie. But if you were a little girl in the 90's you just were so not cool if you weren't at least wearing one your wrist let alone in your hair. Besides they come in all kinds of colors and patterns and are extremely comfortable. I remember scrunhies so fondly that I went out yesterday and bought myself a pack.
Metal Beaded Headbands. I had a few these in High School and although not as popular as the butterfly clips, these headbands were still very pretty and added a good amount of sparkle to your 'do.
Clothes:
Stirrup Pants. I mentioned in my first article that no one rocked stirrup pants like me. I don't ever remember going to the store to buy a pair. In fact all my stirrup pants were made by my grandmother (who also made me vests and dresses).
Denim overalls. I wore a shorts version of these while in grade school. They had little patchwork flowers on the front pocket. Super cute! And I must confess I even had a full length pair in High School. I used to wear it with a tie dye shirt (...geez...) Anyway, overalls on girls were everywhere. Jessica Biel's character on 7th Heaven wore them religiously. And let's not forget Larissa Oleynick on The Secret World of Alex Mack. Even Jennifer Aniston sported theses babies while on Friends.
Plaid Skirts. I LOVE PLAID! I don't need to wait for a trend for me to wear it. But thanks to the popularity of Clueless plaid skirts finally had their moment in the sun. There is a picture of me in my 7th grade yearbook at the
only
school dance I
ever
went to and what am I wearing in that picture? A plaid skirt, baby! I remember having one my senior year in high school as well. I used to pair with a blacked ribbed sweater, tights, and ankle boots.
Long Sweater Coats. I have a love of sweaters and cardigans, so the long sweater coats were probably my favorite trend. I have heard them called 'dusters' or sweepers' and in the early 2000's I practically lived in mine. Some have ties, hoods, buttons, faux fur trim. Mine was dark green with a tie. I would love to find another similar one (and believe me I've looked), but nothing compares.
Letter Belts. This was something that I saw girls and boys wearing. I personally wore the letter the 'R' I bought mine at Hot Topic and wore it from Jr. High right up through High School. I had it up until a few years ago when I gave it away. And I don't even like belts.
Shoes:
Jellies. Considering how uncomfortable these shoes were I'm surprised they were so popular. But like the scrunhies, you were a nobody if your feet weren't covered in jellies.
Tan Boots. I remember wearing these most often. All the time. No matter what. It came to point where tan boots was my only pair of shoes (aside from sneakers for P.E.) I've always liked little boots like these and they are surprisingly comfortable. Once I hit high school I started rocking a similar style. They were black Sketchers.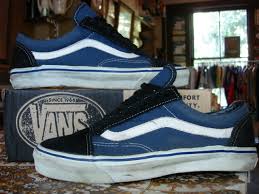 Vans. Nearly every girl I knew in the 5th and 6th grade was wearing Vans just like the ones above. It was my grandmother who bought me my first pair of Vans and I loved 'em. In fact it may have been my very first pair of name brand shoes. The only difference between mine and the picture above is that mine were dark green in place of blue.
Chunky Brown sandals. I did not own the Doc Martin version of these. I instead had a knock off from either Payless or Kmart. I'm not sure what the appeal was, because along with being heavy and clunky I don't remember them being all that comfortable.
Jewelry:
For whatever reason the 90's had a 60's hippie thing going on. Especially in jewelry. Of course girls my age had no clue what it all really meant. We just thought it cute.
Drop Necklace. I really like this style of necklace. Something very feminine about it. I even had one similar to this picture when I was in the 9th grade. I lost it out in my backyard and never found it. Still bummed.
Floating Necklace. These were also neat because it gives the appearance of a stone simply floating around your neck. Of course I didn't have a real stone, just sparkly plastic. I do remember the string being kinds flimsy and the clasp getting stuck in my hair. But still a pretty trend.
Bead Mania. If you weren't rocking one of the above trends for jewelry, you were making your own. Courtesy of Lisa Frank.
School Supplies
If you're little girl in the 90's where do you go for all the
must have
school supplies? There was only one place:
Sanrio Surprises.
Hello Kitty, Spottie Dottie, Keroppi, Pekkle, Pochocco... You could find just about any school supply with these cute little guys, but they didn't come cheap. I remember an eraser stick costing nearly $5! It's no wonder this store left my local mall. However, getting your goodies wrapped up in a pretty little bag was a nice touch.
Lisa Frank. Right up there with Sanrio Surprises as far has "must haves", Lisa Frank products were not only more affordable, but more accessible since you could purchase the products at just about any store. I remember having a folder of the Ballerina Bunnies shown above, along with countless other school supplies. I was even a member of her fan club and used to receive her catalog. I could never afford the more expensive stuff like shoes, clothes, and bedding, but it was fun to look at just the same.
Thermos brand lunch boxes with matching thermos. I had The Little Mermaid lunch box like the picture above. Another trend that was girl and boy friendly, these lunch boxes featured many popular characters from back in the day. Barbie. GI Joe. Ninja Turtles. Anything Disney. The lunch bags of today don't have anything on Thermos Lunch Boxes. While in an antique shop back home I came across a Little Mermaid one very similar to the one I had when I was little. It even had a matching thermos. I snatched that up for $12. It is quite possibly my favorite thing I own. I'm so protective of it, I won't even let my daughter use it for school.
Disney Study Kits. Again another girl and boy trend. These "study kits" featured a wide variety of popular characters. I had several of these during my grade school years. Pocahontas is the one I remember for sure.
Mini Backpacks. I remember the first time I saw these. I just thought it was a genus idea. It's a combination backpack and purse and super cute. I had to have one! Lucky for me a friend bought me one for my 11th birthday. It looked exactly like the picture above, except that mine was purple.
Happy Face Mini Backpack. This of course combined the trends of Happy Face (which was everywhere in the 90's) with the growing popularity of the mini backpack. Cheesy as it looks, I too fell victim to this fad. I picked up mine up at the swap-meet next to my local Stater Bros.
JanSport Backpacks. The one trend on here that didn't fade, JanSports are just as popular now as they were in the 90's. Although the style has changed a bit. Suede bottoms with a tribal pattern were very in when I was in Jr. High. It was also the "in" thing to write and doodle all over the suede part. Once I hit High School the suede and tribal were out and just solid colors were in. Mine was bubblegum pink. I went back to school this last fall and just like old times, I had to have me a JanSport. I even found one with a suede bottom. Guess those are back in style.
Wow! While writing this I realized that I sure would like to have a lot of these things today. If anything just to pass on to my daughter (if she was interested that is...). Anyway, I've really enjoyed my look back and I can honestly say that I didn't cringe as much I thought I would and hopefully you don't either.