After visiting this site for years, and being a member but only reading, I decided I would take a stab at writing an article. (pun intended ..muwahaha)
No this isn't about the Fresh Prince song of the same name from the 80's!
(Broken YouTube Link Removed)
It's a catchy song nonetheless and lovely use of the Nightmare theme! Take a listen.....if you dare!
I'm a child of the 80's. Like many, I share the love, appreciation and fondness for many of the same things. Many different topics have been written on here often. So I thought I would talk about a love I have, that I've not seen represented, the
Nightmare on Elm Street
franchise. Some people love
Star Wars
to death, some are
Trekkies
or
Trekkers
into
Star Trek
and others are
Whovians
, fans of
Doctor Who
among many other franchises but for me, it's always been
Nightmare
. Just last year a major moment was added to my library of memories concerning these movies. So I while the moment itself isn't retro, it is all tied to something that is, but before that- a little history.
I came into this series later than many. In my defence I was just 10 years old when I first saw my first
Nightmare
movie. At this time I was already infatuated with horror, this was how I came across the movie. Back in the early video store days, dad would always rent a batch of movies every weekend. Knowing my tastes, dad would often find horror titles for me to check out (yes my parents were cool and didn't mind me watching this stuff at home…woo :P )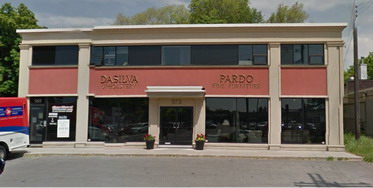 To the left is the old spot where our local video store Hillier's used to stand. It's long gone and the building has since been demolished and rebuilt into this furniture store but I remember our trips there well! To the right we get an idea of what Dad looked like on a typical Friday night grabbing us movies for the weekend!
Alas, the video store is now only a memory to many of us
One day dad came home with
A Nightmare on Elm Street

3: Dream Warriors
. I had never heard of
Freddy Krueger
or anything so I watched the movie with new eyes and immediately fell in love. I was intrigued by the whole mashing of horror, fantasy and having kick ass effects to boot.
Freddy
was just cool in my mind. Soon after I made it my mission to see the other 2 movies, we eventually rented those and I was caught up. By the time the 4th movie hit theaters in 1988, I was a dedicated
"Fred-Head"
. It just happened that was the first one I was able to see in theaters anyway due to Canadian rating standards. I've seen all the subsequent movies in theaters all the way to the 2010 remake! To this day, Part 3 is my favorite of the series, although Part 4 is a close second.
They also both have very beautiful posters but the Part 4 one is definitely my favorite of the entire franchise!
These were the early days of merchandising and I was still young. My collection wasn't big but I was always on the lookout for
Nightmare
related items. These days, thanks to companies like
McFarlane
,
NECA
, and
Funko
, my collection has grown just a bit and doesn't seem to be stopping any time soon!
These articles are from newspapers and magazines I've collected over the years about the franchise. They date as far back as 1988 and go until the last few years.
Here's my collection of books which include novelizations as well as the original stories. The first row was bought when they were first released during the 80's, 90s and one in 2003. The rest are very hard to find these days. It's been years of hunting the internet and Ebay in order to find them!
The top row is the official Movie Magazines released by

Fangoria

[/b] for Parts 5, 6, 7 and the

Freddy Vs. Jason

movie. Below them are books on the making of the series with the official sticker book on the right which is sadly only 95% filled, damn you internet![/i]
Here's my lovely collection of comic books based on the franchise. The first two rows were bought when released during the early 90's while the rest were released during the 2000's but bought online over the last few years!
And we come to my collection of CD soundtracks. I have every movie in the franchise covered. While Parts 1,2,3,7 and the remake only have instrumental scores. They released two soundtracks for Parts 4,5,6 and the

Freddy Vs. Jason

movie. The instrumental score as well as the typical soundtrack featuring music by different artists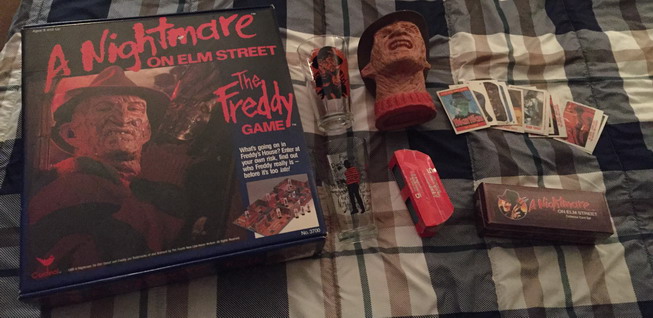 Above is a smattering of misc. items including the official board game, some collector glasses, an old water squirter shaped as

Freddy's

head. The collector card collection came in a coffin! As well, a t-shirt, some calendars, lithographs and a few dolls and figures.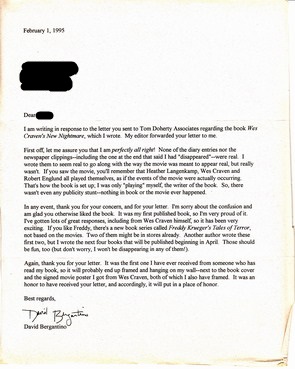 Here are curious parts of my collection. To the left is an old photo from either 1987 or 1988 featuring a 10/11yr old me meeting a Freddy "look-a-like" at a video store promotion!! Yes that's his "autograph" on the photo which he attempted to sign while still wearing the glove, silly murderer! The head in the bottom left corner is my cousin Bobby! On the right is a letter from author

David Bergantino

, writer of the novelization of the 7th movie and a few other

Nightmare

related books. In 1994 I wrote a letter to his publishing company and he himself wrote me back! At the time he said he'd never gotten fan mail and my letter would be framed. I wonder if he ever did and if it still is!
There was a short lived 2 season TV series called

Freddy's Nightmares

that aired from 1988 to 1990. It was an anthology show featuring different horror stories with Freddy as the host in the vein of

Tales from The Crypt

and its

Cryptkeeper

. Although he would sometimes actually appear in the stories himself. They released 5 episodes on VHS back in the early 90's. To the left is a title screen from the show. To the right we see the VHS tapes. Sadly those aren't the tapes from my collection because I have currently misplaced them. I do own them I swear!!
One can't be a

Nightmare

fan and not own the movies themselves right? So the top row features the DVD collection released in 1999. It featured the then complete 7 movie franchise with a bonus disc with hours of extras in a beautiful box shown on the left of the 2nd row. That row features other DVD and Blu-Ray releases including the 2010 remake of the original 1984 movie. The last row is my original collection of VHS tapes bought back in the day!
Here are some other DVDs and a Blu-Ray. The top row features a fan made collection of the

Freddy's Nightmares

series with a disc of extras. These were obviously recorded off old VHS tapes as the picture is terrible and riddled with tracking lines but made for a nostalgic viewing. It was nice to finally see the whole series! The second row contains different documentaries about the franchise. From left to right we have a special DVD set made by one of the special effects crew members featuring footage he himself recorded on the set of Parts 3 and 4. Then we have the DVD and Blu-Ray of

Never Sleep Again

, a kickass 4 hour documentary made on the whole series! It's a must for any fan! Then we end with the documentary

Heather Langenkamp

made on being Nancy and its impact!
Something else a fan of

Freddy

can't do without, his Razor Glove! From left to right we have my original Halloween toy glove from the 80s(it still fits!), a more updated Halloween prop made of actual metal from the 2000s and the last three are from the Prop Replica collection made by

NECA

. So we have the Part 1 glove, the Part 3 glove and the one from the 2010 remake. These are amazingly screen accurate and detailed made of actual metal and copper. Blades are even made to appear sharp. They might not be as 100% awesome as the fan made ones found online but $60 vs. $300 to $500 is a good deal I'd say!!
Speaking of gloves we come to a special and much coveted part of my collection. To the left we see a promotional image from

Freddy Vs. Jason

. It became so loved and famous that

NECA

released a Prop Replica based off of it back in 2004. That's what we see on the right. It sold out fast and was next to impossible to find even on Ebay. I can count on one hand how often I came across it when searching. Anytime I did, people were asking for double or triple the original price! So one day I found a seller asking for less than its original price and I managed to get it by "sniping" someone (muwahaha!) else! It was in mint condition, in the box and never opened!! So a couple of years ago, after a 9 year search, I finally added this beautiful piece of art to my collection!
And we come to what I call my

"Freddy Wall"

. When first moved here I had a few figures of him and many others from different movies and whatnot. My dream was to one day fill it with nothing but

Freddy

. With the resurgence in

Nightmare

figures over the last 7-8yrs, that's exactly what happened. Every item in this photo is

Nightmare On Elm Street

related. Everything from action figures, dolls, bobble heads, dioramas and the hard to find

Sideshow

statue on the left with its arm out holding a doll!
This brings us to the newest piece added to my collection made by the people behind the 4 hour documentary I mentioned earlier. Its a 272 page hardcover coffee table book about the making of the very first movie. You'd think the documentary and all the years of DVD/Blu-Ray extras would have covered everything you could know but the book is even more in depth. It has lots of new information and interviews. They actually managed to track down the kids who skip rope and sing the infamous

Freddy Krueger

rhyme in the early scenes of the movie. Now that's dedication
Here are those children along with the famous rhyme used throughout all of the movies
The biggest prize of course would be meeting some of the actors. Thanks to the lovely internet, I made baby steps towards my goal. Both
Robert Englund
(
Freddy
himself) and
Heather Langenkamp
(
Nancy
in Parts 1, 3 and 7) have websites where you can do just that. You choose a photo, place your name and then there's a field where you can either ask them to sign something specific or leave it blank and they sign something themselves. So I eventually got both of their autographs and was so excited, especially in Robert's case! I knew this was the closest I'd get to meeting him. In both cases I left the fields blank because I didn't want to "tell them" what to say.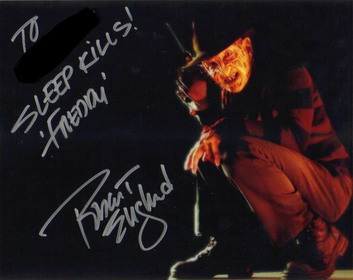 I love how he signed both as

Freddy

and then as himself. I chose that photo as it was a

Freddy Vs. Jason

publicity shot so it would be the last time he played the role. Plus it was perfect for autographs with the empty space to the side. In her case, I chose a publicity shot from Part 3 since its my favorite movie of the franchise as I mentioned earlier. She even quoted a favorite line of mine from that movie and incorporated my name into it!
This is a desktop wallpaper I created using the posters for the 8 movies in the franchise (the remake did not exist yet at the time). I managed to find versions without any words on them for the first 6 so using my Photoshop skills, I made the last two match!
In 2014 our edition of Comic Con arrived. This year marked the 30th anniversary of the original movie's release and they managed to get a few actors from it. First they got
Amanda Wyss
, who played
Tina
(she's in the famous death scene where she is being dragged across the ceiling- also marking her as the first victim of the franchise) in the original. The biggest thrill for me-they managed to get
Robert Englund
himself! I got autographs from both and managed to do some photo ops as well. I got one photo with them together, a second featuring me and Robert alone and then one with him along with
Kane Hodder
(Jason from
Friday the 13th Parts 7-10
) and
Bruce Campbell
(from the
Evil Dead
Trilogy of course).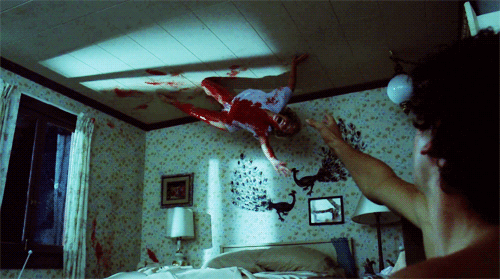 Above we have part of the famous Tina sequence, chilling!
Below are the photos from the Comic Con I mentioned above.
The autographs were surreal because I got to talk to each of them for a good 4-6 minutes. I ended up getting two autographs from
Amanda Wyss
over that weekend because they had a special deal on the same day I got his. To my surprise she actually remembered me from the first time from my visit with her two days before.
Robert Englund
already has a reputation of being very friendly, outgoing, chatty and he did not disappoint! I found a cool lithograph for Part 5 I wanted signed and he went on about how he had never seen this particular poster so I felt pretty cool for a few minutes!! Even during the photo ops, he had so much energy, the smiles in the photo with her above is because of him making us laugh so much!
Amanda
was very friendly and sweet herself. She was my first ever celeb autograph at a convention and I couldn't have asked for a better first time! I also attended a panel with her on the 2nd day of the convention and she recognized me and waved hello to me as I sat in the front row. At the time i wasn't sure if she did recognize me or was being nice but when she remembered me at the 2nd autograph, i realized she had then as well!
The autograph on the left was done on the Friday of that weekend. When I chose it out of the multiple 8X10 photos she had displayed on her table, she said it was her favorite so go me! The one on the right was done Sunday. Looking at them together, it seems she has a

"default autograph"

that she uses but it's all good because two is better than one!
Here's the cool lithograph I found at the convention. I just handed it over without any suggestions and that's how he signed it. Very cool and funny, I still remember the person behind me seeing it and thinking it was neat as well. If you can't see, the top left has a speech bubble that says:

"Shhh (my name here)'s asleep"

. On the middle right it says:

"Don't Wake (my name here)... Freddy K."

And of course his own signature at the bottom. Yes I did a comparison back then to my first autograph of his and its indeed the same signature. Not that I doubted his official website but you know, I had to see! :P
Just a few years after buying his autograph online and being 100% positive I'd never get to meet him, I finally did! I can't put into words how exciting a moment like this was for me. Though I guess I am right now! But yes there are many celebs I like and would love to meet. Thanks to these conventions I have met a handful already. But
Robert Englund
was
THE
one I always wished for. If I had never met any celebs before and had to only choose one, I would have chosen him. It was an awesome weekend and an amazing moment I shall never forget.
And we come to the end and as
Freddy
himself would say, until next time my little piggy's!!