Before there was Walmart and Target, there was Kmart.
Ah, Kmart. I remember going to Kmart a lot as a kid. My mom use to shop there for clothes and I would go buy toys for myself all the time. While I haven't been inside a Kmart in years and forgot they even still existed, I have many nostalgic memories of shopping there back in the day.
Kmart is an American discount department retail store founded in Hoffman Estates, Ilinosis. It started out as S.S. Kresge Corporation in 1899, until it was renamed to Kmart in 1962 and pioneered the retail superstore format.
Before Walmart, it was the largest retail company in the world. As of 2015, it is the third largest retail store chain in the world behind Walmart and Target with only 978 locations worldwide.
Kmart revolutionized the discount retail business back in the 1960's and 1970's and was responsible for putting a big number of smaller competing retail stores out of business. For many years, they were the most retail store in the world all throughout the 1970's and 1980's and were always the main destination to shop at back in those days. Kmart always the place you went to if you wanted to shop for groceries, toys, clothes, movies, music, etc. They were the Walmart of their time.
By the time the 1990's came, Kmart wanted to update the company's image. In 1990, they decided to change their logo. Kmart dropped the old-style italic "K" with a turquoise "mart" in favor of a red block letter K with the word "mart" written in script and contained inside the K.
Kmart also began remodeling all their stores all over the country to the newer design with the new logo.
Big Kmart:
On April 23, 1997, Kmart introduced a whole new format to their stores called Big Kmart. They also changed their logo again, dropping the regular K, but keeping the same red block K, only adding the word "Big" in capital letters next to it with a yellow line under it.
Kmart introduced this format to their stores in order to compete with Walmart's supercenter format back in the 1990's when Walmart overtook them in profits.
Kmart remodeled most of their stores to the Big Kmart format in the Late 1990's.
Big Kmart had a much better focus on home fashions, children's apparel and consumables, and allowed customers to have a much greater shopping experience in these stores than a regular Kmart. By the end of the 1990's, Kmart's sales had soared and were arguably at an all time high. At this point, the future for Kmart was looking bright.
K-Cafe:
But the biggest reason I loved shopping at Kmart as a kid was because of the K-Cafe. K-Cafe was an in-store restaurant that served a menu of hamburgers, hot dogs, fries and many sandwiches such as grilled cheese and Philly cheesesteaks. They also offered a full breakfast menu of baked goods, bagels, egg platters with bacon or sausage and many snacks such as nachos, pretzels, popcorn and ice cream.
K-Cafe also served Little Caesars Pizza in all of Kmart's stores and you could always order pizza there if you went to the K-Cafe.
I absolutely loved going to the K-Cafe as a kid. Every time my parents shopped at Kmart, we would go to the K-Cafe and would get pretzels and nachos for snacks. Or we just order Little Caesars Pizza for lunch.
But what I really loved getting was their ICEEs. Everytime we went to the K-Cafe, I would always buy an ICEE as a drink. Their ICEEs were so good and they always had so many different flavors to choose from too.
In 2004, Kmart decided to remodel themselves again. Kmart changed their logo from a red K with the script "mart" inside to a red block letter K with the chain's name in lowercase letters below it.
Kmart also began remodeling their stores to the newer design format with the new logo.
So what happened? Where did Kmart go wrong? How did this American Icon go under so quickly? How did this store go from being the largest retail store in the U.S., to the second biggest retail store in the U.S. behind Walmart, to being the third biggest retail store in the U.S. behind Walmart and Target, to being completely bankrupt and about to be wiped off the United States map for good? I will go over all the reasons below why Kmart went under.
1. Competition with Walmart:
By the Mid 1980's, things were starting to change. Kmart was experiencing serious competition from another huge retail store and that store was Walmart.
The massive expansion and popularity of Walmart continued to grow in the 1980's. And by the Late 1980's, Walmart had surpassed Kmart as the largest retail store in the U.S. By the Early 1990's, Walmart had reached a multinational status and became the largest and most powerful retail company in the world.
So how did Walmart overthrow Kmart as the largest retail company so quickly?
It's simple. Walmart had bigger stores, cheaper prices, better management, better sales staff, better locations and had a monopoly in small towns. Walmart also had a much better brand. Their yellow smiley face became more popular and recognizable than Kmart's blue light bulb. They also always had low prices and lived up to their motto.
Walmart rose from a national giant to a multinational powerhouse.
Fortunately for Kmart, they played it smart and were able to compete with Walmart. They managed to keep their company afloat for another decade and stayed second to Walmart's sales.
2. Competition with Target:
This is a really big one.
By the end of the 1990's and around the beginning of the new millennium, Kmart was experiencing even more competition from another huge retail store. And that retail store was Target.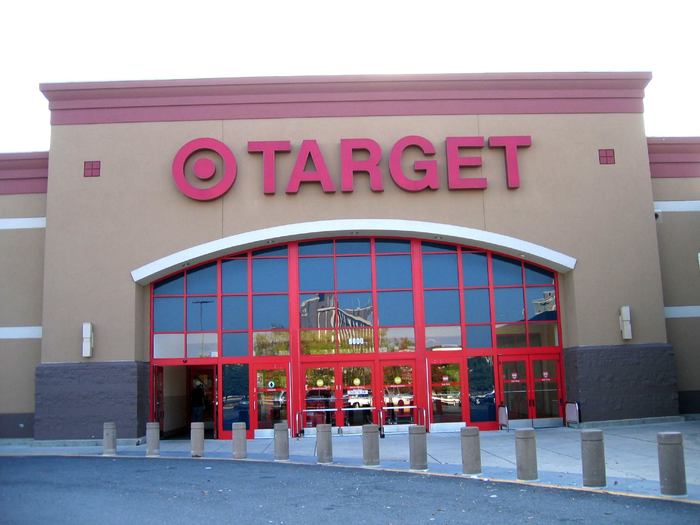 In the Late 1990's, Target began to experience massive expansion and popularity due to them opening hundreds and hundreds of new stores all over the country and around the world.
Since its founding, Target intended to differentiate its stores from Walmart and Kmart by offering what they believed to be more upscale, trend-forward merchandise at lower costs, rather than the traditional concept of focusing on low-priced goods.
Target's stores were also much more attractive than Kmart's stores by a more attractive presentation of merchandise, wider aisles, drop ceilings and generally cleaner fixtures. Target also tended to attract much more younger customers than Kmart.
Target Cafe:
You know how much I use to love the K Cafe? Well that could not compete at all with the Target Cafe.
At the Target Cafe, you can go to Starbucks and order coffee or a cappuccino drink. You can also order pizza at Pizza Hut Express which quite frankly, tastes better and is much better than Little Caesars Pizza Express.
Their regular cafe menu also sells the same items, but is much bigger and the food is much fresher and tastes better too.
By the Early 2000's, Target had completely surpassed Kmart as the largest retail store in the U.S. and became the second largest retail company in the world only behind Walmart.
Walmart may have stole some of Kmart's thunder back in the 1990's, but Target completely stole any thunder Kmart had left.
It was around this time that shopping at Kmart really went out of fashion. It's not surprising why Target overthrew Kmart like that. Target is an awesome store and of course way better than Kmart.
Kmart could compete with Walmart, but they could not compete at all with Target. And they didn't even try to compete with Target.
This was the end of Kmart.
3. They Never Evolved With The Times:
One big problem with Kmart is they never really evolved with the times. Kmart always came off to me as one of those stores that were stuck in the 70's and 80's.
Kmart failed to invest in phone or computer technology to manage their supply chains which is a big reason why Walmart and Target surpassed them in profits. They were never as up to date with the latest technology as their competitors Walmart or Target were.
Because Kmart revolutionized the retail business and were the first in the game, they thought they would always be on top and always have a place in the retail business. They figured they never had to change. Look where that got them.
4. Merging with Sears:
In 2004, Kmart announced they were going to purchase Sears. As a part of the merger, the Kmart Holdings Corporation would change its name to Sears Holdings Corporation. The new corporation announced that it would continue to operate stores under both the Sears and Kmart brands. Thus, the company began renovating some Kmart stores and converting them to the Sears Grands format. By purchasing Sears, this meant that some Kmart stores would become Sears stores and some Sears stores would become Kmart stores.
The reason Kmart purchased Sears was because they were hoping that Sears would save them out of bankruptcy. The company was going bankrupt at the time and Kmart needed to make whatever deal they could make in order to save themselves from bankruptcy.
But still, this deal made no sense at all. Why would you purchase another huge retailer? The only thing this deal did was cause a bunch of Kmart and Sears stores to be closed down. The profits for both stores only went down after Kmart and Sears made this deal. Sears also took a lot of good things from Kmart stores after the deal and only made them worse than they already were at the time.
5. Bad Customer Service:
One big reason why Kmart went under was this: they always had bad customer service.
Whenever you shopped at Kmart, the employees there could be awful. They would be rude to you sometimes for no reason or they wouldn't be around to help you with an item you were trying to buy. Kmart also tended to be overpriced for certain things and their employees also wouldn't let you exchange a certain item or return it.
6. They Never Had What You Needed:
This is another big reason why Kmart went under.
Whenever you shopped at Kmart, the stores were not very clean and were dirty and messy inside. They also tended to be very unorganized with the stuff they sold. A lot of items in a Kmart would not be in stock because they sold out quickly, weren't in the place they needed to be or they were just incredibly hard to find. If you were looking for certain movies, video games, clothes or snacks, Kmart wouldn't have it.
So why would people go to Kmart when they could have a much better shopping experience at Walmart or Target?
7. Outdated Stores:
A lot of Kmart's stores were either outdated or in decaying condition. Some of their stores were even dangerous to shop at due to a lot of them being in bad locations where crime takes place.
8. They Refused To Renovate All Their Stores:
Even though Kmart changed their logo in 2004 and completely remodeled their newer stores to a newer format, they still refused to renovate all their stores. Majority of Kmart's stores still had the Big Kmart logo with the 90's design as their format for their stores.
Not many Kmart stores had the new red block letter K with the chain's name in lowercase letters below it as their logo nor did they have the newer design format for their stores. The only stores that had the newer logo and newer design was the new stores Kmart opened at the time. All the other Kmart stores that had already been open before they completely re-branded themselves kept the Big Kmart logo and 90's design format.
9. Bad Locations:
The majority of Kmart's stores were also in really bad locations. A lot of Kmart stores that were open were in really rural areas in adjacent cities or smaller towns. And a lot of this is due to Kmart getting rid of a lot of their stores that were in good locations. They also closed some of their stores in the 90's and closed a lot of their stores after they went into bankruptcy in 2002.
Some Kmart stores were also hard to drive to as well. And that is definitely true for the one Kmart that existed in my hometown. It was far easier for me to drive to my local Walmart, Target, Publix, Mall, or just about any other store in the city I lived in than it was to drive to my local Kmart.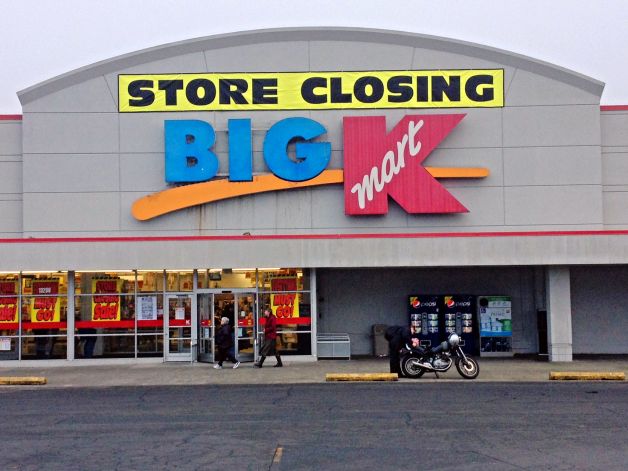 On January 22, 2002, Kmart filed for Chapter 11 bankruptcy protection under the leadership of its then-chairman Chuck Conaway and president Mark Schwartz. At the time, Kmart was biggest retail store ever to file for bankruptcy. Conaway, who had had success building up the CVS Corporation, had accepted an offer to take the helm at Kmart along with a loan of $5 million (equivalent to $6.56 million in 2015). In a scandal similar to that involving Enron, Conaway and Schwartz were accused of misleading shareholders and other company officials about the company's financial crisis while making millions and allegedly spending the company's money on airplanes, houses, boats and other luxuries. At a conference for Kmart employees January 22, Conaway accepted "full blame" for the financial disaster. As Kmart emerged from bankruptcy, Conaway was forced to step down and was asked to pay back all the loans he had taken.
After dismissing Conaway and Schwartz, Kmart closed more than 300 stores in the United States, including all the Kmart stores in Alaska, and laid off around 34,000 workers as part of the restructuring process. After dismissing Conaway and Schwartz, Kmart closed more than 300 stores in the United States, including all the Kmart stores in Alaska, and laid off around 34,000 workers as part of the restructuring process. While the company was in bankruptcy, a significant amount of Kmart's outstanding debt was purchased by ESL Investments; a hedge fund controlled by Edward Lampert. Lampert worked to accelerate the bankruptcy process, and on May 6, 2003 Kmart emerged from bankruptcy protection as Kmart Holdings Corporation.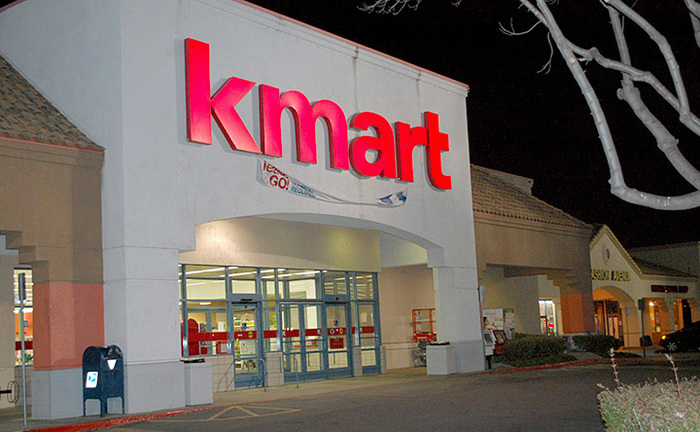 On December 27, 2011, after poor holiday sales, Sears Holdings announced that 100 to 120 of Sears/Kmart stores would close.
In 2014, news reports indicated that Kmart was closing dozens of stores across the United States. Kmart's parent company Sears Holdings Corporation underwent financial distress throughout the year, sparking an unspecified number of closings to Sears and Kmart locations amid vendors and lenders concerns about its liquidity. Along with store closings, measures included the spinning off its Lands' End division, selling most of its stake in Sears Canada, issuing debt and taking on loans that cumulatively put it on track to raise $1.445 billion in cash in 2014. Howard Riefs, a company spokesman who has often spoken on behalf of Kmart, has said: "Store closures are part of a series of actions we're taking to reduce on-going expenses, adjust our asset base and accelerate the transformation of our business model."
In 2010, the one Kmart that existed in my hometown announced it would officially go out of business for good. The store announced a final "going out of business" sale a few months before it would close and started airing a bunch of "going out of business" commercials on TV.
By the summer of that same year, the Kmart in my hometown officially closed and went out of business for good and the building was sold for liquidation.
They also completely removed the Kmart design and logo from the building and announced they were going to build a new store in place of it on that same property.
Oh how the mighty has fallen.
Kmart left so many memories for me shopping there as a kid. It is very tragic to see how fast this store has fallen in the last 15 years.
But, I can't say I am too surprised to see Kmart go under like this. They have made some of the most idiotic business decisions I have ever seen and these decisions have only helped ruin their company in the long run and they brought it all on themselves.
Will this store ever be able to make a come back in the future? I don't know, but I think it is safe to say it is far too late to save this company. They are way too far in the deep red right now and I don't they will be able to get themselves out of this big hole they are stuck in. Good riddance.
And as for what ever happened to that old Kmart building in my hometown? They built a Dick's Sporting Goods, which we all know is a superstore that sells sporting goods chain with equipment, apparel & footwear for athletics, outdoor recreation & fitness.
I was so excited to finally have a Dick's Sporting Goods in my hometown because I have always loved that store and had been wishing we had one in our town for years.