Hey guys, I'm back! Now I am going to be doing an article on the second Spider-Man film in Sam Raimi's Spider-Man trilogy, Spider-Man 2. I will discuss my thoughts on it and all the merchandise I own from this film.
Spider-Man 2:
I was 9 when this film came out in 2004, and at the time I loved it! But these days, I find it to be overrated and consider it to be the worst film of the trilogy (though I still like it). I thought the action and special effects in this one were a huge improvement over the first film. But the story takes awhile to take off and drags on and on, and the acting between Tobey Maguire and Kirsten Dunst was at its worst in this film. I didn't like the whole Spidey loses his powers plotline and thought it was done much better in the comics.
I thought Danny Elfman's score was mostly a rehash of what he did for the first Spider-Man. And of the whole trilogy, Spider-Man 2 made the least amount of money at the box office, so I can't be the only one who thought it was the worst of the Sam Raimi series.
Action Figures That I Have:
Spider-Man:
Doctor Octopus:
However, Alfred Molina did an excellent job as Dr. Otto Octavius/ Doctor Octopus. In this movie, he is Peter's role model and a made scientist gone wrong after he goes insane for his failure to create a self-sustaining fusion reaction. Octavius is bonded with his handling equipment, four artificially intelligent mechanical tentacles.
I loved every scene of Doc Ock in this film and the massive battle he has between Spider-Man on the New York train is still the greatest action scene I ever seen in a comic book movie to date. Even though Molina's interpretation of Doc Ock wasn't entirely true to the character of the comics, he nailed the cruel, sardonic sense of humor that Octavius is known to have.
Kirsten Dunst's Mary Jane:
Remember the scene where Peter meets Mary Jane at the coffee shop and when Peter tells Mary Jane he doesn't love her? Then Doc Ock throws a car at them and Peter grabs Mary Jane and ducks under the car so it won't kill them?
Look at 1:24-1:25 in this video. I thought Kirsten Dunst was so damn incredibly very hot, sexy, and beautiful in this scene. I remember being 9 years old watching this film and not being able to take my eyes off of her.
Spider-Man 2 Video Game:
Ah, the Spider-Man 2 video game. Like the first game, I thought this was an excellent game to play and it was very similar to the movie in many ways, except the gameplay and graphics improved by a lot. One new aspect I loved was the web-swinging mechanic, where you could make Spider-Man shoot actual webbing at a building.
Spider-Man 2 Burger King Toys:
Remember in 2004 when Burger King did a big tie for Spider-Man 2 by selling Spider-Man 2 toys in their happy meals? I sure do!
Me and my family would always go to Burger King that summer just so we could collect all the Spider-Man 2 toys they had in their happy meals. Eventually, I collected every toy they had!
Spider-Man 2 Dr. Pepper Cans:
And just like the first Spider-Man film, Dr. Pepper released Dr. Pepper Spider-Man 2 drinks to tie in to the sequel.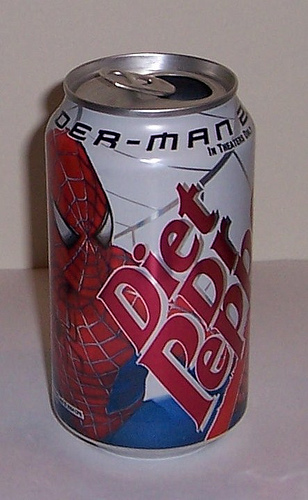 And of course, my parents would buy Dr. Pepper drinks at the store back then just so we could collect all the Spider-Man 2 cans Dr. Pepper made.
Well, that's all the merchandise I own from Spider-Man 2! Please leave me your thoughts on the article and I will be writing more articles in the future, thanks!